Social media is not now what it once was. While it used to be just simple platforms for people to connect on and possibly chat, in recent years, it has transformed into an excellent money-making tool and audience builder, without which the likelihood of success is significantly lessened. 
This is exactly why more and more businesses nowadays turn towards social media to expand their respective audiences. However, this task is not always easy for them; they must post frequently and just the right content. 
In order to make this happen, developers all over the globe have come up with automated tools that can do a lot of work for you and make your social media presence stronger than ever with less effort on your part. For example, automating LinkedIn marketing is now piece of cake.
So, let's explore some of those tools, shall we?
1. Instoo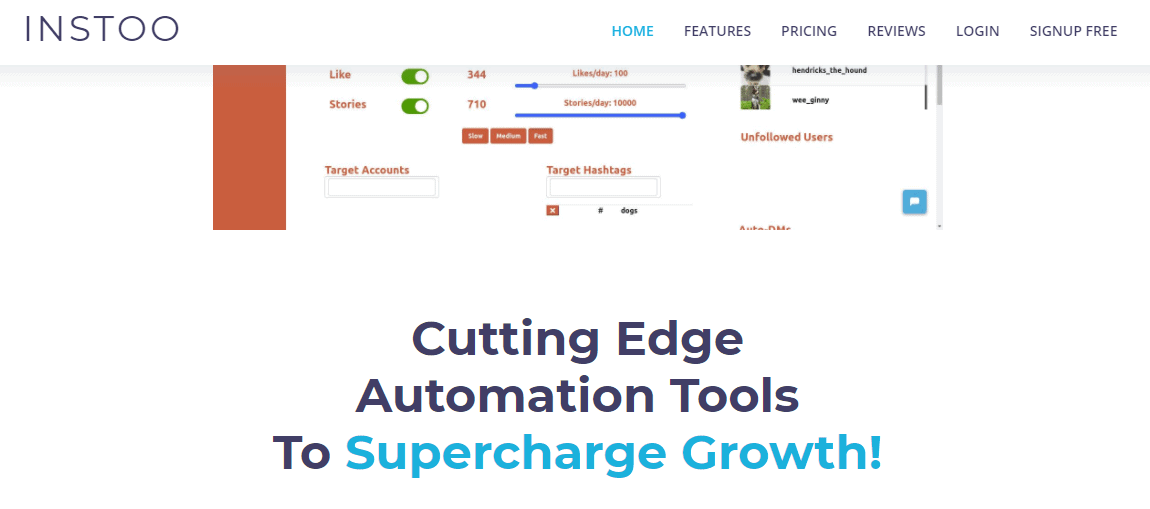 Our number one pick is definitely Instoo; this handy tool compels users interested in your business to interact more, stay longer, and hence turn into loyal customers. The best part about it is that it allows you to find your target audience more easily and enables you to send them ads directly to their phones through notifications. 
It basically lets you grow on auto-pilot on platforms like TikTok, Tinder, and Instagram (more coming soon). Along with all of that, there's even an option to generate target hashtags as well.
Instoo is currently on sale on AppSumo, and you can get it for only $79. 
2. SocialPilot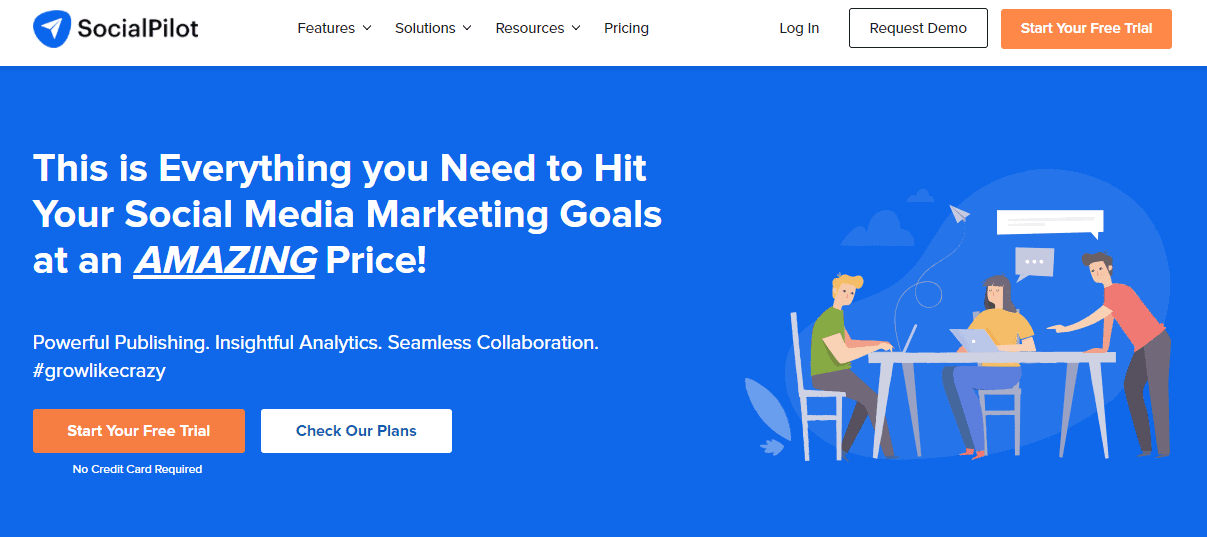 This fantastic automation tool gives you more than you thought you needed; with its help, you can schedule the posting of content across multiple social platforms.
Its analytics feature is also something anyone could get a lot of use out of. You see, once you analyze who's checking out your content and why, you'll learn more about your audience and, in turn, will be able to do even more to cater your content to it.
If you want to get Social Pilot, you'll be looking at a monthly subscription starting at $25/mo for the cheapest plan.  
3. EngageBay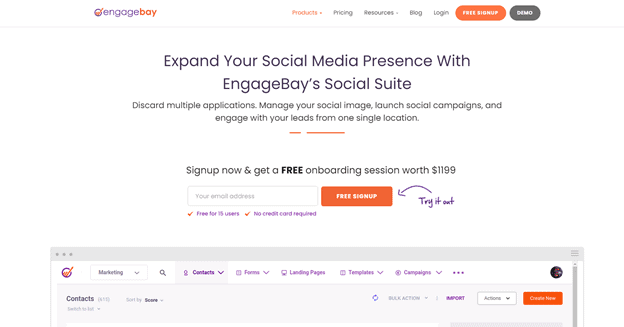 EngageBay is an all-in-one marketing, sales, and customer support software that comes along with integrated CRM for free. It combines several tools dedicated to the customer journey into a single, comprehensive package.
Its social media management features (EngageBay's 'Social Suite') help you manage your Facebook, Instagram, Twitter, and LinkedIn accounts from just one window. This way, you can interact with your audience, answer their queries, resolve issues, launch promotions, keep them engaged, all while building your presence.
EngageBay also lets you add Streams and manage them in order to track your Twitter mentions and retweets, Facebook posts and tags, and Instagram posts.
Next, with the Scheduler feature, you can intelligently time your posts and tweets for maximized reach across various platforms with ease. Plus, you can automate your customer acquisition technique by capturing leads and adding them directly to your CRM database.
You can also see what your audience is searching for using a process called social listening. Use all these features together and stay on top of your social presence.
4. IFTTT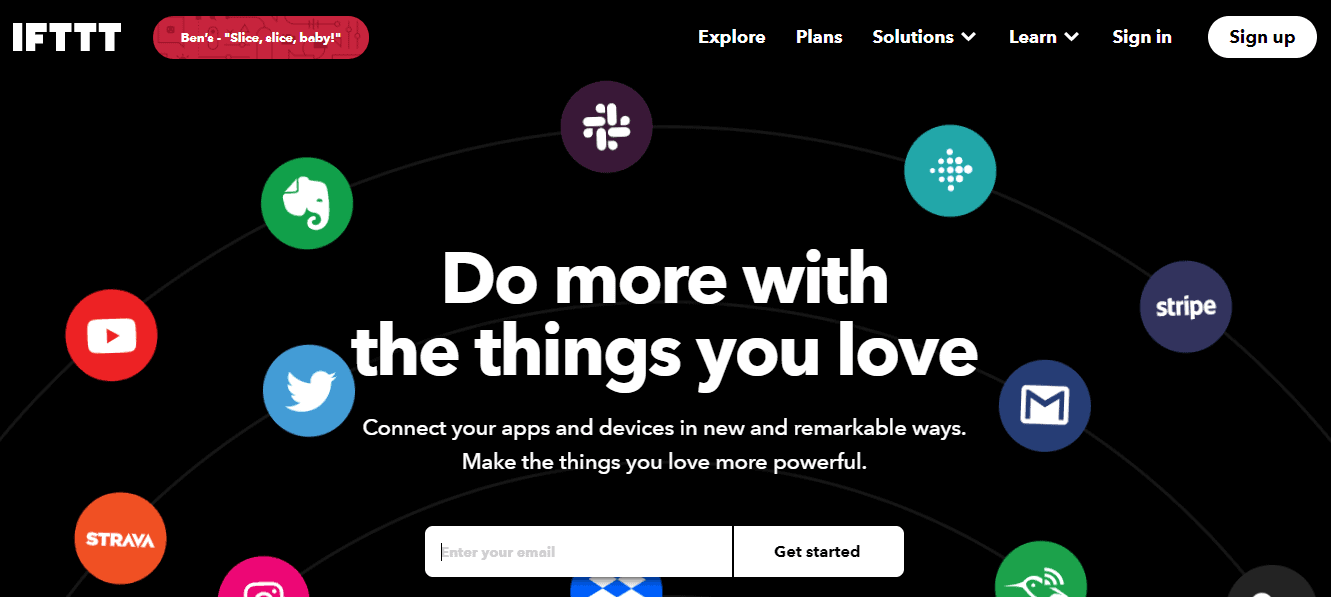 The name of this tool actually stands for "If this then that", and its essential function is to handle how your various social media accounts interact and trigger one another.
It helps you connect with other businesses as well, and by taking a look at its "Brands" section, you'll be able to both see and connect to brands your users are most fond of. 
The core version for personal use is free; however, the business version is subscription-based and costs $3.99/mo. 
5. Later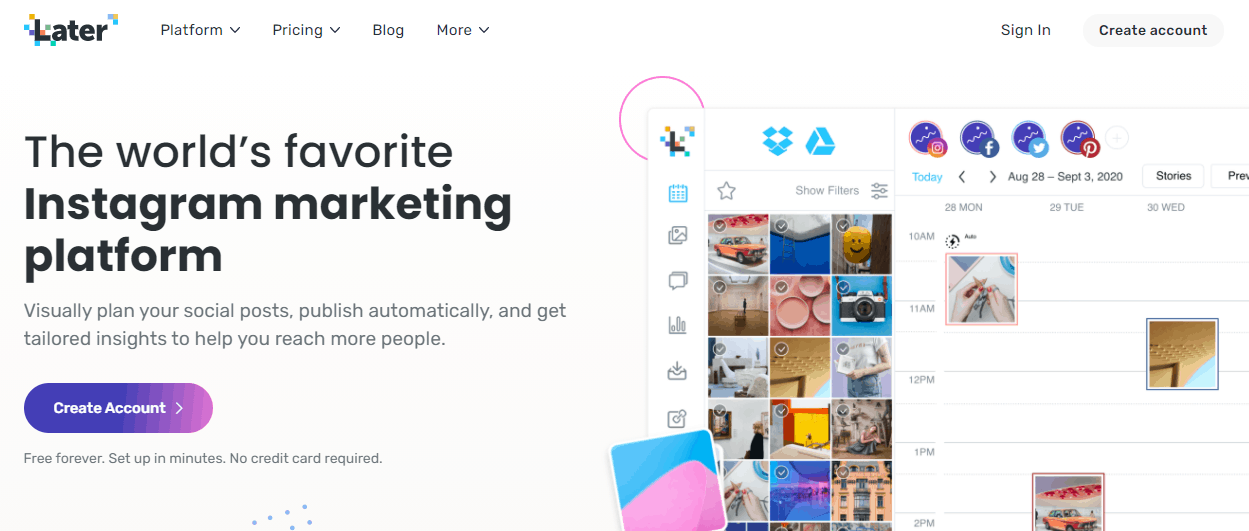 Later markets itself as the world's favorite Instagram tool, and that might just be correct, considering that it has over 600,000 satisfied users.
This tool gives you the power to visually manage your Instagram feed, as well as plan, schedule, and automatically publish posts. And along with things that help you make your feed picture-perfect, Later also provides you with options to respond to comments more efficiently and connect to your audience. 
If you plan on using this tool just for your personal feed, it's free, but if you need it for something more, then you have to go for one of the subscription plans starting at $12.50/mo. 
6. Iconosquare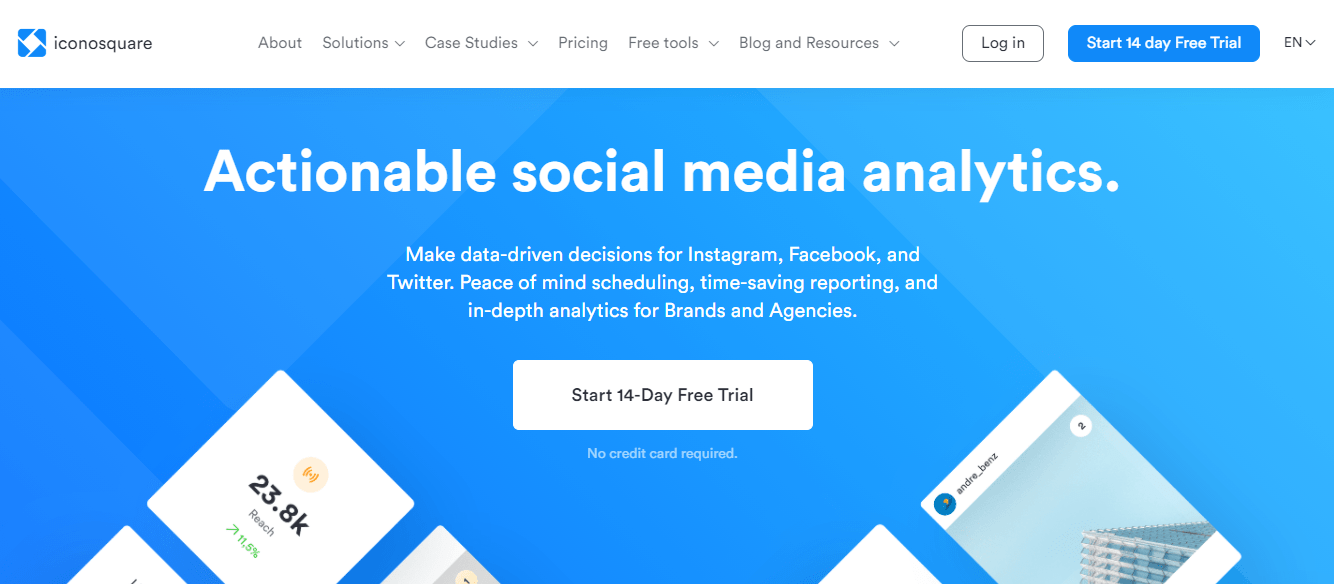 Iconosquare can be particularly useful for those with quite an overbearing social media workflow; with its help, you'll be able to schedule up to 60 posts at any given time. But with that many posts planned, there has to be a clear overview of everything. That's why this tool comes with a clearly-laid-out social calendar, so you'll never miss anything important. 
Iconsquarre is a subscription-based tool with its most affordable plan costing 29€/mo. 
7. Socialert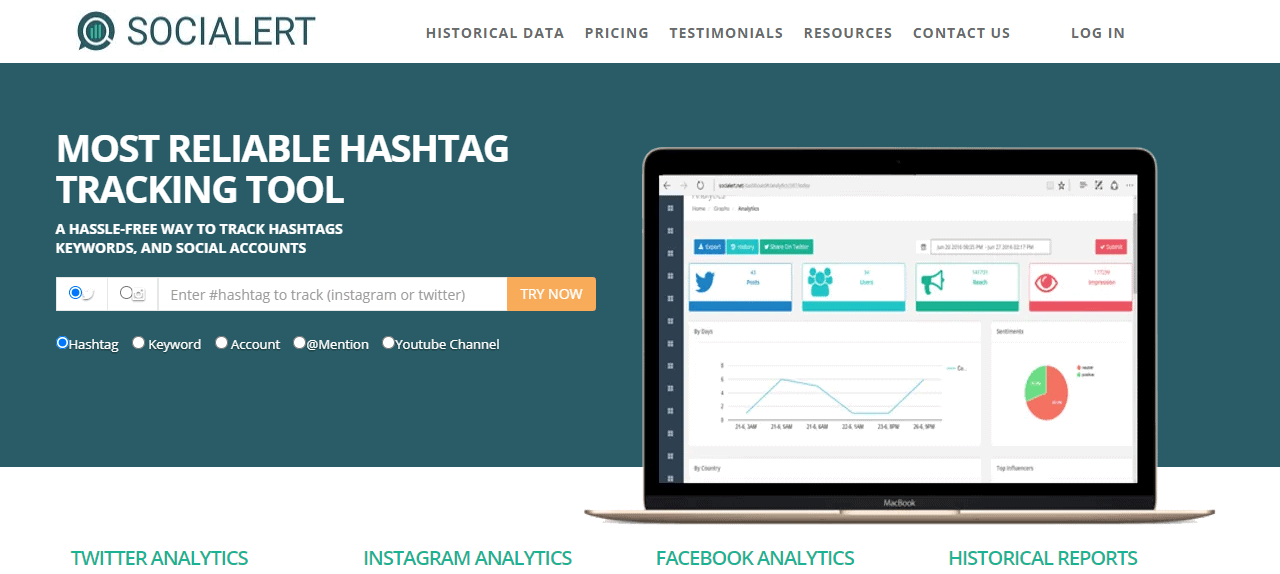 Very popular among social media marketers, and for a good reason, Socialert comes with a comprehensive set of analytical tools for Twitter, Instagram, and Facebook. The best part about these tools is the historical reports. So in case you weren't able to track your socials in real-time before, with this tool, you can now take a glimpse into the past and track your campaign successes retroactively.  
This tool is a bit pricier, with its plans costing anywhere from $24.95/mo up to $199.95/mo. 
7. Mention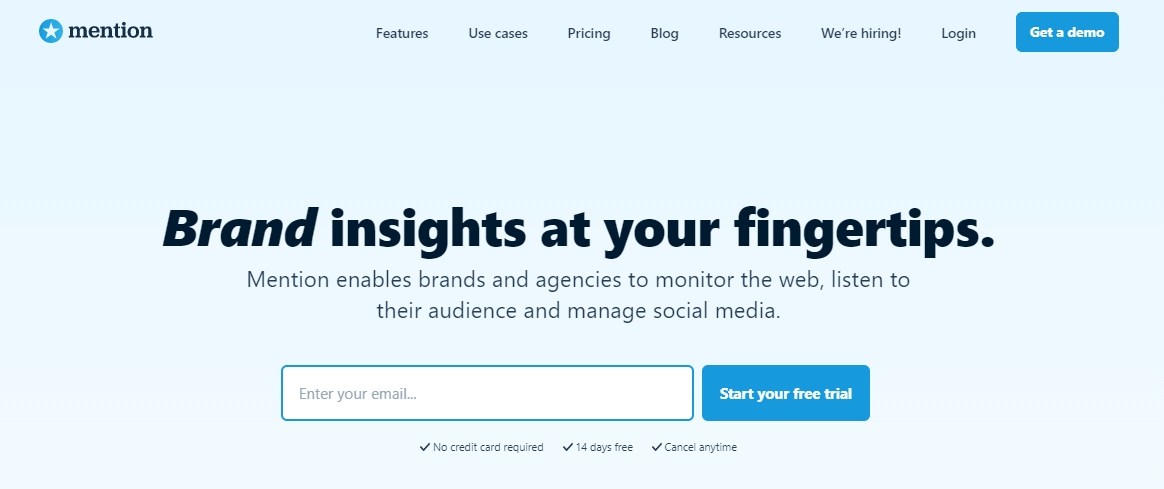 Mention is a social listening tool that allows the user to monitor over 1 billion web sources every day. And after you've completed market research, it also helps to uncover trends in conversation on both Facebook and Twitter by analyzing data taken from posts all across the board.
As is the case with most tools on this list, Mention also lets you schedule and draft posts. 
For entrepreneurs and individuals, acquiring Mention will come around to $25/mo, and for businesses, $85/mo.
9. TweetDeck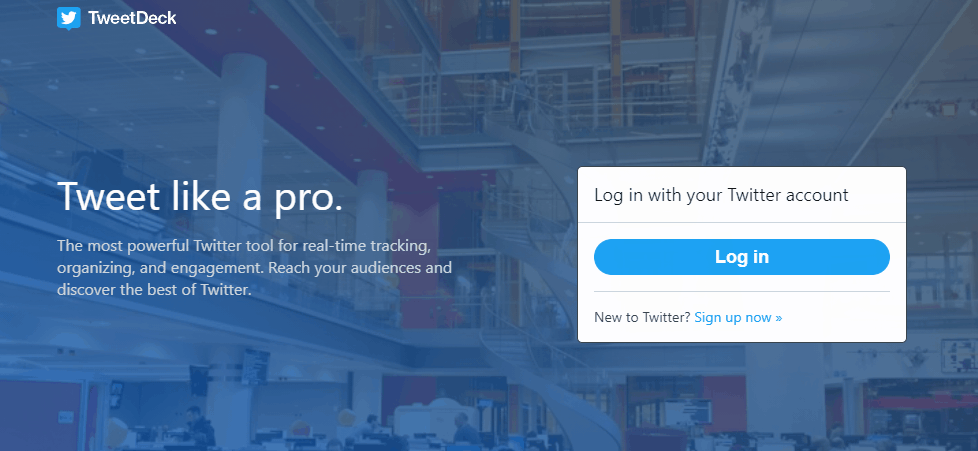 As its name would suggest, TweetDeck is a tool made exclusively for Twitter. And yet again, its primary function is social listening. Considering it's focused on a single platform, the listening is always throughout.
By using this tool, you'll be able to track things in real-time, organize your posts and boost your engagement. So if your main social media platform is Twitter, then TweetDeck might be just the thing you were looking for. Plus, the best part about it is the fact that it's completely free.
10. Kontentino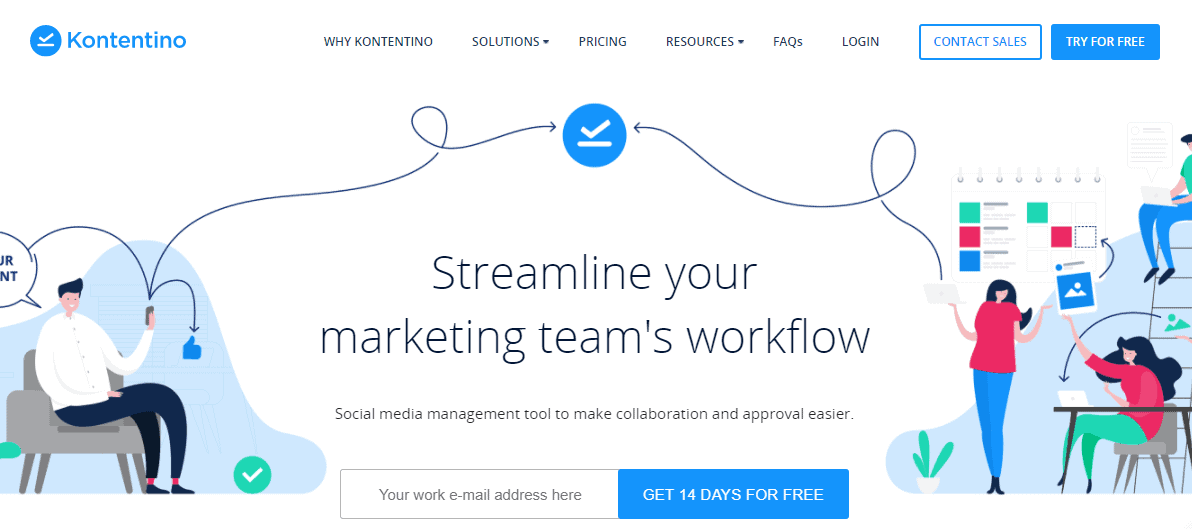 Social media management can seem like hell sometimes, especially if your team's workflow is scattered and it's not easy to communicate with others on the team. The odds of improving your social presence like this are very much not in your favor.
That's exactly where Kontentino comes into play. It not only improves communication within your team but also helps with scheduling and sharing your content. 
For this tool, there's a 14-day free trial, and if you happen to decide that you want to use it after that, the subscription will cost 44€/mo for up to 3 users. 
Conclusion
We hope that you've found this article useful and that now you're well on your way to improving your social media presence with the help of a tool designed just that. 

Latest posts by Editorial Staff
(see all)
Where Should We Send

Your WordPress Deals & Discounts?
Subscribe to Our Newsletter and Get Your First Deal Delivered Instant to Your Email Inbox.
Thank you for subscribing.
Something went wrong.