Everyone considers security a crucial aspect of a website, but only a few users implement strong defense measures. This situation might exist due to the users' ignorance or due to a lack of knowledge or time.
Strengthening a website's security is a long process, but some measures require less than half of an hour of work. WordPress Security plugins are amongst these simple but useful methods of protecting your website.
Have you already been hacked? Lost your password or entire account? Are your core files compromised? The
free Emergency Recovery Script
will solve your nightmare in a single click.
To save you time searching for the proper solution, we have made a list of ten WordPress security plugins. We are genuinely interested in finding out which plugins you use, so feel free to share your favorite plugins with us.
MalCare – A Complete WordPress Security Solution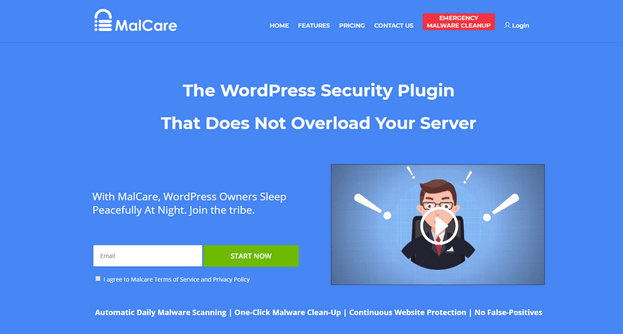 MalCare is one of the most comprehensive WordPress security plugins that I've ever come across. Having been developed after analyzing over 240,000 websites over the course of 2 years, MalCare offers a powerful set of features that are guaranteed to bring you peace once you start using it.
MalCare's security feature highlights are Powerful Scanner that does not bog down your site and goes beyond just signature matching to find new and complex malware. An Automatic Cleaner that above and beyond, whipping all traces of malware. The Firewall prevents bad traffic from accessing your site and blocks bots making multiple failed login attempts using CAPTCHA.
Other notable features include Site Hardening that prohibits unauthorized users from making changes to your site and Site Management that allows you to update themes, plugins and WordPress core from MalCare dashboard. Finally, White-Labelling and Client Reporting promises to make your life easier.
Jetpack Security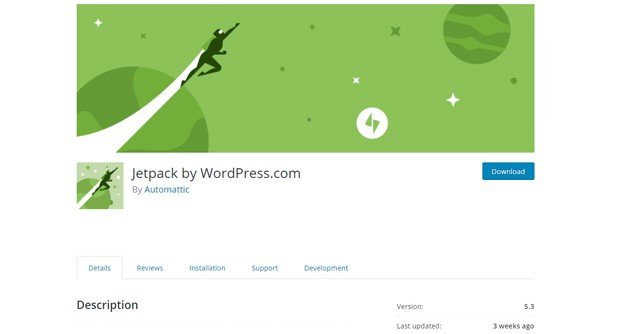 Jetpack is a widely installed plugin that has a robust security module. It's true that it meets only the basic security needs, but it's still a reliable solution. It prevents brute force attacks, provides secure authentication, and monitors the website for downtime.
The Pro version soars with extra features such as a malware scanner, an automatic spam filter, and premium support.
Akismet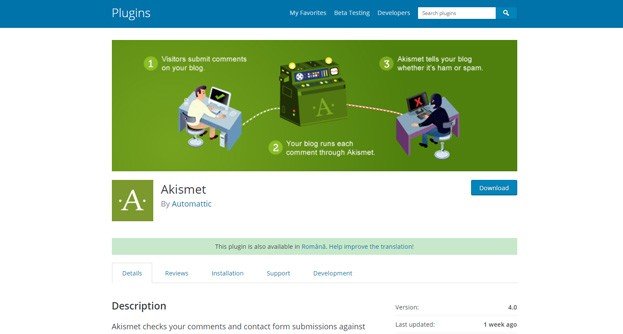 Spammers are everywhere, and they have no limits. Akismet is the leading anti-spam plugin, and its authority is undeniable. The free version is more than enough for the majority of websites.
It would be the perfect plugin if its activation were simpler. Check out this guide to learn how to activate the Akismet plugin on your website.
Wordfence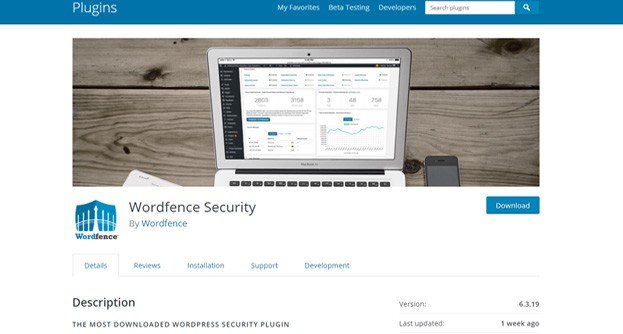 Wordfence has been installed on more than two million websites, and users like how it protects them. The firewall automatically updates and blocks bots, botnets, and hackers. Currently, Wordfence scans for the signatures of 44,000 malware entities. Its database is continually updated with new signatures, so you will be protected against the new viruses and malware.
The plugin does its job perfectly, and if you want to sharpen your WordPress security skills, you should check out the WordPress Security Learning Center.
iThemes Security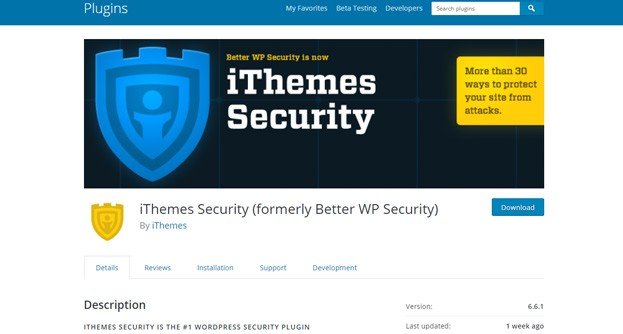 iThemes Security is a serious competitor for Wordfence. It has tons of useful features that defend your website against any kind of attack. Once installed, you will need to set up some modules to benefit from this plugin entirely.
iThemes Security is free, but users who want more features can purchase the premium version. It comes with two factor-authentication, password security, and a dashboard widget, among other features.
Bulletproof Security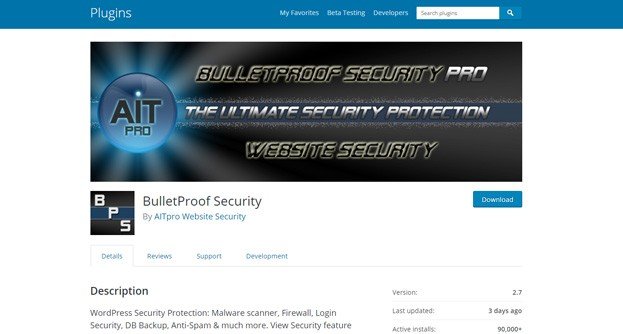 This plugin isn't for beginners; it has plenty of options and checkboxes that simply terrify users. Perhaps the developers should design a more user-friendly interface to attract more customers.
Altogether, Bulletproof Security is a top-class security plugin. It scans the website for malware, backs up your WordPress database, audits user activity, hides plugin folders, and changes the prefixes of database tables. The plugin also limits the login attempts and hides login error messages, so hackers should give up using brute force attacks against websites protected by the Bulletproof Security plugin.
Sucuri Scanner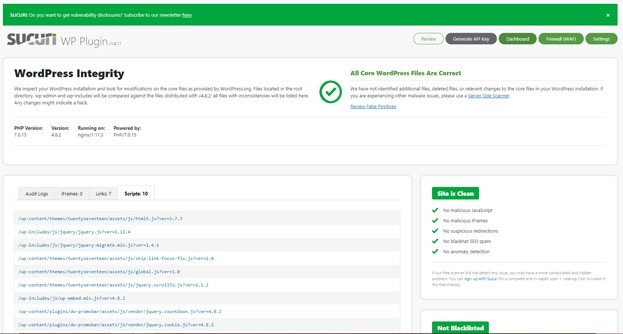 This plugin creates a great first impression with its clutter-free interface. The dashboard is user-friendly and provides useful information. You will find a complete audit of logs, a report on files' "health," and of course, the status of your security.
Sucuri Scanner performs scheduled scans and informs you about potential threats via email. Additionally, you can set up notifications for various user actions (e.g., plugin, theme, or widget installation or deletion, new user added).
Another plus of Sucuri Scanner is its modular approach to security strengthening. You can apply, revert, or check the defense actions for specific modules such as the Plugin and Theme Editor, Default Admin Account, or Information Leakage.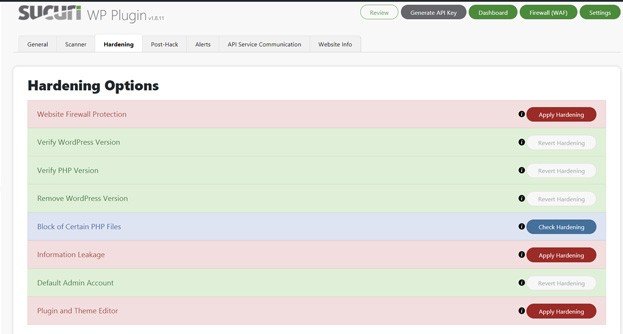 All in One WP Security & Firewall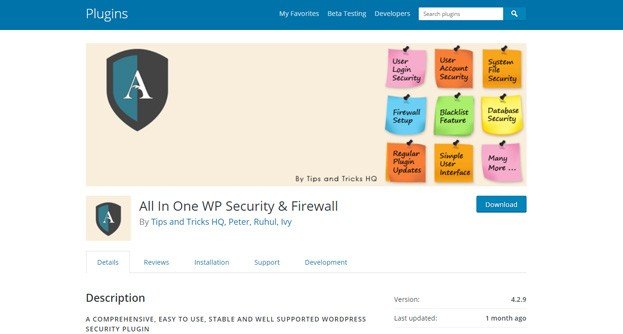 This plugin makes people care about security. While experts are conscious about security, inexperienced users need a hook to convince them to focus on security. Security Strength Meter is a module in this plugin that entices users to accumulate more points by strengthening their website.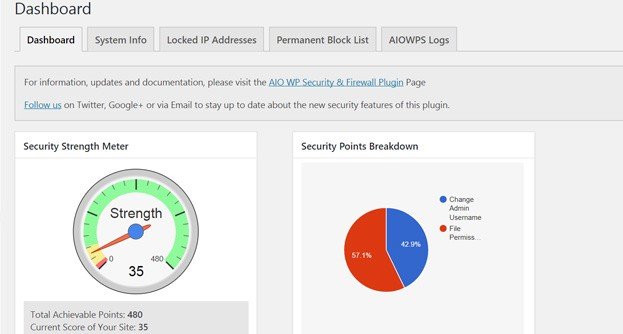 Another cool feature is the Password Strength Meter, which estimates how much time a hacker needs to crack your password.
All in One WP Security & Firewall is a powerful security plugin that does a lot of things:
Protects against brute force attacks
Forces users log out after a set period of time
Changes the database tables prefixes
Scans the website's files
Creates a firewall
Anti-Malware Security and Brute-Force Firewall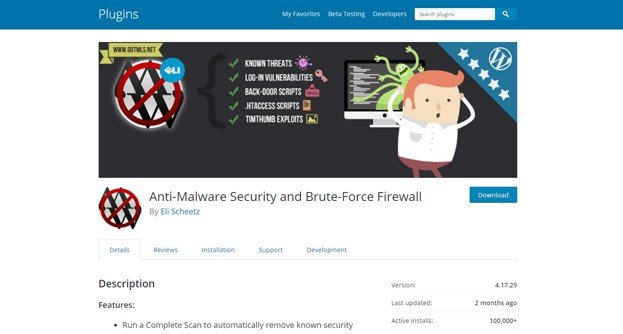 The Anti-Malware Security and Brute-Force Firewall plugin isn't as famous as the previous suggestions, but you should give it a heed. It does two important things: scans your website's files and sets up a firewall.
You can run a complete scan or scan the WordPress core, plugins, or themes folder separately. The firewall is also configurable, and you can enable or disable particular modules.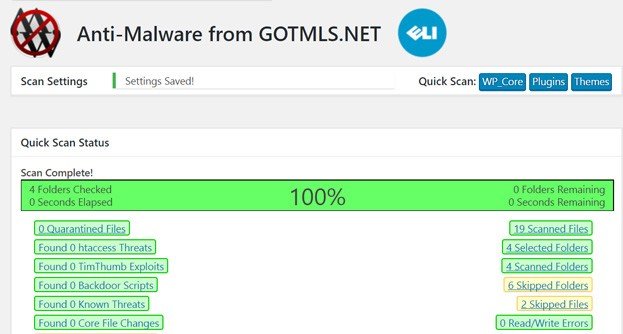 The quarantine section is a useful part of this plugin. It stores items that might harm your website, and you get to decide what to do with them.
Shield Security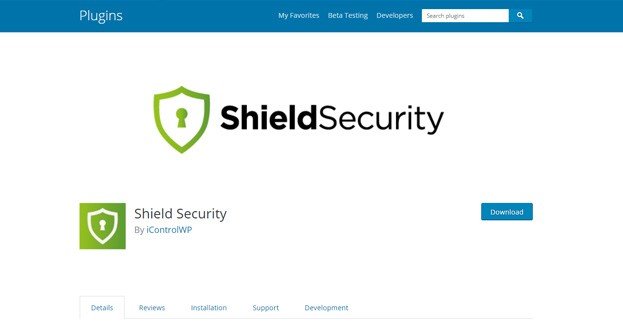 Shield Security is a complex security plugin that makes your website almost impossible to hack. It starts with user security by restricting privileges and verifying users' identities by using two-factor authentication. Next, it blocks all malicious threats and scans the website to detect altered files. Finally, it creates a firewall to prevent any hacker intrusions. All these features combined considerably strengthen your website's security.
Cerber Security & Limit Login Attempts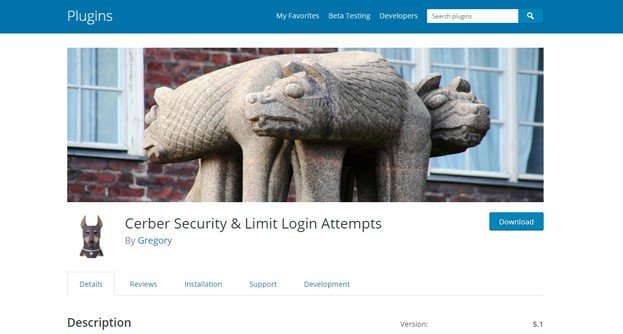 Currently, the Cerber Security plugin has 50,000 active installs, and it's rated five out of five stars. The signs show that this plugin fully deserves your attention.
It makes your website more secure by hiding the dashboard and the wp-login.php, wp-signup.php, and wp-register.php files. The plugin provides all the data related to users' login and logout activities, and you can whitelist or blacklist IPs, IP ranges, or subnets.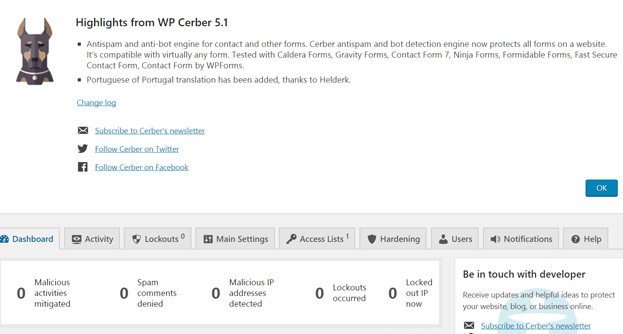 This plugin is gold in the battle against spam comments, and it's compatible with all contact form plugins.
Wrapping Up
If you haven't used WordPress security plugins, check this list and install your favorite. If you already use one, leave a comment below with its name and what you like most about it.

Latest posts by Daniel Pintilie
(see all)
Where Should We Send

Your WordPress Deals & Discounts?
Subscribe to Our Newsletter and Get Your First Deal Delivered Instant to Your Email Inbox.
Thank you for subscribing.
Something went wrong.