Imagine a superpowered version of your WordPress blog. Imagine your website serving not just as a blogging application but also as a file management server. Imagine if you could use your WordPress website to browse files and share them with your readers. Imagine no more because WP File Download can transform your WordPress blog into a file manager and let you do so much more with your webspace.
An easy-to-use WordPress file manager
WP File Download is, simply put, a WordPress plugin that acts as a file manager embedded right in your WordPress blog. It works and functions very similarly to your Windows file browser, which means that you can add new files, move them around and remove them when you no longer need them.
Best of all, because WP File Download is so similar to your desktop file browser, it's very intuitive and easy to use. You can get started right away by drag-and-dropping files into WP File Manager's interface. Or, if you prefer, you can go the more traditional route and click on the select files button to browse files on your desktop computer.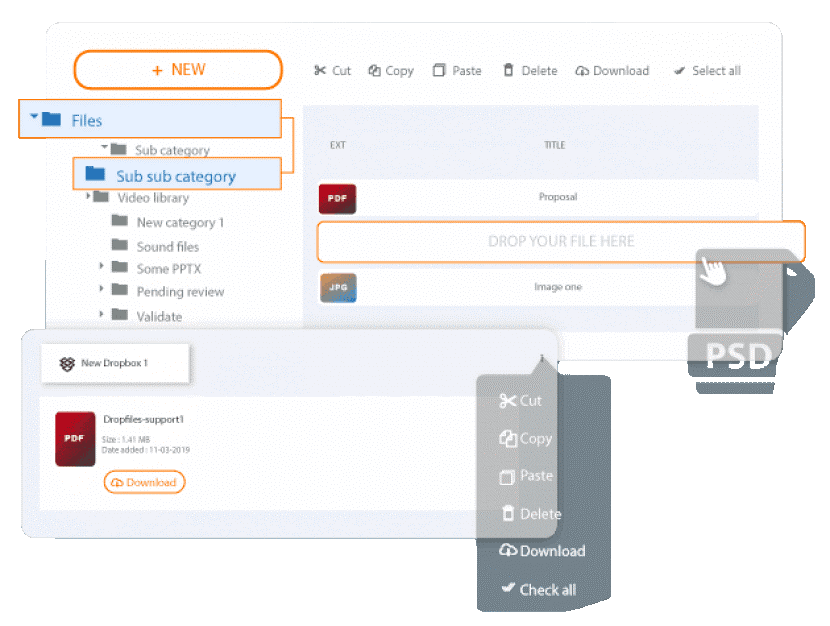 Recently, the WordPress plugin has also added support for multiple categories, which means that you no longer have to decide where to place a file. If it makes sense to add a file to two or more categories, you can simply click on a file and choose which categories it belongs to by using the sidebar.
A file manager is more than just uploading and downloading files. Like your very own desktop file browser, WP File Download allows you to create categories analogous to folders or directories to organize your files. You can rename directories, nest them to create a hierarchy of categories, and drag-and-drop files into them to arrange your repository.
Protecting your WordPress files
The biggest difference between your desktop file browser and your WordPress file manager is that files are only available to one person on your desktop: you. On WordPress, any other collaborator can access or change your files. Luckily, WP File Download has thought of that too with several features.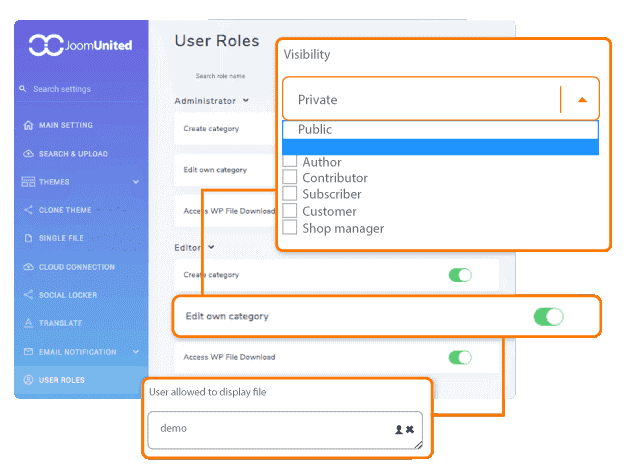 For example, you can restrict a file or category's visibility to just one WordPress user. More generally, you can specify access rights by WordPress user role: WP File Download lets you choose which user groups can create, edit, delete or even access the plugin.
Still worried about protecting your files? WP File Download's email notifications, which you can set up relatively easily, let you know right away when someone adds, edits, deletes, or even downloads a file. All emails are customizable and optional, so you can switch them off if you're not worried about changes to your files.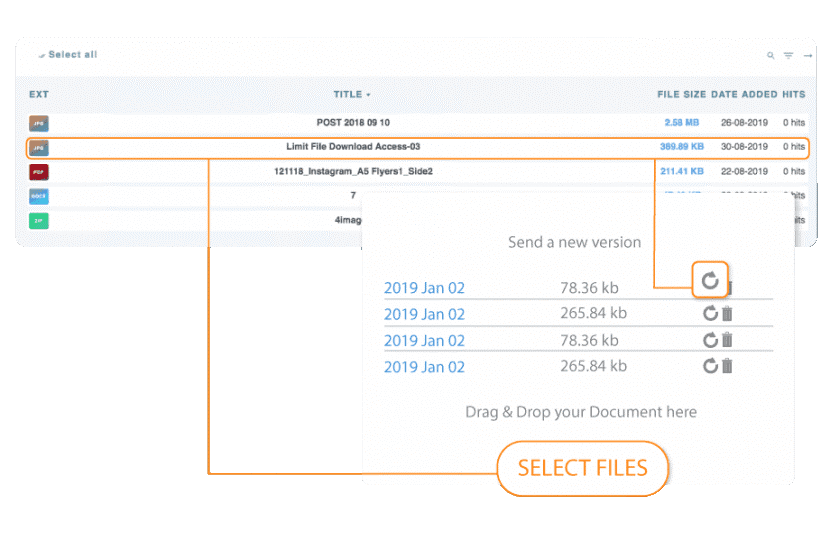 Another more practical and useful safeguard is file versioning, which the file manager provides out of the box. Whenever you or one of your collaborators updates a file with a new version, the plugin automatically saves a copy in the version history. If you notice a mistake, reverting is one click away from the file browser.
Doing even more with files
That's not all there is to WP File Download—far from it. The plugin's strength comes in the sheer number of ways it helps you do more with files. As your WordPress file repository grows, it might become more difficult to browse files and pinpoint what you need. The plugin's search engine generator minimizes that problem.
You read that right: it's a search engine generator, which means that you decide what features the search engine has. You can generate as many search engines as you would like, each with its own capabilities. File search engines support filtering files by tags or categories, searching only in certain categories, and more. You can embed the generated search engines using a standard WordPress shortcode.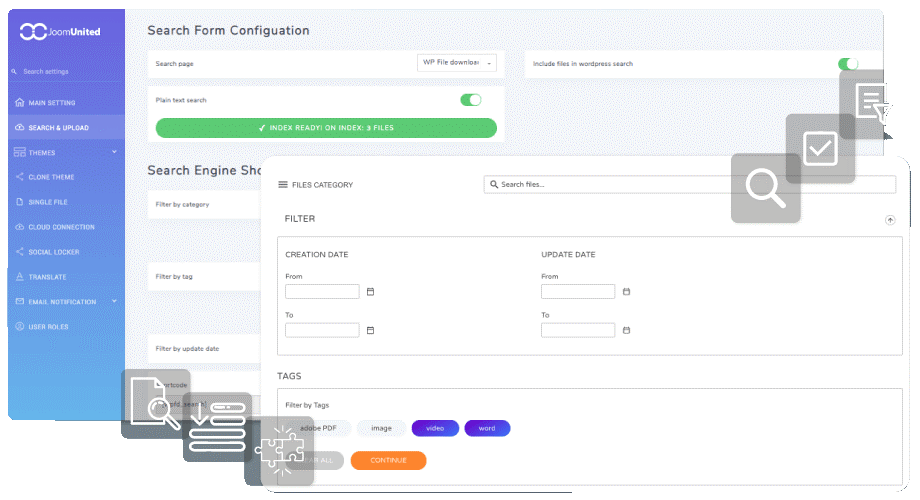 Speaking of customization, starting from a few versions ago, WP File Download has a brand new, powerful icon builder. You can generate one icon for each different supported file type right from your WordPress blog.
All icons are SVG files, which means they have the best possible quality. You can customize the icon to your heart's content, choosing symbols, frames, colors, and more. If that does not suffice, you can even upload your own icons.
Sharing files on WordPress
Don't let the plugin's intuitiveness fool you. WP File Download is as professional as any file manager can get. It takes the best aspects of your desktop browser and adds to them the full potential of the web: sharing files and making them available for download.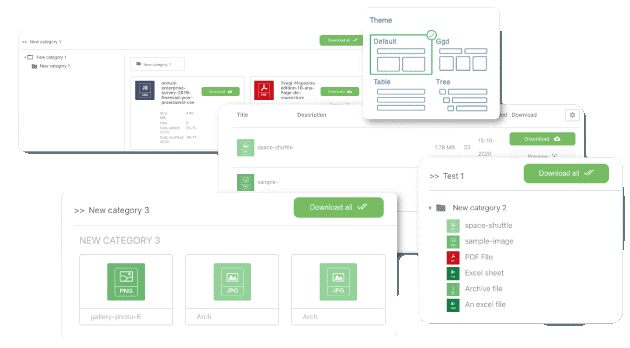 WP File Download excels at letting you share files or even entire categories. All categories and files have a shortcode that you can copy and paste anywhere on your WordPress blog. That means that you can even add files or categories to posts, pages, or as part of your website's theme.
You can find these shortcodes in the file manager's sidebar. While you're browsing, you will appreciate just how many customization options there are for categories and files alike. In fact, WP File Download even comes with four fully-customizable themes to display shared categories: a default theme, a Google Drive-like theme, a table layout, and a tree structure.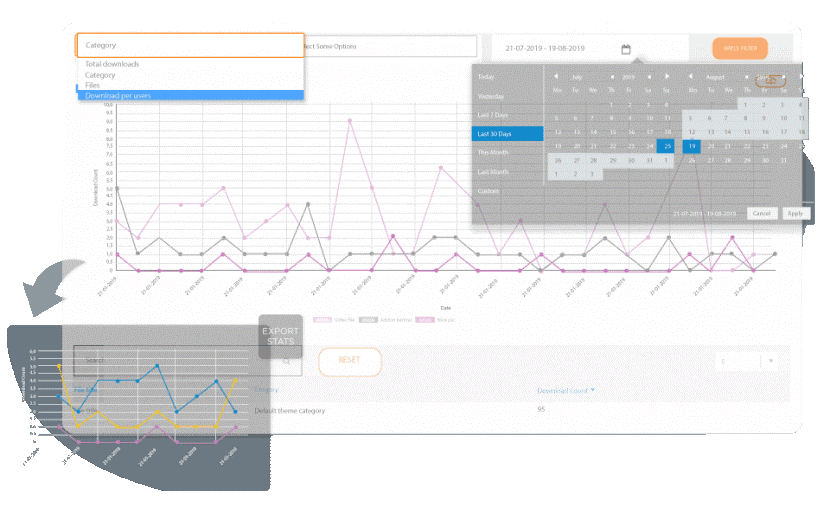 Just like when managing files, you don't want to lose control over your content when you're sharing it. With WP File Download, you retain full visibility of your downloadable files. The plugin boasts a statistics page showing download analytics over time. You can filter the chart by file, category, and even date range to explore insights into how your WordPress readers use your files.
Integrating WP File Download with your WordPress workflow
One great advantage of WP File Download is that it does not disrupt your workflow, only augments it. Take how it integrates with so many of WordPress' other plugins, including not just the Gutenberg editor but also other popular WordPress plugins and themes.
For example, WP File Download adds two blocks to the Gutenberg editor: the file and category blocks. You can use these two blocks to embed files and categories for download on any WordPress post or page. That being said, if you have left the standard Gutenberg behind, chances are that WP File Download has got you covered anyway.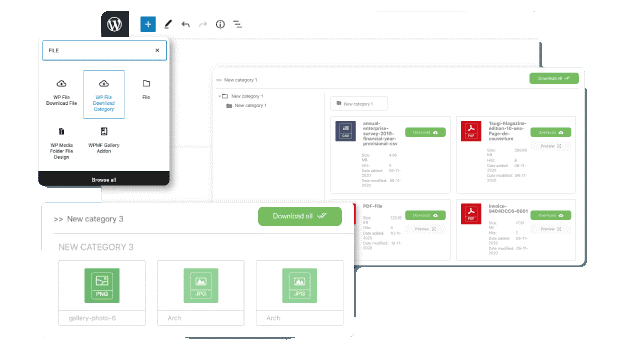 The file manager also has official integration with three of WordPress' most popular editors: Elementor, DIVI Builder, and WPBakery. In all of these cases, WP File Download provides three blocks to share files, file categories, and the search engines we mentioned before.
Did WP File Download miss your favorite theme builder? If all else fails, remember that WP File Download provides shortcodes to embed files, file categories, and even search engines, wherever you want, and in whatever WordPress editor you prefer.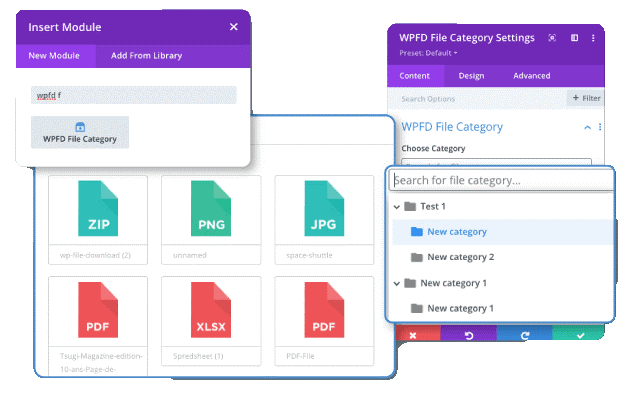 Adding to these integrations, WP File Download has also recently introduced new compatibility with WooCommerce, the de facto standard WordPress marketplace. WP File Download's place in WooCommerce isn't just to share files but to make them available for sale as digital downloads.
Importing existing files into WordPress
The standard version of WP File Download is a bumper deal. If you're considering starting to use WP File Download, but you are apprehensive because you already have a curated file collection and you don't want to re-create it manually, know that the WordPress plugin makes it easier to get started.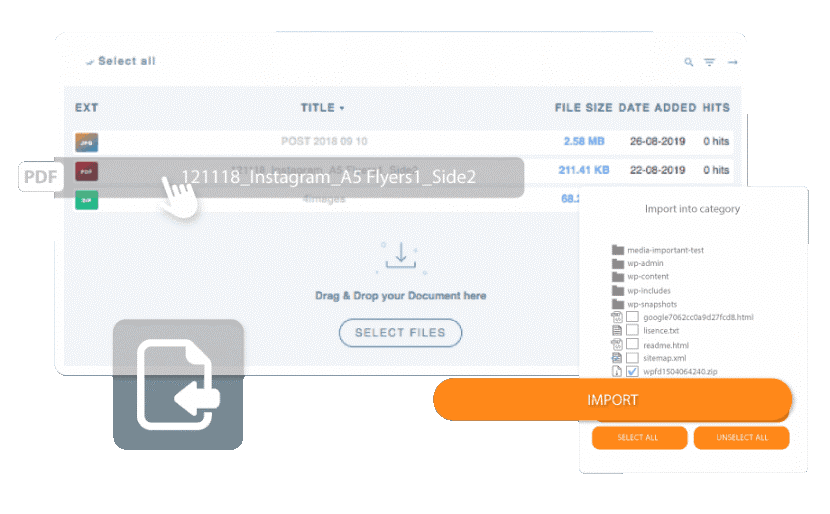 WP File Download comes with a feature to import existing files from your FTP server into WP File Download. In fact, you can import files directly into a category after you enable server file imports. If the files aren't on your server, you can also import remote files into your WordPress blog.
Integrating Google Drive, Dropbox, and OneDrive with WordPress
It should be clear enough by now that WP File Download can be as powerful a file manager as you need it to be. If you want a more scalable solution, WP File Download comes with an optional addon to connect your WordPress blog with cloud services.
Cloud services are increasingly popular because they are affordable, scalable, and allow you to collaborate with the rest of your team. WP File Download supports four of the most popular cloud services in existence, so if this integration interests you, you are most likely covered: Google Drive, Dropbox, Microsoft OneDrive, and OneDrive Business.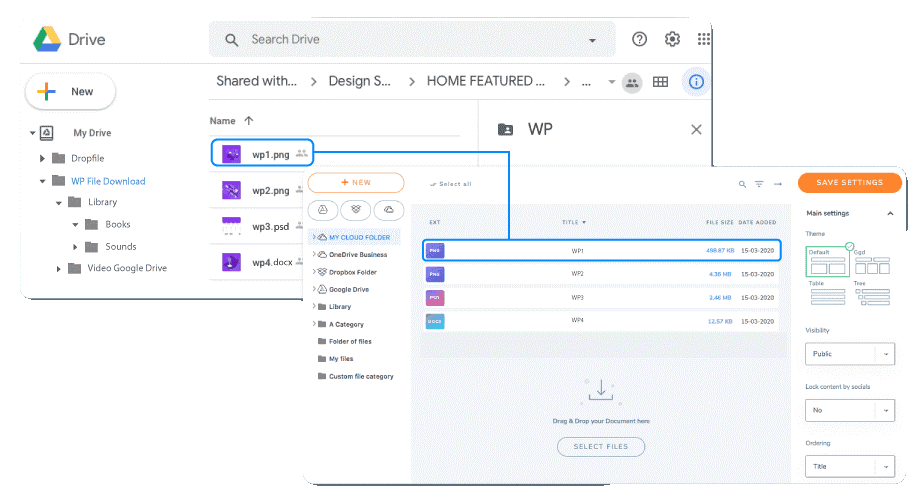 Connecting WP File Download with any of these services is incredibly simple, as is characteristic of the plugin. You can either connect through an app or use a ready-made app to bridge your WordPress blog with any cloud service: a process that only takes one minute.
Once you connect Google Drive, Dropbox, OneDrive, or OneDrive Business with your WordPress file, WP File Download automatically takes care of everything else for you. The plugin works just as it does with local files and file categories, mirroring your cloud directory structure on WordPress.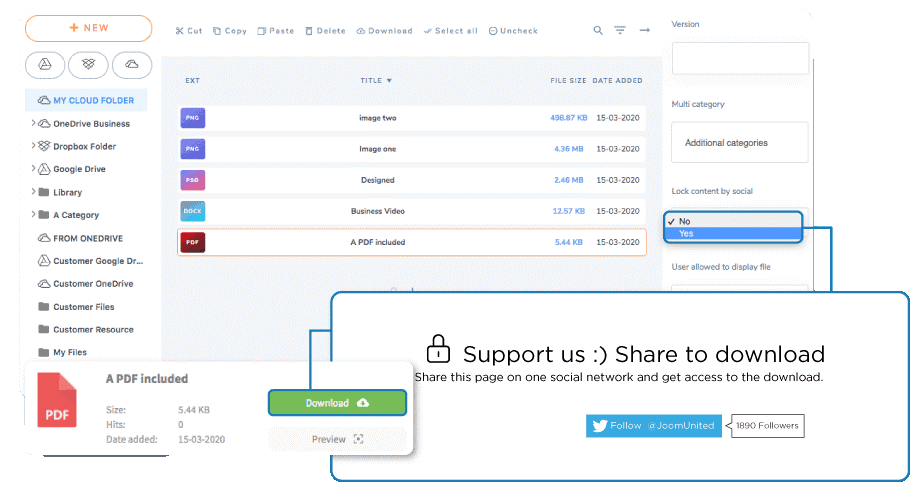 The cloud connection is sophisticated, as you would expect from a professional file manager. All changes are synchronized both ways, so if you change a file on WordPress, it's reflected in the cloud service and vice-versa.
In addition to its integration with Google Drive, Dropbox, OneDrive, and OneDrive Business, WP File Download also comes with a social locker addon. This feature lets you lock files behind social actions, making the files accessible or downloadable only after users follow you on social media or share your pages.
Conclusion
WP File Download is more than just a file manager: it's a way of blogging. The more you look, the more functionality you find. From the file manager right to the heavily-configurable backend, odds are that if your problem is related to files on WordPress, WP File Download is the answer.
Interested in learning more about WP File Download? Check out the full feature list and demo here.

Latest posts by Editorial Staff
(see all)
Where Should We Send

Your WordPress Deals & Discounts?
Subscribe to Our Newsletter and Get Your First Deal Delivered Instant to Your Email Inbox.
Thank you for subscribing.
Something went wrong.