Are you looking for a responsive theme for your WordPress site? Want a professional-looking business website but don't want to shell out your pockets for hiring an actual professional. CyberChimps has created Responsive Business – an exclusive child theme for Free Responsive. Don't worry about being a WordPress beginner. CyberChimps has got you covered with their easy-to-use theme options that take only minutes to configure.
Responsive Business – A Child WordPress Theme for Free Responsive
Built to extend the already robust structure of Free Responsive. Integrated with SlideDeck 3 and multiple page templates, 6 homepage sections make Responsive Business flexible and customizable for any niche.
What Does Responsive Business Have to Offer?
Homepage Layout with 6 Customizable Sections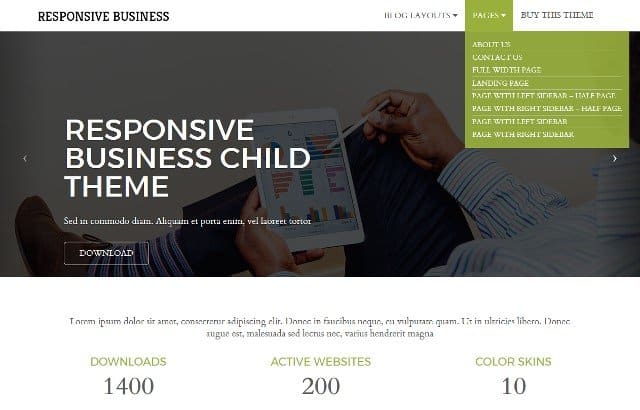 Customize 6 different sections to showcase unique content about your business. Highlight customer testimonials. Show the statistics and achievements of your business using count ups and display business features in an accordion layout right on the homepage.
Built-In Sliders and Integrated with the SlideDeck 3 Plugin
Create smooth sliders with the built-in slider feature for the homepage. Responsive Business is integrated with CyberChimps SlideDeck 3 plugin. So you can pull dynamic content from 13 social media platforms like Pinterest, YouTube, Instagram, etc. Add sliders to posts, pages, and widgets in a few clicks.
Elegant Multiple Page Templates
The theme offers multiple page templates. Blog(full Posts), Blog excerpt (summary), Content/ Sidebar, Sidebar/Content, Content/Sidebar Half Page, Sidebar/Content Half Page. Full-Width Page(no sidebar), Landing Page (no menu), and Sitemap.
4 Different Page Templates
Responsive Business offers 4 exclusive page templates – About Us, Contact Us, Blog One Grid, and Blog Two Grid. Choose what suits your site best.
Showcase Business Features in Accordion Layout
Use a beautiful accordion layout to boast about your business features in a smooth style and win your customers over.
Custom About Us Feature With Progress Bar
Put across your business skills using progress bars on the About Us page. Add as many skills as you want using the About Us feature with titles above progress bars. Your customers will know at a glance that you mean serious business.
Responsive Business for Your Website
Installing Responsive Business
First thing –Responsive Business is a child theme for Free Responsive.You need to have Free Responsive installed on your WordPress site to use Responsive Business. Second, buy and install the Responsive Business child theme. Then head over to WordPress Dashboard >Appearance > Themes and activate the Responsive Business Theme by just clicking on the activate button. Now all you have to do is configure the theme. Let's check out the Theme Options quickly.

Theme Options of Responsive Business
Navigate to WordPress Dashboard > Appearance > Theme Options.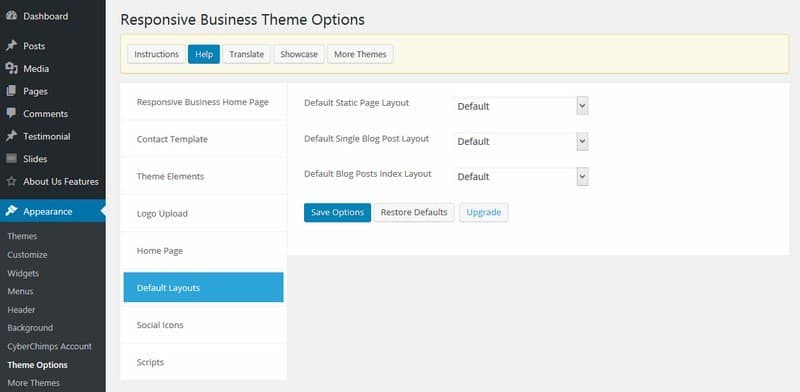 Each tab in the Theme Options offers easy to configure settings:
Responsive Business Home Page: By default, the homepage contains 6 sections. Each of which can be chosen to show/hidden completely. The available 6 sections – Slider, Count Up, Services, Business Features, CallOut, and Testimonials can be customized using the individual section's settings. To override the default homepage of the theme. Create a new homepage with the Responsive Front Page template and customize it in the Home Page tab.
Contact Template: Add a Google Map

showcasing your business location

on the Contact page by embedding the iframe code. Remember, first create a new Contact Us page and choose the Contact Us template from the drop-down menu. You can add a contact form using the ContactForm 7 plugin. You can even add optional text next to the contact form.
Theme Elements: Enable/disable theme elements using checkboxes. Specify a blog title and copyright text; both optional. Also, choose to display the 'Powered By WordPress' link in the footer.
Logo Upload: Add a custom logo in the header section of your WordPress site.
Home Page: Configure the custom homepage (optional) by adding custom content. First, create a new home page and choose the Responsive Front Page as the template. The page will contain a headline, subheadline, a content area (text/media). A featured content area (text/media). A call to action button and 3 widgets. All of which are customizable as per your requirements.
Default Layouts: Choose the default layout for static page, single blog post, and blog posts index. You can choose one out of five options for each – Default, Content/Sidebar, Sidebar/Content, Content/Sidebar Half Page, Sidebar/Content Half Page and Full Width (No Sidebar).
Social Icons: Specify the URLs to your social profiles. If a URL field blank, then the respective social media icon will not show up.
Scripts: Add custom scripts for the header & footer.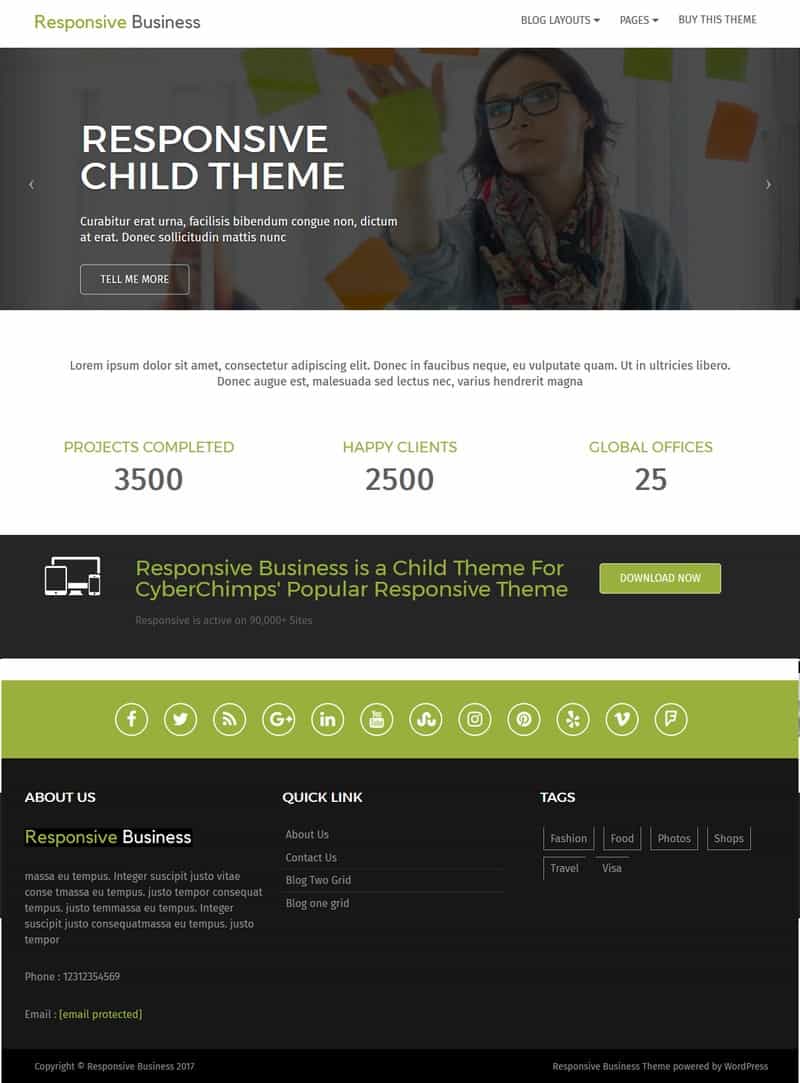 Check out the demo site of Responsive Business – Child Theme for Free Responsive
What Makes Responsive Business Unique?
The theme offers 3 exclusive features – Business Features section, About Us and Count Up. You can add Business Features in the layout of an accordion using the Business Features section on the homepage. Add 3 count ups using the Count Up feature to showcase your customers/projects/offices on the homepage. And showcase your skills/project's status with a progress bar with the help of the About Us feature on the About Us page.
Business Features Section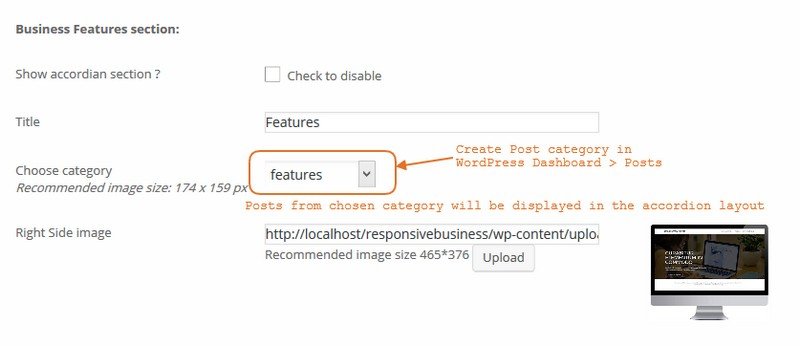 To configure the Business Features section on the default homepage. Go to Theme Options > Responsive Business Home Page > Business Features Section. You can create multiple posts and group them into categories. The posts from the chosen category will be displayed in the accordion layout on the homepage. With the specified title along with the selected image on the right side of the page. Here's a preview: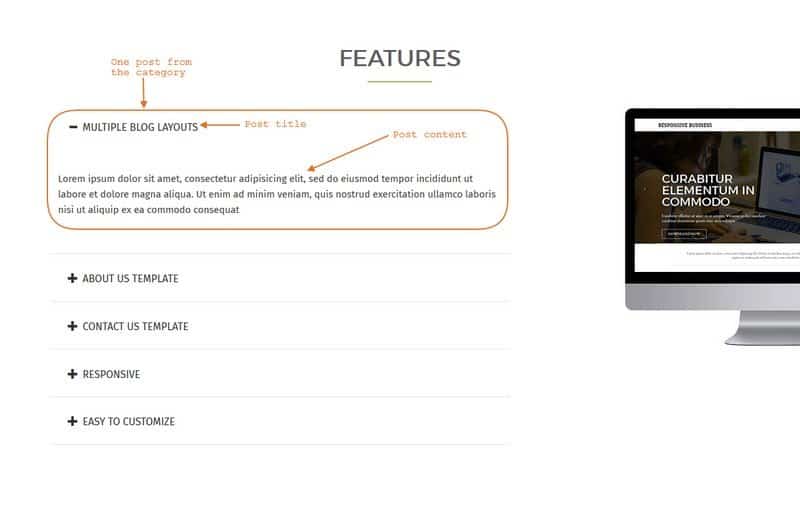 Count Up Feature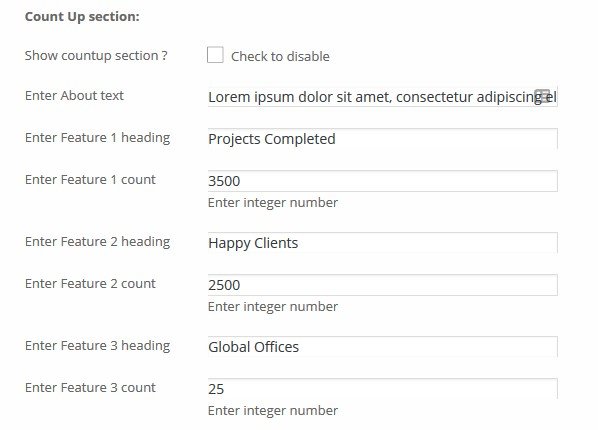 To add 3 count ups on the homepage, navigate to Theme Options > Responsive Business Home Page > Count Up Section. Add the optional text, headings, and count (in integers/numbers). This is a great place to give your visitors a glimpse into your achievements. Here's how it'll look on the homepage:

About Us Feature
You need to create a page with the About Us template to show the about us features on it. Create a new page first. Choose the About Us template, add some content (optional) and publish it.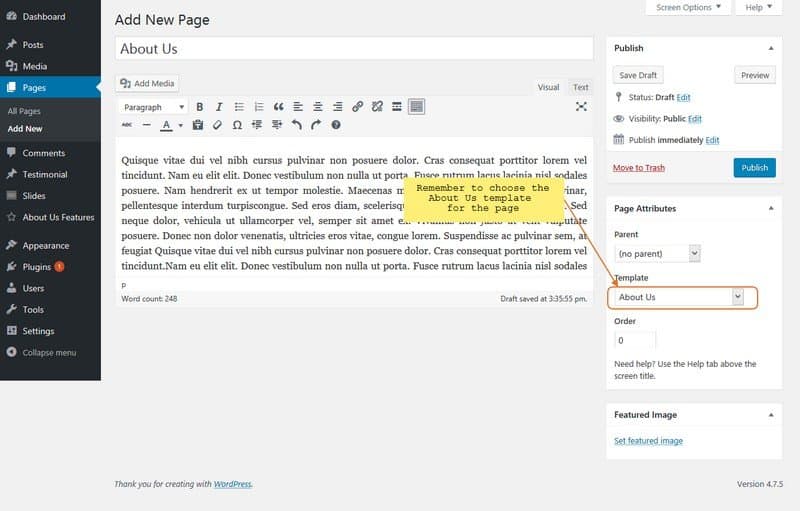 Now go to WordPress Dashboard > About Us Features > Add New to add the features in the form of progress bars with titles.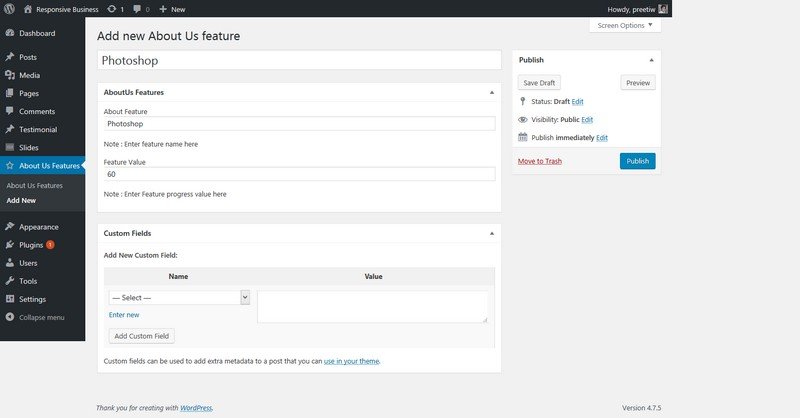 You can add as many About Us features as you want and they'll automatically show up on the About Us page. Here's how it'll look: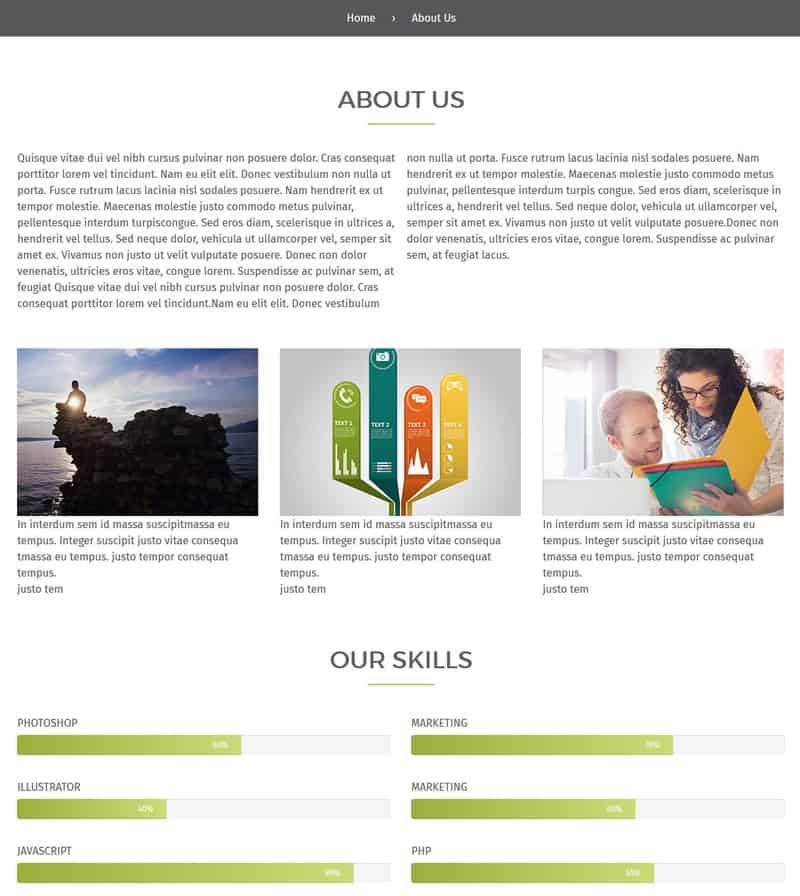 Sliders
Responsive Business has an inbuilt slider feature which you can use to add multiple slides on the homepage. You can add Call to action buttons on the slides to redirect your visitors to landing pages. Use the menu from WordPress Dashboard > Slides > Add New to create sliders. Create categories to group different sliders and use them in the Slide section on the homepage. The theme is integrated with CyberChimps SlideDeck 3 plugin. Use SlideDeck 3 to add sliders on various landing pages. SlideDeck 3 allows you to pull dynamic content from 13 social media platforms.
So, What Do I Have to Pay?
Responsive Business can be purchased individually for $27 from the CyberChimps' Theme Gallery. But if you are a smart buyer then you can get all CyberChimps products (all 52 themes & plugins) for $9 per month. You just need to signup for the CyberChimps Club now!
Wrapping Up
Responsive Business is perfect for any niche. It's simplistic yet highly customizable options make it the ideal choice for any business website. You are up and running in a few minutes. You don't even need to hire a professional. The unique features will bring an aura of professionalism to your online presence. Impress your visitors and potential customers with a sophisticated About Us page. With the inbuilt sliders make your achievements stand out.
Hurry! Check out Responsive Business – A professional-looking child theme for Free Responsive right now!!!
Latest posts by Susmita Pendse
(see all)
Where Should We Send

Your WordPress Deals & Discounts?
Subscribe to Our Newsletter and Get Your First Deal Delivered Instant to Your Email Inbox.
Thank you for subscribing.
Something went wrong.