Have you just jumped on the blogging bandwagon recently, or planning to? Are you looking for the best responsive WordPress theme? Want your site to look clean and concise, be easy to set up? Need a multilingual ready WordPress blog? Grab a copy of CyberChimps' Responsive Theme today.
Features Included in Free Responsive WordPress Theme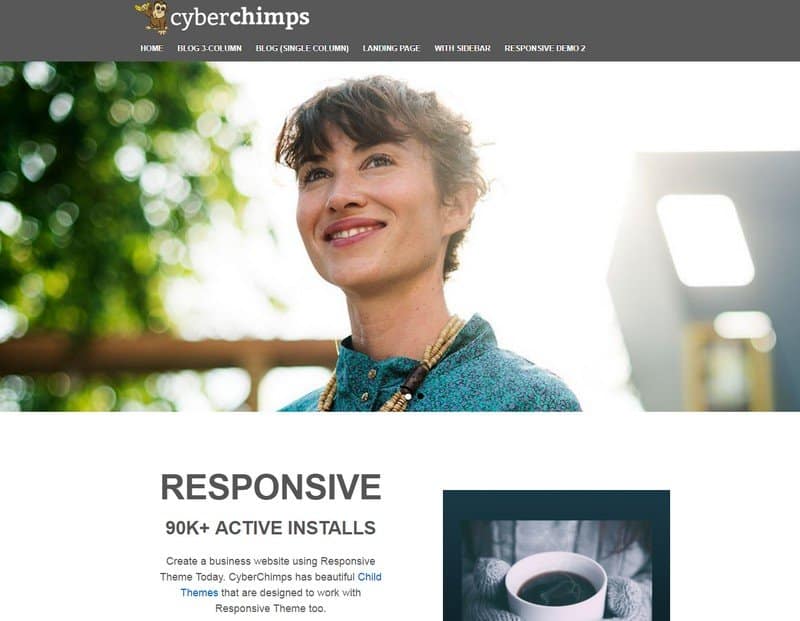 Let's take a look at what features are included in the Free Responsive WordPress Theme, shall we?
Customizable Sections for Contact Details, Services, Team and Testimonials on Homepage
Display contact details, services, team member details and client testimonials right on your WordPress blog's homepage. Each section is customization to reflect your niche and requirements. You can flaunt the social profiles of your team members. Add a quick contact form using a ContactForm 7 shortcode on your homepage.
See Live Preview Within WordPress Customizer
Fire up the WordPress Customizer to set up your blog with Responsive Theme in minutes. Make changes on-the-go. The theme's light-weight robust framework enables you to preview changes without any lags.
8+ Custom Templates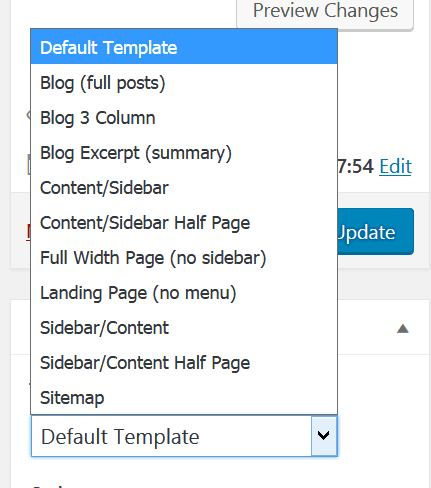 Choose from over 8+ custom page templates for your pages. You can also override the default WooCommerce templates if you are running an e-store.
11 Widget Areas

Add multiple widgets to your WordPress blog. Responsive Theme offers 11 widgets areas.
4 Customizable Menus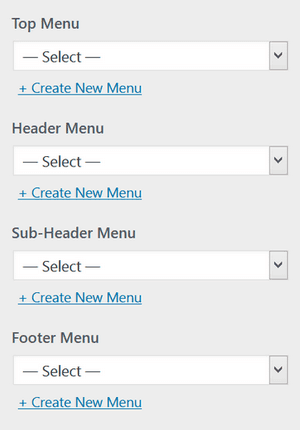 Show various menus with different menu items at 4 different locations on your WordPress site. That's not all; you can choose to show the Navigation Menu Widget in one or more of the 11 widget areas.
Retina Ready
Thanks to being retina ready, your site will look super crisp on any device with Responsive Theme.
Multilingual Ready and Translated into 45 Languages
Planning on creating a WordPress site for a global audience? No worries, Responsive Theme is multilingual ready and translated into 45 languages. Never let language be a barrier, ever again in reaching out to people!
WooCommerce Compatible
Have a WooCommerce powered e-shop? Responsive Theme is WooCommerce compatible. It has built-in support for all WooCommerce templates. Your site will not appear broken – ever!
3 Column Blog Layout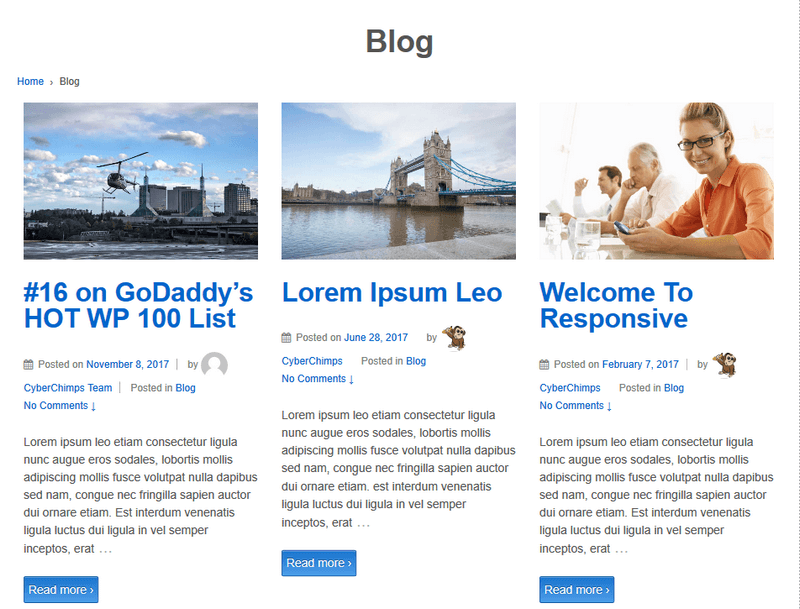 Dedicated Free Support Forum
Stuck somewhere with the theme set up? The CyberChimps' team of experts runs a dedicated and exclusive Support Forum for your queries.
Robust Light-weight Design
Finally, a theme that will not hamper your site's loading time. Responsive theme is built using a robust framework that is light-weight.
Responsive Theme Setup & Configuration
You can navigate to WordPress Dashboard > Appearance > Theme Options for setting up the theme on your WordPress blog. Also, the theme can be set up through the WordPress Customizer which offers a live preview of the changes you make on-the-go. Let us take a look at the Theme Options.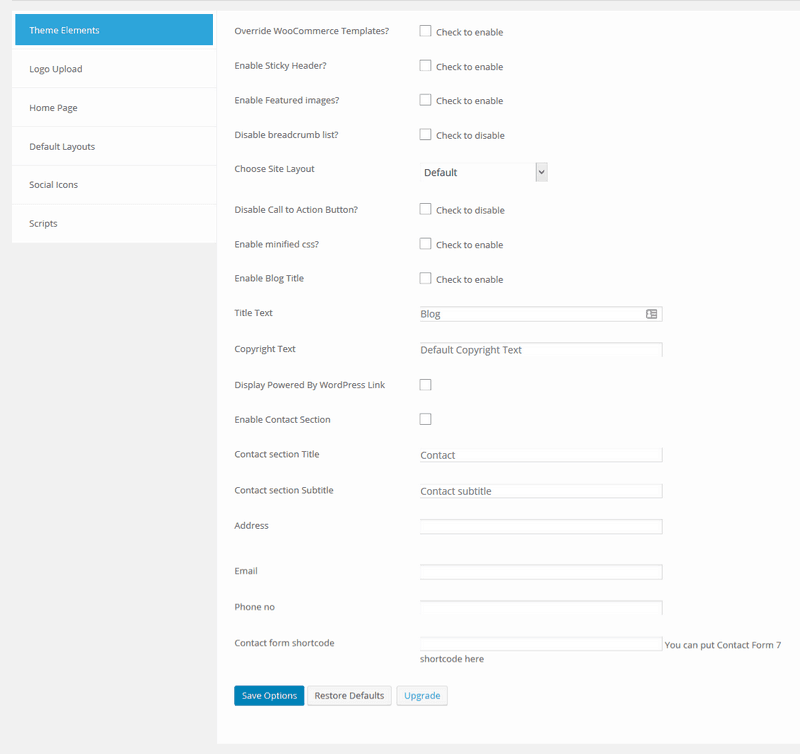 Theme Elements: The theme is WooCommerce compatible, you can override the default WooCommerce templates. Enable/disable sticky header, featured images, breadcrumb list, CallToAction button and other miscellaneous settings of your theme. Set up the contact details displayed on the homepage. You can add a ContactForm 7 shortcode to display a contact form.
Logo Upload: The theme enables you to add a custom logo in case you want to change the default logo. Recommended logo size is 300px X 100px.
Home Page: Configure the various sections on the home page. Just enable them and customize them with desired content. You need to install SlideDeck Lite plugin to display a full-width slider on the homepage. Available sections for customization include – Featured Content Area with CallToAction, About Section with CallToAction, Feature Section (3 different blog posts), Testimonial Section (1 post), Team Section (3 different blog posts for 3 members only).
Default Layouts: Select the default layouts for Single Page

,

Single Blog Post, and Blog Post Index.
Social Icons: Add full URLs to your social media profiles. Blank boxes will not show the icons on the frontend.
Scripts: Embed custom scripts in the PHP and footer.php files.
Recommended and Bundled Plugins: Responsive recommends WP Legal Pages, Responsive Add-Ons, ContactForm 7, WPForms Lite, SlideDeck Lite and iFeature Slider.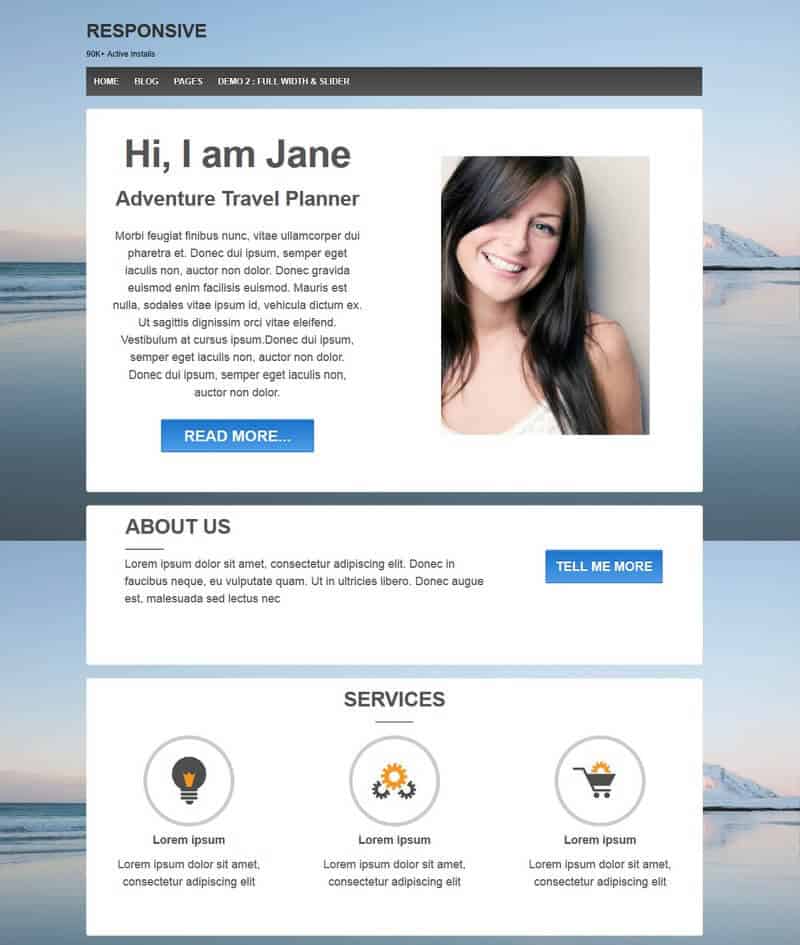 Here are two demo sites of Responsive: Demo Site 1 and Demo Site 2
Here are some websites which use CyberChimps Responsive Theme – Fox River Bait & Tackle, First Class Dog Training, Stajnia Kinok (Kinok Stables).
The Price
$0 is what it costs you for Responsive Theme. If you ever hit a wall with the theme, just drop by the free support forum by the CyberChimps' team of experts. They'll sort it out for you.
Final Thoughts
The theme is a freaking steal if you are looking for an elegant and concise look at your WordPress blog/site. There's a reason Responsive Theme ranks #16 on GoDaddy's WP Hot 100 list and make it the best responsive WordPress theme. Great features, easy setup, a dedicated support forum is what makes it a perfect choice for your WordPress blog. That's not all though; you can upgrade to the pro version of the Responsive Theme. Here are more details on upgrading to Responsive Pro. Why not get a business website set up soon?
Excited to try it?? Hell yes, let's take it for a spin!
Susmita is an engineer, a writer, and a dancer - not necessarily in that order! Ever since she discovered WordPress, she has not ceased to be amazed by how this community-driven platform brings people together - in more ways than one. And yes, she loves binge-watching movies!
Latest posts by Susmita Pendse (see all)
Where Should We Send

Your WordPress Deals & Discounts?
Subscribe to Our Newsletter and Get Your First Deal Delivered Instant to Your Email Inbox.
Thank you for subscribing.
Something went wrong.