Are you looking for WordPress themes that are ready for the Gutenberg block editor? We are going to save you some time thanks to this hand-picked collection of the best free Gutenberg WordPress themes for a diversity of niches.
Let's clarify one thing first. All WordPress themes are "compatible" with Gutenberg by default; that is, you can compose content with the Gutenberg blocks using any theme. But if a theme doesn't provide support specifically for Gutenberg. The blocks will apply their styles to your Gutenberg content, which means it'll more likely be different from your default theme styling.
So it's wiser to opt for themes that undergone Gutenberg adaptation (yeah, WordPress developers have to roll up the sleeves to add Gutenberg support to their themes). In plain words, such themes are ready "to pass" their default unique styles to content you build using Gutenberg blocks to keep overall design consistency.
In Gutenberg-ready themes, all important things like typography, fonts weigh and size, buttons, etc. will match the frontend styling. As a result, content added via Gutenberg will look naturally – in visual parity with a default theme styling.
Furthermore, currently, we're observing the rise of new WordPress Gutenberg themes created with the new editor from scratch – they are ready to provide a perfect Gutenberg editing experience out of the box.
In our collection, you'll find free Gutenberg WordPress themes for multiple needs and tastes. We've made sure to choose the themes that gained a good reputation and, of course, play nicely with the new block-based Gutenberg WordPress editor. Let's go!
Gutenberg Starter WordPress Theme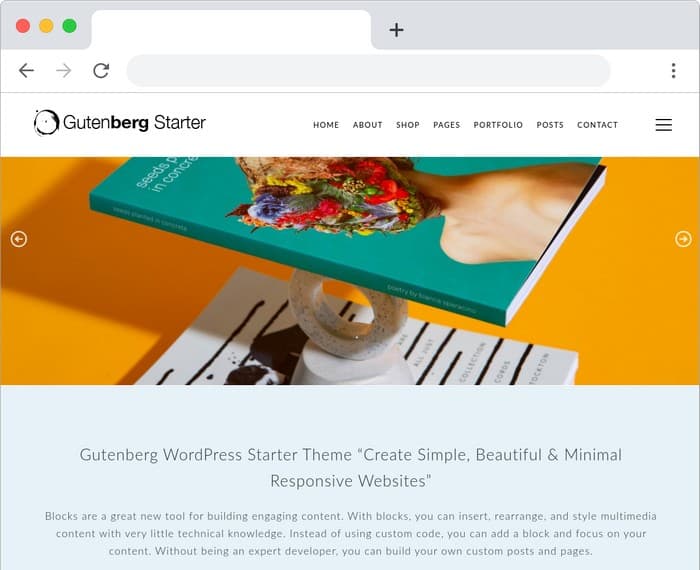 The Free Gutenberg Starter WordPress Theme from Dessign.net is a perfect theme for everyone who wants to build an engaging, attractive, and modern website. It fully supports the new editor in WordPress, Gutenberg. With Gutenberg blocks, you can easily insert, rearrange, and style multimedia content without any knowledge of coding.
It is a theme with a beautiful look and style and suitable for website types such as business, corporate, portfolio. With a spacious design, your content stands out beautifully out from the crowd. To get the best outcome with Gutenberg, you need to install a couple of plugins. The plugins are Smart Slider 3, Kadence Blocks, One Click Demo Import, WooCommerce Blocks, and Blocks CSS Animations.
Once the plugins are installed, you are ready to get your website rocking. You can build custom posts and pages with ease. The Free Gutenberg Starter WordPress Theme is a theme we recommend if you want to create a website better and faster with the support of the Gutenberg editor in WordPress.
Atomic Blocks WordPress Gutenberg Theme for Bloggers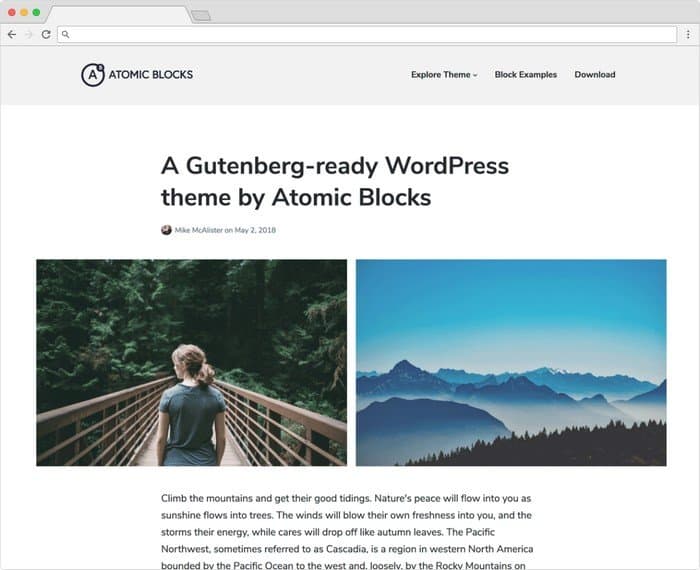 The first thing you should know about the company behind the Atomic Blocks WordPress theme is that they are creators of one of the popular plugins for Gutenberg – Atomic Blocks. In broad strokes, this plugin exists to extend default Gutenberg's functionality in a similar way WordPress page builders did (and still do) with the Classic editor. The Atomic Blocks plugin, in combination with its namesake theme, will provide you with a seamless, mind-blowing Gutenberg experience.
The theme comes with professional styles explicitly crafted for the Atomic Blocks plugin. Which is a privilege no other theme can provide? Colors, sizes, content width, etc. are all under your control. Add all extra tools available in Atomic Blocks to this, and you'll be pleasantly surprised by a powerful combo that is free.
Page Builder Framework Multipurpose WordPress Theme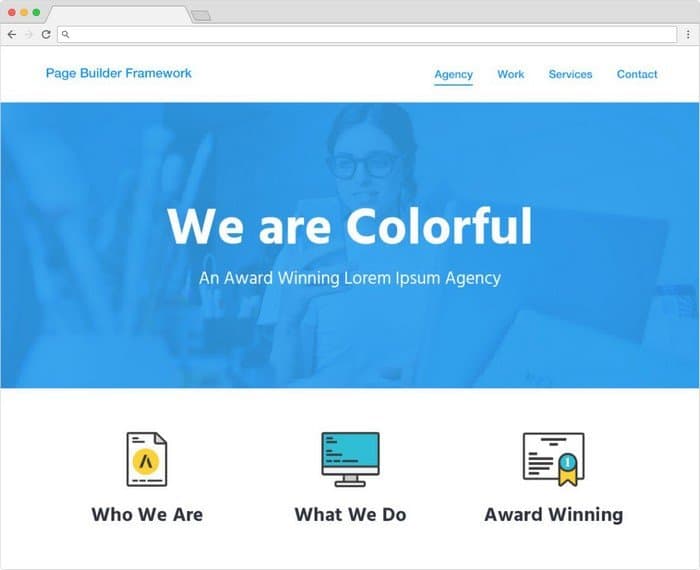 The Page Builder Framework is one of the popular minimalist WordPress free themes. You can use it for any niche ranging from business to a travel blog; it's packed with all the necessary functionality to cover multiple scenarios. The theme is tested to play nicely with all widely used builders like Elementor or Divi. Now it also provides full Gutenberg support. It means you can use several builders together to get the most out of them. For example, Elementor (which comes with Gutenberg integration) and Gutenberg.
For a smooth connection with the new editor. The theme comes with basic styling applied to Gutenberg and default blocks to match the look and feel of the theme. Changes implemented in the WordPress Customizer to the page width, fonts, and background color will be inherited on the frontend as well. Unlike some other themes, the Page Builder Framework supports default Gutenberg wide and full-width image alignments for posts and pages with no sidebar.
Palmeria Free Gutenberg Theme for Hotels and Vacation Rentals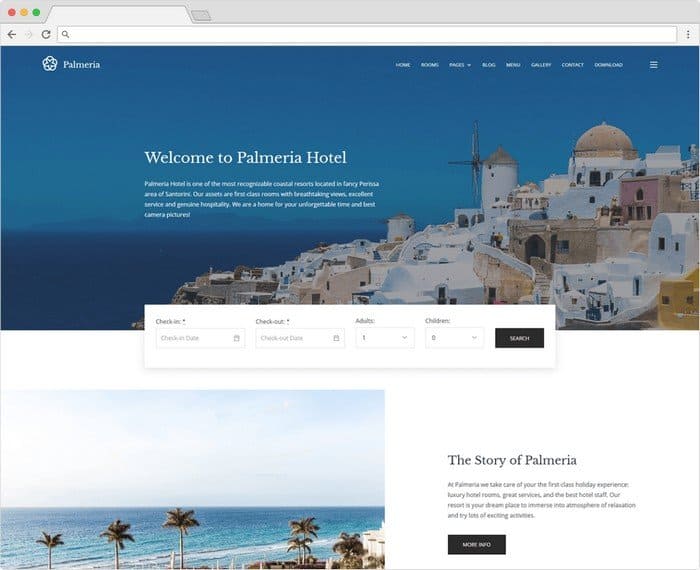 Palmeria free Gutenberg WordPress theme is a spot-on solution for rental business needs since it's packed with the full-scale WordPress booking plugin and property management system by MotoPress (the lite version). Even being entirely free, it sets you up with a great rental unit directory builder (including seasonal pricing, rates, coupons, and more). The system of accepting live or after-arrival bookings. All this makes Palmeria a perfect match for hotels, guest houses, villas, hostels, and other types of rental properties.
The theme layouts are built with Gutenberg from scratch (while many other popular themes add Gutenberg support afterward). Providing you with excellent handcrafted galleries, grid layouts, and other goal-directed pre-built pages. If you possess vanilla design skills and aim at the maximum out-of-the-box solution, the Palmeria theme offers a 1-click demo data installation to help you get started without any a headache. The theme doesn't use any heavy plugins, letting you run a beautiful website without sacrificing performance.
Editor Blocks Free Gutenberg Theme for Business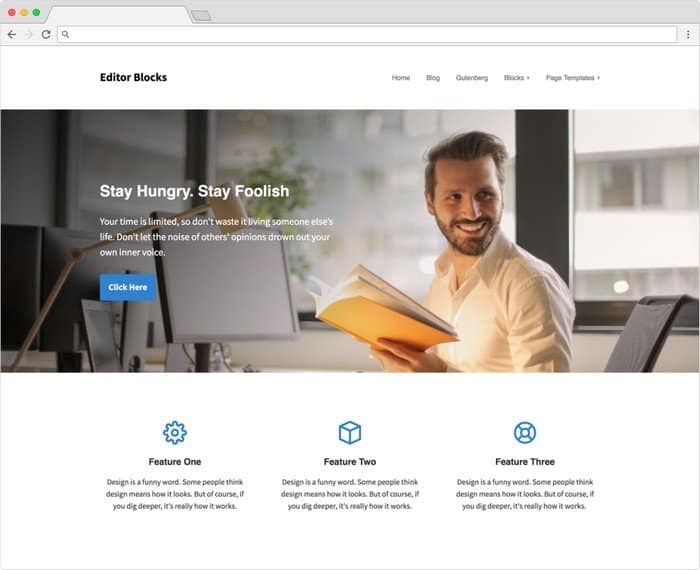 Editor Blocks is slowly but steadily gaining popularity as a WordPress Gutenberg theme for a variety of business needs. Apart from full Gutenberg support, this theme provides a unique collection of extra Gutenberg blocks using the Editor Blocks for Gutenberg free plugin. Thanks to this, you get much more tools to fine-tune your future website, without tech help.
The Editor Blocks plugin adds several cool blocks that are not available in the default WordPress 5.0 core editor yet. A wrapper block (which allows placing other blocks inside it). Pricing table block, team members block, hero block, testimonials block, horizontal feature block, and a few more. The theme also supports several most functional page templates — Full-Width, with and without sidebar ones. To sum up, Editor Blocks is a pretty flexible and powerful free WordPress theme for Gutenberg.
Block Lite WordPress Gutenberg Theme for Bloggers and Writers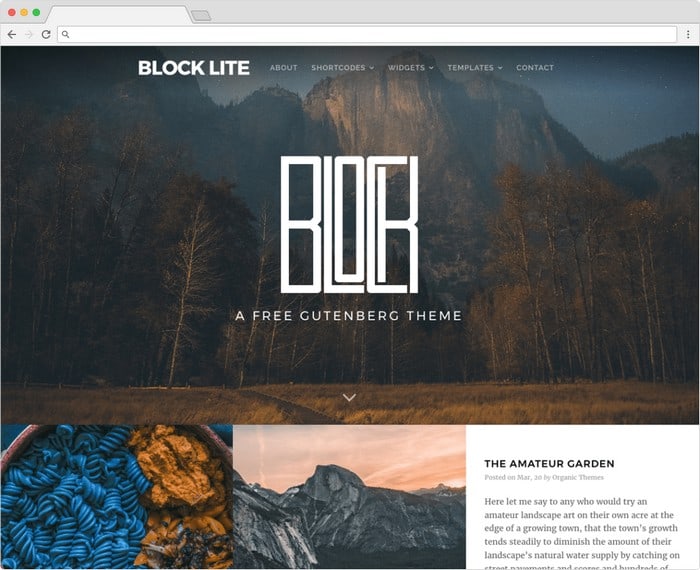 Block Lite is a stylish free Gutenberg theme with a polished design for travel bloggers, portfolios, writers, and other creatives. It comes with pre-built Gutenberg blocks with custom styling, letting you tailor a website quite seamlessly. The layout and functionality can be customized with Gutenberg and supporting plugins like Organic Builder Widgets. With this plugin, you can take it all much further by creating dynamic page layouts with multiple custom sections. Which can also be added to the front page of this theme.
The theme can be integrated with the Organic Profile Block Gutenberg plugin for creating personal profile pages in WordPress.
York Lite Free Gutenberg WordPress Theme for Creative Portfolios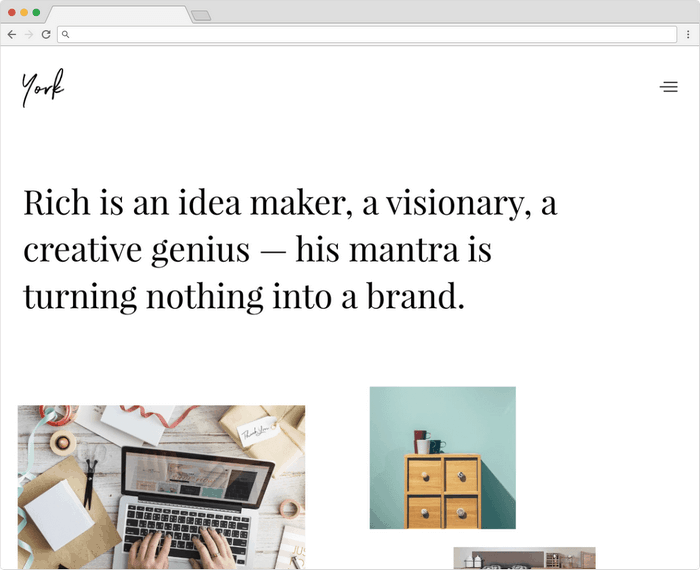 York Lite is a fantastic grid-based theme for showcasing creative works in style. Thanks to full Gutenberg integration. You can create pages of your dream with default Gutenberg blocks that will correctly inherit the theme styling.
York Lite is very minimal in design, letting you put all your works in the limelight and play with their visual presentation (visually change the number of columns, spaces, sizes, etc.). Furthermore, all your works will look stunning, even on mobile and tablet devices. Want to play around with more different content modules? You can download a free CoBlocks plugin by the same company and use it with York Lite for maximum customization freedom.
Mission News Gutenberg Free WordPress Theme for Magazines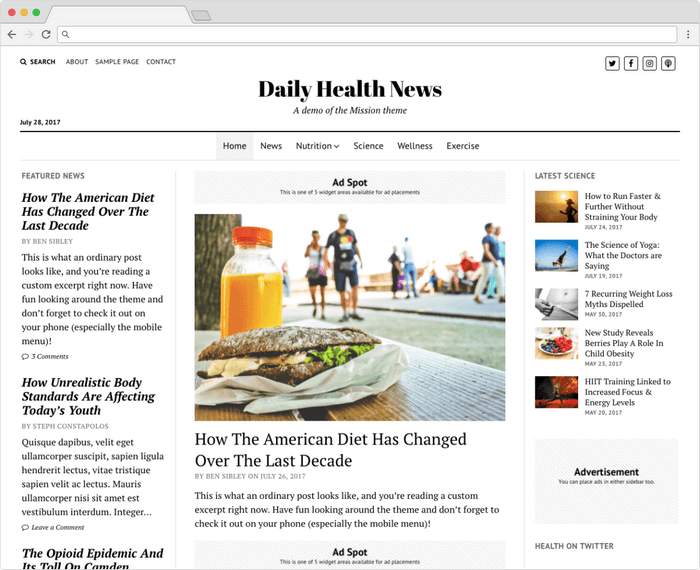 Mission News needs no introductions. Ben Sibley creates it, and it's one of the top-used WordPress magazine themes with a unique, uncluttered design for content-rich websites. The theme is bundled with several widget areas throughout its design for ads and different custom-crafted layouts you can choose for specific pages or posts. The excellent news that it's now Gutenberg compatible opens up even more opportunities for bloggers and publishers. You can use the evolving Gutenberg toolkit to create even more visually appealing WordPress posts.
You'll be able to embed custom galleries into your posts. Build custom layouts, change colors, and more with the default Gutenberg editor. The variety of available plugins that enhance Gutenberg will make your workflow even more productive.
Quna Free WordPress Gutenberg Theme for Culinary Enthusiasts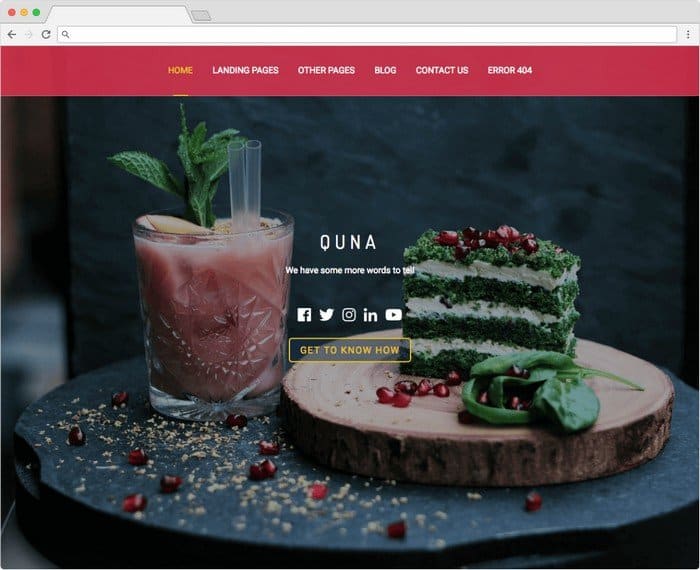 Although the first demo of Quna is optimized for a modern, bold culinary or restaurant website, it can be molded to suit a diversity of other small business needs. The theme stands out of the crowd because everything you may see in the demo is created with Gutenberg from the outset.
A stunning front page, which is also primarily a Gutenberg's job, neatly illustrates the power of the new core editor: you'll enjoy a full-width header, intelligent galleries, slick icons, eye-catching Parallax scrolling effects, modern buttons, and more informative blocks. And you can change all of them with your own hands, though the visual interface! Also, Quna is compatible with already popular Atomic Blocks and GutenBee Gutenberg plugins that are ready to help you embed lacking blocks.
Neve Free Multipurpose & Business WordPress Theme with Gutenberg Support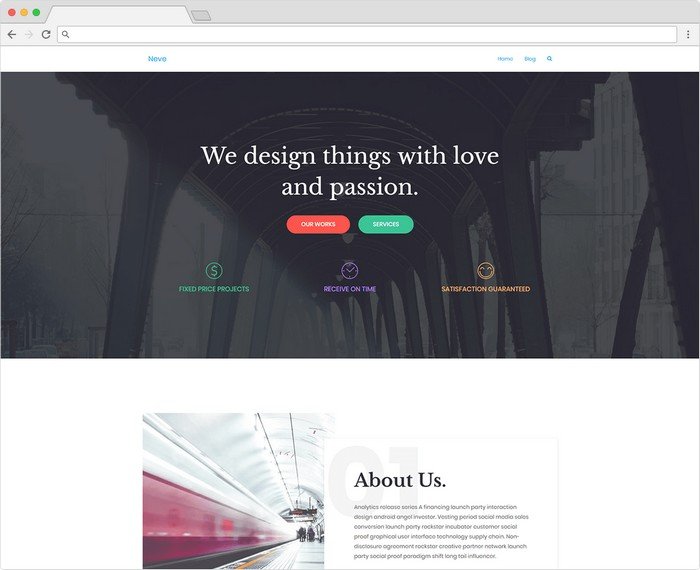 Neve is a tried-and-trusted WordPress theme by a reputable company of Themeisle. The theme powers thousands of WordPress websites related to small companies, entrepreneurs, e-shops, startups, and similar. After embracing Gutenberg. The theme providers managed to make your Neve experience in Gutenberg very close to the real WYSIWYG visual editing. That implies all of your significant settings like headings, fonts, colors, etc. It will be accessible in the editor as if you were working on the frontend.
In addition to Gutenberg compatibility, the theme works great with other renowned page builders like Elementor, Beaver Builder, SiteOrigin, and others. So you may even think about using any of them in combo with the new core editor to fully unleash your creativity! To bring even more power to Neve and Gutenberg, you can employ Otter Blocks free plugin by the same provider; it delivers tons of extra templates and sections for services, testimonials, Google Maps integration, and more widely used blocks.
Nirvana Multipurpose Gutenberg-compatible Free WordPress Theme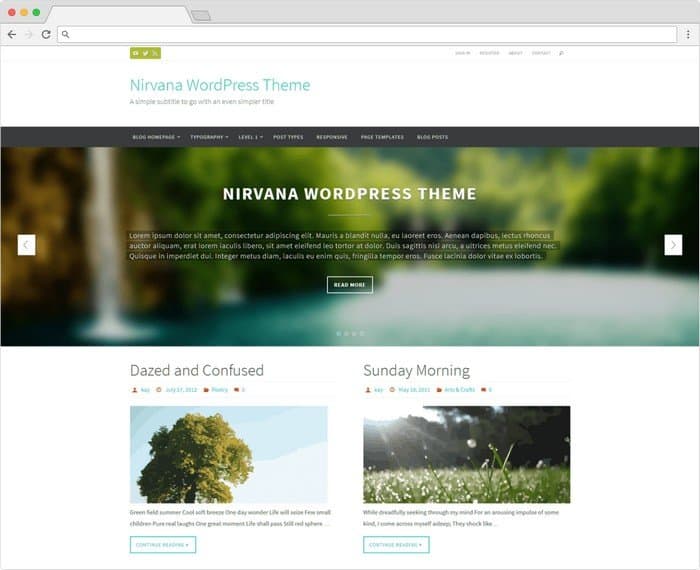 Nirvana is currently used by more than two thousand WordPress websites. It managed to reach such a magical download number thanks to the profoundly flexible customization toolkit that gives non-techs all trump cards. It delivers a stunning, clean-looking design with bold, readable fonts, a great choice of layouts, and other essential features.
Thanks to the recently added Gutenberg support, you can edit posts and pages in the new editor; the theme adjusts well to all significant Gutenberg settings (spaces, colors, layouts, blocks, etc.). The theme creators are continuously working on improving integration with Gutenberg and giving smooth access to all options of the new core editor.
Travel Way Free Gutenberg-ready WordPress Travel Theme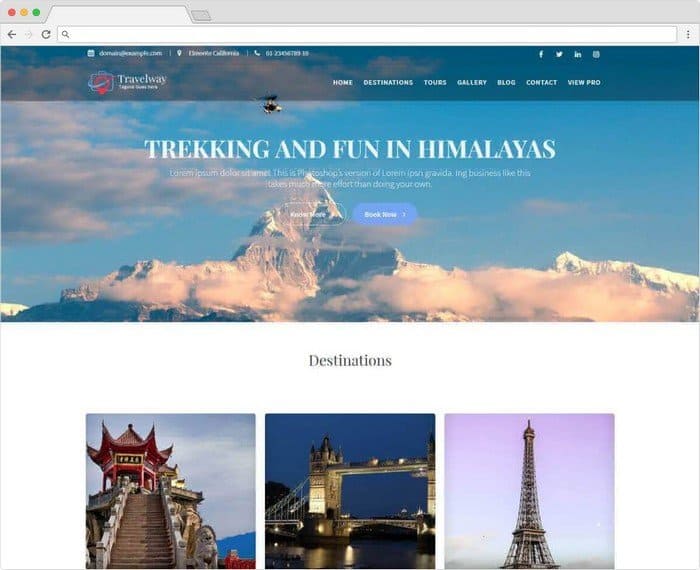 Travel Way is ready to bring a minimal yet impressive look to any travel portfolio that aims to inspire. By default, this theme is packed with a good bunch of options to build reach layouts for your content. A slider, deep layout controls, customizable colors, custom sidebar areas. Breadcrumb for more straightforward navigation, image and video header, background images. Lots of widgets and more features to explore.
Overall, we can consider this theme as one of the most "generous" free solutions that don't cut down essential functionality in a free version. The theme has undergone Gutenberg adaptation to enable you to create pages and posts just like with any other visual page builders.
Lovecraft Gutenberg-ready Free WordPress Theme for Bloggers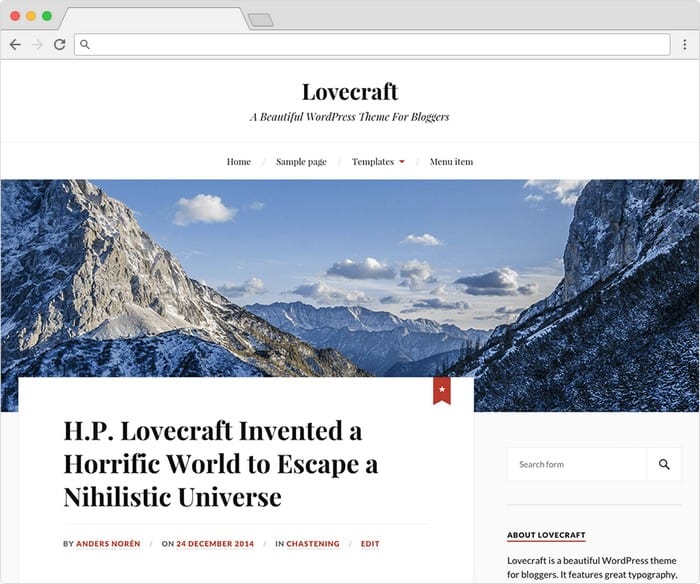 The entire collection of pixel-perfect and genuinely professional WordPress theme by Anders Norén, including this neat Lovecraft theme, now incorporates Gutenberg support. You are free to build an excellent WordPress blog with this lightweight yet sturdy theme, thanks to a significant number of features. A full-width header, customizable colors, several cool widgets, and templates, etc.
As for the Gutenberg integration. The theme will keep its styles if you change the layout, typography, font size, and colors in Gutenberg. It also provides smooth styling for blocks in Gutenberg.
Marinate Free WordPress Theme for All Sorts of Blogs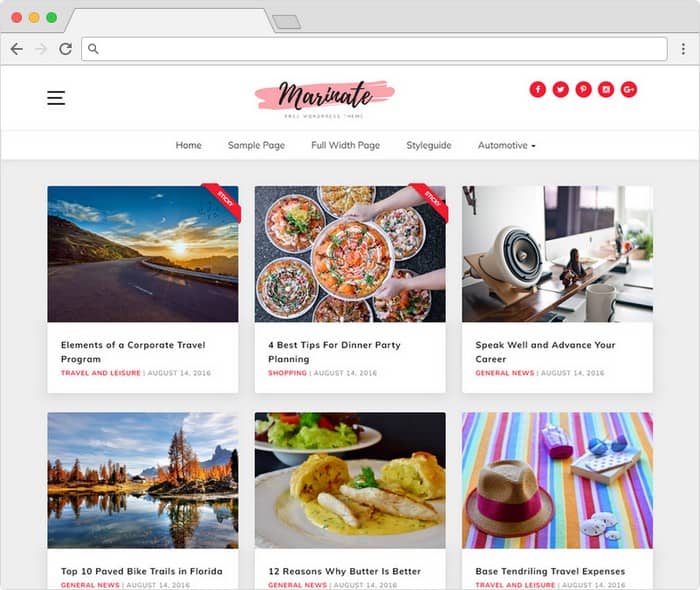 If you are looking for a blog theme with a sublime text & imagery balance, Marinate can be a perfect match. The theme comes with a polished grid layout to put all your stories in the spotlight.
Full-width pages are available for individual stories. Where you can showcase hi-res images, embed galleries, videos, and other modules you find reasonable. Thanks to Gutenberg's support, the process of creating content for your website will be even more accessible and more productive.
CoBlocks Free Gutenberg WordPress Theme for Writers and Publishers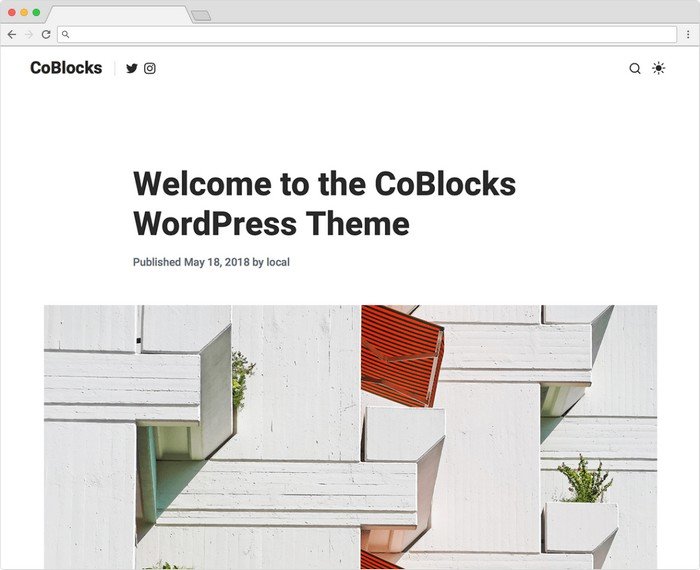 CoBlocks is an elegant, uncluttered WordPress theme built with Gutenberg and CoBlocks ("The premier WordPress page builder for Gutenberg") concierge plugin by ThemeBeans. The theme promises to provide you with a highly intuitive post-editing environment thanks to the full visual parity of the CoBlocks theme with Gutenberg blocks.
The plugin comes with bundled with several on-demand blocks for implementing an accordion. Moreover, alert block, author block, pricing table, social sharing block, highlight block, and more. You can use all of them in this theme. The theme and the plugin by one provider. Crafted especially for Gutenberg, is going to provide you with a new state-of-the-art WordPress editing and publishing experience.
Zakra Gutenberg-Ready Free WordPress Theme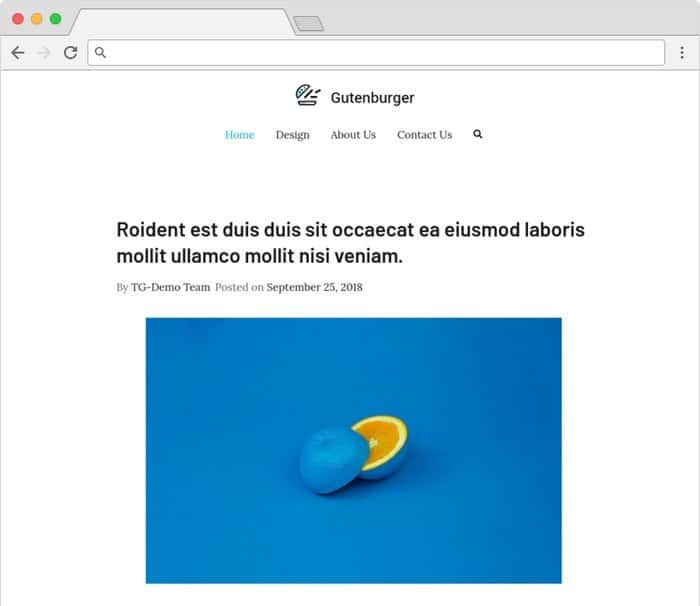 Zakra by ThemeGrill is an excellent business WordPress theme bundled with different pre-designed demos, which are going to help you get started with less fuss. The theme plays nicely with top WordPress third-party builders. So if you already love one, you can continue using them with Gutenberg altogether. Moreover, it's using a demo data importer, which is another essential utility in optimizing and speeding up your workflow.
Now you can open Zakra in Gutenberg and perform any standard manipulation in the editor. Furthermore, build layouts, add and style content blocks, embed cover images, etc. The theme is also compatible with Gutenberg. It ensures you'll have all your live custom content inconsistency with Zakra's theme styling.
Final Words
In conclusion, adding Gutenberg's support to WordPress themes is instead a question of time. However, some vendors are doing the quality work in this regard, while others are providing just the basic features. We hope this collection will give you some direction to compelling and free WordPress Gutenberg themes. If you still need more, check these free themes for WordPress.
If you have any idea or question, don't hesitate to share it, we'll keep an eye on comments!
Disclosure: Some of the links in this post are "affiliate links." It means if you click on the link and purchase the item, I will receive an affiliate commission.
Latest posts by Ann Taylor
(see all)
Where Should We Send

Your WordPress Deals & Discounts?
Subscribe to Our Newsletter and Get Your First Deal Delivered Instant to Your Email Inbox.
Thank you for subscribing.
Something went wrong.