If you are planning to create an online community website for free with WordPress, you can go with BuddyPress as your desired plugin. And if you are unable to find a free BuddyPress compatible WordPress theme, then this free BuddyPress theme can be an ideal choice for you. Designed to enable anyone to build an interactive community website quickly, this theme is perfect even for non-developers or anyone who is new to web design.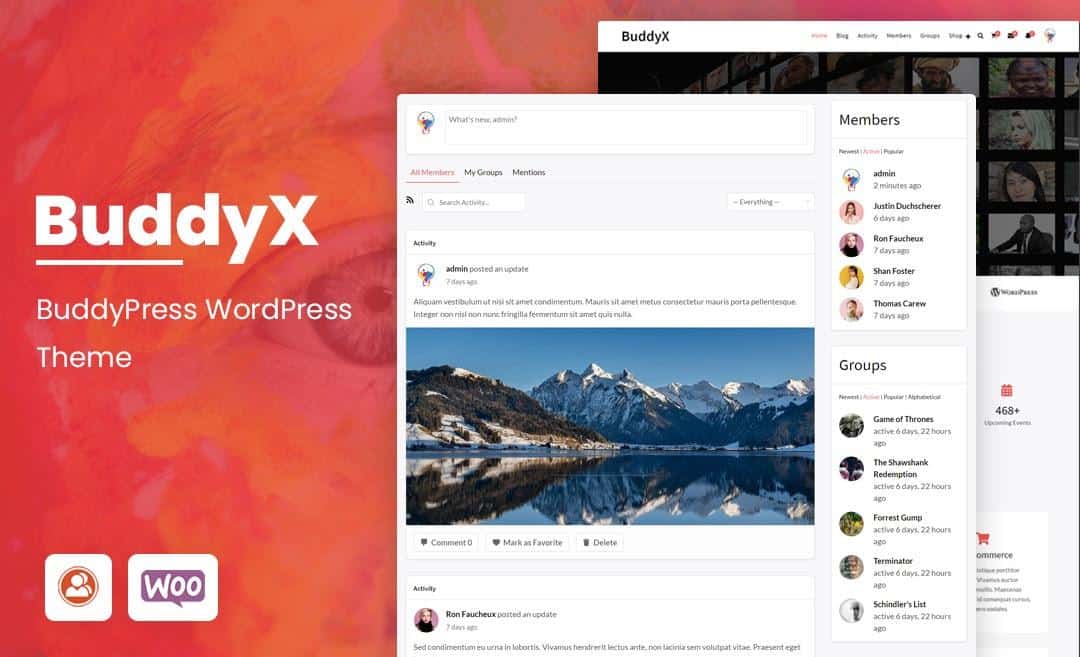 Moreover, if you want some more features to design a community website, you can invest in the premium BuddyPress theme, developed by the same team offering more possibilities to extend your community website to e-learning website, social marketplace, job portal or a business directory website.
Although the BuddyX theme is free, it does offers a high-quality design with lots of useful features. This theme has also been built to help you attract more visitors to join your community and improve your online presence.
Other than a captivating design, this BuddyPress community theme makes it easy for your community members to use your website. Thanks to its user-friendly interface and engaging features, your visitors will feel like they are using a social network of their own, just like Facebook.
In today's BuddyX Community theme review, we will explain the best features of this theme so that by the end of this review, you will know whether or not this is an ideal theme for your online community website.
Why Should You Choose BuddyX Community Theme?
As stated earlier, this WordPress theme is an ideal option for anyone who wants to create a community website for his brand.
As well as good-looking, this BuddyPress theme is extremely easy to use. BuddyX is a great WordPress theme as it allows you to create a social community website with attractive and engaging social community features. These features let you connect your brand with your target audience easily. You can also configure your website to sell products online and collect payments through the WooCommerce integration offered by this theme.
We will cover all the necessary aspects of this theme, how it works the best for you further in this review. But in short, if you need to launch an engaging community website with BuddyPress plugin quickly- this free theme is built for you.
BuddyX Community WordPress Theme Features
Let us now walk through with amazing features of the BuddyX WordPress theme that makes it ideal for your social network.
Stylish Pre-Built Community Website Demo
One of the most important reasons to choose the BuddyX Community Theme is the pre-built website template. This community website template can be easily imported into WordPress, giving you an easy and quick way to launch your own social networking website.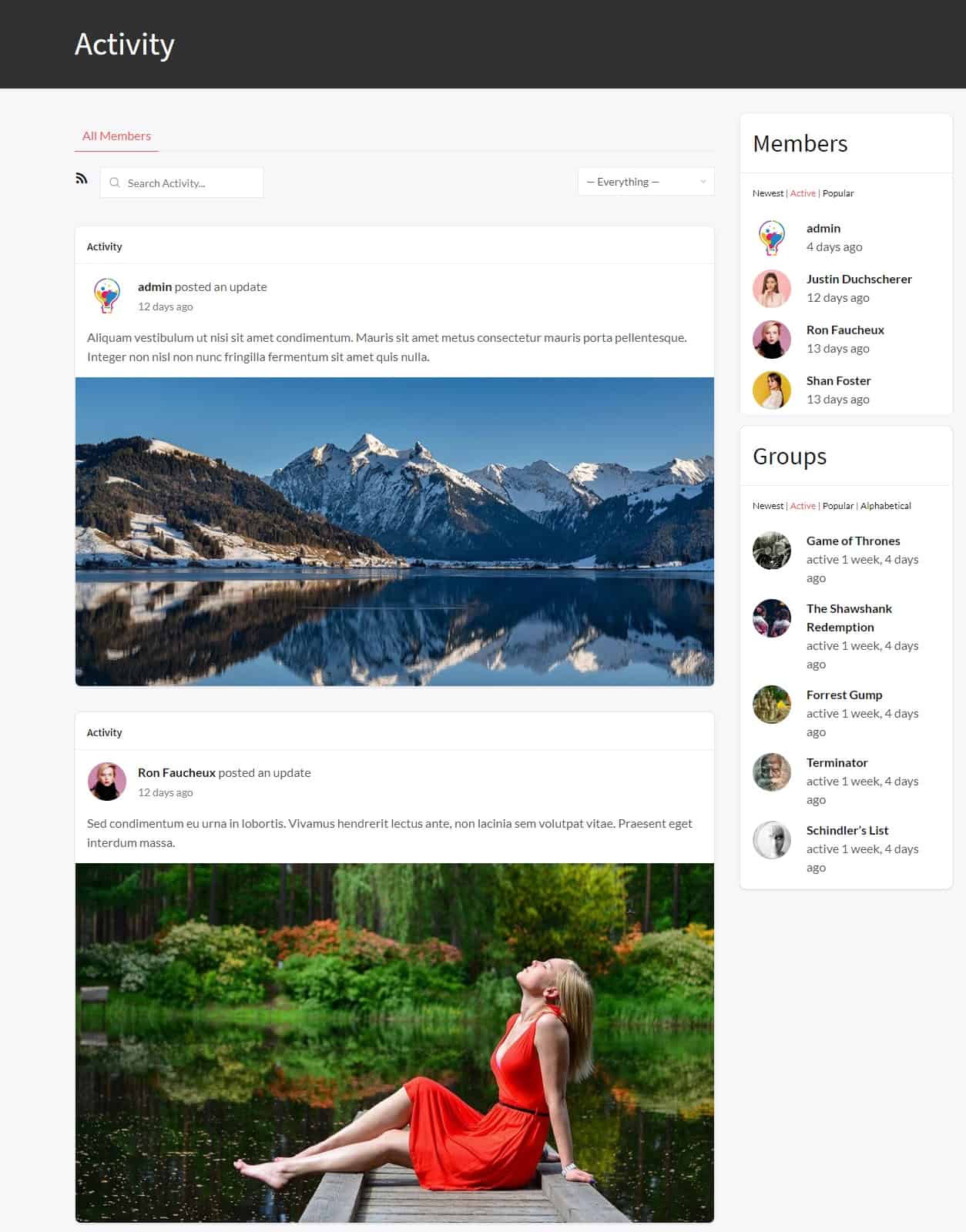 As you can see in the above screenshot and on the online demo of the theme, the homepage includes lots of useful pages and sections for your community website. Some examples of these pages include Blog page, Activity Page, Members Page, Groups Page, and Shop Page.
Also, the customization feature offered by this theme is very straightforward. Thus, with this theme, you will get good control over how your website will look. You can also easily import the demo content into your WordPress website in just a few clicks. After that, you can easily replace the texts with your own images and content along with the desired plugins.
Integration With Elementor Page Builder
Another out of the box feature of this theme includes integration with the popular Elementor Page Builder. This page builder offers easy to use features to let you design any page with simple drag and drop features. You can also design any element such as header, footer from the frontend with instant, real-time results using this page builder.
Lightweight Theme
BuddyX is built with a very lightweight framework that not only boosts your website performance but also offers a fast page loading speed.
Members And Groups Layout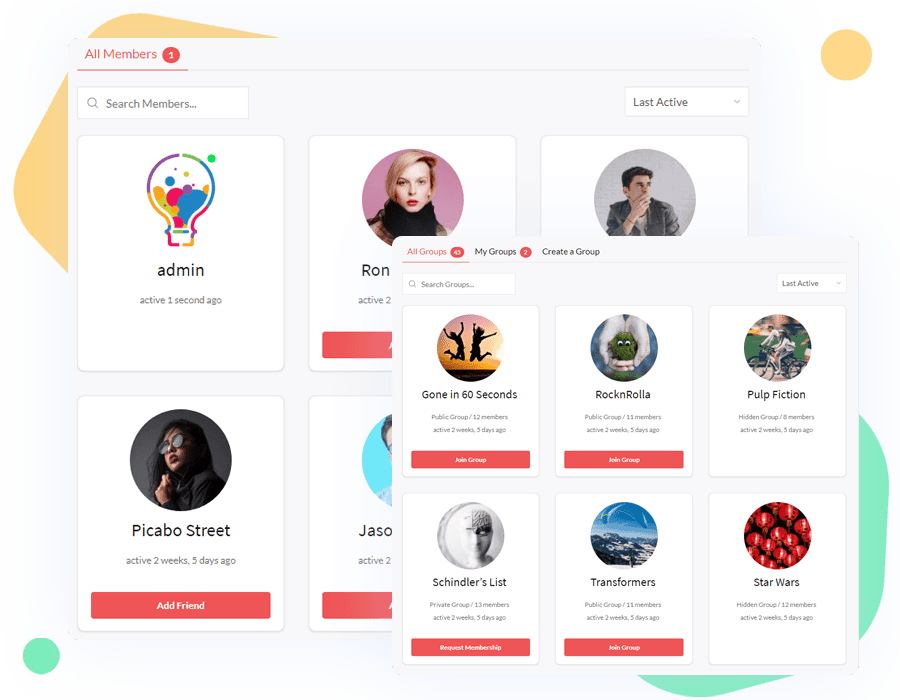 We all are well aware of the importance of members and groups in a community website. Keeping this aspect in mind, the team behind BuddyX is offering a well-designed members directory and group directory layout, which you can use to showcase your members and groups in an attractive way.
WooCommerce Ready
If you also want to sell products from your website, this theme can help you do that as well. BuddyX WordPress theme comes integrated with the leading e-commerce plugin- WooCommerce. This plugin offers you all the required features to sell online, along with the ability to collect payments and other useful features.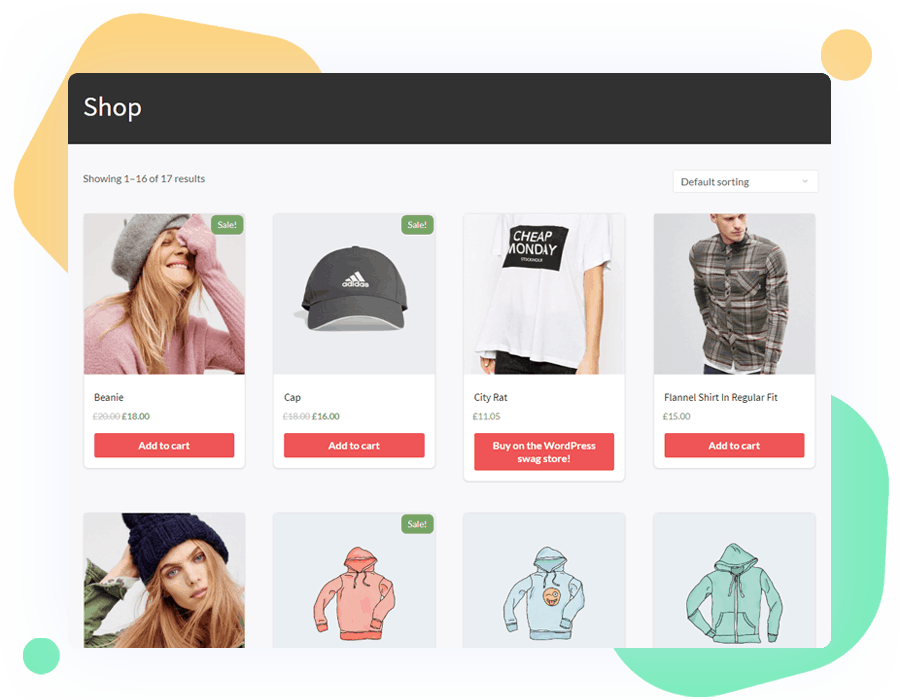 bbPress Ready
Including a forum functionality to your community website is also very much fruitful as it allows members to discuss various topics online. BuddyX WordPress theme offers dedicated integration with the bbPress forum plugin that allows you to set up a discussion forum on your BuddyPress community website.
WordPress 5.x Compatible & Gutenberg Ready
BuddyX social networking theme is also compatible with the latest WordPress version as well as the latest WordPress editor Gutenberg. With Gutenberg, you can easily create more visually appealing content for your blogs and for your pages as well with easy to use editor.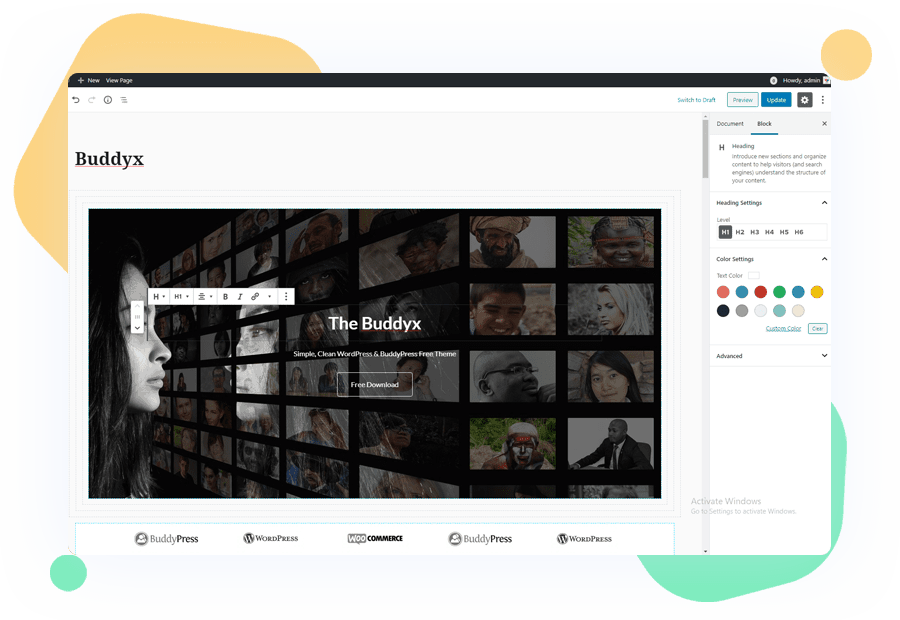 Fully-Responsive And Mobile-Ready
BuddyX WordPress theme is a fully-responsive WordPress theme, 100% mobile-ready, cross-browser compatible, fully optimized, and retina-ready as well. It is well optimized for all devices and gives you full control over your site's content, whether on desktop or mobile.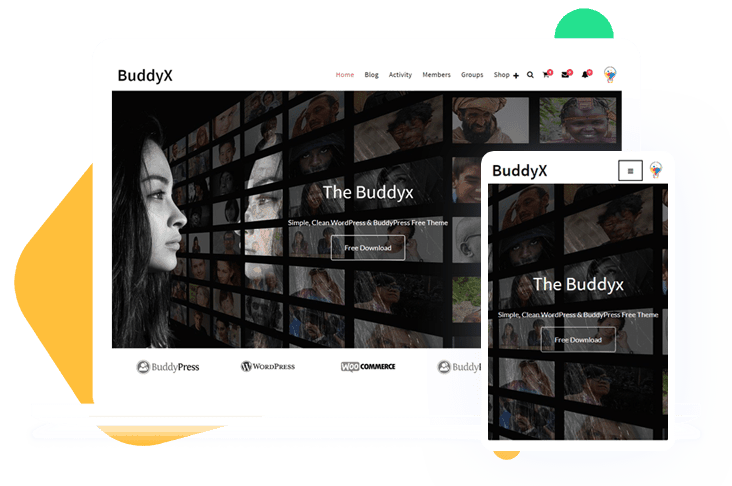 WordPress Plugins Supported By BuddyX WordPress Theme
BuddyX is a highly flexible community theme and offers support for many WordPress plugins such as BuddyPress, bbPress, WooCommerce, rtMedia, and Elementor Page builder. So, you can easily extend the functionality of your community just like you want.
BuddyX Theme Developer Information
BuddyX is a free WordPress theme created by Wbcom Designs Team. Wbcom Designs has created many useful premium WordPress themes for various niches such as online community, e-learning, the marketplace, job board, and more.
Furthermore, they have developed many free BuddyPress Plugins and premium WordPress add-ons for BuddyPress, which will enrich a community or social network site.
BuddyX Community WordPress Theme Pricing Options
As mentioned earlier in this review, BuddyX is a free WordPress theme, so you really do not need to spend anything on it and create your WordPress community website for free.
BuddyX Community Theme Review Final Thoughts
As you read above, this WordPress theme has everything that you will need to launch a community website with WordPress. Whether you are a newbie or a skilled developer, you will not face a single glitch while setting up your site with this theme. Adding your content along with customizing the look of the website, everything is very simple.
Building a stylish community theme is not the only thing you can accomplish with this theme. In fact, at its core, the BuddyX Community theme makes it easy to connect your website with a large audience. With various compatibility offered by the theme, you can also design each page of your site as per your needs and include other required features such as a forum or an online shop as well.
If you are looking for a way to get your social network online, the free BuddyX WordPress Theme can be of great help.

Latest posts by Editorial Staff
(see all)
Where Should We Send

Your WordPress Deals & Discounts?
Subscribe to Our Newsletter and Get Your First Deal Delivered Instant to Your Email Inbox.
Thank you for subscribing.
Something went wrong.