Generation Z, aka the Post-Millennials, is the first generation who grew up with a gadget in their hand. They take laptops, tablets and other smart devices for granted and don't delineate a sharp boundary between life online and offline. As a result, they constitute the new target audience for online game studios and guide their effort toward increased ambiance, more intricate gameplay and increased social interaction within the game.
If you're a game development studio. You can't live without a remarkable web presence that establishes you as one of the highly-invested, skilled and meticulous professionals. You've got to build yourself within the niche and blow the competition out of the water. You've got to be entirely devoted to your work and bombard the world with something new and passion-driven.
As you're devoted to creating new-gen games, professional web designers and developers make strides in creating the most elegant website templates the world has never seen before.
Today, we want to introduce one of the WordPress themes to you as it's free and well-tuned for powering a fully-fledged modern website. With this theme, you'll save your time and also effort on launching or revamping an eye-catching and immersive web presence. That presents your studio, brainchildren, philosophy and professional vision online.
Therefore, download the free Grimm Lite template and make the best out of it, establishing a revenue-boosting and distinctive web presence.
You may also want to check the ultimate GRIMM – Game Development Studio WordPress Theme, which brings you a vibrant, ready-made pack of widgets, exclusive plugins, and customization options.
Main Features Of Grimm Lite Free WordPress Theme
Groundbreaking Elementor Page Builder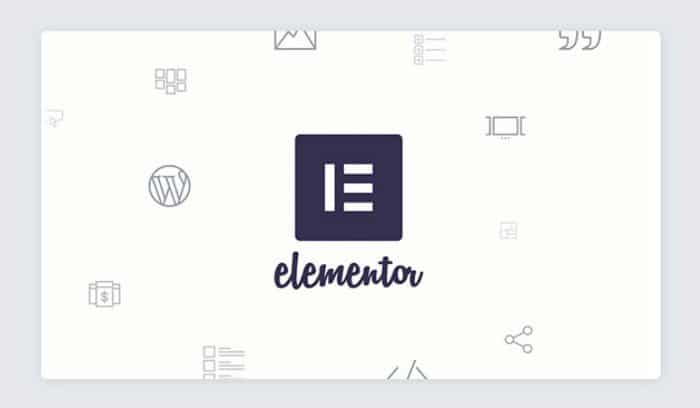 To be able to extensively customize the Grim Lite template, you don't have to wrap your head around coding. For instance, the template comes with a handy and highly intuitive Elementor builder that's added for your convenience and hassle-free website creation.
Within the builder. You have to drag a chosen content block from the left to the right to add it right where you need. Then, click the added block, add content, adjust display options and resize it when necessary. Therefore, the Elementor builder brings you a rich collection of website elements and blocks. That is carefully styled to match the overall theme's design.
Value-laden JetElements Pack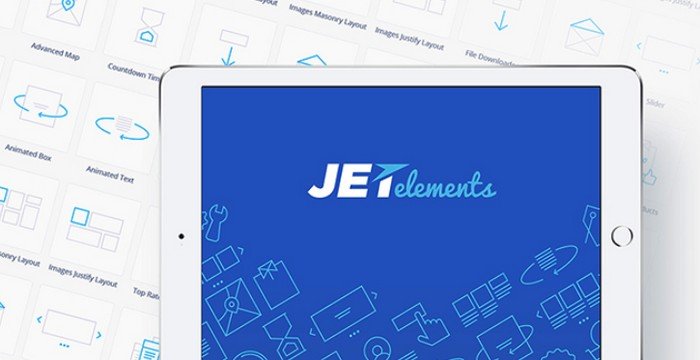 To make the Elementor page builder even more easy-to-use and feature-rich, web developers went an extra mile and doubled its potential with the exclusive JetElements addon. This addon injects 19+ carefully elaborated content modules into your Elementor toolkit.
Among the JetElements modules. You'll find such UI juggernauts as an advanced carousel, brands, circle progress. Pricing table, post slider, advanced map, countdown timers, banners, and much more. In addition, you can add any of these content blocks in just one click and enjoy one more dazzling and informative element to your game studio website.
Enjoyable and Effective UI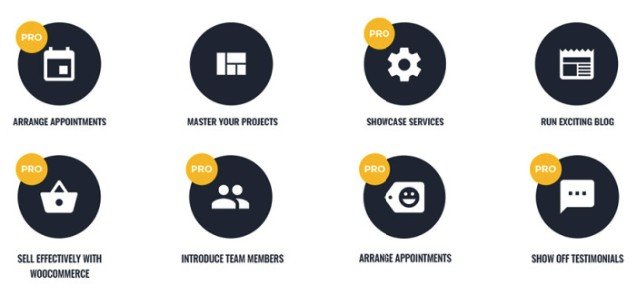 With the Grimm Lite template, you'll deliver a pleasant UI that turns to browse your website into a cake. All the theme UI elements are polished to perfection and arranged in the way they create a visually attractive interface and user experience. Moreover, the additional UI elements allow you to master your projects successfully and run a mind-blowing blog.
Immersive Design
The theme's creators worked hard to make this theme impressive, stimulating and visually intense. This is a kind of design that appeals to modern gamers and lets them feel at home. No doubt, Grimm Lite delivers a consistent first-class experience on every display and in all present-day popular browsers.
However, as a result, every visitor of your website will tap into a coherent, captivating design that matches your site content faultlessly.
Full & Easy-to-follow Documentation
Above all, the Grimm Lite template is easy to customize. If you need clear-cut step-by-step guidance on how to customize the theme. Just open up the template's newbie-friendly documentation and get the ball rolling. Within the documentation, you'll find a plethora of template customization tutorials to help you with any needed adjustment.
Grimm Game Development Studio WordPress Theme: Premium Features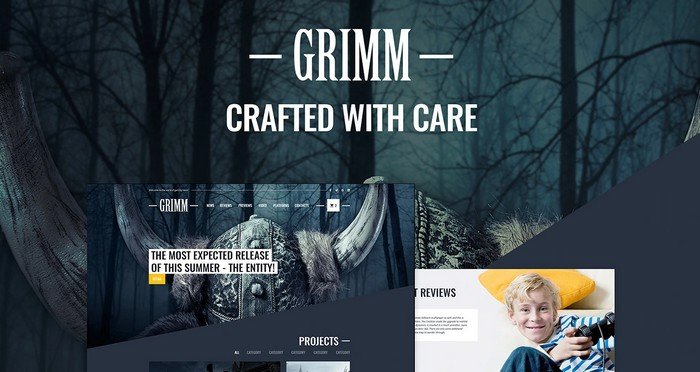 With the fabulous premium version of Grimm template, you get several theme functionality enhancements. Let us enumerate just a few. Enjoy such extras as WooCommerce package. Flawless typography, 35 stylish and catchy widgets, Google Fonts and variegated classy color schemes to match your liking. Moreover, you can choose between 7 capturing header, three informative footers, and four sparkling blog layouts.
As a bonus. You also get a pack with all the template's sample imagery and +15 topical images to use for your projects.
Wrapping Up
In conclusion, Grimm Lite Game Development Studio WordPress Theme is a highly-professional free template that embraces all the best traditions of game development niche. Simple in use and highly adjustable.
Furthermore, this template lets you build a one-of-a-kind website that tells everything about you and even more. We wish you good luck in making it to the top with the free Grimm Lite theme and taking your studio's recognition and success up a notch!
Stay tuned for more!

Latest posts by Editorial Staff
(see all)
Where Should We Send

Your WordPress Deals & Discounts?
Subscribe to Our Newsletter and Get Your First Deal Delivered Instant to Your Email Inbox.
Thank you for subscribing.
Something went wrong.