Website user experience is something we've all been hearing a lot about.
While everyone says it's really important, there's still some ambiguity about what exactly makes it matter that much. You could even compare it to finance – extremely important, yet you need help from moneybrighter to completely understand it.
And above all, if it is that important, how can you game up your website UX?
Well, while talking about user experience, the definition of 'best' varies from user to user. Some users might like one element on a website, while others might find it crummy.
But that is the way it works. Dissimilar users and unlike opinions.
What we need to do is understand these opinions and suggestions. Take them into consideration, and then craft an interface which goes well with the common UX characteristics that appeal to most users.
It seems like a lot of hard work, doesn't it? Well, we have some help. And if you still need advice, refer to this list of some of the leading UX design agencies.
In this article, we talk about everything important concerning user experience. From why it is important to how to use it for your advantage. We got it all here for you. Keep on reading.
Why Is It So Important?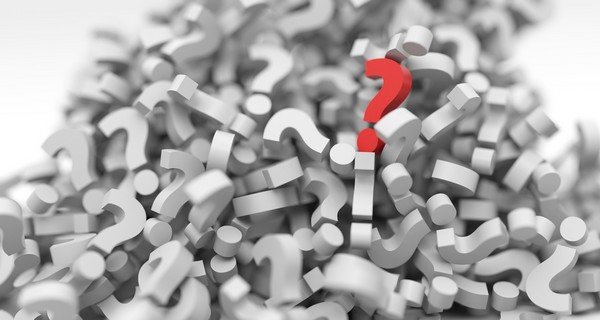 Be it on a website or an app or an operating system, user experience refers to the experience any user has had with the product.
Products providing a good user experience are able to retain more users than those without it. And why is that so?
It's a pretty simple approach.
You use a product. It works well for you. You feel good about the help that the product provided. Bingo! That particular brand has your faith now.
This means that the next time you'll need such a product, you'll go back to the same brand which helped you.
That is what good user experience does for a business.
On the other hand, with poor user experience, user retention falls low. Obviously, because after one disappointment, everyone goes out looking for better alternatives in the future.
No wonder, websites with good user experience perform better than those without.
But What Makes It Good or Bad? And How to Make It Good for You?
Okay, so we know that user experience matters. It is a vital element for any product and user retention depends on it.
How do we know what is right and what is not?
Sure, A/B testing is a good way of finding that out, but prevention is always better than cure, right?
For that reason, here we talk about some crazy user experience hacks.
So, what are those? Find out below.
1. Simplicity Wins
We've heard it over and again. Simplicity wins above all. Not that you shouldn't get into details. Not that you neglect good design. The point is, just try to keep it simple.
You might be wanting to create some really aesthetic and detailed product hoping it'll enhance user experience. It's not wrong. It is a good idea. But that's not the only idea that works. And there's no surety of it working in all conditions either.
Instead of focusing too much on making it aesthetically pleasing, what you can do is keep a balance.
A balance of what? Simplicity and aesthetic design.
We have all come across super-aesthetic websites which lack a good UI. A definite murder of user experience.
Do not let that happen to your product.
Work on the ease of access. Try to think from the users' point of view. Ask yourself questions like 'is this interface easy to use?', 'will the user get to face any difficulties while using it?', 'if yes, then what are those difficulties and how can you make it easier for your user?'.
Customizing your product's interface according to the answers for these questions will win you the deal.
2. Relativity Is the 'Theory of Everything'
While the right use of creativity will make your product stand out of the crowd, it is highly important to keep it familiar as well.
We all know how a joke dramatically becomes funnier when we can relate to it.
That's what all of us as audiences dig. Relativity.
Understand this and use this for improving your website/app's user experience.
This is one way of making a user's journey easy on your website. It is proven that navigation becomes way easier when the users are familiar with the way things on your site work.
How to do it?
First things first, see what other brands in your competition are doing.
Is there anything common in all of their sites/apps? If yes, then what is it? Note the similarities down. Think about how this might work for you.
Here, you don't have to blindly imitate your competitor. Instead, try to introduce similar features in your product. Be it the flow of users down the conversion funnel. Or be it the flow of content.
Also, apart from adding features which your users can relate to, you can add small design elements here and there.
For example movie, references depending on your readers' interest can perform great if you own a movie related information portal/website/application.
Remember how Harry Potter games used to have wands for the cursor pointer?
We all like these little references which we can relate to. Try this on your product. Chances are, it'll be appreciated and rewarded.
3. Consistency of Design
Another factor which enhances or disturbs user experience is the consistency of design.
As a website or app user you would know how much of a turn off it is when the developers roll out unnecessary design updates, which do no good but ruin the previously better user experience.
Let us take the Zomato app for example
Zomato is one of India's largest online food delivering service.
They were on a constant rise and users were loving their App and service.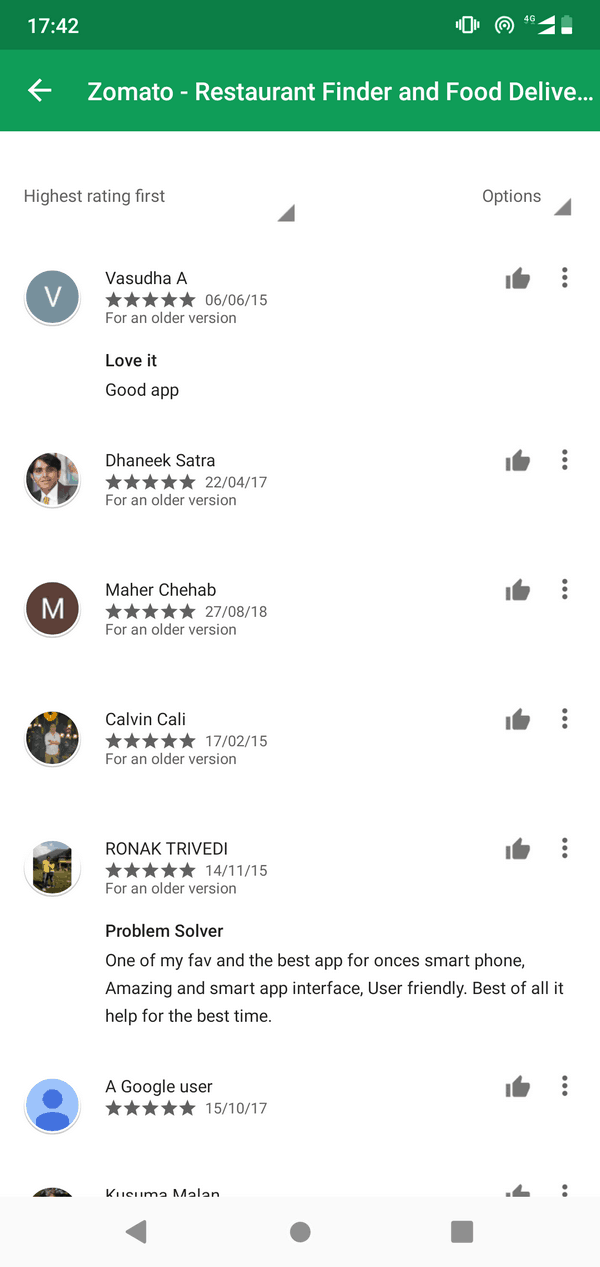 Then they updated their UI and everything changed.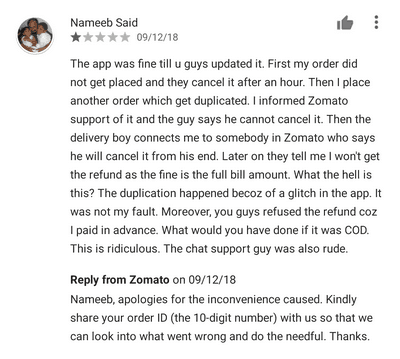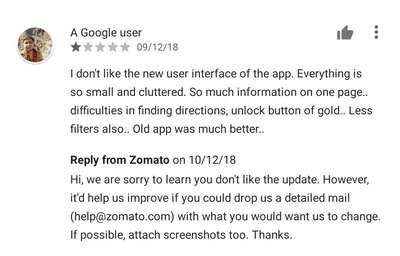 From totally loving the Zomato App to bluntly complaining about the UI, the transition of user experience and responses was drastic.
This is one of the most recent examples of the failure including UI change.
Obviously, there are many. But our aim here is to help yours be one of these.
So, understand that consistency with a user interface is crucial.
What you need to do is come up with a great UI design. Something potent to work the best for you. And then see how users react to it.
If your users like it and find it easy to use, then stick to it and don't change until extremely necessary. And if they don't like it in the first go, then keep altering until you find the sweet set of settings which really prove to be great for you.
For further help with the same, you can refer to these tips below.
Less clicks = Easy to use: Let us say there are two websites/applications which you can book movie tickets from.
But there is a difference between the way these work.
The first app does the job in 5 clicks. While the latter takes 7 clicks to perform the same job.
What'll you choose the next time you want to book movie tickets?
Most of us will go with the first option here. The reason for that is it makes booking movie tickets easier than the second one.
Similarly, if your product performs an action in fewer clicks, it'll always be prioritized by the users.
A good background: We've all heard this time and again. Backgrounds are important.
Be it a background image or just a color pallet, it needs to be soothing to the eye.
And what does that mean?
In simple words, a background which is simple to look at and doesn't make the users stress will work.
Recommended options include a simple white background. If we talk about the psychology behind inclination towards the color white, it inflicts a sense of purity and completeness. Simple and subtle, white mostly wins.
However, if you are planning to use an image for the background, either you'll have to think it through or it might cause confusion by overlapping with text.
Wise choice of fonts: Font of your text is always important. While some fonts might look really appealing to the eye, when we look closely, those are hard to read.
Those are the fonts which we should refrain from using.
Instead, go with something which works for most websites. Most marketers recommend the use of Arial and Times New Roman for websites.
Replace text when you can: Videos perform better than text as these are easier to comprehend.
While reading huge blocks of text might come as boring to many, watching an interesting video about the same can keep the users entertained and informed at the same time.
So, you can try this. Create an engaging explainer video and use it wherever you can.
A good explainer video is a business growth ingredient which once sown, won't need to be replaced back and again. It can consistently work for your brand.
4. Responsive UI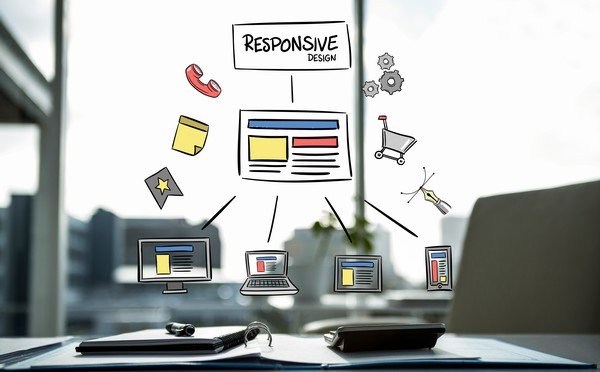 No discussion about user experience ever goes without a mention of responsive UI.
But, what does it actually mean?
Responsiveness of a user interface refers to how well it responds to any action taken by the user. How quickly, swiftly and aptly the interface responds to that action is what matters the most here.
For better understanding, let us talk about the websites which annoy users.
You visit the site, click a button, it starts to act up. The page doesn't open up. Clicks aren't received. You try to scroll but that doesn't work either.
This is a simple example of the UI not being responsive. This turns users off.
It's simple. If a website or an app can't keep up with the users' demands, chances are it's going to fall with its chin-to-ground.
This is why it is really important to focus on keeping the user interface responsive.
5. Fast Loading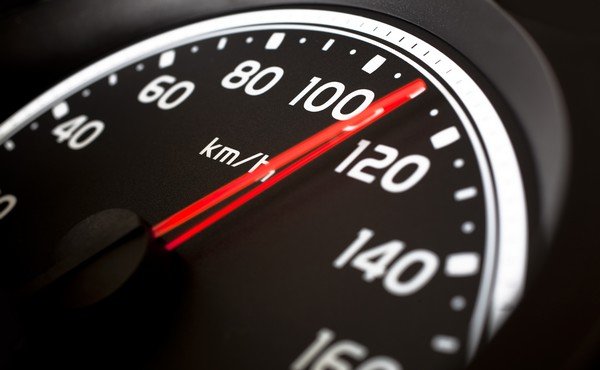 Whether you own a website or an app, if it's not fast, you're losing more than a race.
We've all come across websites which take forever to load. Pages filled up with unnecessary flash animations, a huge load of large images, heavy codes and what not!
While your designer might have suggested those elements with a good motive, turns out, the results to this are hardly good.
Talking of facts and how fast is fast enough, nearly half of the internet users get turned off when a website takes longer than two seconds to load. And by being turned off here, I mean they simply lose interest. Brutal, right?
Well, all we (as marketers) can do is try to satisfy them.
For that, the first thing you need to do is go to the Google Pagespeed Insights or GTMetrix.com.
In the action bar there, place your URL and hit enter.
A web page displaying your site's speed report card will be displayed. Here, you will find all the speed relating issues on your site.
After that, all you need to do is resolve these issues one by one.
Just note that, if you are not familiar with using 'cPanel', it'd be better to consult somebody who is. The cPanel is the CPU of your website. You crack it up, your site goes off. And it's still not the worst of the cases.
Note: Website loading speed also plays a vital role in search engine rankings.
6. Easy to Maintain
This is one of the most important factors which your UI must abide too.
While you intend on providing great user experience, you might have to bring in one but many changes every now and then. This is done in order to find out what works the best for you.
Now, if you are having to write hundreds of lines of code just to present a few small changes, maintaining the website/app/OS is going to be a circus that you won't want to buy the tickets to.
So, your best bet here?
Make use of easily manageable content management systems.
This is one way of ensuring that you have everything or at least most things under control.
For example, take WordPress.
While website development used to sound like such a task a decade ago, WordPress came up with the concept of simplifying it.
This resulted in more people turning to entrepreneurs and bloggers.
How it really happened?
WordPress is an easy to use content management system. It helps you create websites with the privilege of picking and dropping design elements, that too with just a few clicks.
This allows users to make changes to their WordPress websites, very easily.
Similarly, you too should pick such a CMS for building your website or application. This will simply make web property management way easier for you.
Above all, this is one way of cutting corners on unnecessary development costs.
Final Words
User experience is one factor which can make or break your business online.
No matter how useful your app or website is, if it is hard to access, navigate, load or understand, it's going to turn your users off resulting in a fall in the favoring analytics.
So, understand user experience. Know its importance. Work your site up according to what works the best. And you'll be good to go.
And to answer how that's done, we wrote this article. Hopefully, this helped you.
Latest posts by Vaibhav Kakkar
(see all)
Where Should We Send

Your WordPress Deals & Discounts?
Subscribe to Our Newsletter and Get Your First Deal Delivered Instant to Your Email Inbox.
Thank you for subscribing.
Something went wrong.