People build websites for a variety of reasons. You might have started a business and want to be a part of the online marketplace, are creatively inclined and want to showcase your stories, or you want a place to share your thoughts and interact with the audience.
Website building is no longer about hiring a website coder or having an extensive knowledge of the HTML code or the CSS code. We now have website building platforms that provide exceptionally beautiful themes with a plethora of features to enable you to build a robust website with powerful functionality.
The four most powerful website building tools are Wix, Squarespace, Weebly, and WordPress. For selecting a website builder, are various criteria on which you should evaluate each platform, namely, features and benefits, aesthetics, ease of use, and the cost associated with each platform. Also, look for future updates that these platforms offer and how much they will cope up with the ever-changing trends. Not being biased.
Let's Start With WordPress.
WordPress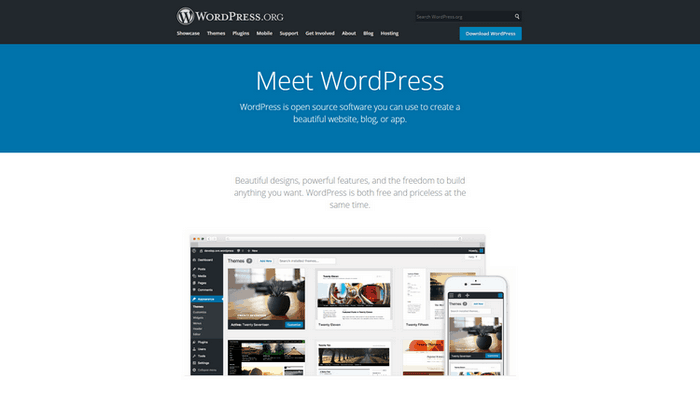 WordPress is an open source blogging platform with flexible features. There are two WordPress websites: the wordpress.com and the WordPress.org. While WordPress.com offers free website building and is insanely secure (check out this ultimate guide to WordPress security), we will further discuss WordPress.org which offers a free download of the latest version of WordPress for hosting your website.
Features of WordPress.org
Themes: WordPress provides many themes for creating a basic website. There are numerous other options which are either free or can be purchased. Most of these themes are mobile-ready. However, the user should ensure before downloading/purchasing the theme whether the website will be responsive or not.
Plugins: From free to premium, WordPress offers plenty of plugin options.
Slideshows: The WordPress marketplace offers over 600 free slideshow plugins.
Images: The WordPress library has a huge collection of images which you can edit and use. Users can also add their SEO content in the images library.
Video Integration: Add 3rd party videos from Youtube and Vimeo to your website using plugins offered by WordPress.
Forms: Incorporate different types of forms into your website using plugins. E.g. PayPal payments, drag and drop options, etc.
Advanced Editor: This option gives you the leverage to edit all plugins and themes for giving your website the desired look.
E-commerce and Marketing: WordPress offers two marketplace platforms WooCommerce and Marketpress, as plugins. You can further customize options with these marketplace plugins by selecting the paid-addons.
Blogging: WordPress has inbuilt blogging features as it started primarily as a blogging platform.
Wix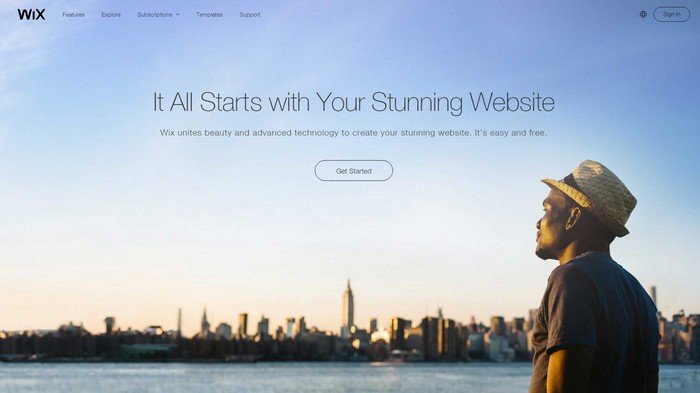 Wix was founded in 2006. Wix is an Adobe Flash-based website building service. It is one of the easiest platforms to build and has simple-to-use functionality modules. Moreover, it is a free-website building service for building one-page websites. Popularly called "living with the parents" as though the website building is free, additional charges are applicable.
Features of Wix
Themes: With 5000 templates to select from, a wide range of business can build websites using the services of Wix.
Drag and Drop Editor: With Wix, website building is as simple as dragging and dropping elements into your website page.
Mobile-Ready: Wix moved to HTML5 in 2012 and since then, this platform became mobile-responsive.
Galleries and Royalty-Free Images: There are 40 gallery templates in Wix which allow the users to retouch and refurbish images. Also, there are millions of royalty-free images to select from.
Videos: With Wix, you can add a video as a background to your website. What an amazing user experience would that be!
Parallax 3D Effects: The homepage of Wix.com is an example of the parallax effect. The different layers of the website scroll at different speeds giving out a 3D effect. Wix offers this feature too.
Pin to Screen: Once you lock an element to a location on the webpage, it will be visible even upon scrolling or resizing the webpage.
Apps: From Etsy, social media, Eventbrite, to finance and communication, there are over 250 apps available on the website building platform.
Wix e-Commerce Store: Market your products and services on the Wix e-commerce store. You can also create an app for the e-commerce store using Wix touch.
Blogging: This website builder hosts plenty of options for adding customizable blogs to your website.
Weebly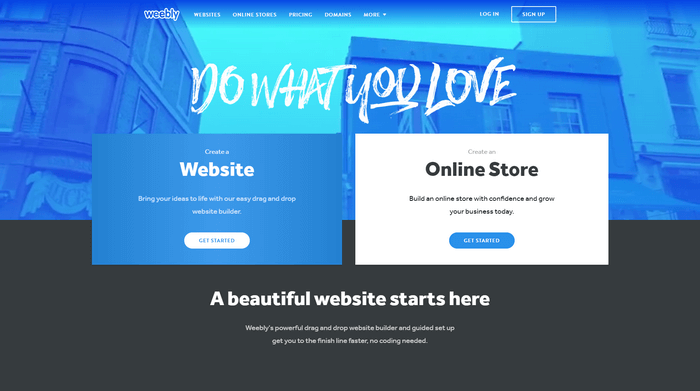 Weebly is a renter platform which implies that monthly charges include all expenses required to design and build your website. You cannot own your website and once you decide to leave, you can only take image and text with you.
Features of Weebly
Themes: There are around 100 templates that are designed by experts, keeping in mind a wide array of professions. Further, each theme offers a variety of color option to categorize your website. You can add and customize HTML, CSS, and Javascript for your website using the theme editor module.
Drag and Drop Editor: You can add text, images, videos, and other elements by simply dragging and placing them on the webpage. You can easily edit the text with the built-in editing software provided by the platform.
Mobile-Ready: All Weebly websites are responsive websites. Weebly also has a mobile website editor that enables you to test on virtual mobile devices while building the website.
Slideshows: Weebly offers six slideshow templates and you can upload and display your images using the slideshow maker.
Royalty-Free Images: The platform has a royalty-free image database which users can avail. Weebly also offers high-quality paid photos for your website.
Forms: You can add questionnaires, submission forms, drop-down menus, and checkboxes to your website using the drag and drop form editor of Weebly.
e-Commerce: Build a robust online store with Weebly where you can sell digital and physical items. While users can shop from their mobiles, you can manage the store from your smartphone as well.
Blogging: Weebly offers plenty of features like categories, RSS feed, comment section, tags, sidebars, and social media tools, in its blog module.
Squarespace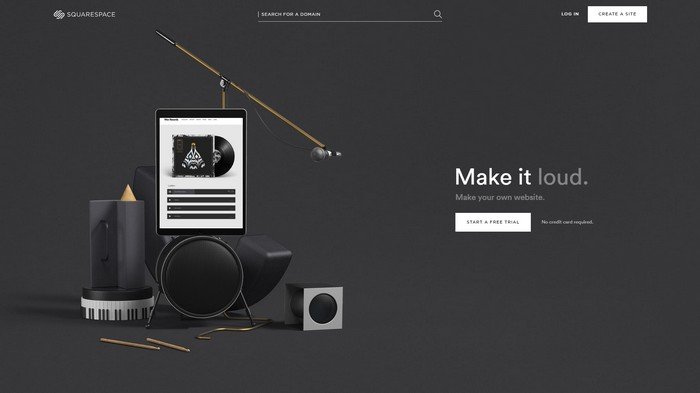 Squarespace is a trusted name in website building. Squarespace offers exemplary designs and a reliable tech support. You can take some of your codes (not all) along once you decide on quitting the website.
Features of Squarespace
Themes: They are 40 modern templates with clean interfaces. Each theme is outstanding in design and using the drag and drop editor you can make plenty of variations. The visual editor simultaneously displays how your website will look you can adjust fonts, themes, and colors as per your choice.
Mobile-Ready: The platform offers responsive websites that can be easily viewed on mobiles. Every page has in-built responsive blocks.
Imagery: Squarespace's templates are focused on giving leverage to the imagery. The in-house image editor designed by Aviary makes image adjustments convenient.
e-Commerce: Your e-Commerce store will be designed by Squarespace and have unlimited products and shopping options. It has integration with Shipstation for fetching customer shipping details which is compatible with Fulfillment by Amazon. Xero is also synced with Square space to provide accounting services.
Blogging: Squarespace integrates with apps like Dropbox, Evernote, Google Calendar, Google Drive, and Gmail to maintain your blogging activity.
Hosting: The platform provides hosting and is completely run by the Squarespace website design in-house team.
Customer Service: Squarespace has a 24-hour chat helpline for customer guidance and support.
We now have a list of features of all the four website builders. So which one is the best for your business requirement? Let's do a comparative analysis.
Wix vs Squarespace vs WordPress
Popularity and Area of Use
While Squarespace has one million paying customers, Wix reached this figure much faster since the time of its inception in 2004. WordPress is above all when we talk about the reach. It is hugely popular and hosts 75 million websites, half of them being paid accounts. From The New York Times, CNN, to eBay, all use WordPress.
Squarespace however, has a more high-end clientele with likes of fashion brands Rodarte, using the platform. Squarespace has just 40 templates, but all of them are fine examples of minimalistic, contemporary styles. Squarespace is the first choice for creative enthusiasts who give great emphasis to aesthetics. Wix is preferred by smaller businesses who want to make a web presence.
WordPress has a huge magnitude of scope and is used by people from the diverse realm of businesses, from simple to comprehensive websites. If we rate the level of functionality, it would be in the decreasing order with WordPress first, and then Squarespace and Wix.
Costs
Wix and WordPress have free website building options though you can avail some advanced formats using the paid versions. Squarespace is a paid website builder. WordPress offers the cheapest monthly plan.
Ease of Use
Wix is an extremely user-friendly platform and even if you are a novice, Wix will easily guide you through a website set up. Squarespace has an in-house designing team and users just have to fill in the basic information and select the templates offered. This platform scores well above other platforms in providing excellent customer service. For beginners, however, they might take time to adjust to the website building functionalities.
WordPress is an intuitive website builder and offers simple to complex functionalities, for different levels of website building. You just have to buy a domain name and secure a host, two relatively easy processes. Tutorials, plugins, and support, everything is at the user's disposal.
Wix vs Weebly vs WordPress
Ease of Use and Functionality
Weebly is an extremely user-friendly platform and the website building is simple and easy. The basic elements are simple and the user can construct his website with simple drag and drop options. As an underside, the templates on Weebly are not very customizable as compared to other platforms.
Ease of Use in Decreasing Order
Weebly, Wix, and WordPress
Functionality in Decreasing Order
WordPress, Wix, and Weebly
Costs
Weebly is a renter platform and offers four kinds of packages for different business requirements. Wix also offers four packages, starting at 4.5$ per month, subscriptions being paid annually. WordPress is an open source platform where costs depend on the hosting packages. For the paid versions, the hosting costs start at 2.95$ a month.
SEO- Wix vs Weebly vs Squarespace vs WordPress
The foremost criteria for any website are to make a strong web presence and get easily noticed by Google. Hence your websites should be SEO friendly while having good semantics. WordPress is the leader with SEO-friendly plugins such as Yoast SEO that place your website at the forefront. Consequently, Wix is trying to add features to become Seo-friendly, and Squarespace to has Seo-functionality issues through the website is SEO-friendly at the initial setup. Weebly lags behind in SEO practices.
So Who Wins the Race?
WordPress It Is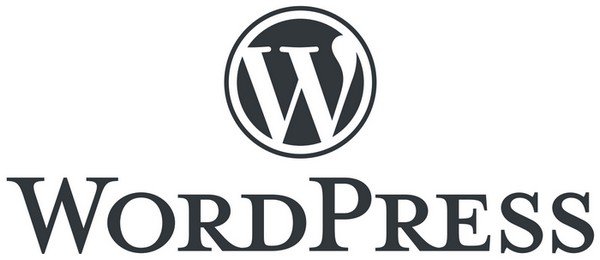 While Weebly is a good option for businesses who want a hassle-free setup and maintenance, this website builder stands no chance when it comes to competing online. Since Weebly was developed by students who wanted to maintain an internet database. The websites designs are too simple with Weebly and it does not offer SEO practices as well.
Squarespace is a creative heart's paradise but has complex functionalities that become difficult for businesses, outside the creative domain, to incorporate.
Wix is a robust and visually-attractive platform, no doubt, but lacks in SEO and customization capabilities.
With WordPress, you get a website that is owned by you, which is not the case with Weebly and Squarespace. The huge variety of plugins leave the user spoilt for choice and the vast community of WordPress offers you any backend support that you ask for.
As opposed to platforms like Wix, Weebly, and Squarespace, WordPress gives you the freedom to custom-build your website. Furthermore, you will own your website and have complete access to it. As a result, the disadvantage here is that you have to design, implement, and maintain your website.
Wrapping Up
In conclusion, WordPress is not just a website builder; it is a complete content management system, which might take some time to master. Once you are pro with WordPress, you can do an amazing job of building a customized SEO-friendly website that offers good functionality, SEO-friendliness, and is responsive to all kinds of gadgets.
Latest posts by Roshan Bajaj
(see all)
Where Should We Send

Your WordPress Deals & Discounts?
Subscribe to Our Newsletter and Get Your First Deal Delivered Instant to Your Email Inbox.
Thank you for subscribing.
Something went wrong.