The past year has been fantastic both from a personal and business perspective. A new year approaches and to summarize the year in terms of WordPress themes, I asked a lot of well-known WordPress theme companies which their most popular and best selling WordPress themes were 2017.
You probably recognize many of the company names in the article, as they represent trust and quality when it comes to WordPress themes. Perhaps you have bought themes from them? Unless I recommend you take a closer look at their awesome and best selling WordPress themes 2017.
Let's have a look at what are the best selling WordPress themes 2017, Shall we? These themes have also been recommended by the WordPress web designers in Toronto.
I asked 28 leading WordPress Theme companies two questions.
Question 1. What is your best selling WordPress Theme 2017?
Question 2. Why do you think your best selling WordPress theme is so popular?
What Are the Best Selling WordPress Themes 2017?
Here are the answers from 28 leading WordPress theme companies.
aThemes
Q1. Sydney Pro is a business WordPress theme that allows anyone to quickly and easily create an effective online presence. It gives you the power to customize your website the way you want to via a number of page templates, Customizer options, and custom widgets that you can drag and drop into place. It also comes with full support for WooCommerce.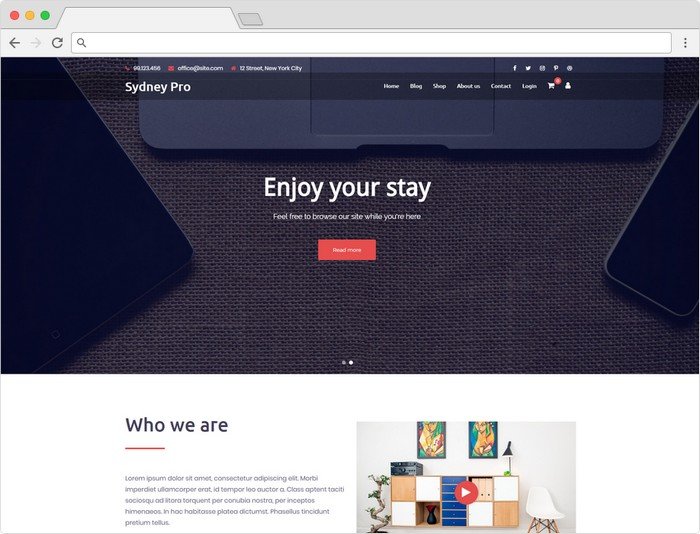 Q2. Sydney Pro is popular (thousands of customers from around the world use it for their business website) because it's relatively simple but powerful at the same time. Beginners love how straightforward and it is easy to use, while developers creating sites for clients appreciate how it is highly customisable and extendable (they also don't have to worry about their clients finding it difficult to understand how it works).
Thanks to Charlie from aThemes.
StudioPress
Q1. Foodie Pro – She's sleek and svelte with her minimalist approach and clean design, but she sure packs a punch when it comes to features. Foodie Pro is the most flexible Genesis Theme to date-with a minimalist style and plenty of color and typography options.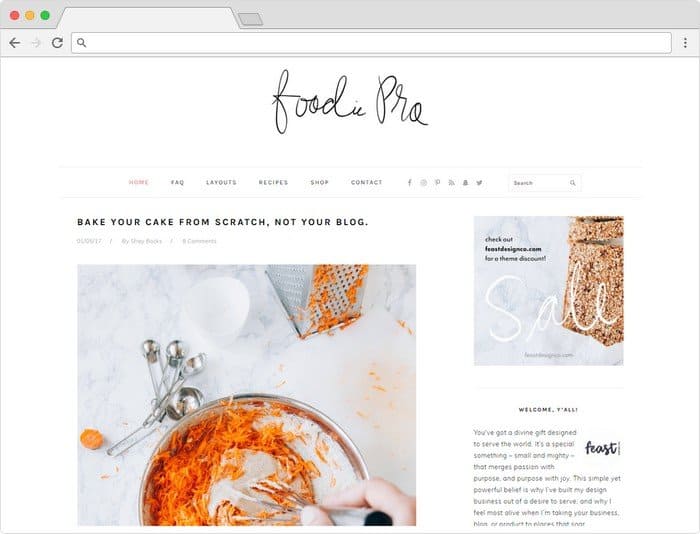 Q2. Food blogging is one of the most popular niches right now when it comes to lifestyle blogs, and that number is growing every day. With a shortage of food blogging WordPress themes when it came out, Foodie Pro established itself as one of the "go-to" themes in the space.
Thanks to Corinne from StudioPress.
ThemeGrill
Q1. ColorMag: ColorMag is a beautiful responsive WordPress theme for online magazines and newspapers. Built with utmost attention to the user-friendliness and simplicity, the theme offers a highly intuitive user interface and powerful features and functionalities.
It is probably the best WordPress magazine theme ever – definitely, not a baseless claim. The free version of the theme is the most popular magazine at the official WordPress repository with over 90,000 active installs and 5 out of 5 ratings on average. And, the premium version is the best-selling theme at ThemeGrill store.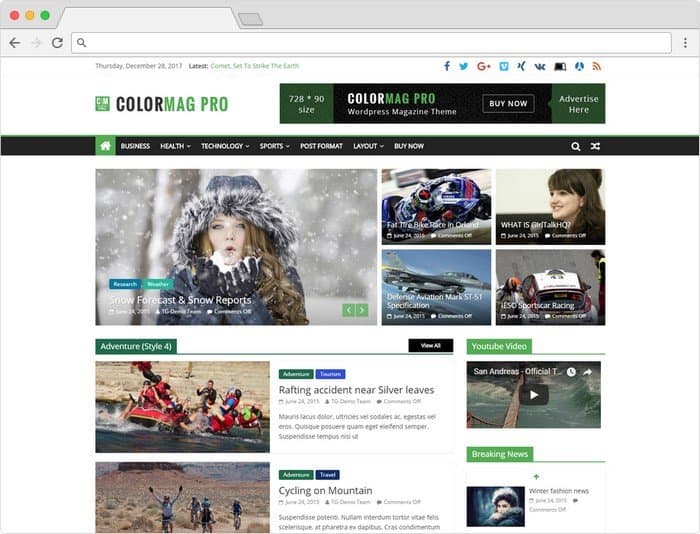 Q2. ColorMag is so popular because it has all that it needs to be the best magazine theme. It has a unique design with the variation in layouts and each layout is created with utmost care and attention to the details. Another important point to note is its simplicity and ease of use. The theme is so well-crafted that new user can create a full-fledged magazine website without any hassles.
Thanks to Sunita from ThemeGrill.
Themify
Q1. Ultra is our most powerful and flexible WordPress theme. It gives you full control of your theme from header to footer. And it also comes built-in with the Themify Builder making it easy for anyone to create any site quickly and beautifully.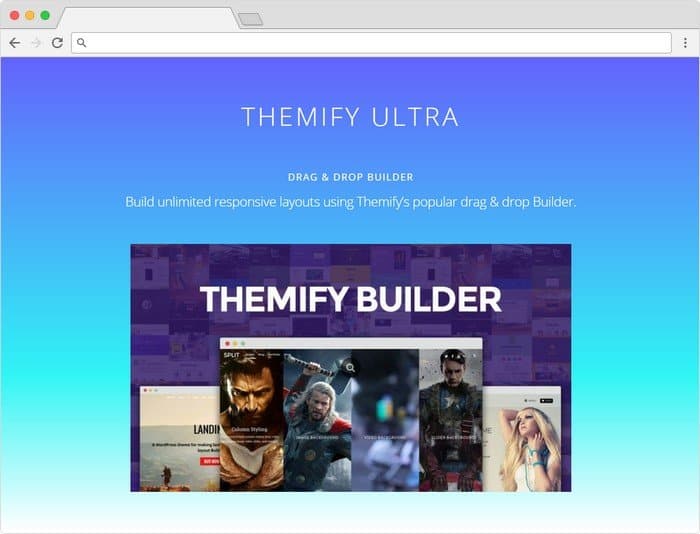 Q2. The reason why it's so popular is because of its flexibility. With its 15 header/page styles, 5 single post layouts, 6 header background options, 6 archive layouts, and many other smart layout options. It allows users to create any type of site they'd like. In addition to all of these, we also regularly update it with Skin + demos. These make it even easier for users to build their site faster and easier.
Lastly, the reason why Ultra has been so popular is because we add value for every user that purchases this theme. When you purchase the Ultra theme, you not only get access to the theme but you'll get access to the following: Access to updates and support. 1 free bonus theme of your choice. 12 free bonus Builder addons. Access to 8 skin/demos. These add value to the $49 standard version price point.
Thanks to Kurt from Themify.
MH Themes
Q1. MH Magazine is one of the most popular magazine themes for WordPress. This flexible magazine theme was first launched in 2013 and has been continuously updated, maintained and supported throughout the years. MH Magazine is especially suitable for modern online magazines, dynamic news sites and advanced blogs from any topic or content genre. The theme is running on more than 100k websites and is getting very positive feedback from users around the world.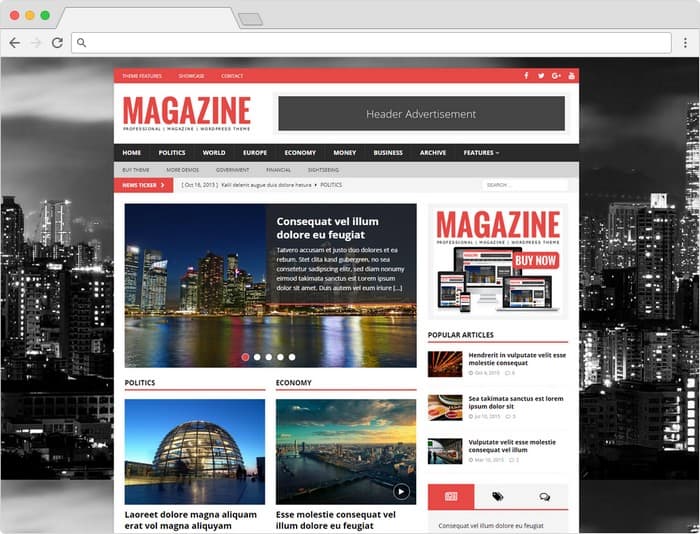 Q2. One of the reasons for the popularity of MH Magazine is that the theme is already available for various years and it has a proven track record that it's a popular and reliable solution for editorial websites. The philosophy of MH Themes is quality over quantity and unlike many other theme shops, they don't release new themes every month, but rather focus on their existing products by keeping these up-to-date.
Thanks to Michael from MH Themes.
MyThemeShop
Q1. Schema is a lightning fast theme for WordPress blogs. It's designed precisely with SEO and speed in mind. The Schema is so fast that it achieves a 99% Page speed score without any optimizations. The Schema is also designed with SEO principles in mind. The structure of the theme is optimized for deep crawling. This ensures all your content is discovered and indexed by the search engines. The Schema also delivers a great user experience. It's a responsive theme with clean and optimized code. To add icing on the cake, Schema also supports Google AMP right out the box.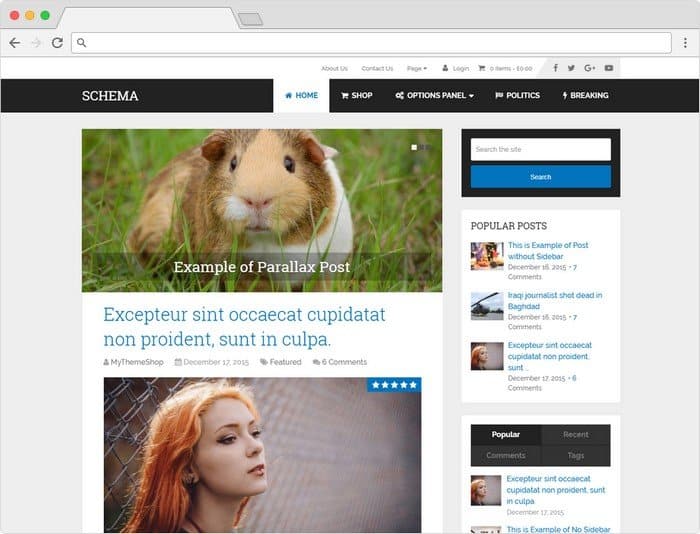 Q2. A good WordPress theme should be fast, SEO friendly, feature rich, and provide a good user experience. The Schema theme excels on all these fronts. It's blazing fast, responsive, full of useful features, and designed to be pixel perfect. Search engines including Google love fast websites and rank them higher in search results. The Schema is designed to be fast as well as provide a great user experience. The wonderful combination makes Schema one of the best WordPress themes.
Thanks to Eric from MyThemeShop.
PixelEmu
Q1. The best selling WordPress theme created by PixelEmu.com is Services Multipurpose WordPress Theme with WCAG 2.0 & Section 508 compliance. We present four demo examples and customers who are looking for doctor WordPress theme or medical WordPress theme or architecture WordPress theme or car mechanic WordPress theme may find it the perfect one. Thanks to many ready-made widgets, shortcodes and extended theme options the theme is very flexible and may be used for many purposes.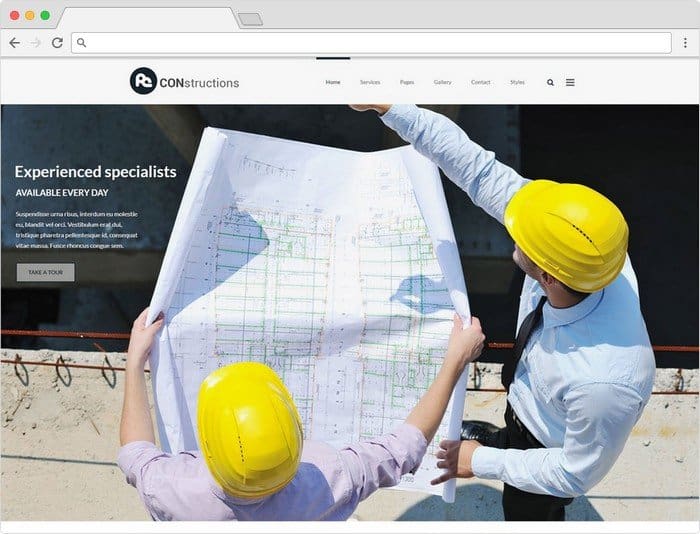 Q2. Besides giving the great features of the perfect company services and team presentation it's accessibility-ready WordPress theme which is the most valuable feature of this theme at the same time the most wanted web requirement required by law in many countries nowadays. Thanks to the theme flexibility it may be used for many businesses and customers who need to adjust their websites for people with disabilities may find this WordPress perfect.
Thanks to Izabela from PixelEmu.
MachoThemes
Q1. Our best selling theme for 2017 is Newsmag PRO. Newsmag Pro is a versatile premium WordPress theme suited for a variety of websites. Newsmag's striking modern design is perfect for everything from online magazines to news portals and even personal blogs.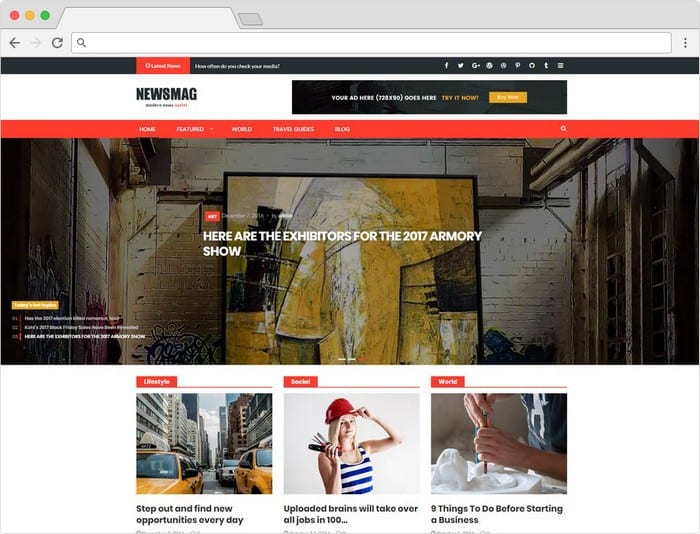 Q2. It's so popular because of the great looking design, multitude of widgets built specifically for news type portals as well as bundling a lot of extra functionality that makes lives easier. You can check this out on our product landing page where it's detailed even more.
Thanks to Cristian from MachoThemes.
PremiumCoding
Q1. Our best selling theme for this year is Everly. Everly is a classy and modern WordPress Fashion Blog for all the Bloggers out there who strive towards minimalism. Its retina ready and fully responsive design will look amazing and work fluently on all the devices, mobile, tablet, and desktop. To save time and start your online experience even easier and quicker, Everly comes with 6 pre-defined demos that you can install with one simple click of your mouse or trackpad.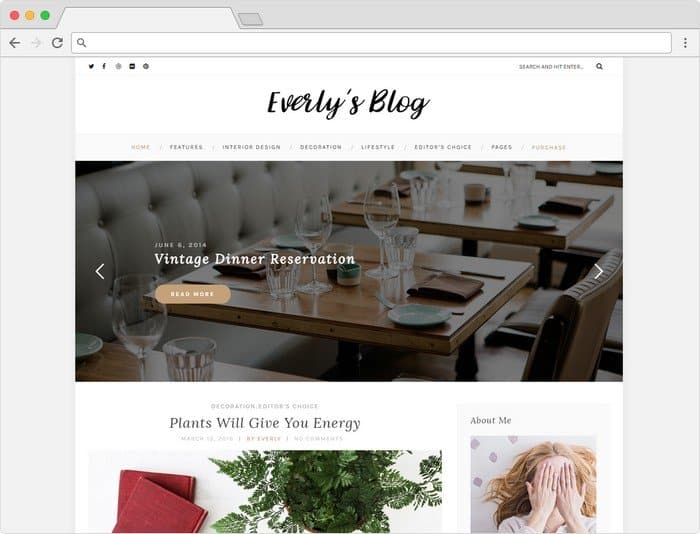 Q2. I believe that Everly is so popular because of its playful typography. The title font is Lora italic which looks similar to a handwritten font. That adds to the soft, feminine atmosphere of the theme. I believe it is very popular among female bloggers (lifestyle, fashion, and travel).

Thanks to Gljivec from PremiumCoding.
ProteusThemes
Q1. GrowthPress Marketing and SEO WordPress Theme: GrowthPress is all-around marketing WordPress theme perfect for almost any kind of online business. With a beautiful modern design and powerful features, GrowthPress can be used as a landing page for your Saas (software-as-a-service) business, a presentational page of your mobile application or simply as a website for your SEO agency.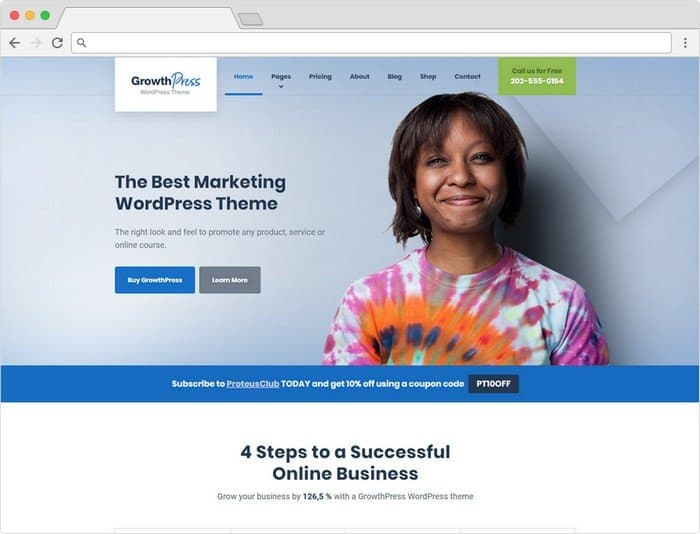 Q2. It has a unique designed sales page with an option to hide the main navigation, which means you will increase your website conversion rate and turn more visitors into leads and then into sales. With an integration of WooCommerce or ClickFunnels, GrowthPress also allows you to set up an online store in no-time and start selling more than just one product immediately. We all know that marketing is one of the busiest niches on the internet, so we focused on that and made an ultimate solution for all the marketing online business and SEO experts.
Thanks to Marko from ProteusThemes.
CPOThemes
Q1. Our best selling theme for 2017 is Allegiant PRO. Allegiant is a multipurpose WordPress theme, the design is especially suited as a business theme for agencies and other companies. Helpful features like portfolios, testimonials, and team member sections make it easy to promote your services to potential clients in a stylish one-page design. Beyond that, pre-built demo content helps you quickly make your site look just like our demo. And built-in localization support makes it easy to translate any site that you build with Allegiant into your local language.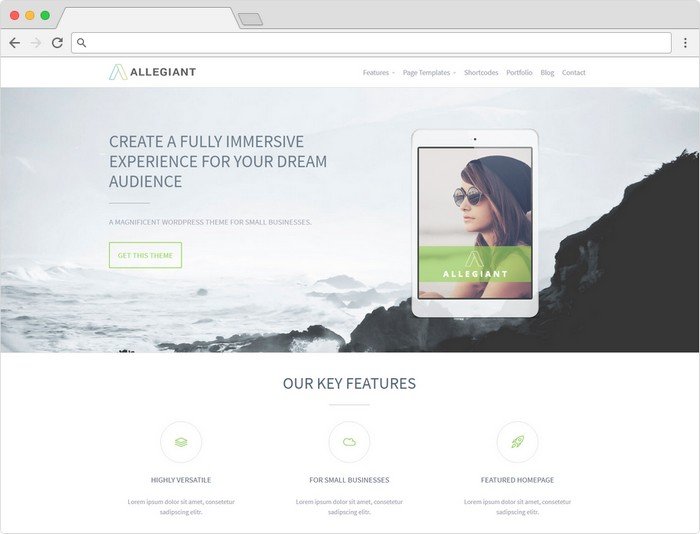 Q2. Allegiant is really popular because of it's perfectly built for users looking for an amazing business WordPress theme. It features beautiful typography, sliders, and team sections. It's highly customisable, easy to use, features a 1-click demo content importer and is backed up by an awesome team.
Thanks to Cristian from CPOThemes.
Gabfire Themes
Q1. Advanced Newspaper: Your Online Newspaper is just a step ahead now. With Advance Newspaper you can set up and run your very own e-newspaper site just in matter of minutes only.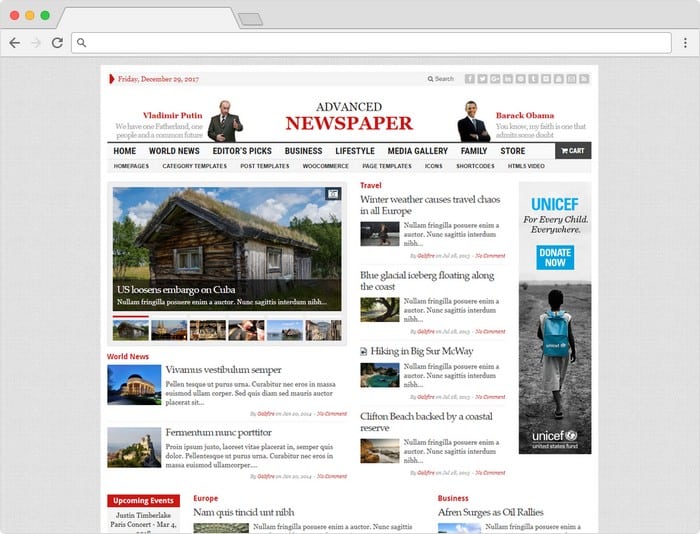 Q2. The Advanced Newspaper theme gives the ordinary Joe the possibility to compete with the largest publishers on the web by creating a professional online newspaper site just in a matter of minutes. Gafire "Advanced Newspaper" theme powers thousand of successful news site around the Globe and allows small communities to be independent of the big media.
Thanks to Yanko from Gabfire Themes.
Anariel Design
Q1. Our best selling theme is a charity WordPress theme Maisha. Maisha is inspired by the Virunga documentary, a true story of people risking their lives to build a better future in the Congo. It comes packed with all the features a non-profit or charity website needs. We've integrated everything you'll need, from space to communicate your messages, to powerful donation options, and extensive customizability – all in a professionally designed and easy to use package.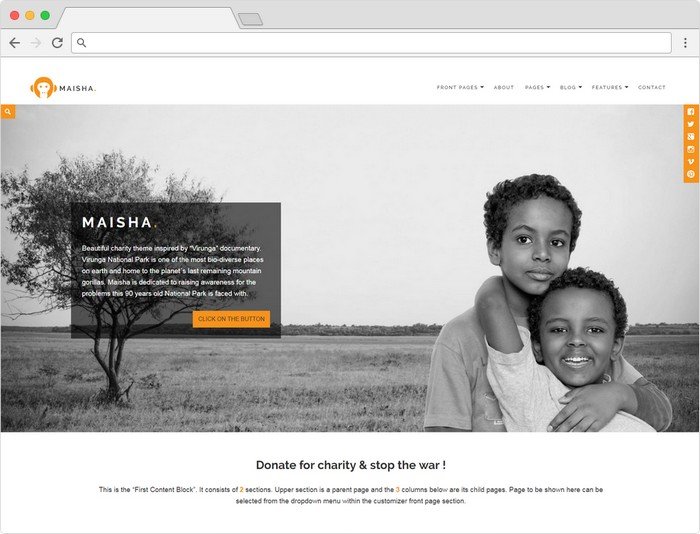 Q2. It's always hard to tell why something is more popular than something else. Maisha is a good mix of clean modern design, specific charity oriented functionality and ease of use. It is not too complex to be overwhelming nor is too basic to lack needed functionality. Simply put, it seems to be well balanced which is not always easy to achieve. It also has a story behind it that, I think, many people can relate to.
Thanks to Marko from Anariel Design.
TeslaThemes
Q1. Zoomy: Zoomy is a Professional Photography WordPress Theme with minimalist, fresh, responsive design and some great features to help you showcase your photos or creative works in a stylish way.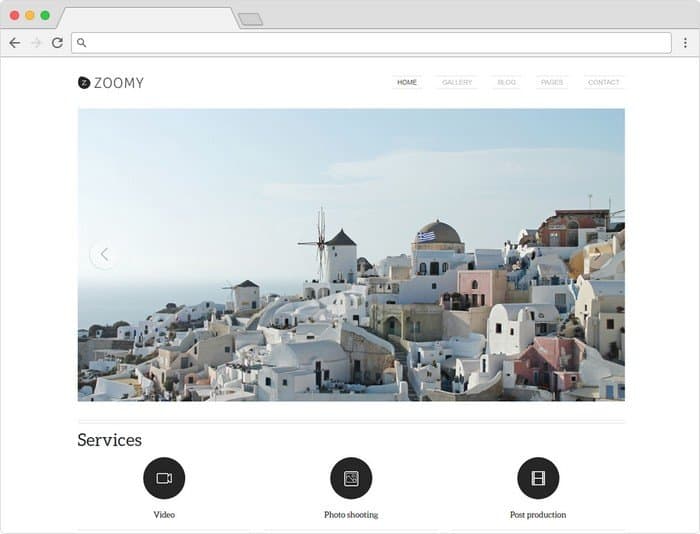 Q2. It's a beautiful theme which borders the edge of minimal. In fact, it can be as low key or as high key as the user wants. Because it utilizes a page builder and the powerful Tesla Framework, there is endless potential.
Thanks to Scott from TeslaThemes.
CSSIgniter
Q1. Our most popular theme to date is Olsen, a premium WordPress theme for bloggers. Generally, it's a very simple theme. It offers a good amount of customization options (various layouts, color customization options etc) and it was very well received by the fashion blogging community. I believe it became so popular because it is available in various channels out there. A free version is available at WordPress.org, there's also the WordPress.com version available.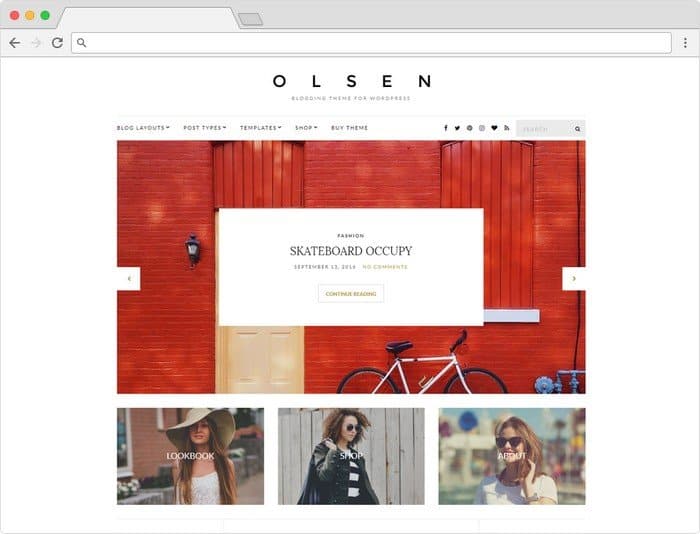 Q2. When it comes to technical support and updates, we treat our free themes in the exact same way like our premium ones. Users download the free version of Olsen, evaluate things and when they realize that we actively support it they won't hesitate to upgrade to our Pro version.
Thanks to Gerasimos from CSSIgniter.
HappyThemes
Q1. Our most popular & best-selling theme is Starter: Starter is stylish WordPress blog theme that built with coupons/deals functionalities. This theme is fully responsive & mobile-friendly that works great on all kinds of devices (desktop, tablets, and smartphones). With the Starter theme, you can easily run a PRO blog and make money from affiliate programs by providing coupon codes.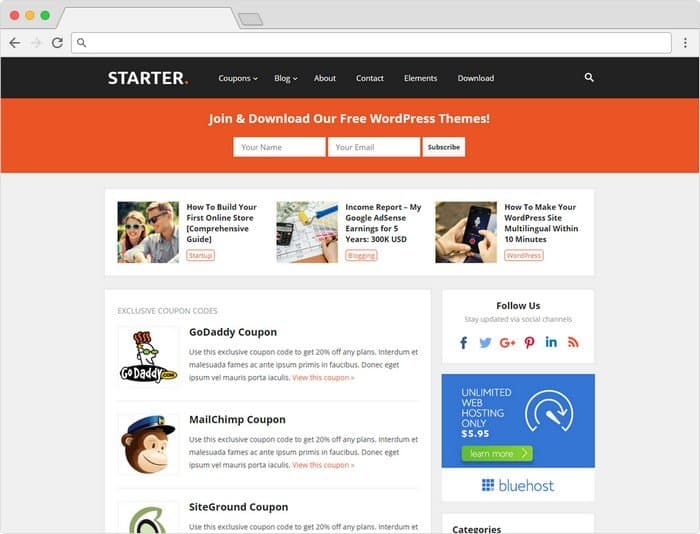 Q2. I think the Starter theme is the perfect combination of beautiful and professional design with tons of powerful features that best suited for online bloggers.
Thanks to Allen from HappyThemes.
ShowThemes
Q1. Tyler: Tyler combines a fresh design with advanced event planning features. Wow, your guests with a website that sells more tickets. Tyler is the Perfect WordPress Event Theme for your Conferences.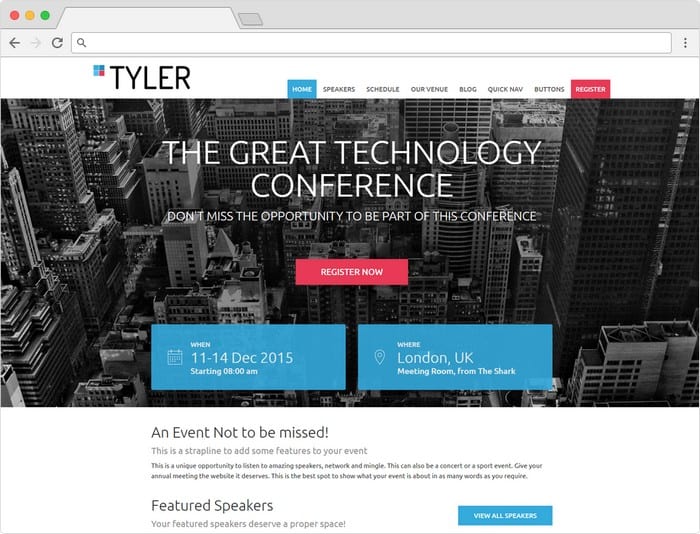 Q2. This is most likely the most popular because it's extremely diverse, has clean lines and makes selling events extremely easy. It showcases the calls to action and content which helps sell an event, with minimal flare putting all focus on what's most important.
Thanks to Scott from ShowThemes.
Artisan Themes
Q1. Pepper+ is an upgrade for our free theme, Pepper, and works in the same way that our other themes. Meaning you build pages by stacking pre-built modules one on top of the other, like little bricks to build with. Pepper+ implements a fresh attitude to design to make it work in an elegant, yet spicy way. Mai (our chief designer) was able to create a theme that works wonderfully to create websites that have to be modern and fresh, but at the same time very solid.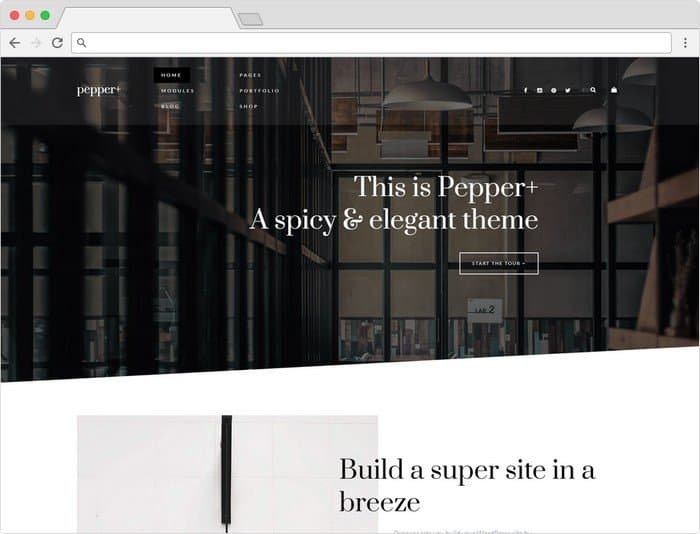 Q2. What I think people find in Pepper+ is the chance to have the best of those two worlds. You get to build beautiful looking pages very fast by using the modules, and on the same time, you have the right settings available on every module to make that design yours, even without being a designer.
Thanks to Javier from Artisan Themes.
Organized Themes
Q1. Surprisingly, it was a not so "modern" yet it still looks good theme called Forward. Forward Nonprofit WordPress Theme has been designed to give you just what you need to create an amazing site for your organization. It is simple to use and customize. We've built support in for our WooCommerce Campaign Extension so you can easily raise money on your own site now.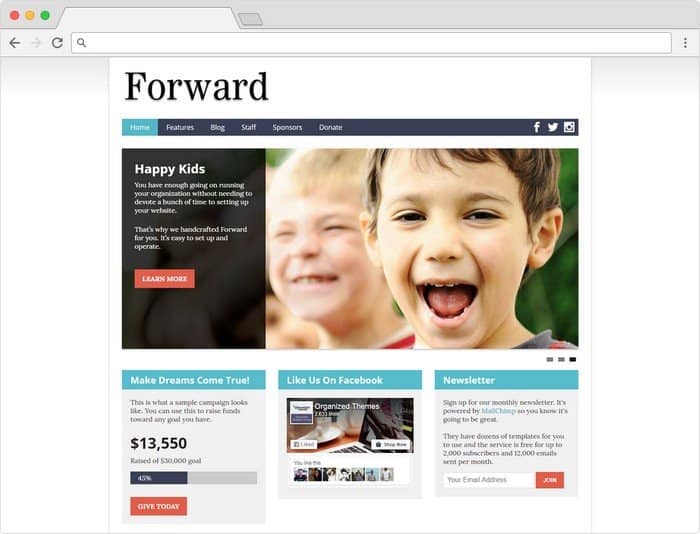 Q2. Nonprofit organizations love Forward as they want something that is bright, happy, and that portrays a friendly, helpful, company. It features a donation system for fundraising and a staff page to display their team. It also has a lot of customization options and is a very reliable theme.
Thanks to Ramsey from Organized Themes.
Catch Themes
Q1. Verity Pro is a modern blog and portfolio theme with an ultra-clean and stylish, elegant design. With its beautiful typography, focused layout, and thoughtful use of white space, Verity Pro truly helps your content stand out. Its minimal design and unobtrusive color palette make it ideal for bloggers and creative professionals who need to highlight images, and features image and video headers, a custom menu, projects, testimonials, recent posts, and social icons.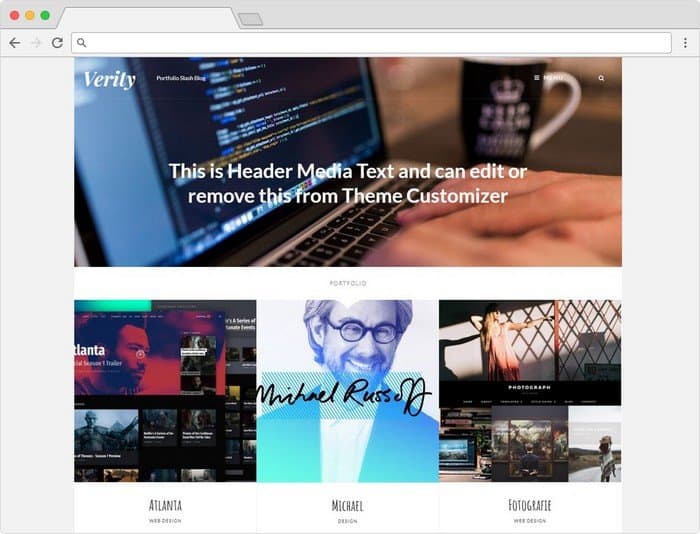 Q2. It's because of simplicity and niche focused theme for portfolios. Also because of beautiful typography, focused layout, and thoughtful use of white space design.
Thanks to Sangeeta from Catch Themes.
Array Themes
Q1. Array Themes best-selling theme of 2017 was Atomic, a business and portfolio theme.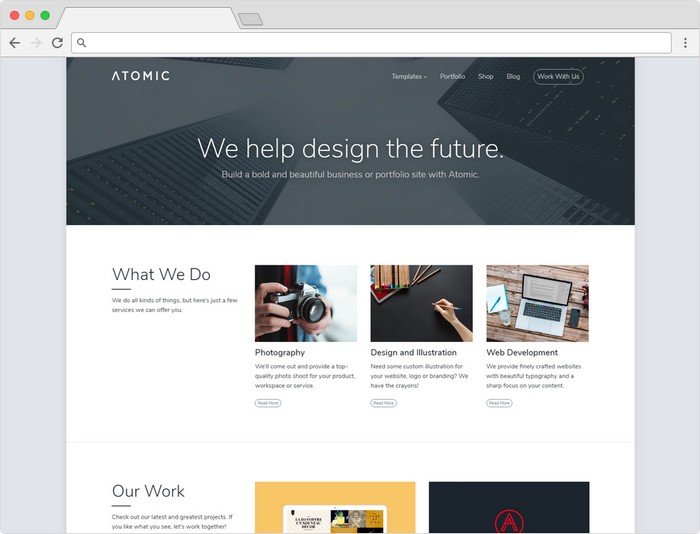 Q2. Atomic has a beautiful and unique layout for a business and portfolio site. The homepage is really easy to create and offers the ability to have a one-page site, with well-designed sections for your content. We've seen our customers use Atomic to launch beautiful portfolios, personal sites, eCommerce stores, marketing sites, and more. We also added support for WooCommerce to make Atomic a complete eCommerce solution. Atomic is a unique alternative to the traditional business layout found in most themes.
Thanks to Mike from Array Themes.
RichWP
Q1. That would be by far my Rich Master Theme: It is a straight out blogging theme. The kind of theme you imagine and actually want when you set up or modernize a blog. No matter what topic you are writing about, the layout and design are so open-minded that you just have to activate it and you are ready to roll.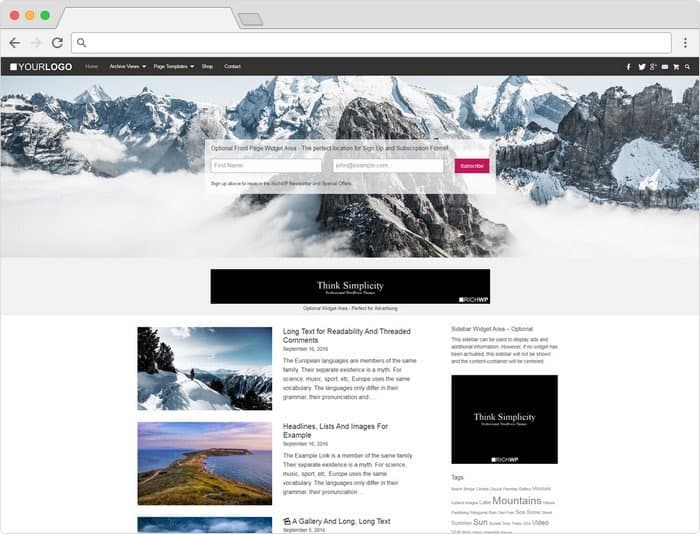 Q2. This theme is just what a blogger wants, no more, no less. It is focused on what WordPress has originally been built for. If you prefer results and performance over a long feature list this blog theme is the right one for you. It is Gutenberg ready, based on the powerful Foundation 6 front-end framework and passed review with the official WordPress theme review team.
A free version is available as well. Part its success is, without any doubt, the offering of the free version. It basically is the full version, just with a backlink in the footer. This way you can test everything out and built up your site and traffic. Once you decide to go PRO and get rid of the "footer link", just purchase a license and you are set.
Thanks to Felix from RichWP.
Station Seven
Q1. In addition to being the newest member of our theme collection, Paloma is also our best selling! It offers a really strong design aesthetic right out of the box featuring a gorgeous color scheme and typography to die for. Crafted for photographers, designers, and creatives alike, it truly is a custom-looking website without the hassles of hiring a designer.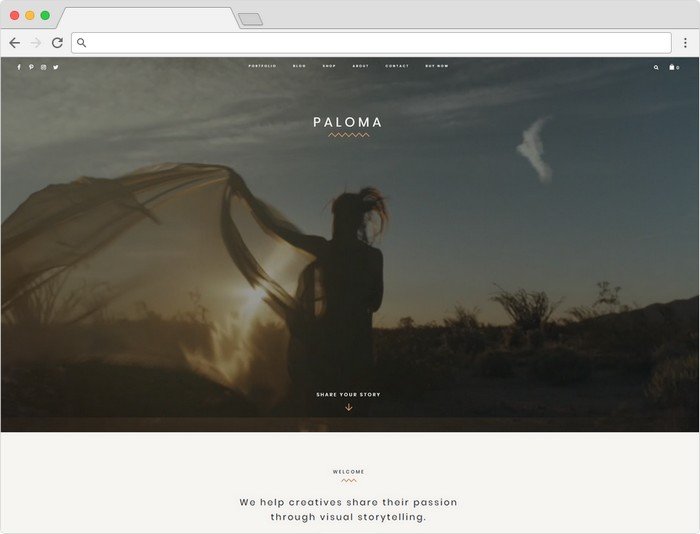 Q2. We always strive to create themes that don't look like themes, and Paloma definitely lives up to this. It offers some unique layout options and features designed specifically for creatives in mind (hello masonry portfolios and gorgeous blog layouts). We really put a lot of attention into the little details – custom back-to-top buttons, clever SVG accents, and a ridiculously bold (yet totally optional) full-page video header are just a few of the fun elements in Paloma, not to mention the full-featured page-builder (our best yet).
It's this combination of refined form meets function that has made Paloma such a popular option for our customers this year.
Thanks to Mike from Station Seven.
AppThemes
Q1. ClassiPress is the original & most popular WordPress classified ads theme. Our feature-rich theme was built for ease-of-use and tight integration with WordPress so you'll be online and be selling classified ads within minutes.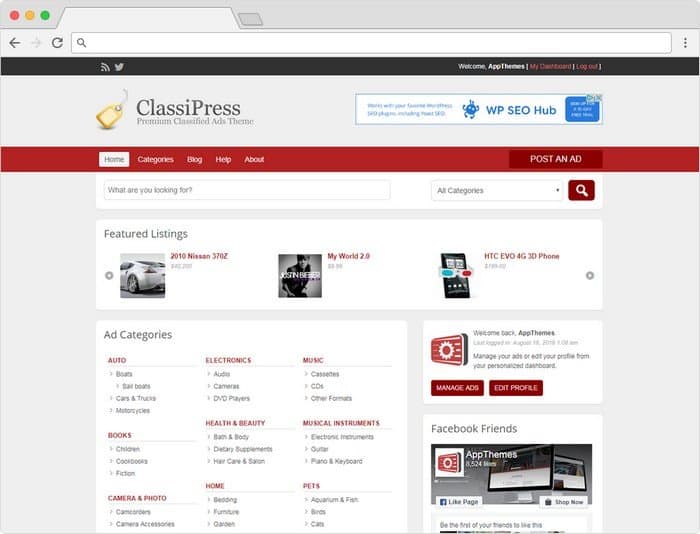 Q2. With thousands of ClassiPress customers, a dedicated support team, and a very active community, you can trust that ClassiPress is the best solution for your business.
Thanks to Ruhul from AppThemes.
ThemeCountry
Q1. It's SuperAds.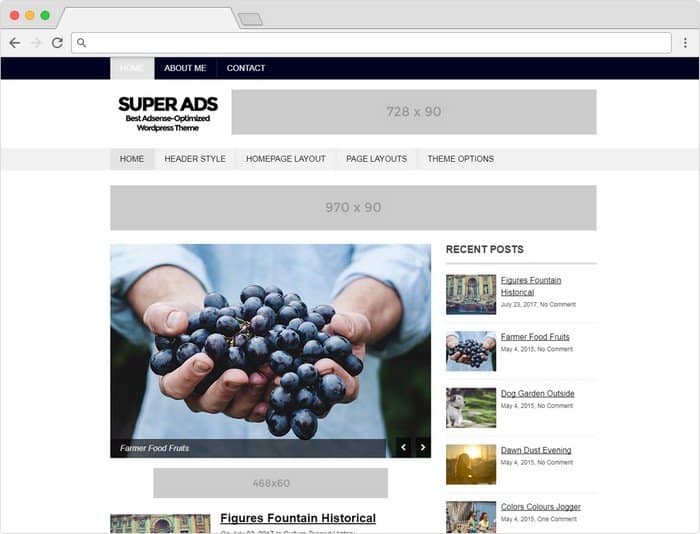 Q2. Because Super Ads is mainly designed for clean looking and fast loading. The Design is well optimized for Adsense as well as other advertising, but however, SuperAsd is loved by most of our customer because it also works and looks best for many niches and type of website. That's why SuperAds is the best selling theme on our website.
Thanks to Sereyboth from ThemeCountry.
FameThemes
Q1. Coupon WP: The last WordPress coupon directory theme you will ever need. It is the complete deals, discounts, and coupons WordPress theme to date.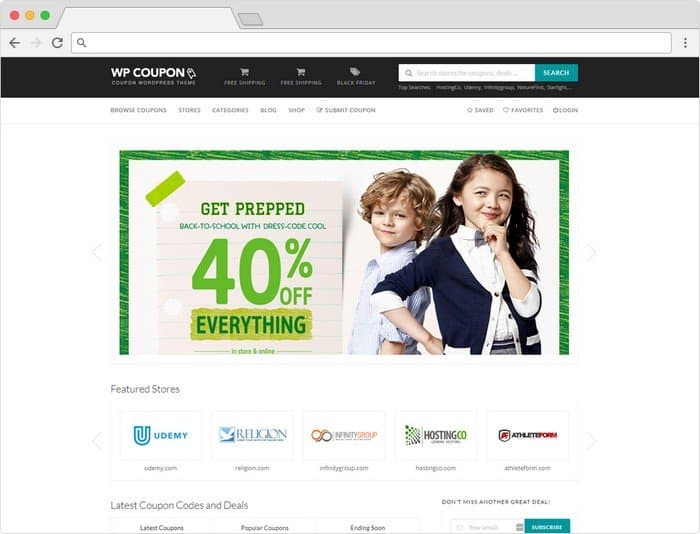 Q2. The theme provides everything you need to build affiliate coupon code websites that allow visitors to browse coupons and deals provided by third-party stores. You would then earn money from the referral or sales made.
Thanks to Kien from FameThemes.
Magazine3
Q1. We launched so many themes including web news, Newspapertimes 2017, Newsdesk, and Tagmag.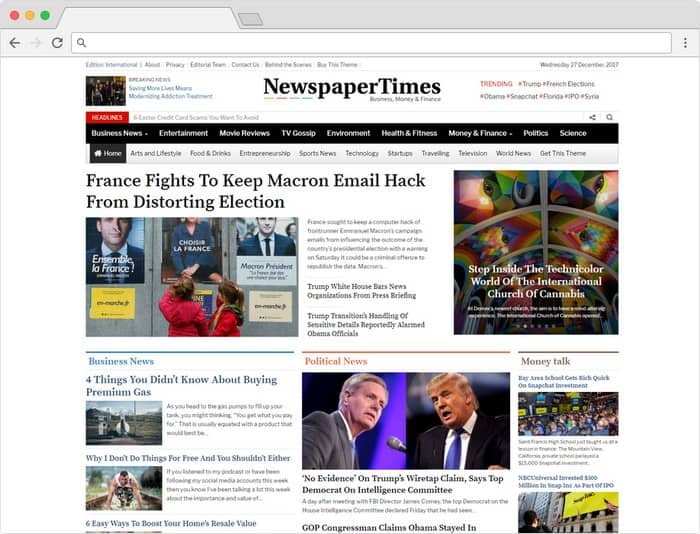 Q2. Our all themes are awesome easy to manage from the user point of view. That's why we focused and made the themes in such a manner so that every user in the world will get a better user experience.
Thanks to Ahmed from Magazine3.
PremiumPress
Q1. We sell business themes and therefore depending on the time of the year each theme has its own importance. During the winter months, for example, we get a lot of users selling products and services online, therefore, our Shopping Cart Theme is very popular. During the summer and new year. We also get a lot of clients selling off old stock. So our Car Dealer theme and Auction Theme become more popular.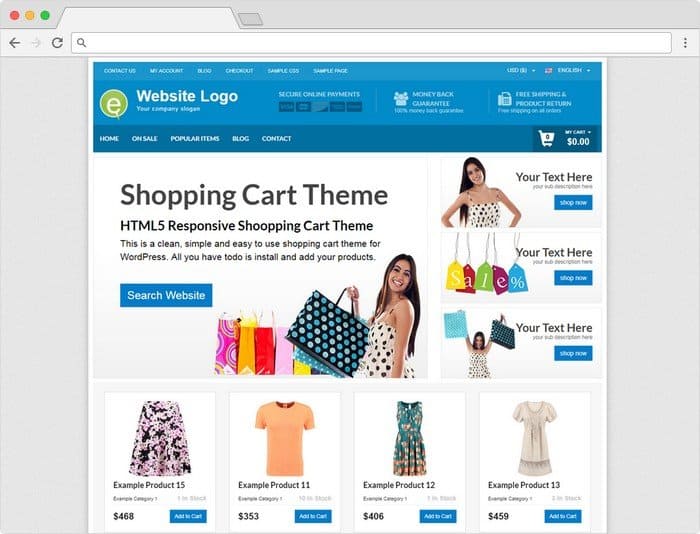 Thanks to Mark from PremiumPress.
In Conclusion
Which of these WordPress themes is your favorite?
Thanks to all the WordPress Theme Companies and superheroes who participated and contributed to this article.
Where Should We Send

Your WordPress Deals & Discounts?
Subscribe to Our Newsletter and Get Your First Deal Delivered Instant to Your Email Inbox.
Thank you for subscribing.
Something went wrong.