Sometimes, it is necessary to make changes and modifications to your WordPress website. However, it is not always advisable to let everyone see what you are doing. Perhaps you want to change the design, layout, color scheme, and so on, and that is something you should not display to your visitors. Doing so creates a high risk of annoyance. Who wants to see a website that changes every five minutes?
Using maintenance or Under Construction WordPress plugins when building, changing, or updating your website is the perfect and recommended solution. If you send a signal to your visitors that you are currently updating or maintaining the website, you create much more trust and understanding.
There are many Under Construction, Coming Soon, and landing pages WordPress plugins to choose from. Currently, you can get a premium Coming Soon & Maintenance Mode on Appsumo for as little as $39.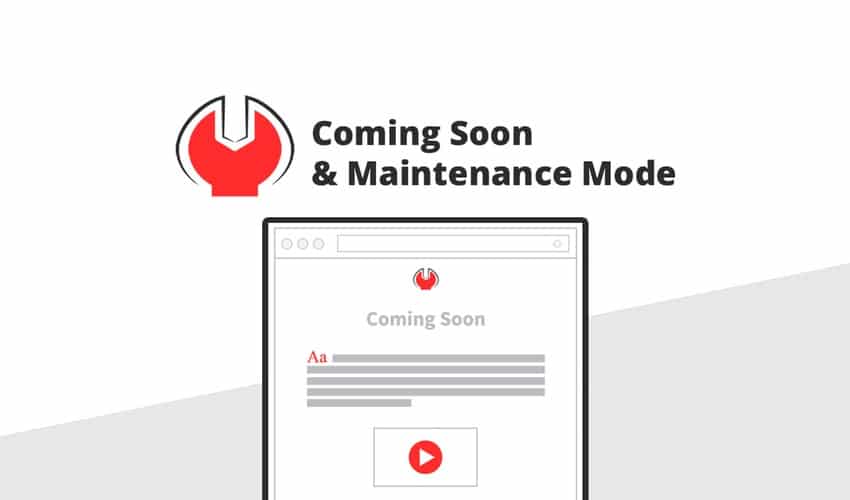 What plugin should you use?
To set up a stylish Under Construction page, I use the WordPress plugin Under Construction by Web factory Ltd. This plugin is free and very easy-to-use regardless of if you are a beginner or pro. No coding skills are required to create an Under Construction page. This plugin is one of the best for this purpose that I have used.
It took me only five minutes to set up a cool and attractive page after installing the Under Construction plugin. If you do not want to make or change too many settings, it will not take long before your Under Construction page is up and running.
Start by installing the Under Construction WordPress plugin by following these steps.
Install Under Construction WordPress Plugin
In your WordPress Admin Dashboard, go to Plugins > Add New  and search for "Under Construction." Install and activate the plugin.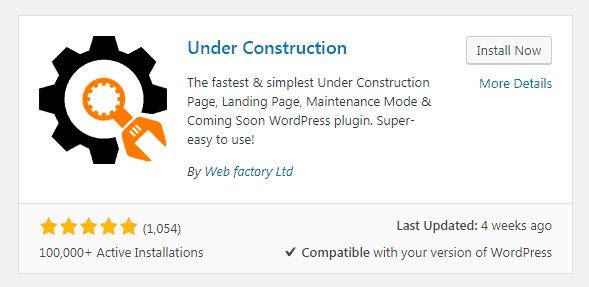 Setting up the Under Construction Page
Start to create an Under Construction page by going to the admin bar and activating Under Construction. Then click Settings.

This is the dashboard for the Under Construction plugin. You set all the settings from here.
Main
We will start with the Main tab. Enable the construction mode here if you did not do it in the earlier steps. Once you have done so, visitors can no longer access the site's content. They will only see the Under Construction page.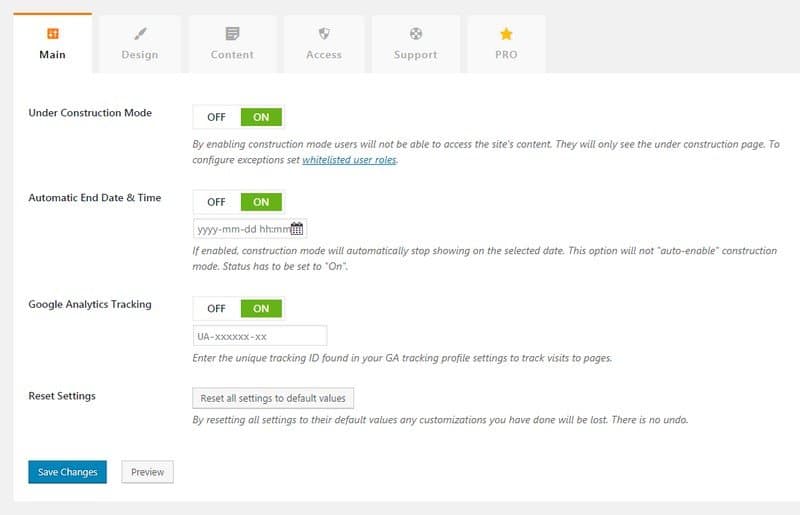 Main – Settings
Under Construction Mode: Enable or disable the construction mode.
Automatic End Date & Time: Select the start and end date. If enabled, the construction mode will automatically end on the selected date.
Google Analytics Tracking: If you use Google Analytics, enter your unique tracking ID from your GA tracking profile settings.
Save your settings. Through all tabs, you also have the option to preview the settings you define during the creation of your Under Construction page.
Design
Under the Design tab, you can choose from 25+ ready-to-use templates. You will find everything from minimalist templates to colorful, informative and stylish Under Construction pages.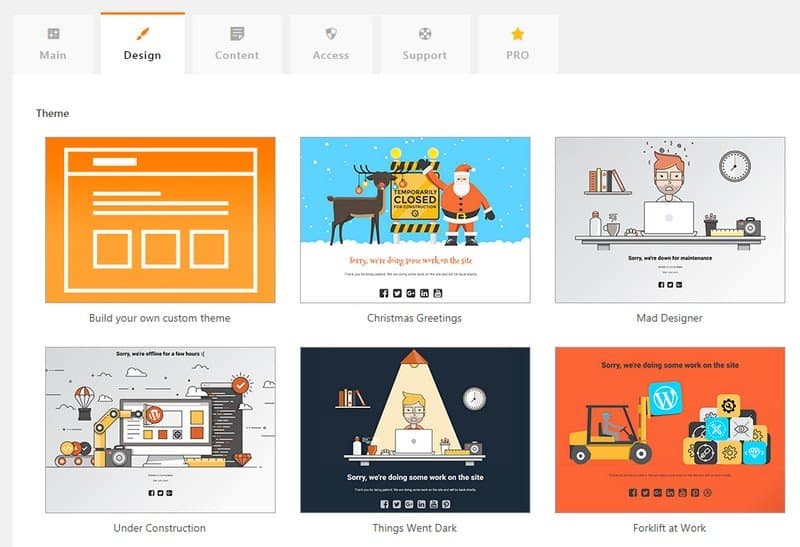 If you want to add more styling, you can do so in the custom CSS box.
So far so good! Let's add some content, shall we?
Content
Under the Content tab, you can add the content and text that will appear on your Under Construction page.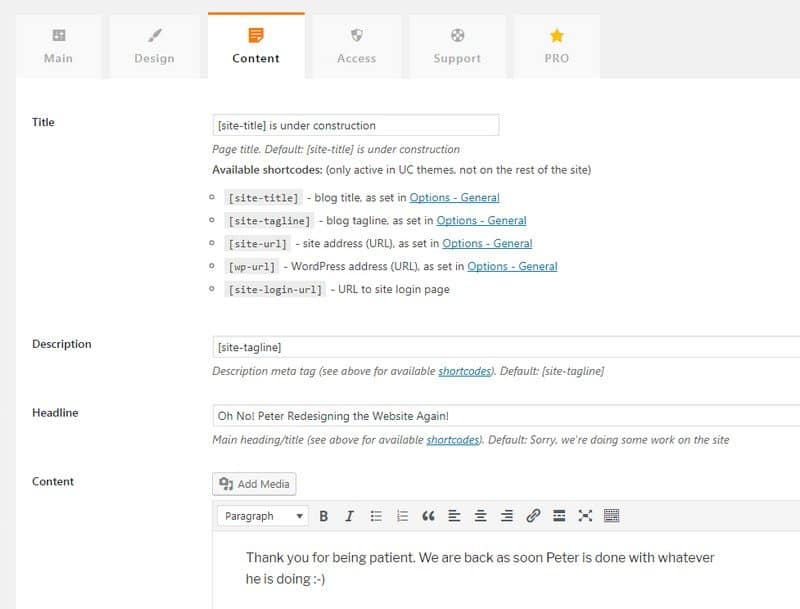 Title: Page title (default, "[site-title] is under construction.")
Description: Description of meta tag
Headline: A short description of what is going on (e.g., "Sorry, we are doing some work on the site.")
Content: A message to your site's visitor
Login Button: Choose if you want to display a discrete link to the login form or not.
Show Some Love: If you want others to learn about this free plugin, turn it on and share some love
Social and Contact Icons: Links to your social media accounts and contact icons.
Access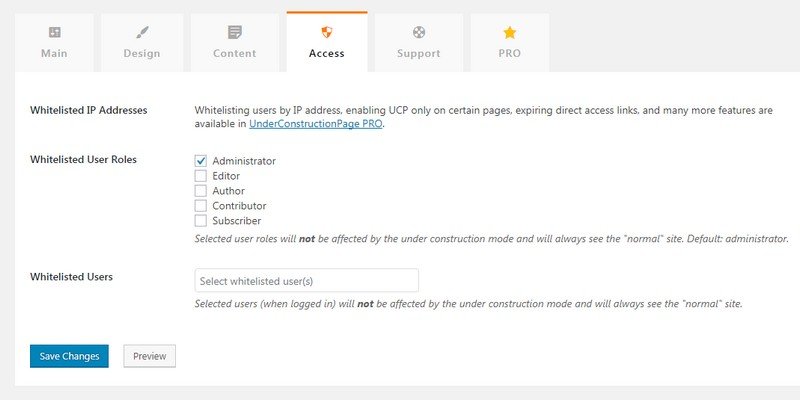 Whitelisted IP Addresses: Only available in Under Construction Page PRO
– User Roles: Select which roles will not be affected by the Under Construction mode, and they will always see the "normal" site
– Users: Users you select will not be affected by the Under Construction mode and will always see the "normal" site when logged in.
Support & FAQ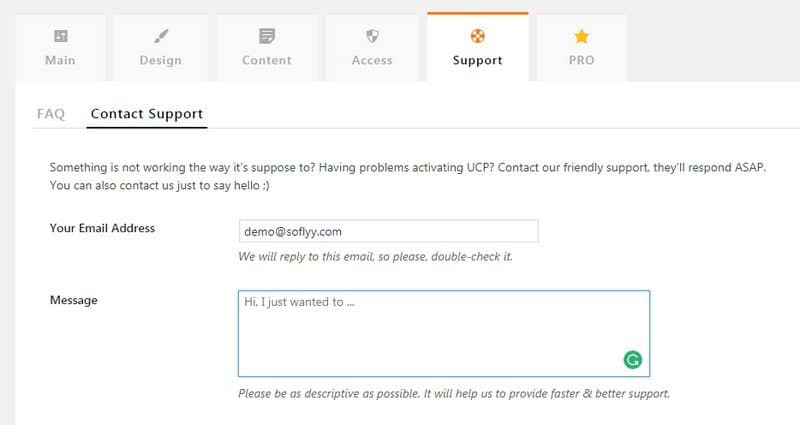 If you run into any problems, this tab can be of great help. Answers to frequently asked questions are available here, and you can send an email and contact support.
Pro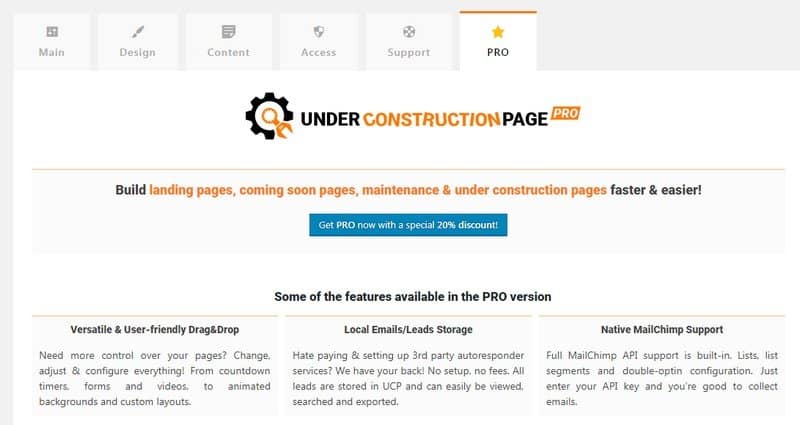 If you want to take advantage of even more features and upgrade to the Pro version of Under Construction Page, you can do so under this tab.
Under Construction Main Features
Simple, fast, efficient, and user-friendly
Enable and disable Under Construction mode
Automatic end date and time
Edit the title, description, headline, and content
Google Analytics tracking ID compatible
Whitelisted user roles
Whitelisted users
Custom CSS
Social icons and links
Built-in support system
My Under Construction Page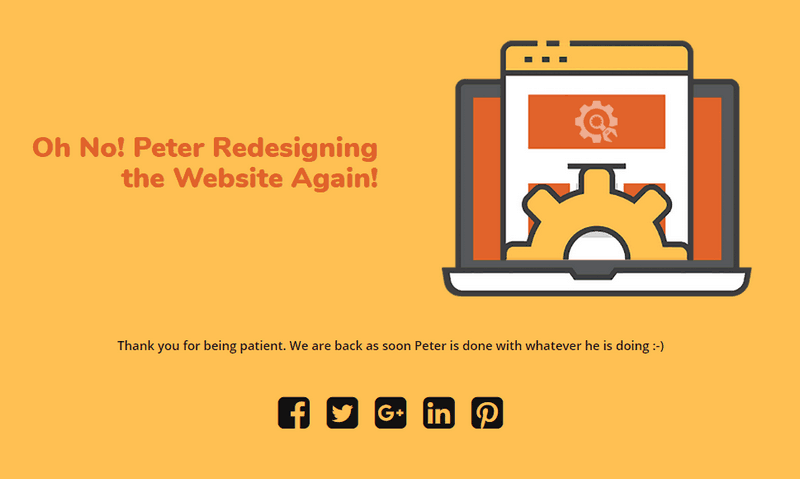 As I mentioned earlier, there are 25+ designs to choose from so I'm convinced that any of the templates will be perfect for your website.
Learn More About Under the Construction Page WordPress Plugin
Wrapping Up
The Under Construction WordPress plugin is the perfect solution for anyone who wants to display a stylish Under Construction, Maintenance, or Coming Soon page while doing updates or maintenance on their website.
It is a very easy-to-use plugin that anyone can use. Within minutes, you will have an Under Construction page up and running. Furthermore, Under Construction is simple, fast, efficient, and user-friendly with many great designs to choose from.
You will be fine with the free version of Under Construction, but if you need more features like a drag-and-drop builder, cache control, MailChimp integration, and more, you will always be able to upgrade to the pro version.
If you use the Under Construction plugin or have tried it, I would love to hear your opinion. Add a comment what you think about this plugin? If you have any question don't hesitate to ask!
Where Should We Send

Your WordPress Deals & Discounts?
Subscribe to Our Newsletter and Get Your First Deal Delivered Instant to Your Email Inbox.
Thank you for subscribing.
Something went wrong.