The year 2019 is behind us, and we look forward to the exciting new 2020 — a new year with new opportunities, new challenges, and new goals to achieve. And new WordPress themes!
WordPress is evolving, and the number of users and websites increases annually, and as I write this, WordPress is used by 35.3% of all the websites.
All of us WordPressers use WordPress themes on our websites. Do not forget to make your WordPress theme look like the demo after you've selected your favorite theme from the list. This will make your life easier. There are a plethora of both free and premium themes to choose from, and it can be both a time-consuming and challenging task to find a suitable theme from all WordPress theme providers around the globe which requires a lot of testing and experimenting. It's easy to get caught up in those explorations which could lead to unwanted malfunctions on your website, so before you go crazy in installing them, make sure that you have a safety net to preserve your setup with a plugin like WP Reset. This handy little tool can allow you to save your environment exactly like it was before the installations and let you delete all of the ones that didn't pass your requirement test with a single click.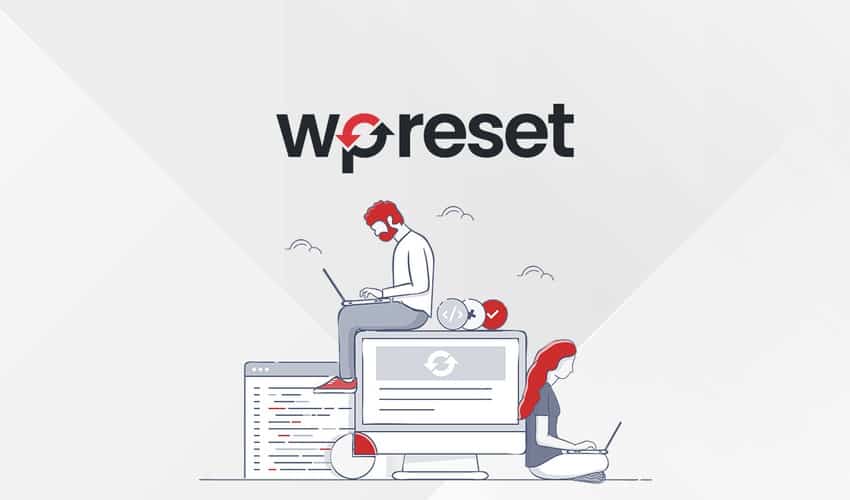 But help is on the way to help you find popular themes, hence even the best WordPress themes available.
As a tradition, this is the third year I am compiling a list titled – What Were the Best Selling WordPress Themes? Previous articles you can check out here – BSWT 2017 and BSWT 2018.
I ask two questions to leading WordPress theme companies, and the questions were as follows:
Question 1. What was your best selling WordPress Theme in 2019?
Question 2. Why do you think your best selling WordPress theme is so popular?
This year, 47 WordPress theme companies responded. It is hugely gratifying, and the participation in the article series is growing each year.
I want to thank all the WordPress theme companies who participate this year.
The Best Selling WordPress Themes in 2019 from top 47 WordPress Theme Companies
So, sit back, relax, and let's dig into the best selling WordPress themes 2019.
For those of you who want to jump directly to our table of WordPress themes can do it here.
TeslaThemes
Q1. So our best-selling package is All Themes, but if you look at individual theme purchases, then Hudson is the most popular theme purchased by customers in 2019.
Hudson is a Premium eCommerce WordPress Theme with minimalist, modern, clean design and a complete set of eCommerce features to help you easily manage your online store. It is compatible with WooCommece – the most popular eCommerce plugin for WordPress and has everything you need to set up and run a successful eCommerce website.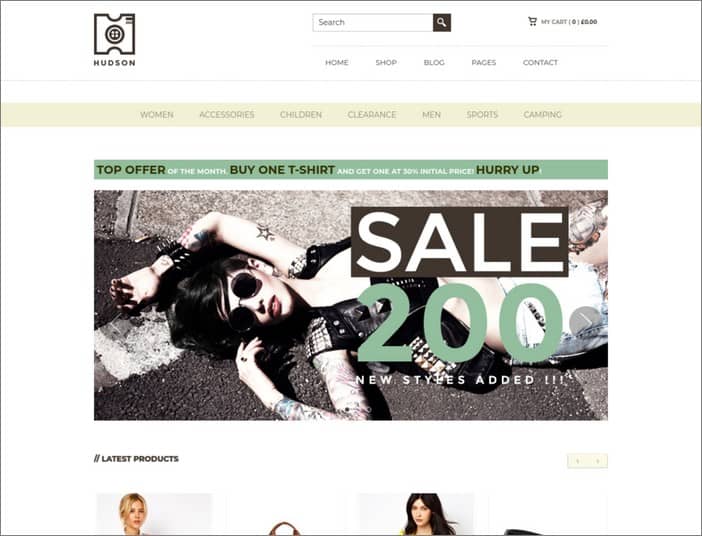 Q2. WooCommerce is growing more and more in popularity even as platforms like Spotify continue to grow. Hudon is a beautifully clean eCommerce theme for sites running WooCommerce. It has controls for deep customization and a stunning floating cart for increased conversions on your website.
Thanks to Scott from TeslaThemes.
Anariel Design
Q1. Elephant is currently a popular theme on our site. We like to think of it as a charity WordPress theme of the new generation as it is built from the ground up using the new WordPress editor (Gutenberg). That also makes it future proof and robust.
Elephant theme features clean and modern design and supports a set of features that most charity/non-profit organizations will probably want to have on their websites.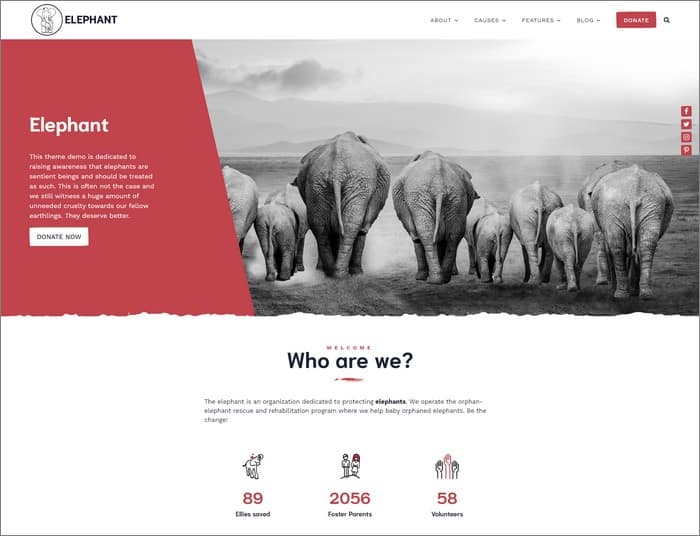 Q2. After building a couple of very popular charity themes like Maisha, Pena, and Zeko, we gathered our experience and the feedback we got from our dear customers and turned it into what we feel is our best charity theme so far. People seem to have recognized that. Also, being fully optimized for the new WordPress editor, Elephant theme is a joy to use and customize.
Thanks to Marko from Anariel Design.
Catch Themes
Q1. Catch Vogue Pro is a premium, beautiful, and stylish, fashion-minded, and aesthetically conscious multipurpose fashion WordPress theme for fashion blogs and websites. It comes with features like skills, why choose us, stats, gallery, services, promotion headline, WooCommerce, promotion sale, pricing, team, reservation, contact info, and more.
All of these fantastic features with a clean outlook makes Catch Vogue Pro even more powerful and flexible. It is wholly customizable, and you can quickly and effortlessly set up your fashion blog with a one-click demo install feature. So, make your website visually aesthetic, sophisticated, and grow your audience with Catch Vogue Pro.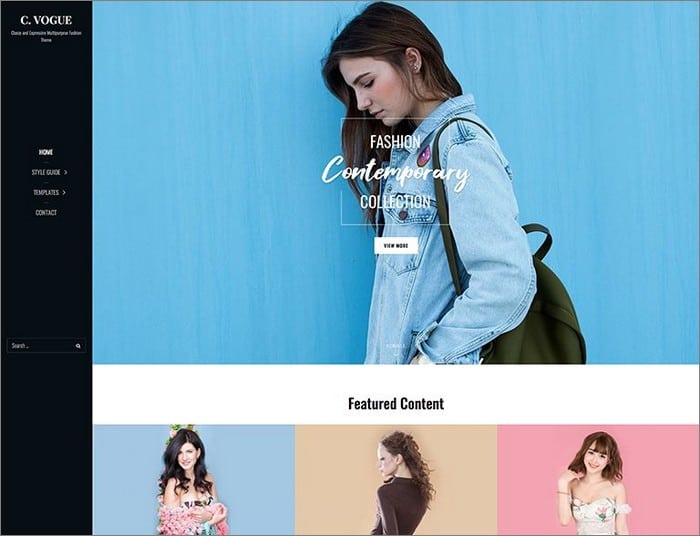 Q2. Catch Vogue Pro is a good mix of modern, stylish design and easy to use excellent features. All of these features can be easily set up using WordPress core Theme Customizer and also rearrange any sections using Section Shorter, which makes this theme very versatile as well. So, the bottom line is Beautiful Design, Flexible Sections, and Easy to Use is the main reason for the success of this theme.
Thanks to Sangeeta Catch Themes.
CSSIgniter
Q2. Our most popular theme for the 4th consecutive year is Olsen, our fashion blogging theme for WordPress. Minimal, really flexible in terms of customization options and ready to support long-form content, whether it's text, photos, or both.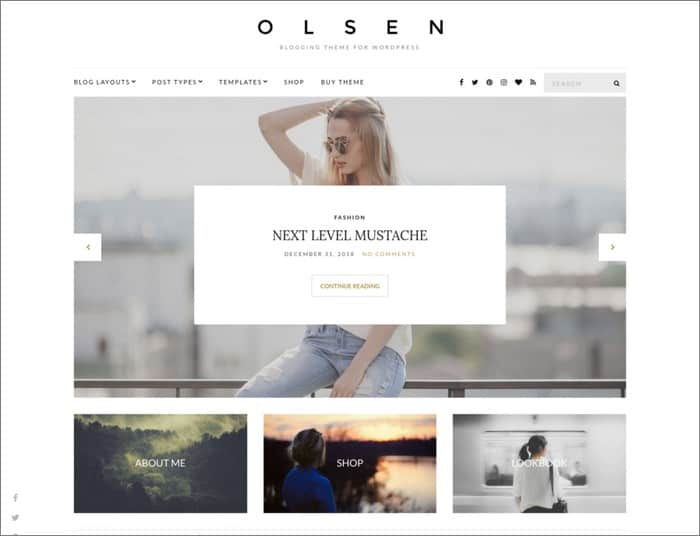 Q2. Fashion blogging is on the rise, and users from this niche are looking for themes that don't get in their content's way.
Thanks to Gerasimos from CSSIgniter.
MyThemeShop
Q1. Schema has been our best selling for three years in a row now. It is schema-ready and 100% fluid responsive. Schema theme is a full package, and it is SEO-friendly, comes with an in-built review system, loads extremely fast, and comes with an advanced options panel.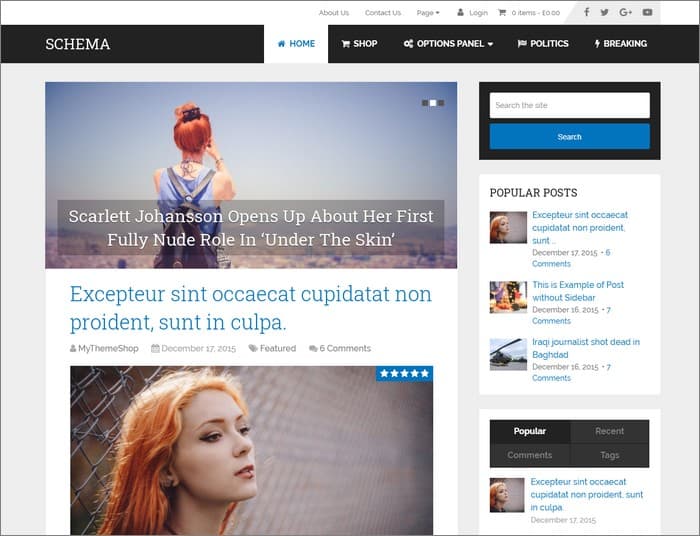 Q2. The Schema theme is one of the fastest WordPress themes around and comes with built-in Schema. It is straightforward to use, and it is SEO friendly. It is a complete package and offers everything a website owner might need to make their content rank at the top of search engines.
Thanks to Bhanu from MyThemeShop.
Organized Themes
Q1. In French, Mise En Place means "put in place" and carries the idea that a chef has everything they need in place before the cooking even begins. Our Mise En Place WordPress theme is designed with that same philosophy, giving you the tools you need to create an amazing site for your restaurant.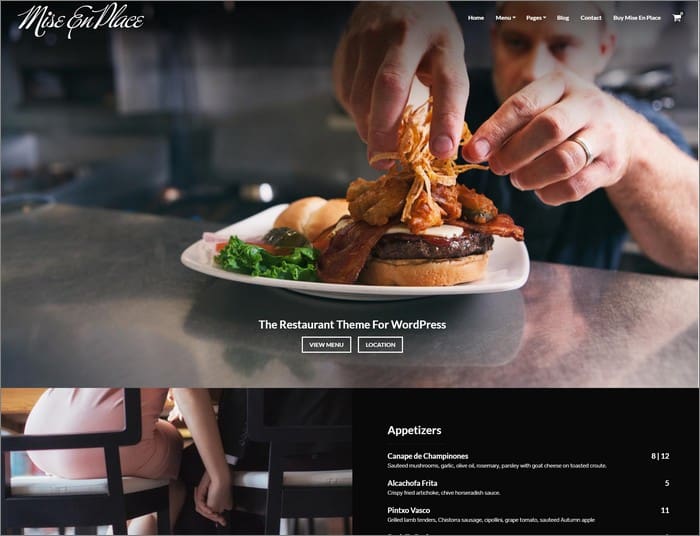 Q2. There's something about it that calls for simplicity and sleek style. It just works. The use of parallax is subtle and appealing. The food menu is displayed on each side next to a picture creates a pleasant flow. It has many included features without the need to download plugins, as mentioned in its description, and that helps our customers make better decisions.
Thanks to Ramsey from Organized Themes.
PixelEmu
Q1. Business WordPress Theme is our bestseller this year. It's a modern, highly configurable, accessibility-ready theme that meets WCAG 2.1 and ADA standards (required by the law in many countries) to adjust a website for people with various disabilities. This WCAG and ADA WordPress theme is tailored for different kinds of business ventures, including startup companies.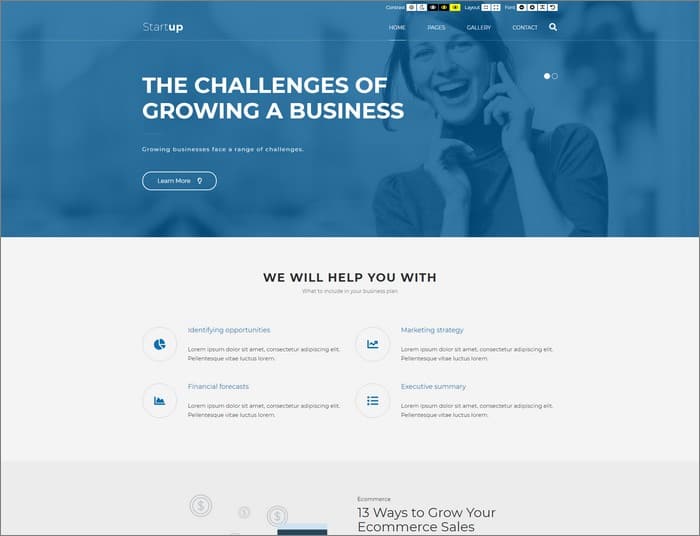 Q2. The main advantage of this business WordPress theme is WCAG and ADA compatibility. Moreover, you will also discover many useful theme settings, shortcodes, and ready-made widgets, such as carousel sliders, tabs, counter, testimonials, team members, pricing tables, and much more.
That is why it's often used for professional services or product presentations. As a solution for a successful business website in accordance with WCAG and ADA adjustments.
Thanks to Izabela from PixelEmu.
Themify
Q1. Our best selling theme on Themify is Ultra. It is a multi-purpose theme that is suitable for most general and e-commerce sites. It includes many headers and footer layout options, which you can select for the entire site or individual pages. Many pre-built demos allow users to build their websites quickly by importing the demos.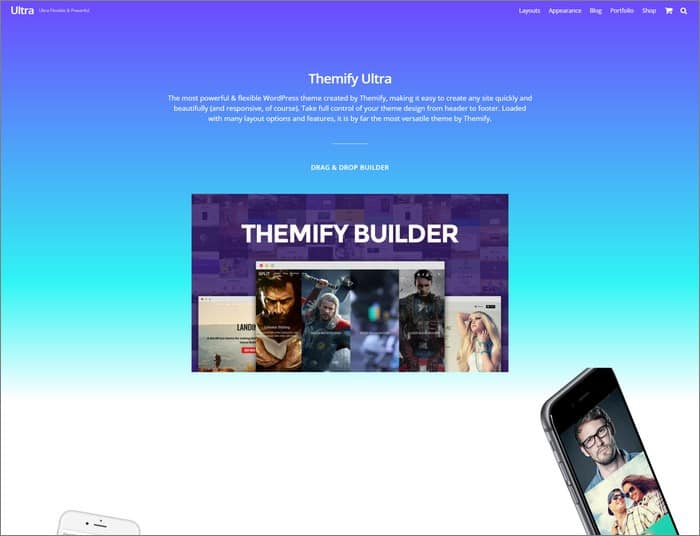 Q2. Themify Ultra is popular due to its flexible design options and powerful tools such as 1-click demo import, drag & drop page layout builder, and the growing skins.
Thanks to Nick from Themify.
PremiumCoding
Q1. Anariel is a classy and modern WordPress Fashion Blog for all the Bloggers out there who strive towards minimalism. Its retina ready and fully responsive design will look amazing and work fluently on all the devices, mobile, tablet, and desktop.
To save time and start your online experience even more comfortable and quicker, Anariel comes with six pre-defined demos that you can install with one simple click of your mouse or trackpad.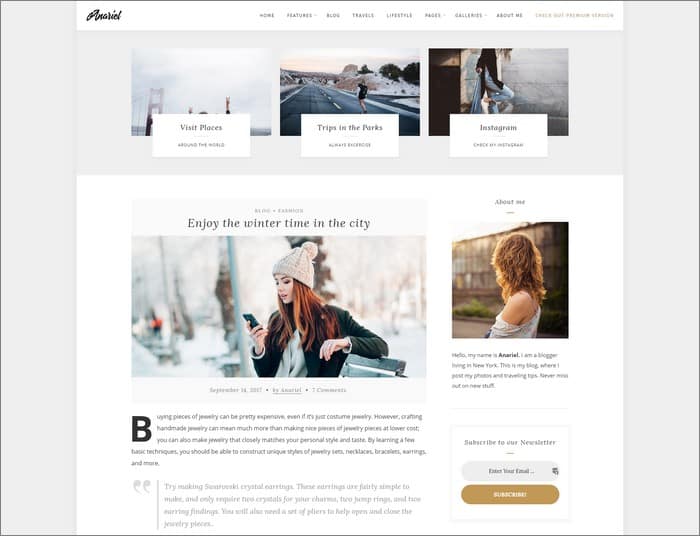 Q2. I think it is so popular because of its minimal yet appealing design which can be adapted to many different needs of our customers. And its best suited for any fashion or lifestyle blog out there. And since that is a popular trend in the past few years with people writing blogs about basically just about any topic, a blog theme like this can be very popular.
Thanks to Gljivec from PremiumCoding.
aThemes
Q1. Our best selling theme is Sydney Pro (and has been for a while). Once you dig into its features, it's easy to understand why. Sydney Pro is all about simplifying the process of building professional-looking websites, even if you're still developing your coding experience.
The theme ships with several ready-to-go templates for a broad range of project types. You can easily tweak almost any aspect of those templates using the Customizer, and expand on them using drag-and-drop widgets. Plus, it works with WooCommerce out of the box!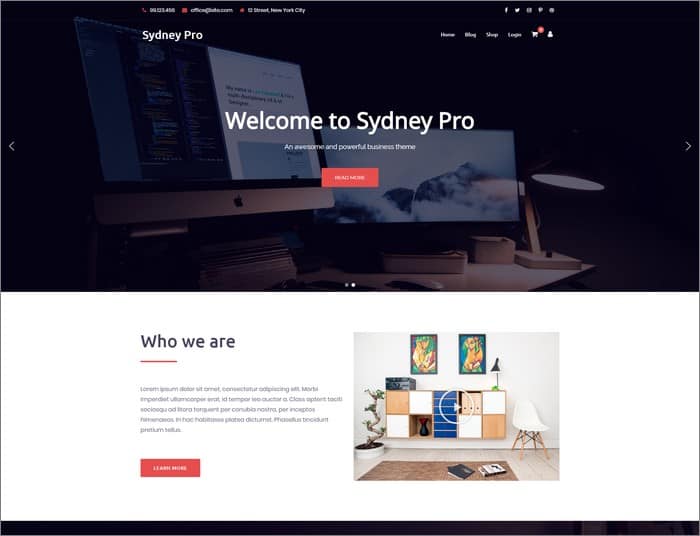 Q2. The aspect that makes WordPress arguably so popular is that coding skills aren't required to maximize its potential. We wanted Sydney Pro to build on this experience by giving you access to more advanced features.
At a base level, you can use the templates we set up to help you get started. For more advanced users, there's a broad range of customization options, so you can make your website look and work exactly the way you want it to.
Thanks to Charlie from aThemes.
TemplateMonster
Q1. Imperion is an ultimate corporate WordPress theme that will provide you with a large number of essential tools. It has ten pre-made layouts to choose from. As an example, you will find something to present a topic of cryptocurrency, finance, and others. It also has multiple customization opportunities that allow editing the look of your online project.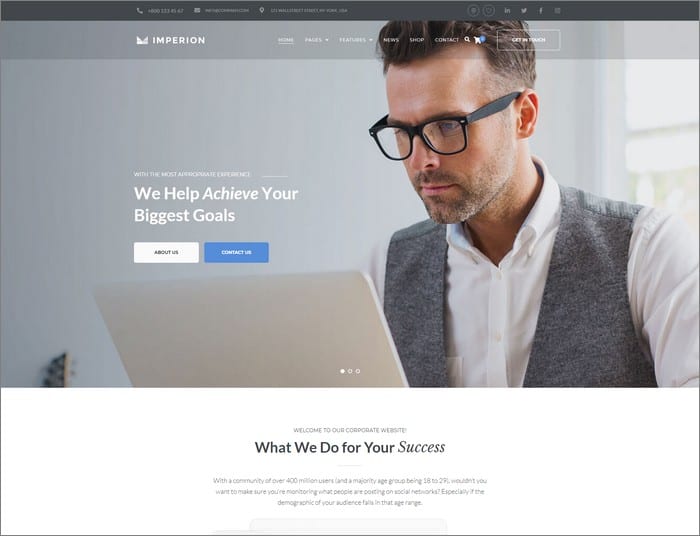 Q2. This ready-made solution became very popular among different companies who want to promote their services. There are a few key reasons for it: Elementor Page Builder does not allow having some expert coding skills from people. Six headers, six-footers, and four blog layouts make it possible to create an original look. The package also includes multiple bonus images that will save time. Carousels and brands highlight the most important content.
Thanks to Lana from TemplateMonster.
SKT Themes
Q1. After taking the reviews and feedback of our customers, it has been noticed that SKT Elements Pro is considered as the top-selling WordPress theme in 2019. Whether your business is based on a large scale or a small, this theme will work perfectly. The regular updates and modern functionality makes an SKT Elements Pro most demandable.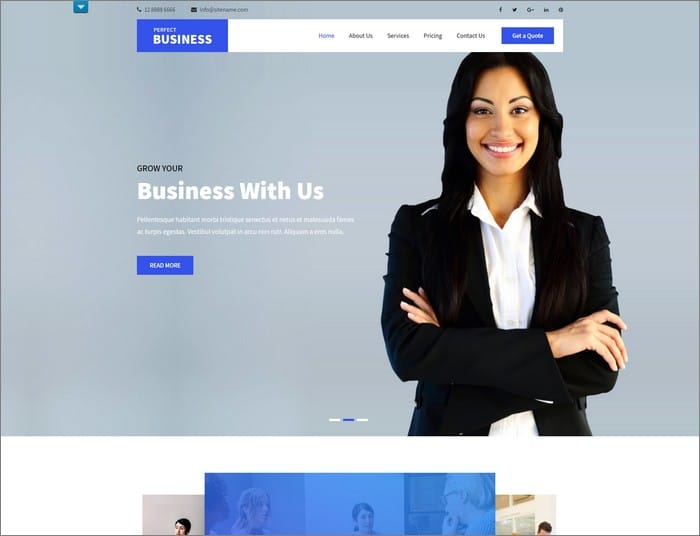 Q2. The theme is the best choice for ranking your business on search engines. The SKT Elements Pro is 100% responsive and features with the best solutions. Excellent support and documents have provided with that. The easy and attractive user interface will never let your customers leave the website without performing any action.
Thanks to Shri from SKT Themes.
WPZOOM
Q1. Foodica is our most popular theme among food bloggers. It is packed with plenty of customization options, color schemes, a beautiful featured slider, and a Recipe Index page. The theme includes several types of custom widgets that can be used to create various layouts. Also, it is integrated with the first Recipe Card Gutenberg block of its kind, making each recipe stand out. Moreover, WooCommerce integration is a significant advantage for those who need to sell products or services directly on their blogs.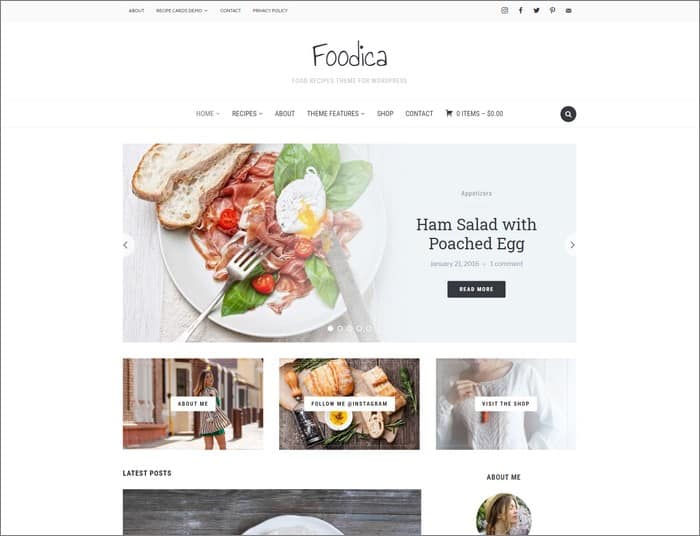 Q2.Since its release, we have updated Foodica continuously according to the needs of the food blogging niche. We think it has become so popular because it always kept pace with the requirements and feedback from our food blogger customers. A product that is permanently improved will always have the attention of its users and potential users.
Plus, the theme is very flexible and easy to set up, as we think food bloggers should concentrate on creating great recipes and not lose too much time setting up their blog. Moreover, with the different widgets and options, Foodica includes, it has proved to be useful for other types of blogs such as travel or lifestyle blogs and online magazines.
Thanks to Ina from WPZOOM.
AccessPress Themes
Q1. AccessPress Parallax Pro is our top selling theme of 2019 with parallax design. Parallax design has been popular due to the 3D effect, can add a sphere to the product, can use as a platform for storytelling, and attract more visitors with interactive, engaging content and Call to Action features.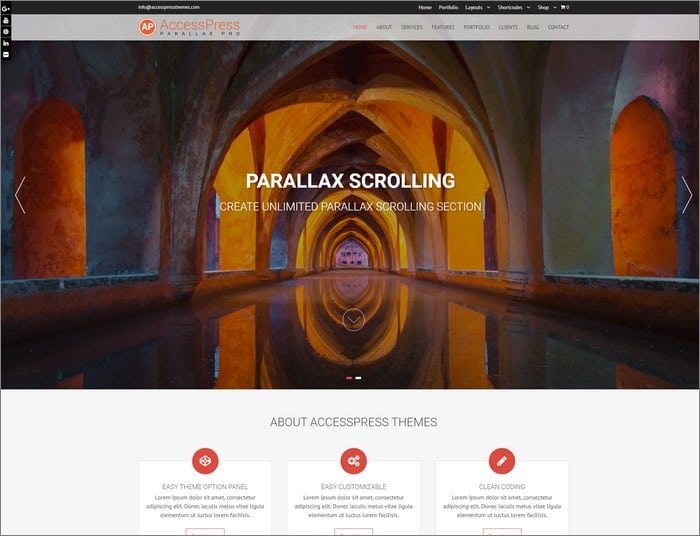 Q2. AccessPress Parallax has unique and attractive features along with following powerful features, that make AccessPress Parallax popular. Multi-layer and smooth parallax that adds interaction on your website. Drag and drop page builder to build the page layout with ease.
The theme is perfect for multipurpose like travel, portfolio, photography, nature, health, personal. 13+ widgets and 11+ shortcodes. Polylang free plugin to build a multilingual site. Two header layout. Advanced parallax section.
Thanks to Kushum from AccessPress Themes.
Bluchic
Q1. Meet ChicServe, our best selling WordPress theme 2019, a unique WordPress theme that was built specifically for females entrepreneurs running a service-based business. It's outrageously stylish, incredibly flexible, and easily customizable, making this modern theme one-of-a-kind.
With it's easy to use drag & drop free Elementor editor plugin. You get total control of your website look and feel, without needing to understand the technical side. Your website can look exactly like our demo site in just a few hours! AND you'll be maximizing how you show your services because this theme was built specifically for business models like yours!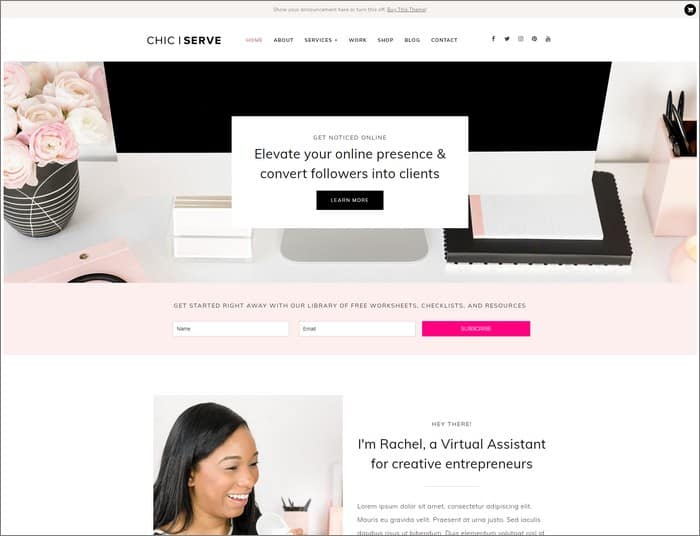 Q2. Reasons besides its chic design: Websites aren't one-size-fits-all. The ChicServe theme includes specific website features that work best for service-based business models. Who doesn't want a WordPress theme made just for their business model?!
ChicServe offers a lot of flexibility and customization for service-based female entrepreneurs who may not know how to design or develop a website, allowing for full control without needing to know the backend.
Thanks to Kathie from Bluchic.
Themeisle
Q1. Neve is the theme that encapsulates all the modern features a user needs nowadays. It is highly flexible and multipurpose, providing tens of different starter sites in which you can customize the way you like. Neve can be easily customized via drag-and-drop page builders like Elementor or Beaver Builder and works perfectly with the block editor.
Apart from its versatility, the theme was built for site performance, as it is one of the fastest themes out there and comes with Google AMP compatibility.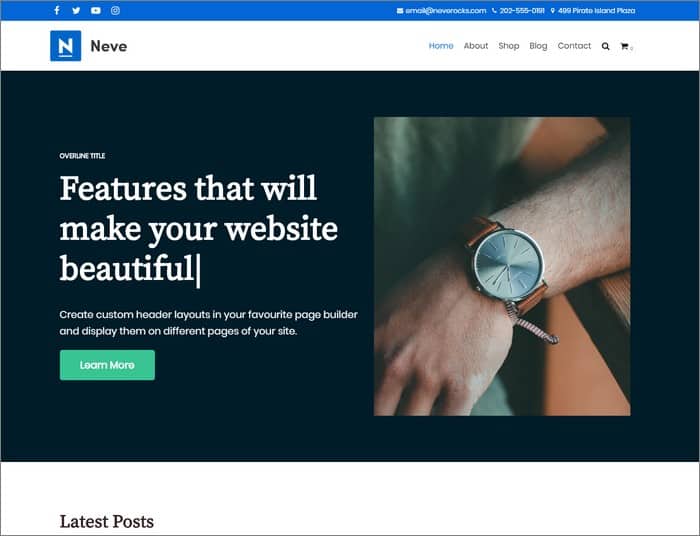 Q2. The reason why people love Neve so much is because of its beautiful and flexible design, which both casual users and developers find it easy to work with. Everything about it is straightforward and intuitive and blends perfectly with Gutenberg, which is another thing that people enjoy about this theme.
Full-site flexibility, ease of use, and good looks – these are the features that customers look into the most. The custom layouts and the expanded blog options are also popular.
Thanks to Adelina from Themeisle.
Bridge
Q1: Bridge has been the bestselling creative WordPress theme on the market for years now. And to this day, it remains the most popular theme in our portfolio. Bridge is a truly multi-purpose theme, with over 430 beautifully designed demos, each of which is a fully functional website in its own right. It comes with a huge collection of custom shortcodes and powerful customization options, making it one of the most flexible WordPress themes available. Bridge also offers users the choice between two powerful page builders – WPBakery and Elementor. It provides everything you need to make a professional and beautifully designed website as quickly and easily as possible.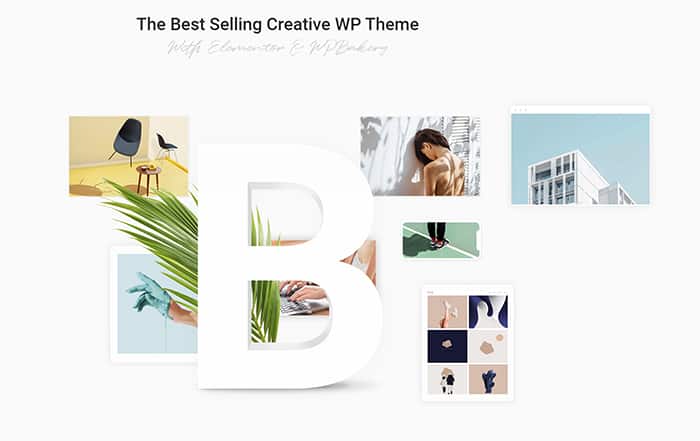 Q2: The main advantage of Bridge is the sheer variety of distinct styles it has to offer. Over 30 UI and UX experts, web and graphic designers, visual artists, and illustrators have contributed to Bridge's wide-ranging collection of demos. Each member of our creative team has added their own unique touch and aesthetic sensibility to the demo collection, while still keeping in line with the overall contemporary style that made Bridge into the bestseller it is today. The Bridge demos provide ready-made solutions for almost every industry or niche you can imagine and each demo can be fully customized to your unique needs. In short, Bridge empowers you to single-handedly create absolutely any type of website and ensures the end product looks and functions like it was designed and developed by an entire team of professionals.   
Thanks to Stefan from QodeInteractive
Grace Themes
Q1. Sports Club is a resourceful, modern, and engaging, youthful and lively, purposeful, and versatile, highly responsive sports league WordPress theme. This sports theme has been designed to provide a comfortable and specialized platform for the streamlined development of professional, excellent, and tech-savvy websites for sports clubs.
This flexible theme can be adjusted to be used for rugby, football, basketball, volleyball, hockey, tennis, baseball, or any other individual sport. This feature-rich, highly customizable, and multisport WordPress theme can also be used to create a fully functional website template for fitness clubs, gyms, dance schools, martial arts, personal trainers, and any other health & fitness related business.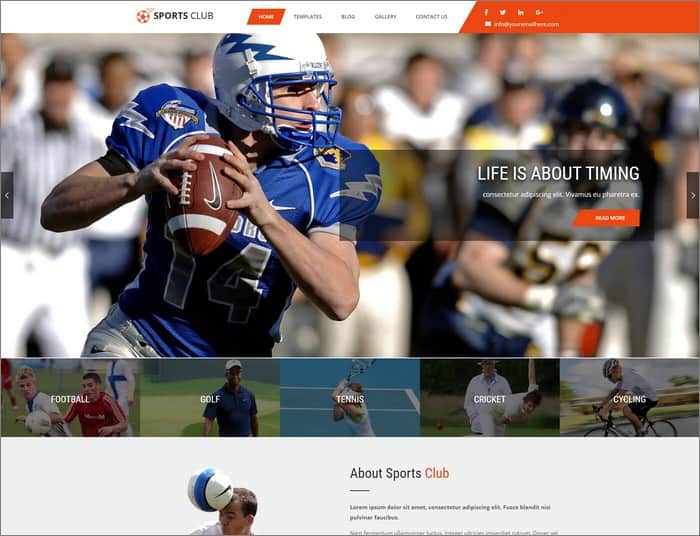 Q2. This theme comes with all demo content and images to easily create your professional website. This theme is straightforward to use and configure. We have a great line of user-friendly support team and support documentation.
Thanks to Grace Themes.
Themeum
Q1. Edumax is a WordPress theme to build an online course portal. It provides exclusive online eLearning solutions on WordPress for educators, coaching centers & academic institutes. Due to its user-friendly interface, premium drag & drop page building system, pleasing learning interface, and many other elegant features, it has become extremely popular among its users from whole around the world.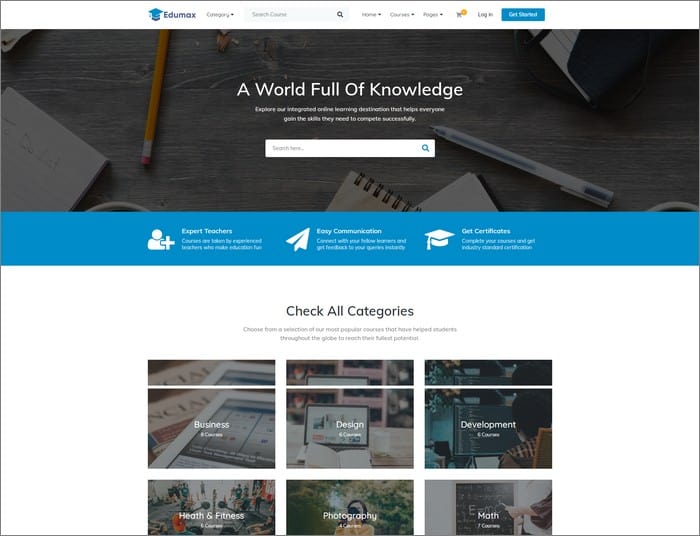 Q2. Besides, ensuring a stunning online presence, it also lets you enjoy many other added features.WooCommerce, Real-time frontend page composing, 30+ Addons, Library system to save designs are some of the other notable facilities of this Advanced Course Filtering LMS theme for its massive popularity. Also, for starters, there is a Big Save offer for $39 with a 30-day Money Back Guarantee offer.
There are some undenied facts for the massive popularity of Edumax among its users. It serves A-Z purposes of an online education platform. It sports two homepage variations, courses category, WooCommerce support, and Contact Form. Overall, the alluring design, easy user interface, brilliant features are the other top-notched reasons for making a competitive position in the marketplace.
Thanks to Abida from Themeum.
GretaThemes
Q1. Among the WordPress themes from Greta Theme, TheFour is one of the best themes with a clean, decent design and high speed. It works perfectly for business, small agency, or corporate thanks to has various modules included.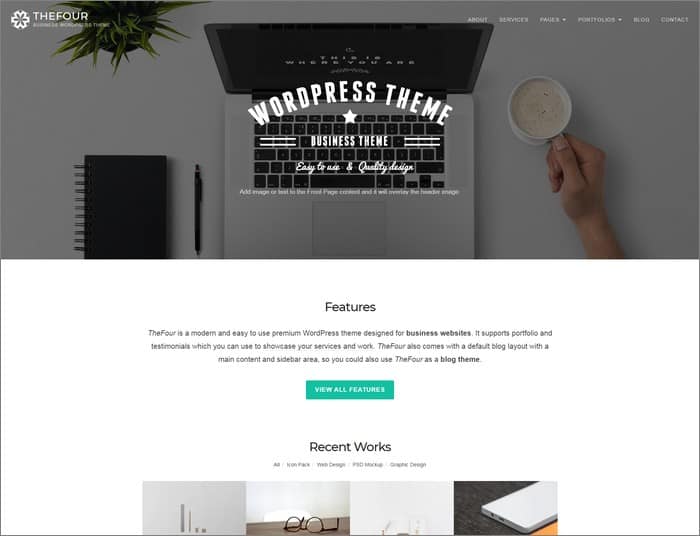 Q2. The key features that make TheFour outstanding are the optimized speed and SEO. It is a super light and fast theme so that you can have the smoothest experience. It's also SEO friendly and responsive in all devices. Additionally, it's so straightforward to use that even a beginner or non-professional user can set up by one-click demo import in a minute.
Thanks to Anh from GretaThemes.
Pixelgrade
Q1. Our hit in terms of sales in 2019 is Rosa, the best-selling restaurant WordPress product in its category. With more than 13,000 people using it, this theme is one of the most beloved from our portfolio. The reasons why Rosa is a hit are multiple.
On the one hand, it is a popular theme, and once we released Rosa 2, we increase its speed and fame because it is built on top of Gutenberg. On the other hand, it is featured in plenty of relevant roundups and articles — from in-depth and honest reviews to complex guest posts.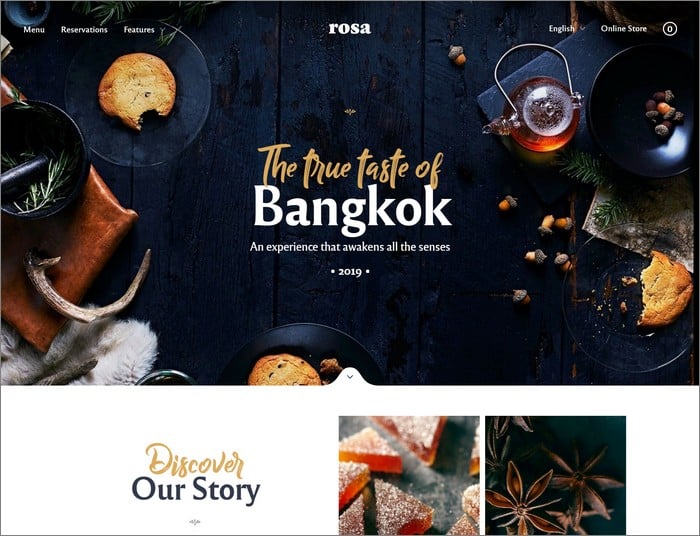 Q2. Rosa helps people create outstanding and straightforward websites beyond the hospitality industry. From beauty salons to gyms, from coffee shops to textiles and ceramics, our WordPress theme has everything you need to put together a great site.
Moreover, thanks to Style Manager, a powerful customization tool that allows you to get visual consistency with a set of predefined color and font palettes (you can also create your own), Rosa 2 stands out in the landscape of premium WordPress themes.
Thanks to Oana from Pixelgrade.
Mystery Themes
Q1. Color Blog Pro is a versatile and colorful WordPress theme that helps you to create a professional website such as fashion, personal blogs, magazines, kids, and many more. It is fully compatible with a WordPress page builder that makes it easy to build a beautiful website quickly. The theme supports the RTL supports and fully responsive on all kinds of devices like tablets, laptops, desktop, mobile, and soon.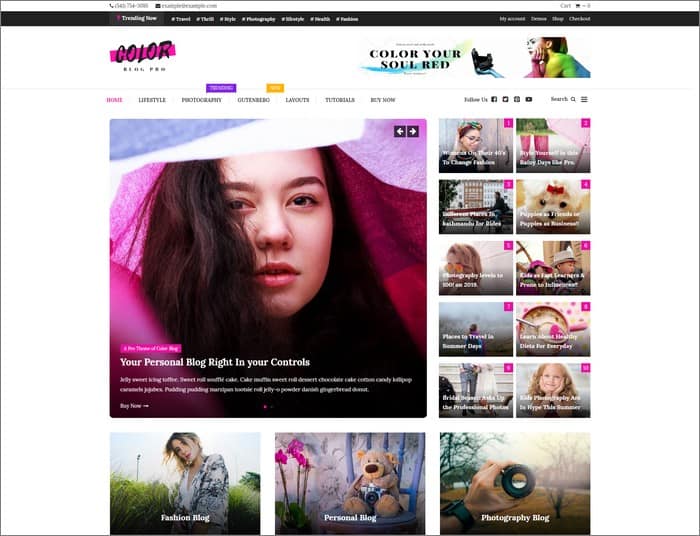 Q2. Color Blog Pro is perfectly fitted to all types of websites which come with page builders and One Click Demo Import to easily customize your website. Additionally, it is compatible with WooCommerce and GDPR, where you can start your eCommerce business.
Thanks to Alena from Mystery Themes.
Viva Themes
Q1. Blanche is a clean and professional WordPress theme that will make your website stand out from the crowd. Packed with features and with its modern design will enable you to create your eCommerce or portfolio website very quickly. The theme is tested through multiple devices, be it a desktop, notebook, tablet, or mobile phone, Blanche comes with a fluid layout that adapts well across devices. Also, a powerful Home Page template that enables you to display featured content while keeping the clean look.
You can display your WooCommerce categories or feature pages instead. The slick carousel can display your featured products or portfolio entries. In the front page header, you can embed a YouTube video or randomly display header images using the custom header feature. Blanche comes with a beautiful masonry style portfolio page template that accounts for different image sizes depending on orientation, landscape, portrait, or square.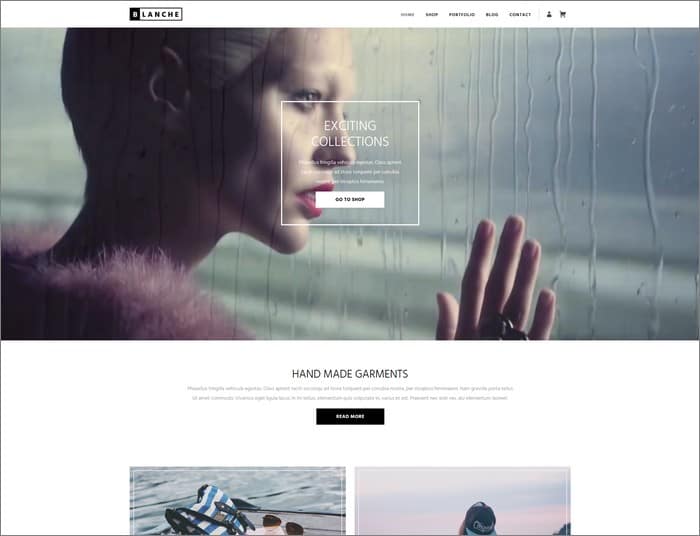 Q2. A clean, beautiful design packed with functionalities.
Thanks to Edy from Viva Themes.
Themes Kingdom
Q1. Veni is by far our best selling WordPress theme in 2019. Veni is a stylish and chic blog theme that comes with a little surprise? A WooCommerce platform built-in. When we were creating the theme, we wanted to enable bloggers to build a shop on the side quickly, so they can start selling their merchandise.
As it turned out, bloggers loved the idea, and now this responsive, reliable, and highly customizable theme is a go-to choice for all kinds of influencers and bloggers? Beauty, lifestyle, travel, and food.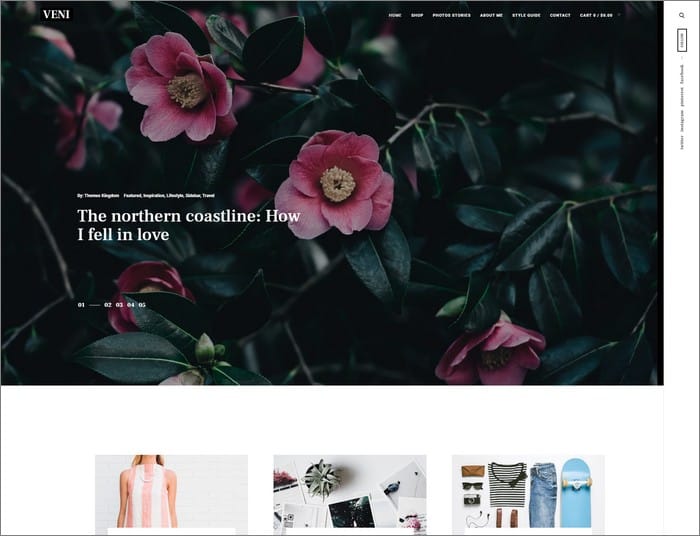 Q2. Veni's popularity comes from the fact that this theme allows users to create a well-designed website without too much hassle. The theme comes with extremely flexible design. There are two options for the homepage layout, a sidebar that can be turned on/off in a matter of seconds, and the texts in the posts adapt to the dimensions and sizes of the post images.
Thanks to Aleksandra from Themes Kingdom.
SuperbThemes
Q1. Our best selling & highest converting theme of 2019 is Gutenshop. Gutenshop is ideal for eCommerce websites and other forms of sales. Fast loading speed, clean code, and SEO optimization make it an amazing theme.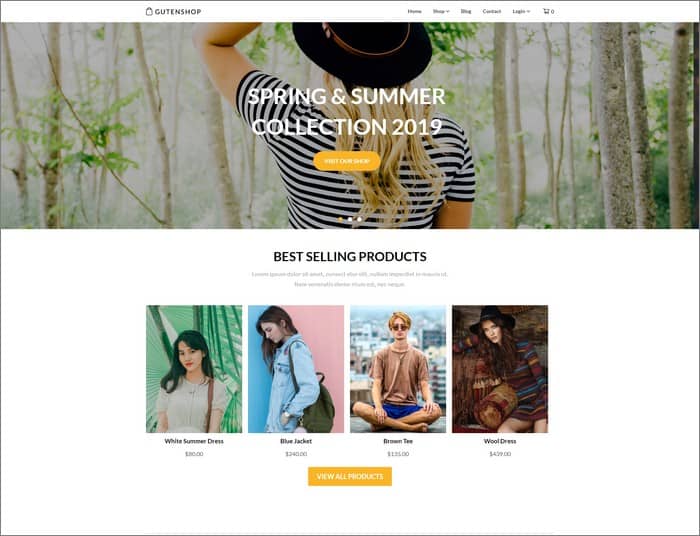 Q2. We believe that more users prefer simplicity over feature heavy themes that load slowly. We target one specific niche, which is users that care about search engine optimization.
Thanks to Victor from SuperbThemes.
Dessign.net
Q1. Gutenberg Starter theme is a simple and modern theme based on the Gutenberg blocks editor. It has a built-in, fully responsive menu, slider, and WooCommerce compatible. With Gutenberg blocks, you can easily add or remove any sections on the homepage or inside pages. It is the perfect theme for anyone looking to upgrade their website to WordPress Gutenberg compatible theme.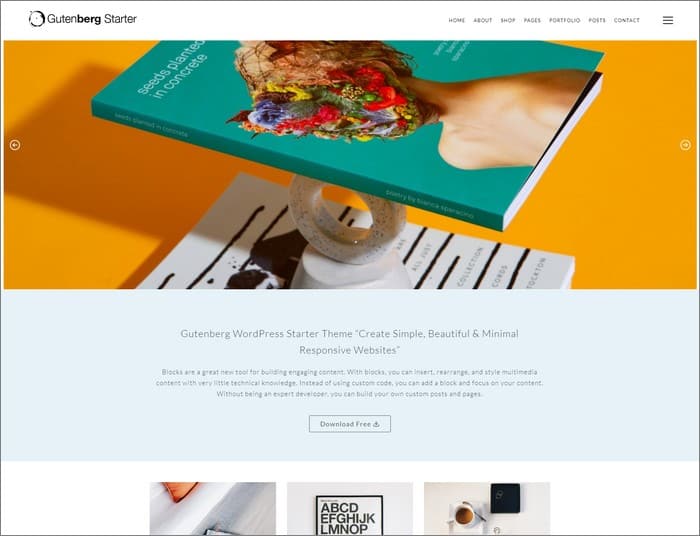 Q2. We had many clients asking for Gutenberg compatible themes so they can test it how the new WordPress blocks editor works. With the Gutenberg theme is easy now to add new sections or remove the ones you don't like. Since you don't need to be a developer now to change or add new blocks, we believe that this is the best user experience WordPress can offer.
Thanks to Marios from Dessign.net.
Theme Junkie
Q1. Beginner with its clean and light design is perfect for bloggers who want their content to stand out on the page. Thanks to the powerful Theme Customizer feature, you can easily personalize many aspects of this theme to ensure your blog has the right look and feel. The coupon functionality will come in handy for anyone who wants to use affiliate marketing to monetize their blog.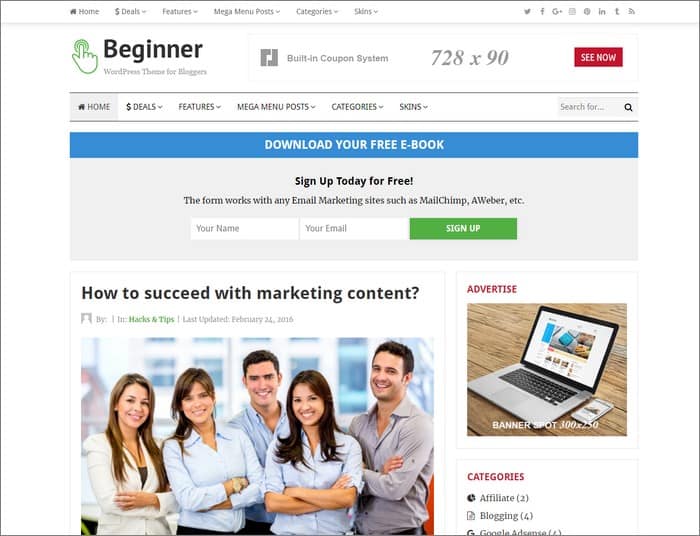 Q2. I think this one is so popular because it's the perfect starting point for anyone looking to begin their journey online. Whether with a blog, an affiliate site, a coupon site, or similar. It's customizable enough to be a starting point for hundreds of different types of online projects.
Thanks to David from Theme Junkie.
Northeme
Q1. Our best selling theme in 2019 is Reframe Plus.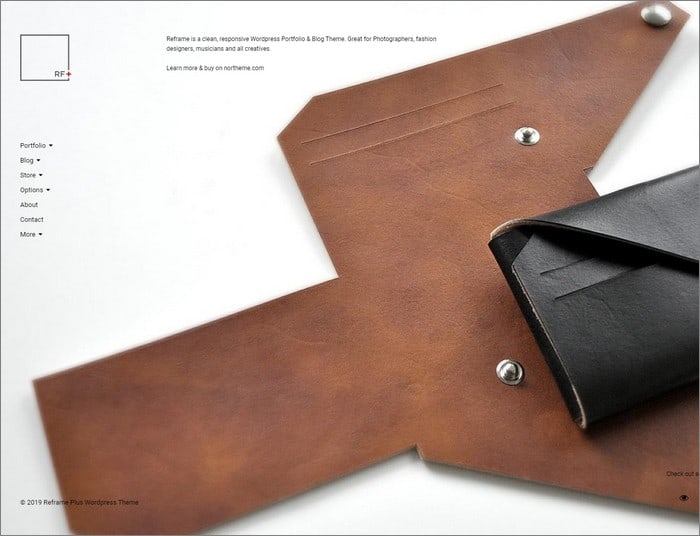 Q2. The purpose of a portfolio website should be simple to provide a clean layout that allows highlighting one's works. Reframe Plus offers minimalistic navigation features, a large content section to increase project/product visibility, and subtle customization settings.
Thanks to Mert from Northeme.
Rough Pixels
Q1. I would have to say that Storytime Pro is our best-selling theme. It's funny because when I created it, I honestly didn't think it would do well, but it turned out that I was wrong with that assumption. Creating a theme geared towards storytellers was new for me in the 10+ years of designing themes, but even though it was launched in December 2018, it continues to be our top seller.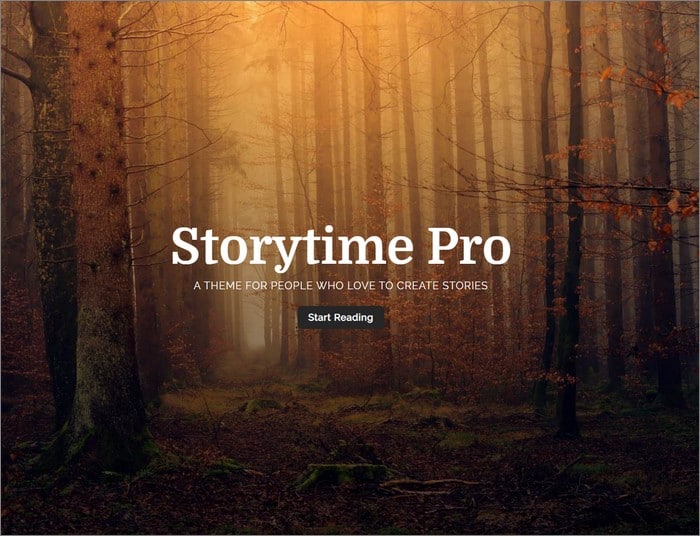 Q2. Sometimes it can be challenging to know why one theme is more popular than another. However, based on customer feedback that I have received, they love the simplicity and the flexibility it offers with the many options we've built into it.
We made Storytime Pro for blog authors who love telling stories while conveying a reading experience your site visitors will surely enjoy. I believe this is another reason Storytime Pro continues to be so popular; it helps too that we also made sure that Storytime was ready for Gutenberg and the Classic Editor.
Thanks to Andre from Rough Pixels.
Themezly
Q1. Creatus is our free, highly customizable multipurpose WordPress theme that comes with an intuitive theme options panel. Customizer theme options, built-in page builder, template library. Concept-oriented theme demos, and a plethora of effective theme settings and useful extensions.
This exceptional WordPress theme will help you create a Corporate, eCommerce, Portfolio, Blog, or Agency responsive WordPress powered website. Go live within minutes without coding! The Creatus template library and full demos give you an excellent start and make your portfolio or online shop stand out from the competition.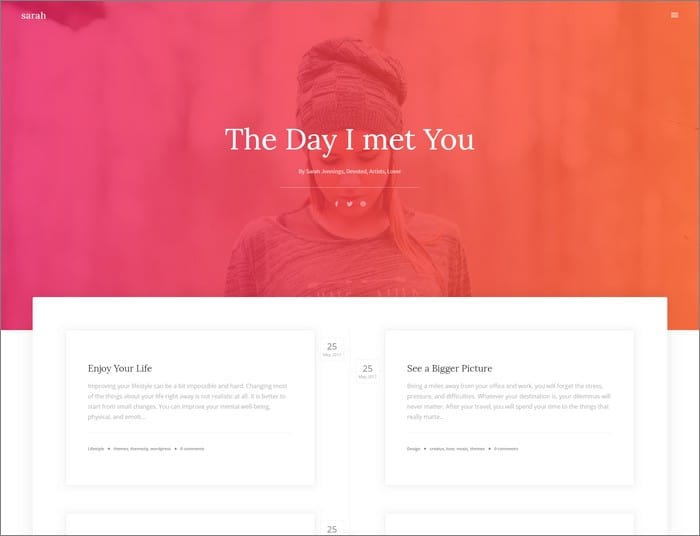 Q2. Creatus grew in popularity due to a wide assortment of ready-to-go full site demos, page templates, or page blocks, from eCommerce and Portfolio to Blog and Agency, any concept is possible. To further enhance this remarkable theme, our members choose to purchase Creatus Pro plugin that comes with 220+ professional templates, advanced theme features, 27 premium builder elements, and additional header and layout options, which save them hours of manual work.
Thanks to Dragan from Themezly.
ThemeZee
Q1. Donovan is a flexible yet easy to use blogging theme with a clean and modern design. It features an elegant mobile-first design, three different blog layouts, and extensive post settings. Donovan is perfect for your blog or any content-focused website.
The theme includes several blog layouts that allow users to choose between Post Grid, Post List, or Large Posts. There are also options to set a blog title and choose between excerpts or full posts. With the extensive post settings, the display of date, author, categories, and tags can be configured individually.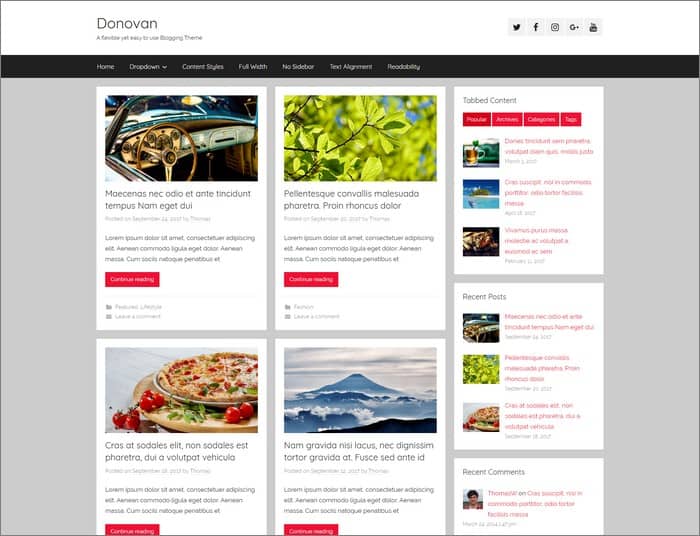 Q2.Donovan is so popular because it just works out of the box. You do not have any setup or need a complex configuration of your home page. It is a simple blogging theme that shows your blog posts in a magazine-styled grid layout. Another reason is that the theme is completely free, and most features are already included, which made the theme very popular on WordPress.org.
Thanks to Thomas from ThemeZee.
ThemeHunk
Q1. Oneline Pro is a single-page WordPress theme specially made for business websites. It has a fluid responsive design looks wonderful in all devices and fully optimized to load fast. You can import the whole demo data in just one click and then replace the demo content with your site content. The theme is deeply integrated with the Lead form builder plugin and WooCommerce.
It is also compatible with the Elementor page builder, so any layout imaginable is possible with this theme. The theme has Features like Drag & drop section ordering, Unlimited color Option, Advanced Typography, All Section Styling, Hero Background Slider, Service section, Portfolio Section, About us Section, Pricing Section, Brand Section and many more.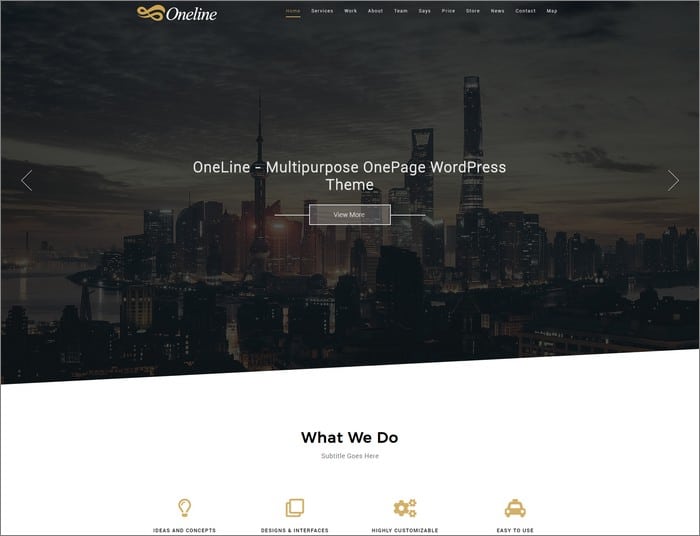 Q2. It is popular because of its responsive parallax design. Easy to use customization panel with unlimited options. You can modify your website as you need. Perfectly works with WordPress plugins, Seo Friendly, and it is also translation ready. You can make a multilingual site. We always try to provide the best service to our loving customers. Dedicated support, regular updates to ensure it will work perfect and smooth.
Thanks to Swati from ThemeHunk.
Kaira
Q1. Our latest and best-selling theme at Kaira is our Overlay WordPress Theme. Overlay is build to be lightweight and fast loading but also offers all the design options you need when building your website. Overlay provides advanced design and layout customization settings for your site and for WooCommerce, which are all built into the WordPress Customizer for live, visual editing.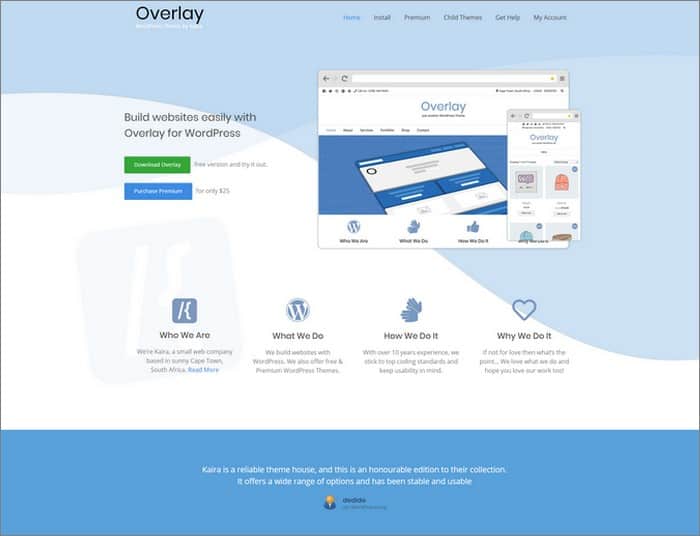 Q2. The reason we think Overlay is so popular is that we've built the theme for with the user in mind, so besides all the customizations and layout or design options that Overlay offers, the users enjoy building their site with Overlay. They find it very intuitive, and so we've had a lot of returning customers.
Overlay also offers child themes to change the header layout, and we are releasing new header layouts every month or 2, so this makes it very easy to change the site design or header layout by simple installing an Overlay Child theme.
Thanks to Zack from Kaira.
WPKoi
Q1. The best selling WPKoi Theme is Valmiki. Valmiki has a fullscreen, dark, minimal, black, and white style. The theme is based on Elementor but also works great with WooCommerce.
The theme is multipurpose, so if You like the unique design of Valmiki, You can build your dream site with it. WPKoi themes come with tons of customizer options so that you can use them easily without coding knowledge.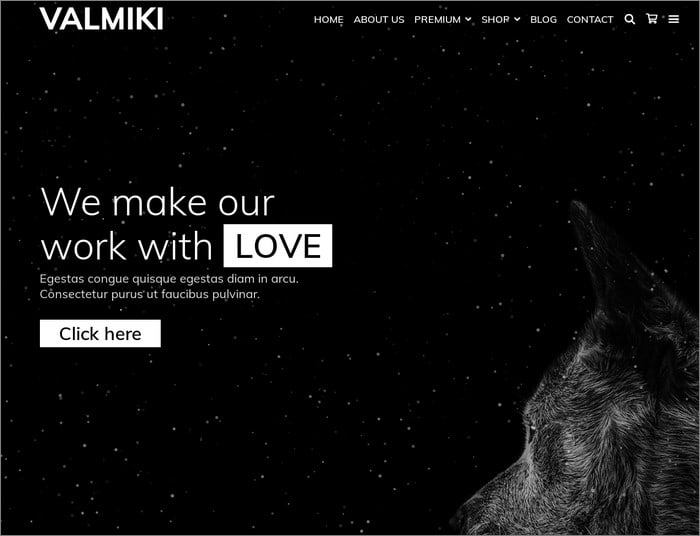 Q2. I think the biggest strength of WPKoi themes is the design. The themes don't follow the standards. They are always extravagant somehow. Valmiki has an exquisite dark style and unique demo with the fullscreen, scroll navigation. As I see, the users like the dark, black templates a lot, and there are much less good dark templates on the market then light.
Thanks to Daniel from WPKoi.
A WP Life
Q1. Aneeq theme is a multi-purpose theme and suitable for all types of websites, especially for business and corporate. It is lightweight and highly customizable. Aneeq has a responsive design, and it comes with a built-in theme options panel. The theme has all types of template pages like front-page, about, services, portfolio, contact, and blog. It is fully compatible and has support for WooCommerce that helps you create your online shop.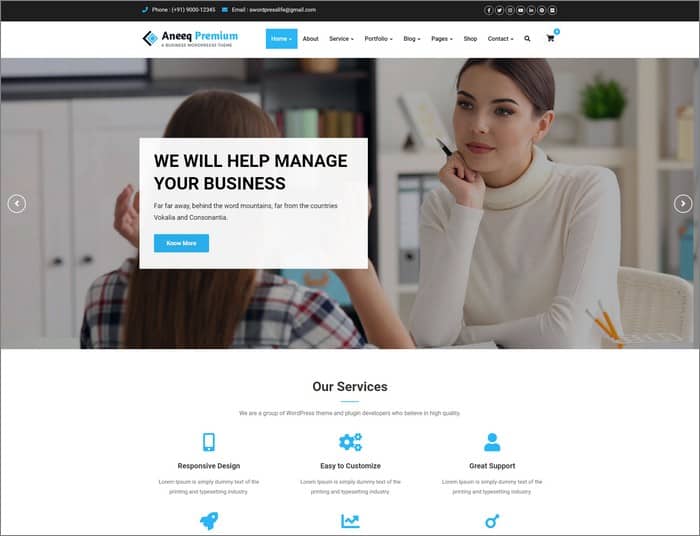 Q2. Aneeq is popular because it is a very user-friendly theme and easy to customize. It can work with any device.
Thanks to A WP Life.
CyberChimps
Q1. Responsive is a fast, highly customizable, and 100% mobile-friendly WordPress theme.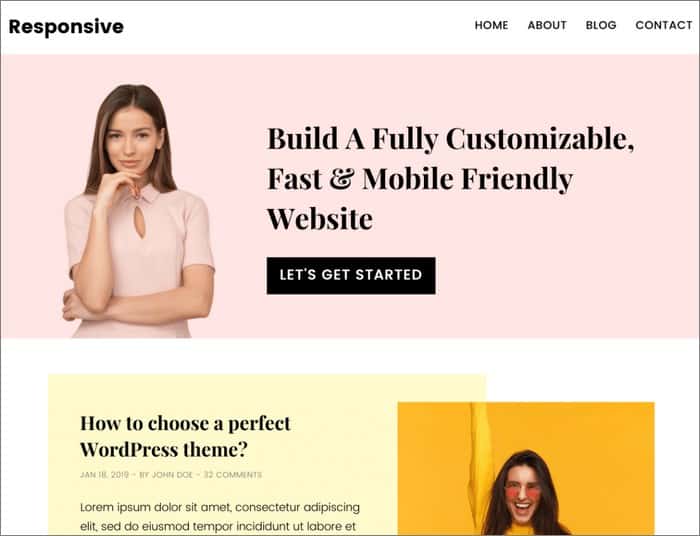 Q2. Responsive has over 50,000 active installations. Here are some of the features: 20+ ready to use website templates. Unlimited color and font options. Easy drag and drop Elementor page builder compatibility. Search engine optimized with schema.org support. WooCommerce ready. The powerful features give the site owner complete control to manage the website.
Thanks to Shachi from CyberChimps.
Blossom Themes
Q1. Blossom Feminine Pro is best selling WordPress theme of Blossom Themes in 2019 and has been since its launch. This feminine theme is perfect for anyone who wants to create a stunning, lively, and eye-catching website. The theme is SEO friendly, schema ready, optimized for fast loading, and Adsense optimized.
The theme is creating magic among aspiring female bloggers as it is packed with tons of customization options and extra layouts so that they can create a website with full freedom and creativity.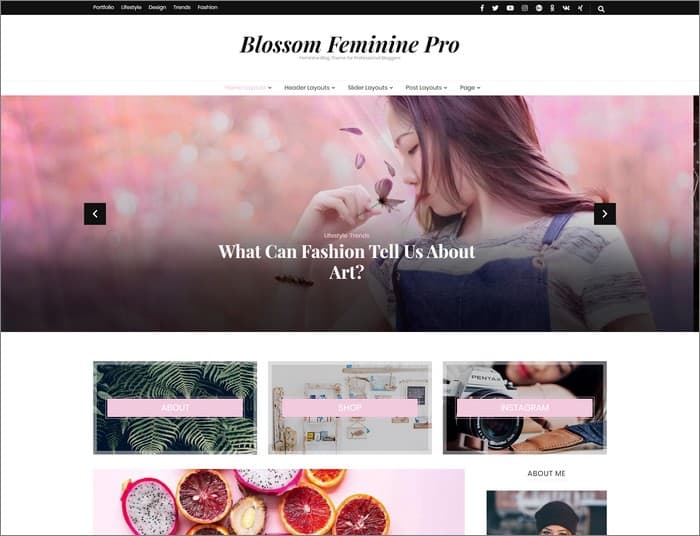 Q2. The main reason for Blossom Feminine Pro's popularity is the simplicity and ease of use. A beginner with no prior knowledge of WordPress can set up his or her website using this theme following the detailed documentation and video tutorials.
The various customization options like different layouts, color and typography control, strategically placed Newsletter and Instagram section are its major highlights. The customer support has been great, and the average review is 5 out of 5.
Thanks to Nabin from Blossom Themes.
Wbcom Designs
Q1. Reign BuddyPress theme is our best selling WordPress theme 2019 with over thousands of active installs with five-star ratings. The features which make this best BuddyPress theme are its beautiful header and footer sections, multiple layouts for members and groups page header. You can also display groups, news, members, and sitewide activity on the sidebar with the help of dedicated BuddyPress Extra Widgets.
Sleek, clean, and fully responsive layout with user-friendly features. This multipurpose theme has inbuilt support for most of the major WordPress plugins, such as Elementor, BuddyPress, bbPress, PeepSo, WooCommerce, EDD, and PMPro. Reign offers the power to extend your community by providing a stack of add-ons for almost every online requirements.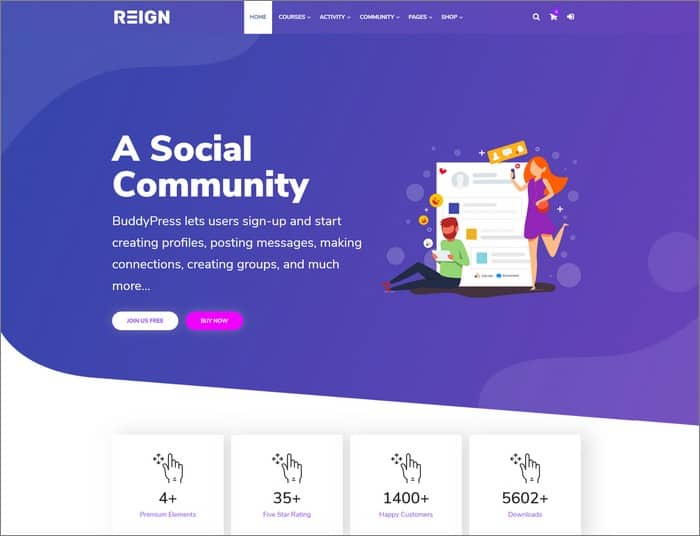 Q2. Reign Buddypress theme is popular as a WordPress community theme, which can be extended as social learning, the marketplace, and directory listing sites. It provides easy customization options, which include amazing color and typography. This theme is highly flexible, RTL-supported, SEO-optimized, and a gemstone are that it provides you with ready to use demos and an option to create your brand-specific header and footer.
Another aspect is that they care for each of their clients and hence provides an amazing offer of frequent sales and free updates/support for an entire year.
Thanks to Camilia from Wbcom Designs.
Theme Horse
Q1. NewsCard. It is a Multi-Purpose Magazine/News WordPress Theme. It is specially designed for magazine sites (food, travel, fashion, music, health, sports, photography), news sites, shopping sites, personal/photo blog and many more. There are Front Page Template, Sidebar Page Layout, Top Bar, Header Image/Overlay/Advertisement, Social Profiles, and Banner Slider.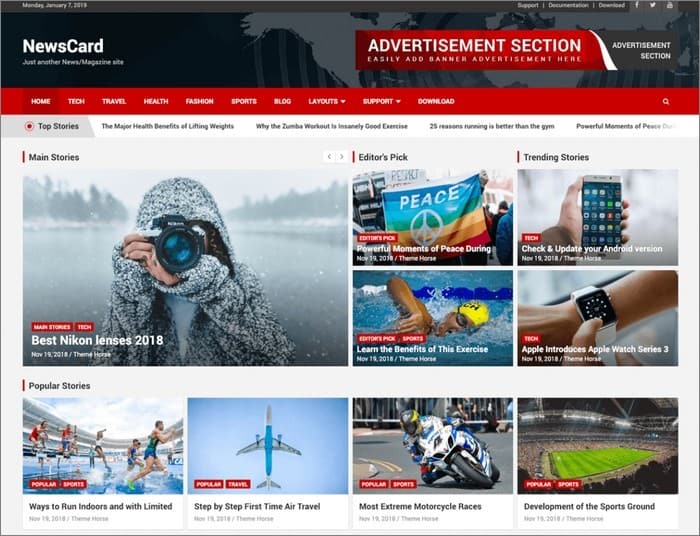 Q2. It is popular because it's a Multi-Purpose Magazine/News WordPress Theme that is designed for all magazine sites such as food, travel, fashion, music, health, sports, photography, etc. and news sites, shopping sites, personal/photo blog and many more. It also supports all the devices and well perfectly designed and developed, which is easy.
Also, there is a demos importer built-in in the theme so that the customer can set the site the same as our dummy site. Also, it is well documented that customers need not have to waste time for support to set their sites.
Thanks to Theme Horse.
Solwin Infotech
Q1. JewelUX is our best selling WordPress theme in 2019. It is a well-crafted jewelry theme for jewelry shops, online jewelry retailers, manufacturers, and all related business endeavors. JewelUX theme fits best with its color combination and amazing features to customize your shop following your WooCommerce needs.
You can also promote and sell your jewelry in a perfectly designed online store with JewelUX. Its beautiful style and professional look will give more opportunities to sell your product right away!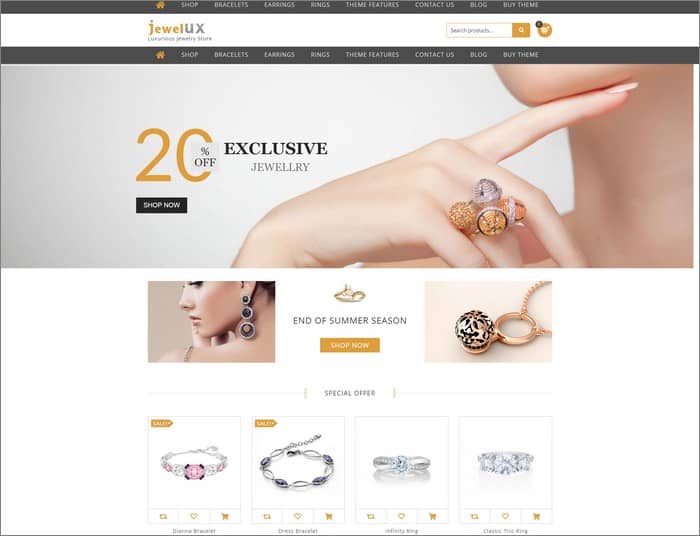 Q2. JewelUX is so popular WordPress theme because of its elegant design and bunch of great features like WooCommerce integration, customizable mega menu, 10+ In-built custom widget, user-friendliness, and powerful interface. Moreover, the theme includes the amazing WordPress slider plugin 'Avartan' worth $21 for free. The slider includes 50+ unique slider effects and prime features.
Thanks to Sanjay from Solwin Infotech.
Rara Theme
Q1. Travel Agency Pro is the best selling WordPress theme of 2019 of Rara Themes. Travel Agency Pro is a premium WordPress theme to create a travel booking website for tour and travel companies.
It is powered by the popular travel booking plugin, WP Travel Engine. With beautiful modern design and powerful add-ons, Travel Agency Pro is speed optimized, SEO-friendly, and mobile-friendly, which provides an excellent user experience.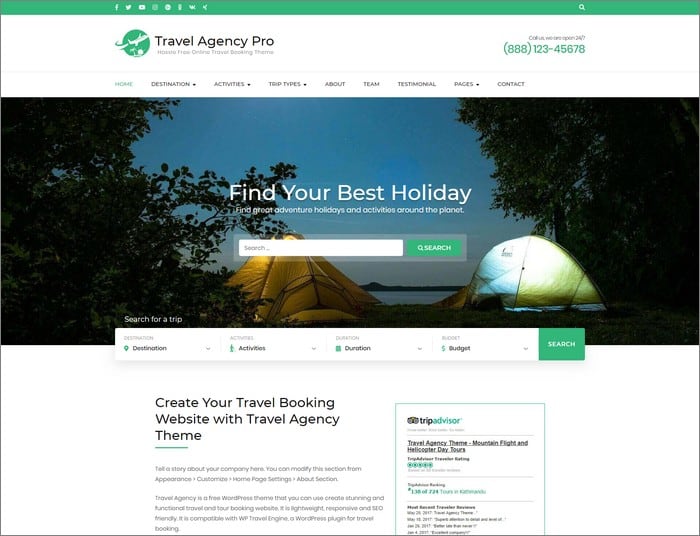 Q2. The theme is designed and developed considering different aspects of travel and tour business. It has a stunning design and strategically placed CTA (Call-to-Actions) sections to increase the conversion rates.
Besides this, travel agencies can add trips, destinations, and trips types, travel activities, and highlight business' specialties. WP Travel Engine has many add-ons that travel agencies use to add more features and functions to their websites, such as group discounts, fixed trip departure dates, payment gateways, extra services, and so on.
Combining the themes and plugin features, travel agencies can create a fully-functional travel booking website and increase their booking.
Thanks to Nabin from Rara Theme.
Yudlee Themes
Q1. Sungit Pro is our best-selling theme of the year 2019. A theme specially created for music lovers and events. People can sell music as well as events and event tickets with the help of this theme. It is easy to use and flexible. A complete package for showcasing the music tracks or albums, concerts/concert venues, music videos, and more.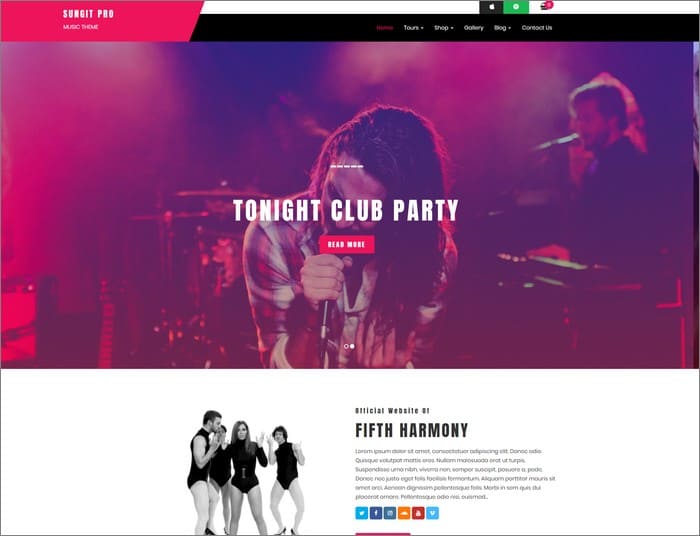 Q2. It comes with features and usability functionalities that are very powerful yet simple to use. Customizable layouts give power to your hands, and your website can look unique through it. Manage your music player or video playlist with the Event Manager plugin.
Similarly, the theme is compatible with WooCommerce, which will allow you to sell tickets or other products, what's more, significant than making a website popular and attract visitors. This theme is built with SEO in mind.
Thanks to Yudlee Themes.
Theme 404
Q1. Real Estater is the perfect WordPress real estate theme that is sure to take your site to the next level. Packed with all the features and elements explicitly designed to promote your real estate business. It is targeted to get you remarkable results.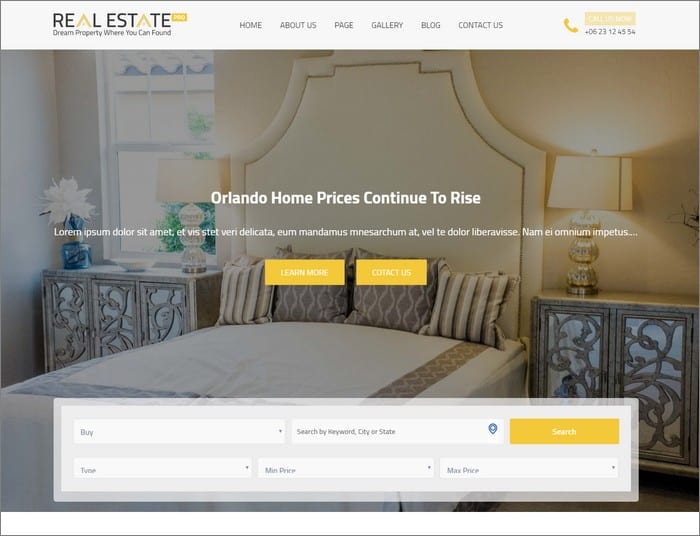 Q2. Simple in design, but features are as per need for real estate business. Backend is so easy to understand, even for no-tech users. We don't try new, but we did differently for this theme. So it is popular and getting a nice sale every month.
Thanks to Theme 404.
Sparkle Themes
Q1. Educenter Pro Premium WordPress theme is straightforward and elegant, impressive engaging, dynamic, and fully customizable responsive WordPress themes, Educenter pro premium WordPress theme specially designed for the education business. Which is very easy to use for all types of educational institutions like colleges, universities, institutes, schools, online courses, and different other education-based websites.
The theme shows your website within a satisfactory viable way on smartphones, iPhones, tablets, and laptops, as well as large screens. This theme will help you to create a very high-quality and perfect instructional website effortlessly and easily in less time.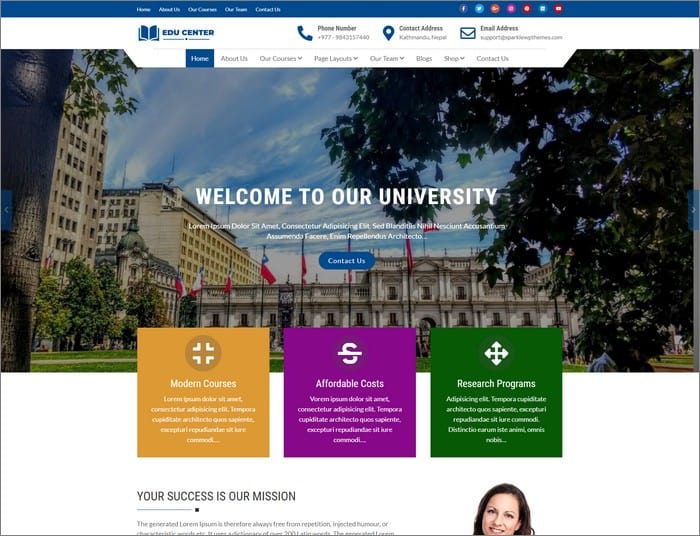 Q2. Our Educenter Pro theme is fully based on customizer next-generation multiple purpose theme with advance header, section and footer settings, and layout. It is also fully compatible with Elementor page builder plugins with added 12+ different widgets, which help the user quickly build website latest layout.
Thanks to Sparkle Themes.
CodeVibrant
Q1. Our best selling WordPress theme 2019 is News Vibrant Pro. News Vibrant Pro is a unique WordPress theme idle for any news niche site such as technology, gossip, politics, sports, and games. It is easy to customize and allows you to create attractive designs to capture users' attention.
This responsive theme automatically changes the layout based on the size and resolution of the screen. Additionally, it comes with powerful features like navigation menu, dynamic color scheme, widgets, translation ready, slider, and so on.
Q2. News Vibrant Pro is entirely based on the magazine website that comes with the super flexible customizing features and allows you to showcases the more content on your website. It has a user-friendly and unique design that focused on the content-based website.
Thanks to Sabu from CodeVibrant.
Flothemes
Q1. Even though our Lyra theme has been launched at the end of 2019, in November, it has confidently claimed the spot of our most popular website design for 2019. We were surprised to see so many clients launch their new websites built with Lyra, just 2+ weeks after they got it (you can find some examples here).
Lyra was designed for active creatives who hustle, travel, provide mentorship, and want a clear, captivating way to present their work, experience, knowledge, and offerings. Any business owner, be that a photographer, designer, stylist, consultant, blogger, etc. will fall in love with Lyra's impactful layouts and charismatic style.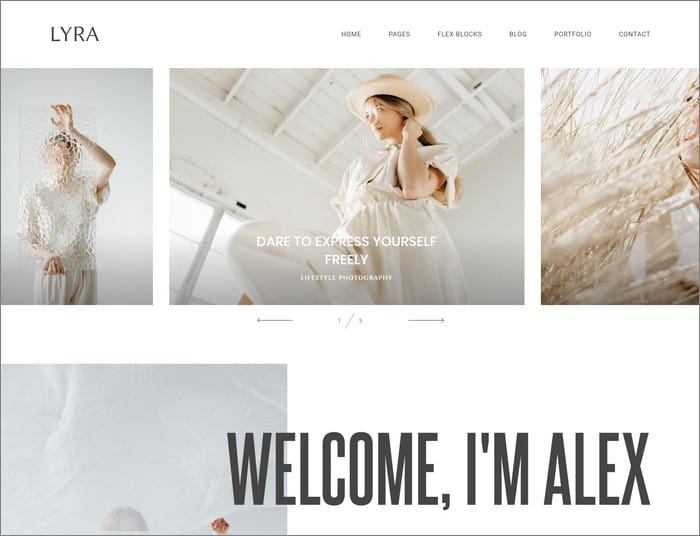 Q2. Besides its playful, bold design, created for ambitious, entrepreneurial brands, Lyra is fully packed with pre-made page layouts that allow you to quickly build and launch a new website, just by adding your content and branding to it.
It is also part of our new FlexThemes collection – a new generation of WordPress themes that enable you to customize and tweak almost every element inside your layout, through an intuitive and easy to use dashboard. You have maximum control over how everything looks on desktop and mobile, can create your custom blocks and layouts, + get to enjoy the perks of a WordPress website (SEO, extensions, etc.).
Isn't it exciting to know that a "ready out of the box" template can also allow you to personalize almost everything inside if the desire or need arises?
Thanks to Natalia from Flothemes.
Themebeez
Q1. Cream Magazine Pro is our best selling theme in 2019.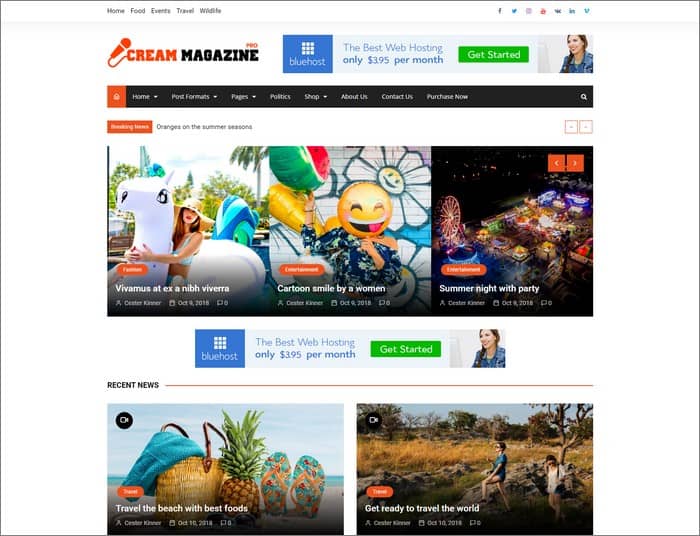 Q2. Users at wordpress.org loved the free Cream Magazine for it's clean & flexible design.
Thanks to Eric from Themebeez.
PanKogut
Q1. Biscuit – Lifestyle WordPress Theme.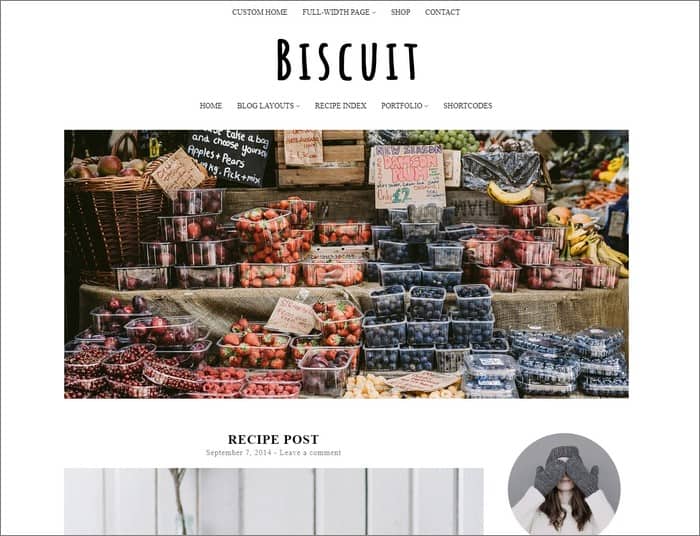 Q2. Simple to use and minimal design.
Thanks to Pasquale from PanKogut.
Wrapping Up
It was this year's edition of What Were the Best Selling WordPress Themes?. Once again, I would like to thank everyone who participated in the article with their WordPress theme contributions.
It is always enjoyable to put together such an article, although it is a time-consuming journey from start to finish. Some notes how to create the posts.
It takes about one month to complete an article like this one.
I have sent over 100 emails (plus 50 follow up emails) to WordPress theme companies. 47 WordPress theme companies participate, and that is close to 50% of the applicants, which I consider to be a significant number of participants.
During these 3 years, a total of 68 WordPress theme companies have participated in the articles. But only 10 have participated in all the articles. MyThemeShop, Themify, Anariel Design, CSSIgniter, Catch Themes, PixelEmu, Organized Themes, Premiumcoding, aThemes, and TeslaThemes.
4 of the WordPress theme companies have the same best-selling WordPress theme over the years, and it's MyThemeShop with Schema, Themify with Ultra, CSSIgniter with Olsen and aThemes with Sydney Pro.
I hope for more WordPress theme companies joining in next year's edition of the What Were the Best Selling WordPress Themes?
Thanks to all the WordPress theme companies and superheroes who participated and contributed to this article.
Where Should We Send

Your WordPress Deals & Discounts?
Subscribe to Our Newsletter and Get Your First Deal Delivered Instant to Your Email Inbox.
Thank you for subscribing.
Something went wrong.