Security is a top concern for any webmaster or entrepreneur. A security breach could ruin your brand no matter if you are a foodie blogger or a big company. The tech giants proposed making the web more secure. It's a never ending fight that comes with a lot of challenges. Security mustn't be ignored—check out this resource to see how many websites were hacked today. As a result, Internet users are skeptical and avoid providing sensitive data by completing various online forms. It's harder and harder to became trusted by Internet users.
One of the best methods to show that your website is secure and reliable is the use of an SSL certificate. Apart from being more secure, an SSL certificate and HTTPS encryption may bring a traffic boost. Terms such as SSL certificate and HTTPS encryption are not quite user-friendly. However, with the use of WordPress plugins like WP Force SSL to ensure secure connections and WP Login Lockdown for added security against unauthorized access, managing these security measures becomes more accessible. In this post, you will learn what an SSL certificate and HTTPS encryption are and how to add free SSL to your website. Sounds pretty interesting, doesn't it?
What Is an SSL Certificate?
SSL stands for Secure Sockets Layer, and it designates the encrypted link between a web browser and a web server. Instead of sending sensitive data in plain text, SSL adds a new level of security. It allows the information to be exchanged between server and browser in a format that can't be hacked by a third party. An SSL certificate has two major roles:
It authenticates a website's identity so you can't be cheated by bogus websites;
It encrypts the data sent between server and browser.
What is HTTPS Encryption?
HTTPS stands for Hypertext Transfer Protocol Secure or HTTP Secure. HTTP is the protocol that allows for the hypertext format exchange between users. In simple words, HTTPS is HTTP+SSL. HTTP is responsible for the data exchange, and SSL is responsible for encrypting it. So using SSL and HTTPS interchangeably isn't correct. It's a widely spread mistake, and you should avoid it.
Adding an SSL certificate was, until a few months ago, a cumbersome process. Much more, it was pricey enough to demotivate people and lead them to ignore the benefits of a secure connection. Luckily, you can now get an SSL certificate for free! Let's meet Let's Encrypt.
Let's Encrypt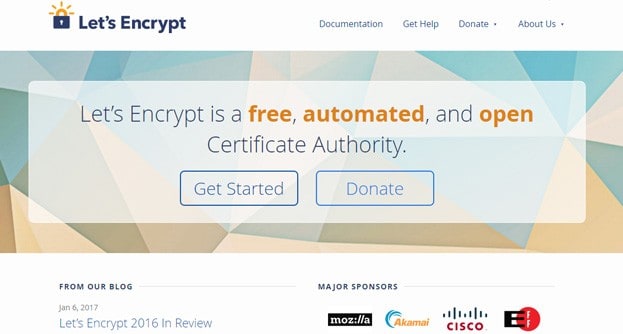 Let's Encrypt is an initiative operated by the Internet Security Research Group, and its aim is to provide automatically free SSL certificates. Facebook, Google, Mozilla, and Sucuri are among its sponsors. That list should give you a clear hint that this initiative has a bright future. Matt Mullenweg announced that in 2017, WordPress.org "will only promote hosting partners that provide an SSL certificate by default in their accounts." It's no wonder that many hosting companies are aligning with this recommendation.
How to Effectively Add an SSL Certificate
In this context, it makes sense to use the services of a hosting site that offer built-in SSL set up. Some of them are working on implementing built-in SSL set up while other hosting providers have already done so. The differences are insignificant because the process is similar. Of course, the hosting companies offer support, and you could ask for help. Here are some resources to check out for adding a free SSL certificate: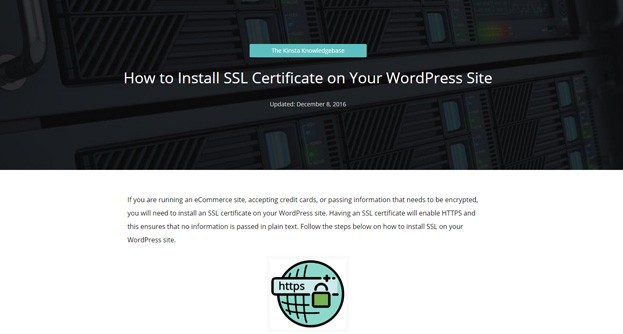 Overall, the common process of adding an SSL certificate is intuitive. First, log in to your admin panel. Second, visit SSL -> Add certificates -> Let's Encrypt or SSL -> Security ->Let's Encrypt. On average, it's a matter of a few clicks.
At this stage, you have added the SSL certificate (other people used to call it a digital certificate). In the most cases, you will be notified of the success or failure of the operation. Still, it's not the time to celebrate; there are a few details to fix.
Updating URLs
You should update your internal links once you have added an SSL certificate. For a new website, this is a simple step. Log in to your dashboard and head to Settings -> General. There you should change your WordPress Address and Site Address to https protocol.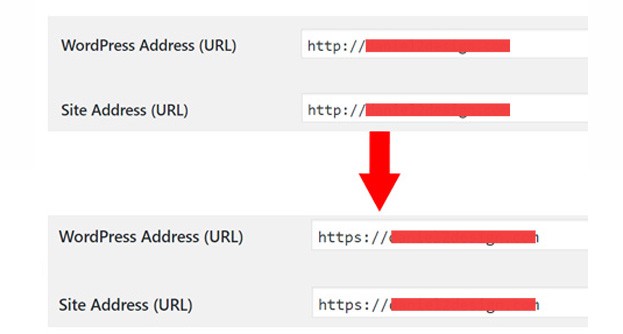 An existing website is quite probably indexed by search engines. Some web pages were distributed via social media and other websites link to it. This means that you should update all these links. It's a laborious work, and a plugin is ready to help in this respect. Really Simple SSL is its name, and it is a famous plugin in the WordPress repository. 4.8 stars out of 5 and 100,000+ active installs isn't bad at all, is it?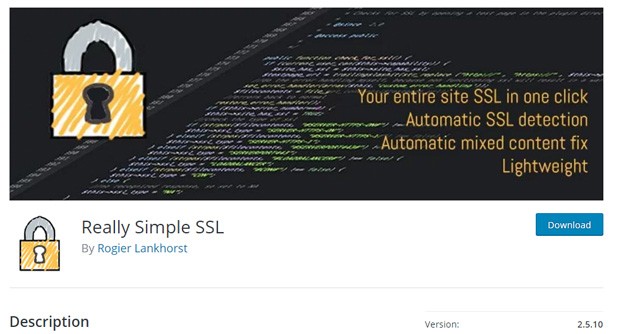 Updating Google Analytics and Other Plugins
If you regularly consult your Google Analytics account, you may see that your traffic went down by installing the SSL certificate. Instead of a boost traffic, you get a huge traffic decline! You shouldn't worry; there is no Google penalization. It's just because you forgot to update your Google Analytics account. It's simple: log in to your account and go to Admin -> Property Settings – > Default URL and change from http://yourwebsite to https://yourwebsite. Once you click Save, you shouldn't have any issues with Google Analytics. The same procedure should be followed for any plugin that requires you to introduce your website URL.
I hope that I shed light on the matter of adding an SSL certificate to your WordPress website. I feel sorry for people that have hosted websites on platforms that don't support Let's Encrypt. Each hosting company has specific policies for dealing with SSL certificates. Presenting the modalities of adding an SSL certificate for each hosting company is beyond the scope of this article.
It is likely that more hosting providers will offer customers the options of using Let's Encrypt in the future. This precious tool saves time and money. On top of that, it's easy to set up.
What do you think about Let's Encrypt? Would you give it a try? Please share your opinions with us. We are waiting for your input!

Latest posts by Daniel Pintilie
(see all)
Where Should We Send

Your WordPress Deals & Discounts?
Subscribe to Our Newsletter and Get Your First Deal Delivered Instant to Your Email Inbox.
Thank you for subscribing.
Something went wrong.