Succeeding online is pretty challenging. However, it could be a lot easier provided your content gets a higher ranking in search engines such as Google. For accomplishing that, it is mandatory to get your site optimized. For doing that, it is of pivotal importance to perform meticulous keyword research. Keyword research for your WordPress website is one of the most effective ways of improving your content and makes it more visible online. Performing effective keyword research for precisely your WordPress site could go a long way in understanding your target audience and even comprehending the psyche of people behind every action.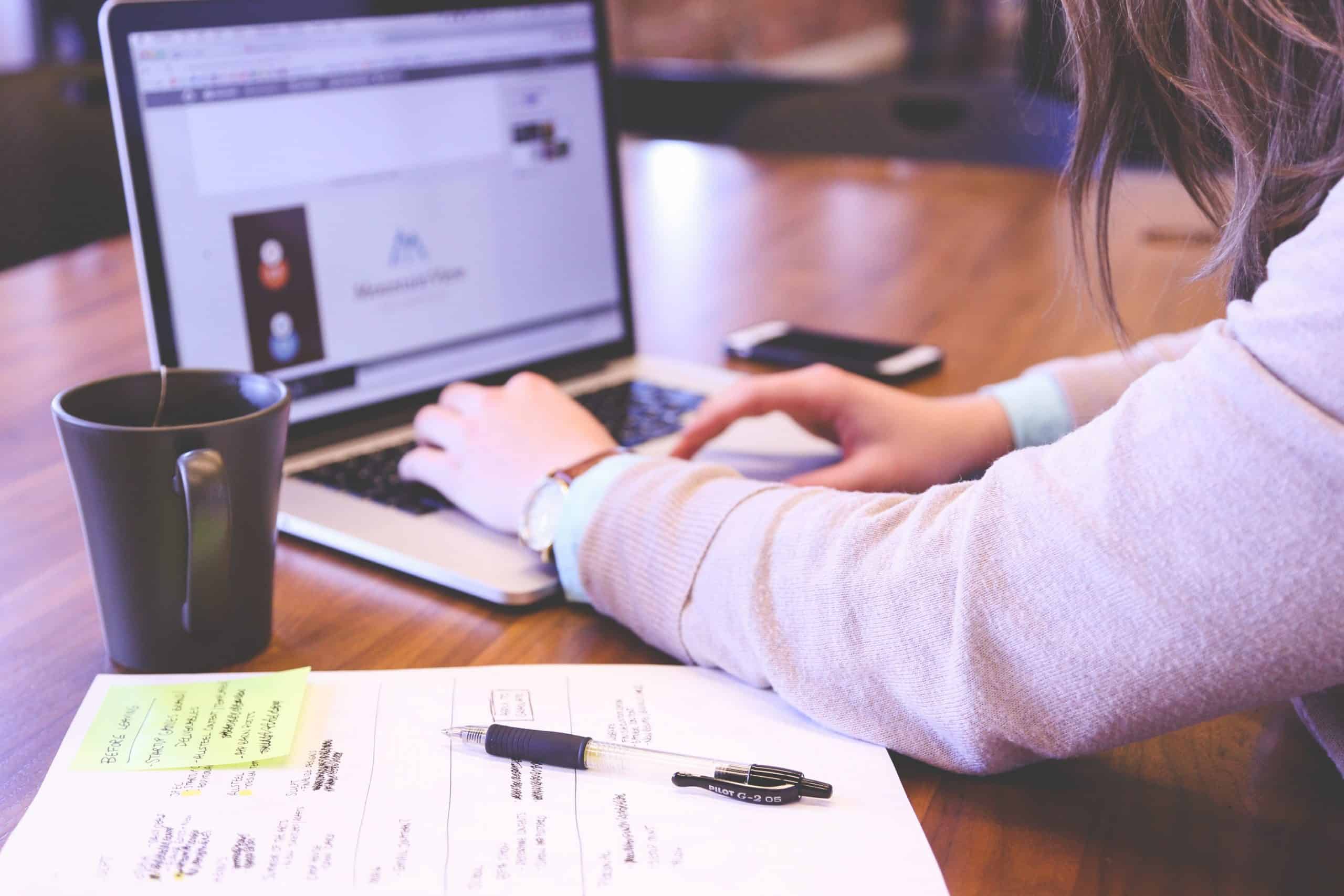 By effectively exploring search behavior, you could optimize your website so that you could get higher rankings on the SERP. With a strategic-positioned search engine slot, you would be having a better opportunity of being more visible and easily found online. Keywords are an integral part of search engine optimization. If you do ample research on things people tend to search online, you could understand the psyche of your target audience and even plan and incorporate high-value keywords into your blog posts for earning higher rankings in the search engines.
As per the search engine journal, keyword research cannot be restricted to just opting for high-volume search terms, concentrating on building links, and achieving a ranking for that particular keyword alone. Keyword research is at the heart of a powerful SEO campaign. It is the very foundation and essence of a robust SEO campaign.
If keyword research is done right, you could get benefitted by this important SEO activity that could assist in ranking your pages for some more keywords and fetch more traffic consequently.
Why Should You Do Keyword Research for WordPress?
If you effectively use keyword research as an integral part of the content stratagem, you could achieve the following:
Identify the popular keywords that your users are searching for.
Identify content ideas that seem to be easy to rank and even have an impressive search volume.
Discover what your business rivals or competitors are doing. Come up with a better strategy for your content and leave them way behind.
Attract more search traffic and keep growing your overall audience with every new article.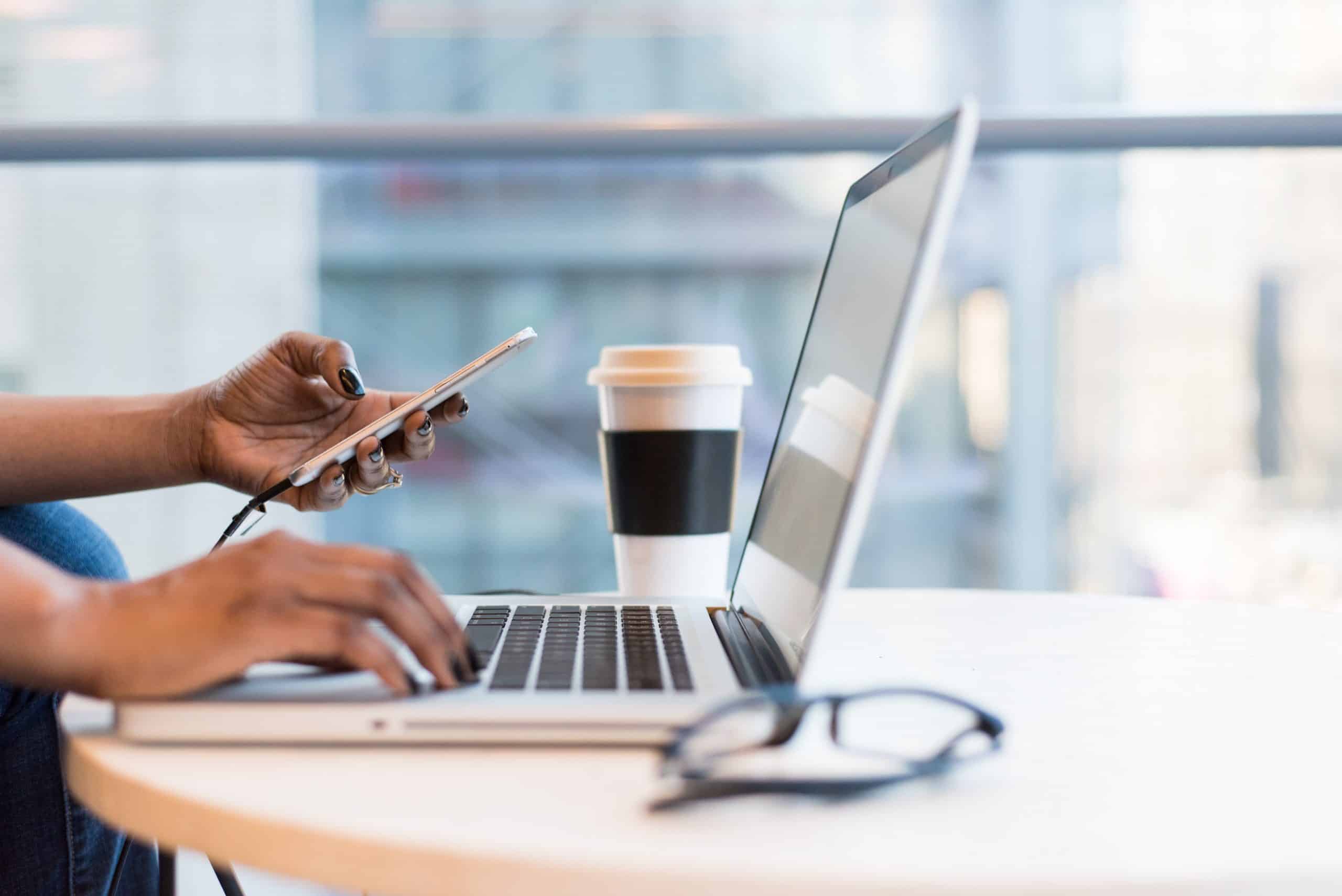 How to Do Effective Keyword Research?
Let us explore how to do meticulous keyword research for precisely your WordPress blog. Proper keyword research would go a long way in boosting your web traffic. We have identified a few effective tools that help you with effective keyword research. However, you could always seek professional assistance from digital marketing experts such as BigDropInc.com.
Google Keyword Planner
This is undoubtedly the most popular and frequently used tool for doing keyword research. It is available for free and could come up with multiple variations of a specific keyword with competition and traffic.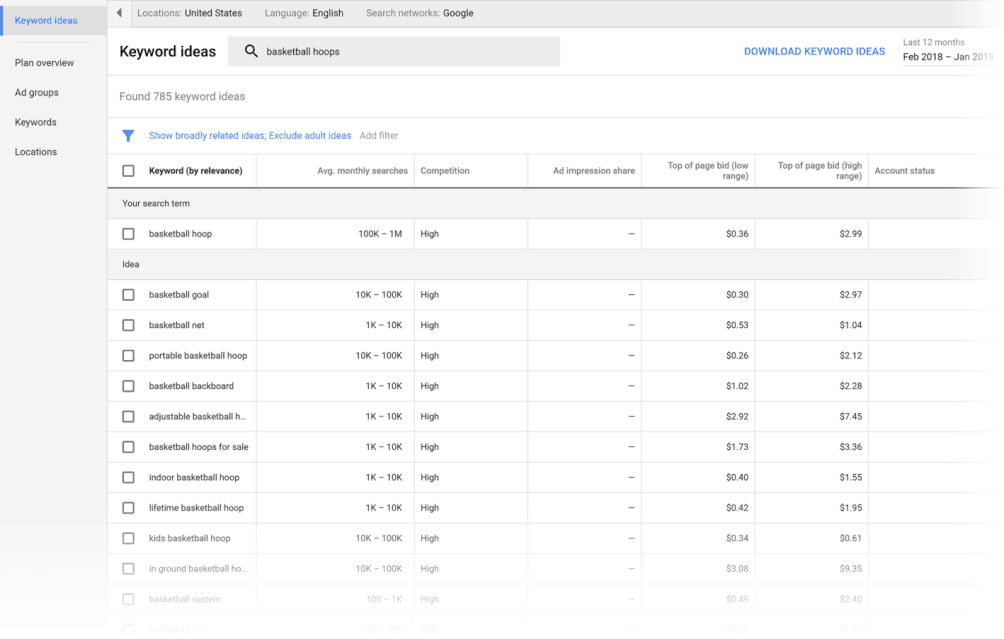 You need to sign up for Google AdWords, and only then you could start using Google Keyword Planner. You need to provide some vital information while signing up, such as your product, your target location, date range, language, etc. Once you enter the data, you just need to click on "search for new keywords using a phrase, website or category".
You could go ahead and enter a sort of generic keyword belonging to your niche for getting an overall view precisely of what your target audience seems to be looking for. The effective tool would be coming up with a comprehensive list of relevant keywords with their specific competition and search volume. You could go about choosing the keyword from this list and then consider getting your content optimized accordingly.
SEMRush
SEMRush is surely one of the most effective SEO tools available in the market. It is a comprehensive SEO suite and comes with effective tools for performing organic research, keyword research, paid advertising, and an in-depth analysis of competition. You need to start by going to the SEMRush website. Then you need to enter your website URL or a keyword.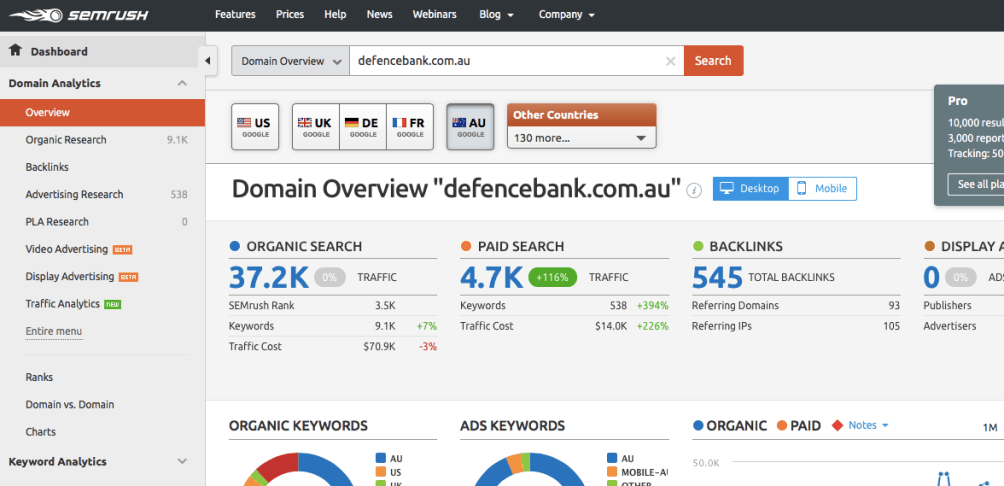 You would be seeing an overview of precisely the keyword that you had entered displaying search volume, no. of search results, and CPC meant for paid advertising. Scrolling down a bit could assist you in coming across another overview of matching keywords and associated keywords. You could consider clicking on the button that says 'view full report' for exploring the full lists or exporting them directly to the CSV file.
Keep scrolling down further, and you would come across a list containing top search results for the specific keyword you had entered. You have the option of clicking on every link for viewing full reports that would assist you in understanding why these pages are ranking for these keywords.
You could even consider using their latest 'Keyword Magic Tool' that helps you in getting faster access to an even broader spectrum of keywords on related terms. You could go about clicking on the button that says 'add' just next to a specific keyword for adding them directly into a keyword analyzer.
When you have successfully identified the top keywords having the highest search volume, you could go ahead and start analyzing competition precisely for those keywords. For viewing a detailed analysis, you need to click on the ranking of the specific link already for those keywords. You could come across the backlinks for specifically that particular URL, the amount of search traffic, and some other keywords.
Overall, SEMRush is regarded as a fantastic keyword research tool available in the market today. It helps you in getting keyword ideas and also tells you about ways to rank for precisely those keywords.
Ahrefs
You need to keep in mind that you have to keep track of all your competitor's keywords. You must not forget that your niche would have certain key players who are attracting a tremendous amount of organic traffic. You need to maintain strict vigilance and keep monitoring and identify the keywords that are being used by your competitors. In this context, you must know that Ahrefs is a fabulous tool for discovering the keywords used by your competitors.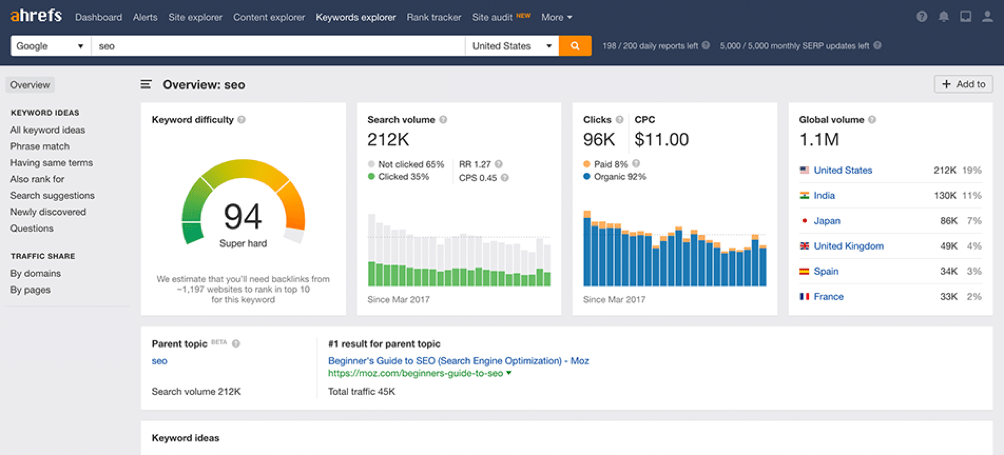 It is not a free tool, but it is worth investing in a brilliant tool such as Ahrefs. It is an effective and powerful keyword research tool, and it goes a long way in making you understand why your competitors are getting such higher rankings and precisely what you must consider doing for outranking them in terms of search engine results.
We understand that Ahrefs is used to crawling over 6 billion pages daily, with more than 12 trillion links present in their index coming from 200 or more domain names. It involves a tremendous amount of data. However, it is noteworthy how this fantastic platform helps you in using this valuable data and information to your advantage. Ahrefs has a truly intuitive UI or user interface that helps in breaking down the data into diverse sections. You simply need to enter any domain name in specifically the search field. Wait until Ahrefs pulls out a treasure trove of information that, too, in a really easy-to-comprehend format.
Ahrefs comes up with an overview of all the results along with all the referring domains, backlinks, content review, and organic keywords. You could consider clicking on all the sections for drilling down further for more information. When you come across the 'Organic Keywords' report, click on it, and Ahrefs would be showing you a comprehensive list of keywords for that specific domain name with URL, search rank, search value, and more.
You could also go about generating keyword research ideas simply by entering some keywords in the clearly-visible search box. The keyword explorer tool of Ahrefs would be generating a comprehensive list of keyword recommendations with difficulty score, search volume, and clicks.
Ahrefs is also equipped with robust tools meant for rank tracking, content analysis, web monitoring, and even more. You could successfully export the reports in PDF or CSV formats, and then you could go about working on them in the spreadsheet software.
Some Fundamental Keyword Research Tips for WordPress
Initiate your keyword research effectively with broader keywords. You could then consider narrowing it down for identifying keywords with low competition but more search volume.
Enter your URL in Ahrefs or SEMRush for seeing your specific keyword performance and go ahead with a comparative analysis vis-à-vis your competitors.
Concentrate on identifying keywords that effectively answer the questions of your customers and aid them in coming up with a buying decision.
Never consider limiting your research for keywords to just the most searched keywords. You could rank easily for relatively longer keywords then go about building upon that.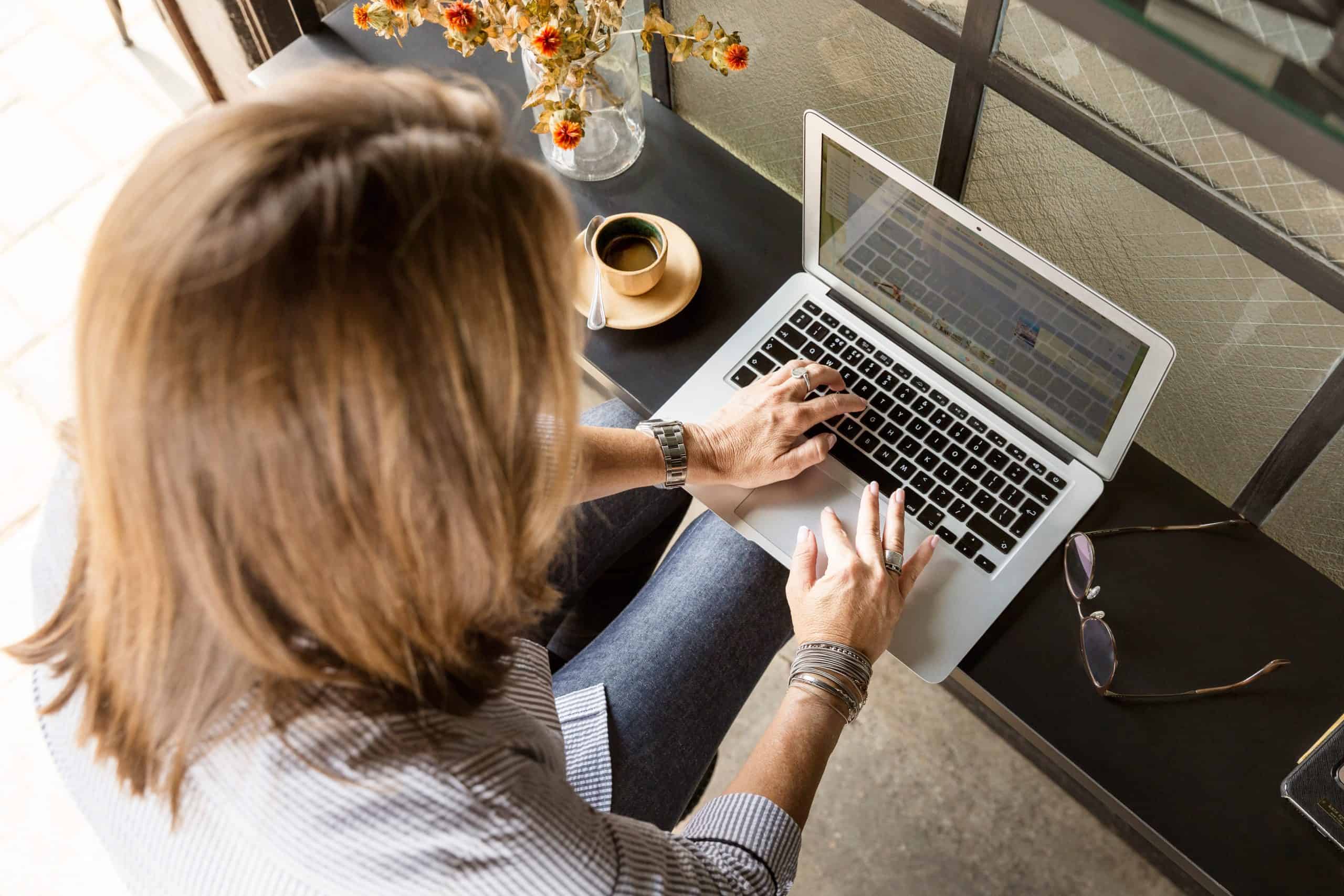 Some Effective Tips for Applying Keyword Research in Blogs or Business
The main objective of keyword research seems to be finding out exactly what your target audience is looking for and then put in your efforts for ranking for all those keywords in the search engine results. Depending on your precise content stratagem, there are many ways of doing that.
Chalk out an effective content marketing stratagem revolving around your latest keyword research.
Generate useful content, including articles, infographics, blog posts, videos, and more utilizing those keywords.
Business websites could generate landing pages, FAQs, documentation, and other types of content where they could target the brand new keywords.
In this case, you are having an online store or an e-store; you could consider using those specific keywords in the product descriptions, titles, product categories, and even more.
Conclusion
You would need Google Analytics to track the overall performance of the content that you have generated. MonsterInsights could be the most effortless way of installing Google Analytics. It would be showing you the best content in the WordPress dashboard and help you keep tracking your site's user engagement.

Latest posts by Editorial Staff
(see all)
Where Should We Send

Your WordPress Deals & Discounts?
Subscribe to Our Newsletter and Get Your First Deal Delivered Instant to Your Email Inbox.
Thank you for subscribing.
Something went wrong.