Every season brings new inspiration to designers. Winter would always usher in shades of blue, white and silver. Spring brings a burst of colors reminiscent of flowers in bloom. Fall is welcomed with reds and earthy tones. And when the summer months roll by, expect a lot of bright yellows and sunshine.
So here comes summer 2017 with its promises and here is our hand-picked summer collection for the designer in you.
They are perfect for those summer designs. Note that this list has everything you need. There are fonts, templates and UI kits. And the best thing about it all is that they're all free.
Beautifully Imperfect Free Brush Font – Selima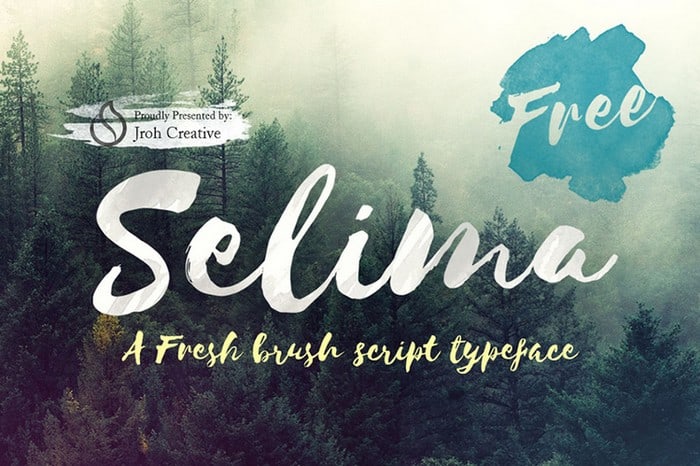 Your choice of font is extremely critical. It's not just about the copy itself. It's about the way your copy is presented. That's why Selima is something you need in your arsenal.
Selima will remind you of everything you love about summer. It's fresh, it's carefree and it's imperfectly beautiful. It's a brush font, so expect the usual rustic feel. Every curve and stroke are irregular, giving it that personal touch.
You know what's great about brush fonts like Selima? It's the fact that it's perfect for just about anything. You can use it for brochures, posters, social cards or shirts. It's great for both personal and business use. It's an all-around element perfect for any summer project.
» Download this alluring font here…
Sandy – A Free Calligraphic Font for Your Projects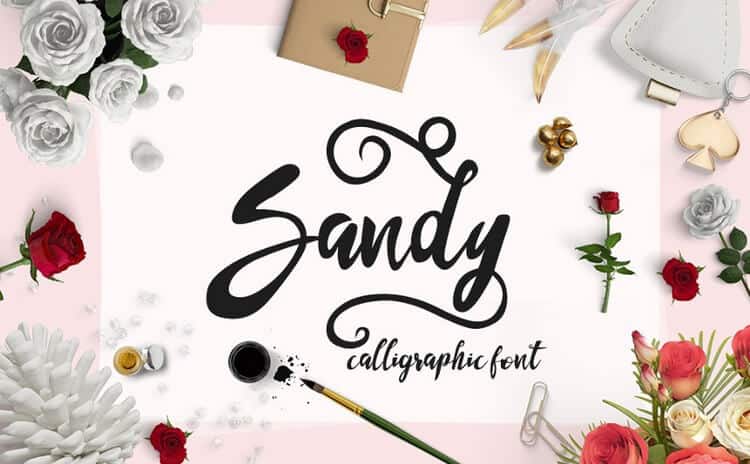 Calligraphic fonts are always a favorite. There is a problem, though. They're not exactly easy to pair with other font styles.
Sandy eliminates that problem. It's amazingly versatile. It brings that whimsical feel to any design you're working on. But it doesn't overdo it. It's easy enough to complement all other fonts in your set. It's just the thing that can turn your design into a beautiful work of art.
Of course, you have to remember to use this font only where it is needed. That is, after all, the charm that calligraphic fonts have. It's perfect for titles and headings. It's exactly what you need to grab attention. Overdo its use, however, and you end up ruining a perfectly good thing.
» Download this attractive font here…
Freedom Free UI Kits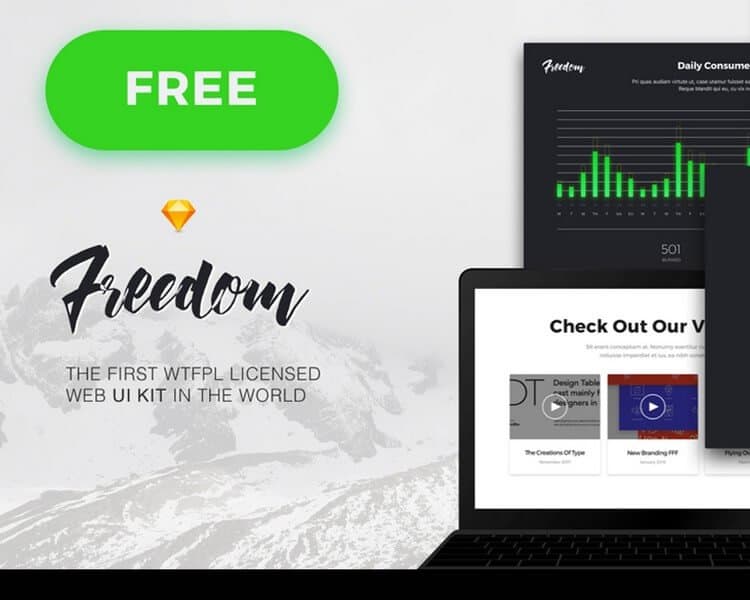 Ask any designer and they'd tell you that the landing page will always matter. If this is what you struggle with, this UI kit is exactly what you need. The user interface creates the experience for the audiences. It's a make or
The user interface creates the experience for the audiences. It's a make or breaks thing. Use the wrong approach on your UI and you're left with people leaving the page in a second. Do it right and you'll have people browsing through every page and section.
This kit includes 90 different components, all created to produce an awesome page. Every component keeps in mind what catches the audiences' attention. This makes it easy for you to focus on the more complicated parts of the process.
» Download this UI kits bundle here…
30 Free PS Actions For Family Portraits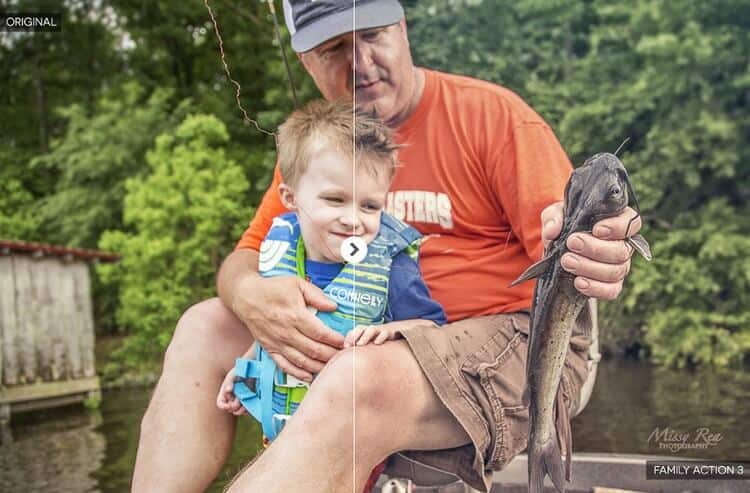 Photoshop in itself is already an awesome tool. But when you add more to the basics, you can create epic designs. This pack of Photoshop actions is exactly what you need for that.These Photoshop actions
These Photoshop actions let you add that wow factor to every shot. Especially when it comes to portraits, you can't afford to miss out on the possibilities. These Photoshop actions make it easier to achieve the final result you're looking for. There's no need to spend hours finding out what adjustments need to be made.Perfect for those family portraits, you can give any shot that bright summer
Perfect for those family portraits, you can give any shot that bright summer feeling.
» Download these PS actions here…
100+ Starry Night Elements to Impress Your Audience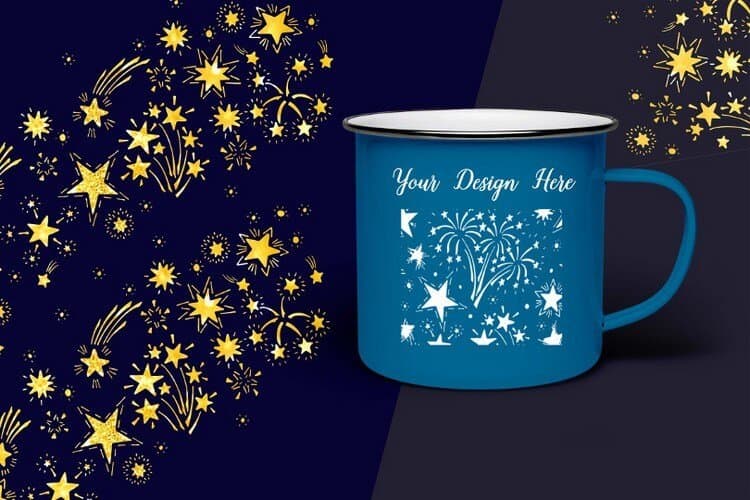 Summer isn't just about bright sunny days. They're about clear starry nights as well. This makes this pack perfect for those designs requiring brightly lit night skies.
Working on a website or banner? These are the perfect elements to add some pep into it. They're great even for posters and wallpapers, as well as social cards. You can even have them printed on shirts, mugs and other merchandise. They're the perfect element to add if you want your business card to have an interesting twist, too.
» Download these starry elements here…
UI Style Guide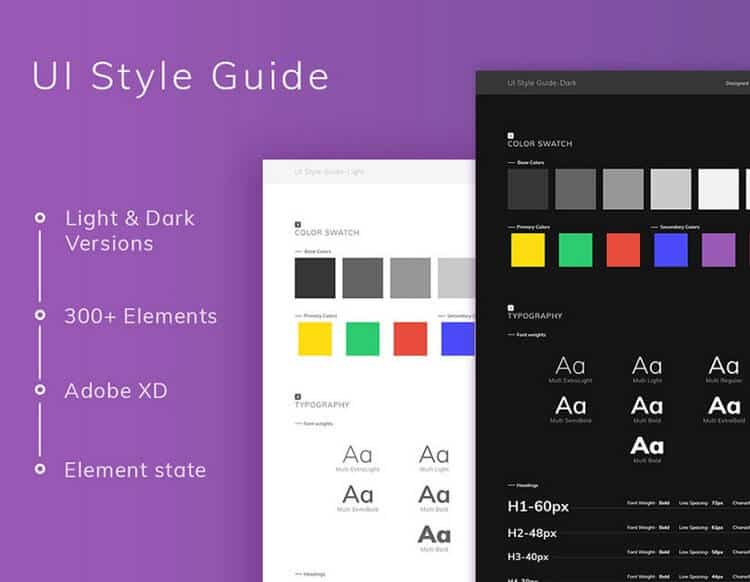 Every designer needs a trusty style guide. It's just the thing that will help you see what fits with what. It tells you all the elements you have and their states. It even comes in two variants – light and dark. That makes it perfect no matter what theme you have in mind.
As mentioned earlier, your UI can make or break the user's experience. Overconfidence in this aspect just won't cut it. Using a style guide will ensure that every aspect is covered. This leaves you with perfectly fitting elements to create that perfect design.
» Download this useful guide here…
Free Email Newsletter template from Big Bang Themes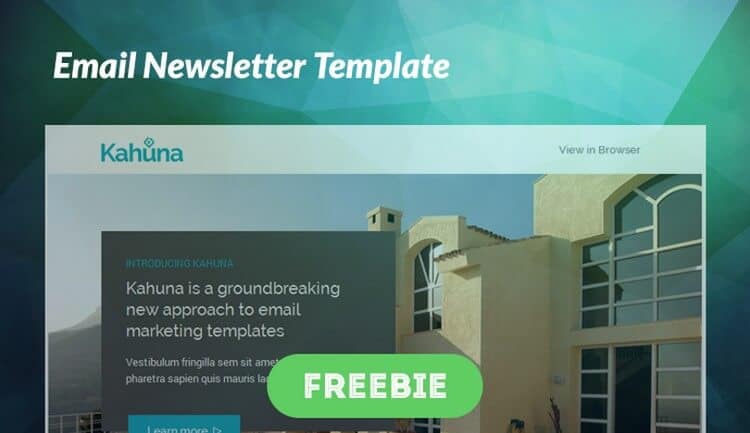 Email marketing is very much alive. When you find the perfect formula, your conversion rates will soar. But you can't be caught sending boring emails, or your click through rates will dip. This makes this template a great partner for designers hoping to create better emails.
It comes in HTML format, so a WYSIWYG editor is needed. You may also get an online builder from Big Bang Themes as an alternative. Either way, expect your emails to have a bigger impact on every recipient. If you're making it for a client, that's even better. They'll come to realize that emails are not just about words. They're about design as well.
» Download this beautiful template here…
Street Photography Presets By Contrastly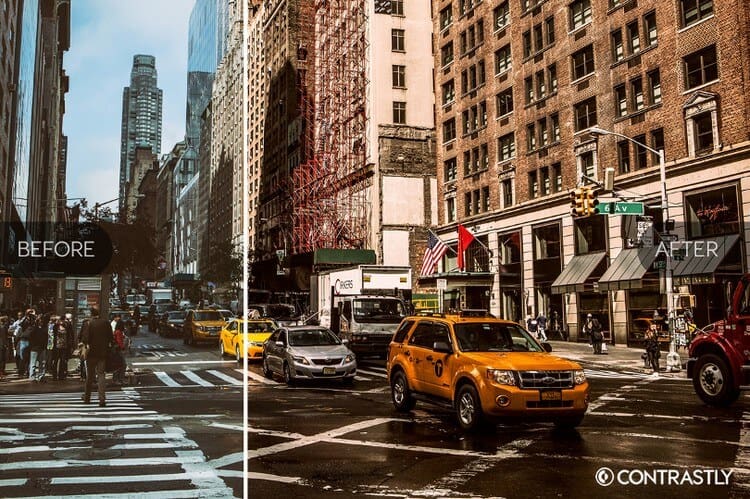 Street photography can be dramatic. But the raw photo alone may not have the effect you want. The varying lighting can be tricky to work with. There are a lot of things that are hard to control when you're out there taking pictures. With this pack of photography presets, you can make magic happen.
Forget that long period of time you usually spend making things happen. These Lightroom presets can help you make great pictures even better in a click.
» Download this presets bundle here…
Free Sketch UI Kit – Design Social Activity Streams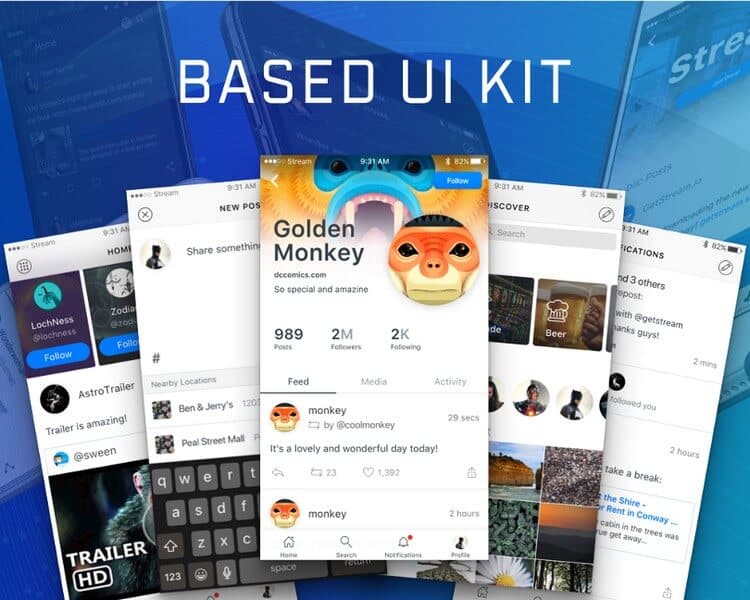 You probably know how important social media is. It's the very thing that keeps your clients in business. It's probably something you use to connect with current and potential clients as well. But social media is not automatically powerful. This UI kit is just the thing you need to supercharge all of your social media designs.
Create that unique look every project demands. Save yourself from the hard work of developing the perfect setup. Changing your mind about the design? This UI kit lets you apply changes in a seamless and headache-free manner, too.
» Download this amazing UI kit here…
Peace Sans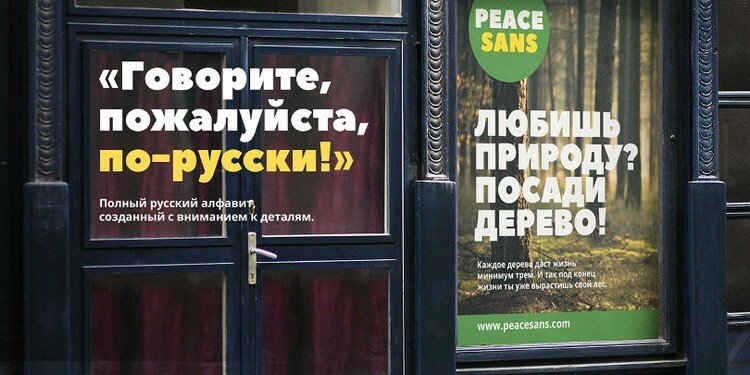 Every designer is always on the lookout for bold fonts that are not overwhelming. That's exactly how Peace Sans can be described. It easily catches attention without being distracting. It drives your main point without overpowering other elements.
Another great thing about Peace Sans is the fact that it blends well with anything. It doesn't matter what theme you're using. It doesn't matter what other fonts are in the picture. More often than not, it will fit right in. And for any designer, that's the dream.
» Download this mesmerizing font here…
5 Save The Date Card Editable Templates For Free
Working on wedding designs? Then you must know that the save-the-date is critical. It sets the tone for the entire event. It doesn't say much except for the date. But it also gives the recipients an idea of what the wedding will be like.
With these editable save-the-date templates, you can be worry-free. Yes, the couple is expecting you to announce their wedding date with a bang. These templates can help you do that. These will help you put everything into place. Now, all you have to worry about is getting the perfect shots to use. But as far as the entire layout is concerned, this deals with it.
» Download this editable templates bundle here…
100 Premium Background Bundle for Free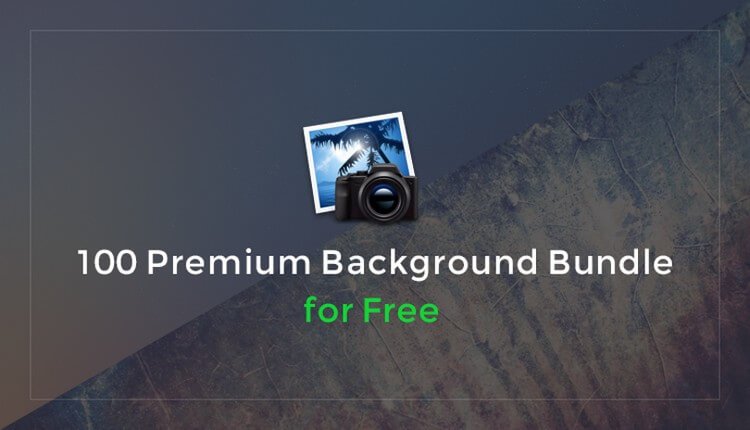 You have to admit that backgrounds can change the way your website looks. Actually, it's not just websites. This statement holds true for any project. Your fonts may be fancy. But sometimes, a plain background just won't cut it.
This is why every designer needs this bundle of amazing premium backgrounds.
These backgrounds add texture to each page. They're simple enough to let the more important elements shine. But at the same time, they have everything you need to capture anyone's attention. They can give your designs an overview of your personality as a designer. It's what can reach out to every person in the audience and tell them who you are.
» Download this premium background bundle here…
Wrapping Up
Whether it's summer or not, every bundle on this list is a must-have for designers. It doesn't matter what kind of project you're currently working on. You may even be working on your own branding. Or just maybe, you're in the process of sharpening your skills. No matter the reason, these are things you can't miss out on.
Start downloading and grab these freebies for summer 2017 and you have everything you need in your collection.
Where Should We Send

Your WordPress Deals & Discounts?
Subscribe to Our Newsletter and Get Your First Deal Delivered Instant to Your Email Inbox.
Thank you for subscribing.
Something went wrong.