Since the earliest days of a computer network, all site owners realize what an essential role plays an email list building for their marketing strategy. Forming an email table, collect more and more promising subscribers and make them know about your offers, news, sending newsletters regularly, all this will bring huge success to your hard work. Email marketing is classified among the most productive tools for achieving online profit.
But do you give yourself the question, why email-building is so gainful? In a nutshell, it is quite an easy and friendly way to be in touch with the audience, inspiring confidence. Once you have a list of loyal subscribers you can start a consistent email drip campaign or a newsletter of some sort to ensure a fruitful lead nurturing. List building is one of the cornerstones of B2C marketing and bailing on it would be deemed irresponsible.
So after you have decided to build an email list, the next step is to collect a great number of reliable subscribers. As for me, I think that good-looking popup windows have all the chances to become the best solution for that. But only good look and well-design are not enough, the windows should have catching content, as well as they, have to show a worthy reason to be subscribed. It is simple.
So with pop-ups, you make your subscriptions mode more apparent. The popup appears on the page and gains the max attention of your guests. Be it a kind of Essay Pro review website https://nocramming.com/essaypro-review or an online-store, the pop-up will be just as useful as a hero section on a website.
I am sure that some of the readers may insist that popups are non-polite and have a negative impact on the site's rank. Yes, you are right but only if they are overdone and annoying. They are many sites that show a huge popup window, that covers almost the whole content, and the X/Close button is so small or is missing.
So we are forced to leave the page without reading the content of which we have visited the site. But why think about the negative. If you use your popups sparingly, with appropriate content, and only on one page, there is no problem. There are various plugins for WordPress with which we can create friendly and polite popups, forgetting about intrusive ones.
So with this post, my aim is to show you WordPress's 5 best plugins that will help you enlarge your Email subscription list with friendly popups. WordPress offers us a huge number of plugins that enable to create subscription popup forms. Let's go on.
Popup Builder Plugin

This plugin has the all advantages when creating Subscription popups. When we think about what plugin will be more suitable for your site, for your business and for your taste, we should first of all pay our attention to the features of the plugin, how creative and useful they are, what benefits they will give you, and how they can help you to achieve your goal as well. Be sure that Popup Builder plugin will give you all this. You can just try and make sure.
As for me, the most important is that the plugin is very simple to use, so if you are not an expert in creating popups, there is no need to worry. Just install it, activate and try your best. After activating you will be offered 11 popup alternatives. If you read this post, your aim is to form subscription popups.
So choose among the titles Subscription Popup and dive in! The plugin gives all the necessary tools to create well designed, eye-catching and polite popups. So you should only write what you want in the appropriate box, give any color, size to your box and buttons as well. But this is not all, you will be offered:
Amazing 14 effects – swing, bounce, pulse, swing, shake, etc
6 themes – you can select one of them, making the popup's visit more attractive
Exit Intent option, which will make your popups appear just when your page guests are readying to jump to other pages
Choose Popup's location. Let me here mention that it is approved the most appropriate corner for popup appearing in the lower right corner of the page
Advanced Options, where you will have the freedom to decide when and where making your popups come into sight. Check out the screenshot.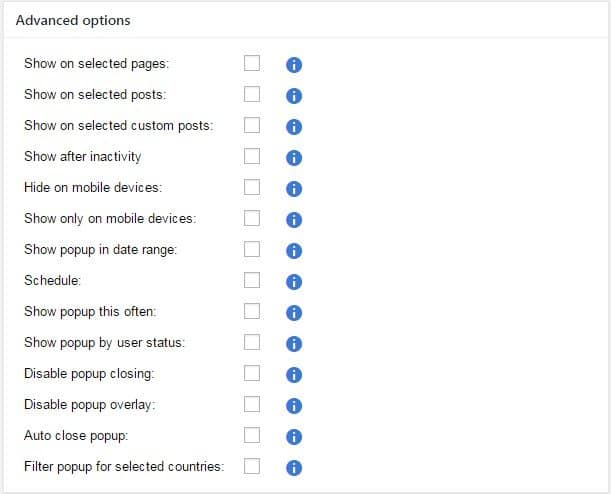 This plugin provides us with one of the easiest ways to be in touch with our users and invite them to become our promising subscribers.
Let me mention that in order to build my Email list and gather more and more subscribers, I use exactly this plugin, and till now I have no difficulties when designing my popups, and it does not concern only subscription popup. Just look at this compact, friendly and inviting popup, but the most important is that it is non-intrusive, as Google requires.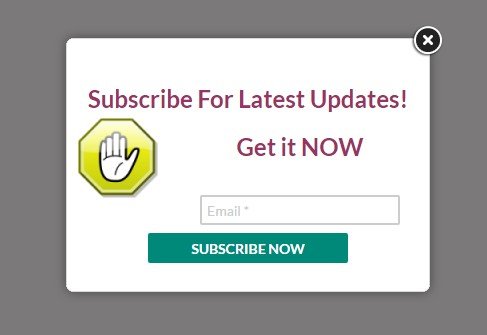 Elementor

Elementor is the leading design tool for WordPress, and now includes a Popup Builder that works out of the box. Build beautiful popups using over 100 Elementor widgets, incorporate content from WordPress and WooCommerce in popups, set advanced targeting. Get Elementor Pro and enjoy the best popup solution
Popup Manager Plugin

The Popup Manager WordPress plugin can be a good solution for your marketing strategy, enabling you to create countless popup windows and insert them into various pages. The plugin provides numerous popup themes. It has General Popup Style field, where you can change popup size, color, background image, etc. After installing and activating the plugin, all the steps will be shown you. So will not have any difficulties when designing your popup.
Popup Plugin

With the Popup plugin, you can design friendly popups with various messages and subscription invitations. The process of creating will take a couple of minutes. This plugin is pretty easy to use. It offers 5 amazing themes, of which only two are free. The plugin's options field is full of useful opportunities, so in main time you can maximize the look of your popups.
In this field, you can change mask and border colors, make a choice among 3 transition effects. Choose on which pages make your popup appear, and so on. I think that for every popup user the most important is that they will work both on desktops and on mobile screens. This plugin gives you that chance.
Optin Forms Plugin

The Optin Forms Plugin offers 6 fixed designs for opt-in form, you just need to choose one of them according to your taste and make some changes if you want. Although this plugin doesn't have so many options, you can easily design effective forms for subscriptions. You can choose on which page the subscription window appears.
You will also have the freedom to change the font sizes, and colors as well. The plugin also gives a chance to make the window appear automatically on the page. Or it can be added manually through a shortcode. In the case of the first, you can choose to make the opt-in form visit after the first or second paragraph, or at the end. Depend on your site's need.
PopupAlly Plugin

The PopupAlly Plugin will make easy the process of creating popups. With advanced features, it will let you show subscribe invitation when your guests want to exit the page. The plugin has both free and pro versions, which are fully responsive for mobiles. Apart from popup windows, you also have the freedom to create opt-in boxes and insert them anywhere you want: Below your posts, into your sidebar, etc.
In the Display Setting field, you can choose the frequency and the place of your popup visit. You can design the windows with beautiful colors in the field of Style Setting. The plugin also offers 6 popup templates, of which only 2 are free, the rest is pro users.
JetPopup Plugin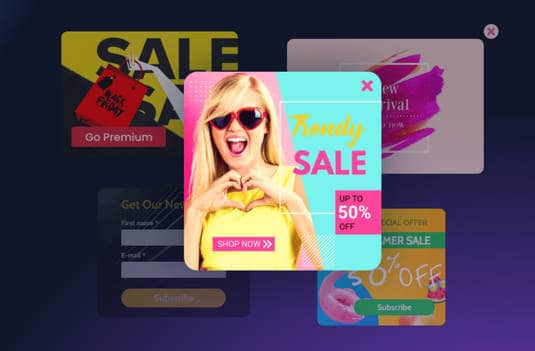 The other popup plugin for your attention is the JetPopup plugin for Elementor page builder. This plugin helps to create and add popups to any page you need quickly. No coding skills are required, just drag-n-drop elements you need. You can apply multiple styling to make your popup stand out from the crowd.
Use JetPopup widgets to customize the layout and add the content. After creating the popup, choose the triggers you need: set timers and dates. Also, you can attract more attention with the existing animation effects to popup. Additionally, you'll get different popup presets, so no need to create everything from scratch. There are countdown, discount, sale, and subscription presets available.
Use conditions to decide when, where your popup appears. JetPopup is a powerful plugin for Elementor page builder that helps you to impress your visitor with elegant popups. Explore the massive popups library of ready-made templates to get started quickly.
Also, you'll receive consistent updates and quality support.
In Conclusion
Finally, you should make a decision and choose among WordPress plugins the most appropriate one for your site. Be sure that for email list building and collecting subscribers, popup plugins are the best solutions. There are both free and pro plugins among WordPress plugins. But when you think about the success that the awesome email list will bring to your business. The cost becomes unimportant, and you just think that it is a profitable investment.
The plugins that I have mentioned in this blog, will give a stylish look to your site through well-looking popups. Some of them are more influential, some have more or fewer features than others. They have various themes and effects that correspond to different tastes. So I will just give you an advice, before deciding which plugin to install and use, test demos each of them.
If you think that this post is useful and can help your friends. Share it on Facebook, Google+ or Twitter, and keep smiling.

Latest posts by Sona Khachatryan
(see all)
Where Should We Send

Your WordPress Deals & Discounts?
Subscribe to Our Newsletter and Get Your First Deal Delivered Instant to Your Email Inbox.
Thank you for subscribing.
Something went wrong.