Let us travel back in time a bit: Do you remember the time when there was no online map so we had to rely on paper maps? Who here used a map when visiting a new place? I did, and I bet a lot of you shares the same answer!
Why do I mention maps above? Well, because they are very closely linked to what we will talk about – a mega menu. For a website, the menu plays the role of a map. Just like a good map will help you explore a place as much as possible, a well-arranged menu will help you make the most out of the website you are visiting.
So, if you are thinking about building your own WordPress website? Think about building a highly usable menu first! It could keep visitors longer on your website, hence boosting the conversion rate!
Knowing the necessity of a charming and helpful menu for all WordPress websites, many developers have spent quality time to build freemium and even premium plugins to help out. What you are having on a plate today is one of the most impressive of those:
I give you: QuadMenu – Making Magic with Mega Menu!
What Is QuadMenu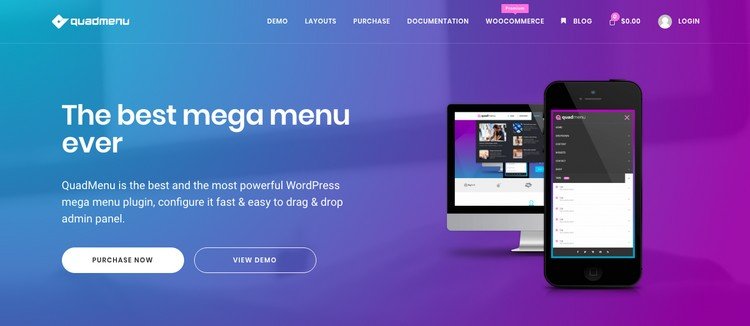 Simply put, QuadMenu is a WordPress Mega Menu freemium plugin that helps integrate a menu into your WordPress project. Whatever menu you want to build – mega menu, tabs menu, carousel menus – can all be created with QuadMenu within simple clicks. Simple when built, yes, but these menus are in fact truly powerful tools that will take your WordPress website to a new level!
How will QuadMenu do that? This question, I cannot give you an answer, but its features will! Let us take a look at what it offers, shall we?
Core Features
Before we start, bear in mind that these are just several highlights:
Fitted for all screen sizes is the must-have and must mention!
Various menu elements are neatly arranged and easy to use even for those who barely have experience in using WordPress before.
Font icons are not only nicely designed, cool and trendy, but also of abundance! You will surely have a hard time choosing among these wonderful icons.
The same to Google fonts which is both numerous and easy-to-use!
The Color Settings part comes with such brilliant color scheme for both background and text.
Its Native Widgets are always ready-to-use!
Diverse

Layout Settings

will leave you with so many choices too.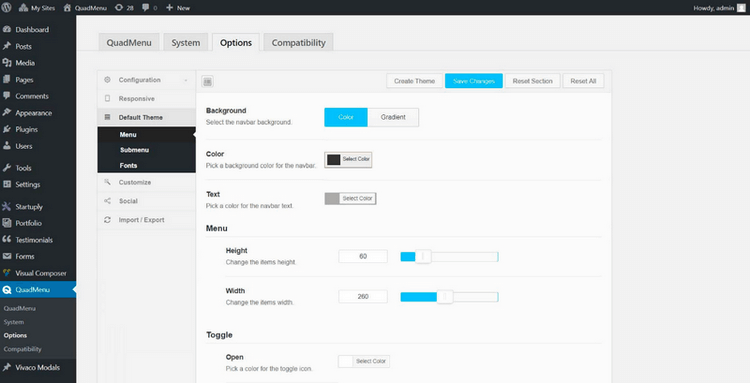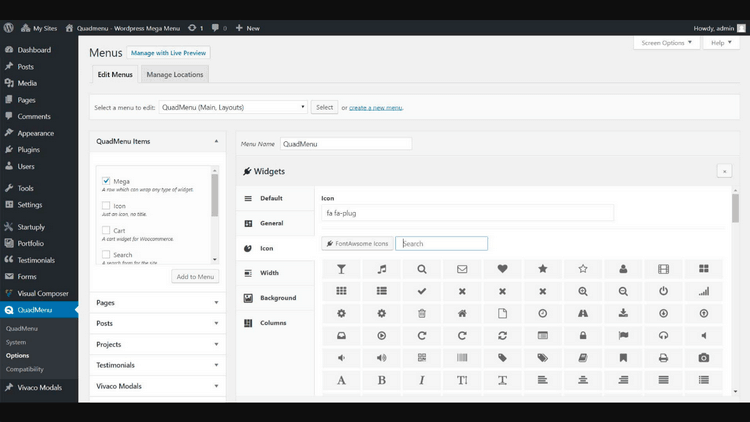 Basic features, aren't they? That's just the appetizer! Down below is where I will dig deeper into the main course, or I should say the most notable features:
1. Convenient One-click Integration
Setting up a plugin should be an easy process, and to set up QuadMenu, it is indeed. Nothing complicated required, all you have to do to own an amazing mega menu plugin is some clicking!
Besides QuadMenu, the brand also offers some other one-click integration plugins that surely steal hearts!
2. Vertical vs. Horizontal Menus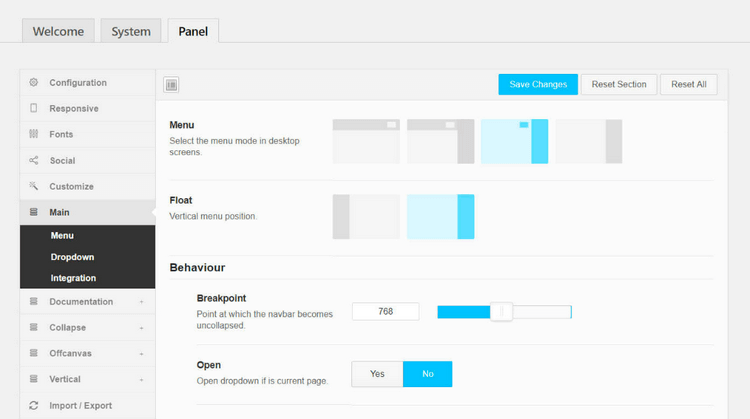 Vertical menu options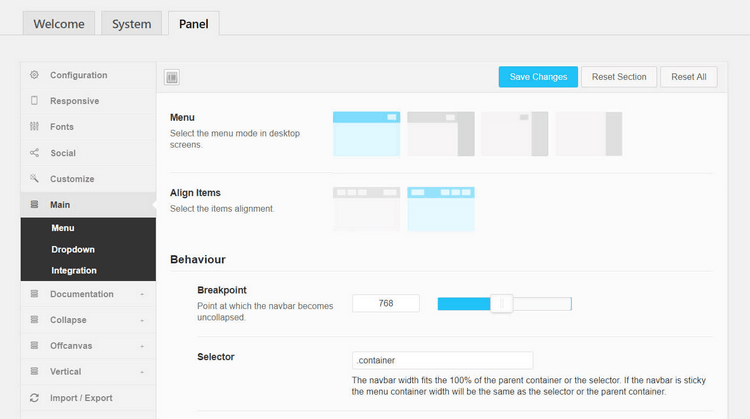 Horizontal menu options
Upon using the plugin, you will find that the default layout of QuadMenu is a horizontal menu which displays itself on desktop devices and collapses on mobile devices. Brilliant, isn't it? Or you can choose a total vertical one that can collapse into the left or right side of the browser in both devices. Your choice!
Can't decide which to prefer? Well, you may have the best of both worlds by using off-canvas menus! With these 'pride and joy' of the creators, you can have a beautiful horizontal menu on large-screened devices and a user-friendly vertical menu on mobile devices!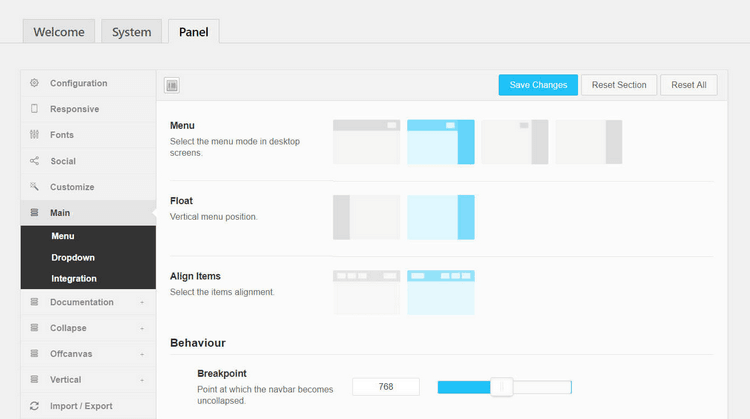 3. Superb Touch Interface
One more thing that impressed me about QuadMenu is how it always aims at improving the user experience. Offering the touch interface feature is definitely a right move! The touch interface allows easy interaction with which you can get anything done within simple clicks! Opening dropdowns and item links menus only requires one and two clicks respectively.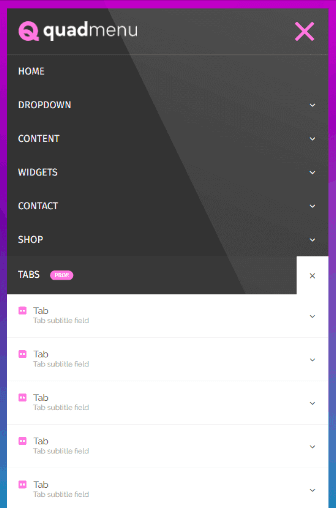 4. Intelligent Drag-n-Drop
Though this feature is not new for most WordPress plugins, its critical role cannot be denied, especially for a WordPress mega menu plugin. Imagine how easy it is to have things done just by dragging elements to where you'd like and dropping them there.
All in all, the intelligent drag and drop interaction makes it easier than ever to build your dream menus!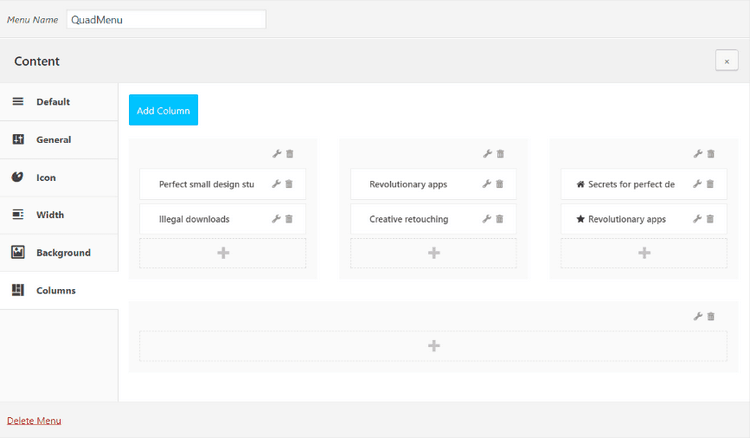 Super Special Dish: Developer Features
As we are in the main course, now this is the most exciting part where I will reveal the special dish of the night: the exclusive Developer Features!
A wide variety of filters are provided, allowing you to modify and style your projects all you want!
Using both Default Options and Developer Options will entitle you to more choices: you can change default values with Default options and set to Developer Options from your panel any time.
The famous LESS (Learner Style Sheets) is used, making changes not only possible but also easy!
Animations options can also be altered from the panel!
Also, you can always include your own distinct menu items into the admin panel and the frontend without any hardship.
Detailed Documentation
I love the way how every little detail about QuadMenu is cared about. One bright example is the documentation. Looking at a WordPress theme/plugin's documentation and you will know how devoted its creators are. For QuadMenu, the team includes in the documentation everything users should know: Update, Installation, Content, Customization, etc.
Besides, the documentation is also very well-written with the information nicely arranged, making it very easy to search, to read and to understand.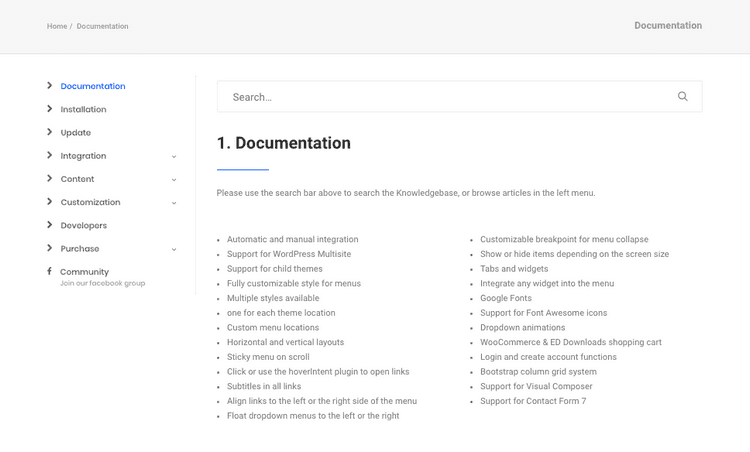 Wrapping Up
Think I was being extra? You can always check the plugin yourself! As a Freemium plugin, QuadMenu has a free version where you can find some of the most fantastic features.
And when you feel the need to explore for more, the pro version will always be ready to offer you some more powerful ones, such as Tabs Menu, Login Menu, Register Menu, Carousel Menu, etc. Costing only $9 for a personal one site license, $30 for five site licenses and $50 for unlimited sites license, I think QuadMenu is a real deal for your WordPress website with these promotional prices!
Oops! Am I being too hype? Sorry if I make you feel like I was cramping information and suggestions into your head. But if you do, just sit back, enjoy QuadMenu's demo and you will see why I was being so excited about it.
Where Should We Send

Your WordPress Deals & Discounts?
Subscribe to Our Newsletter and Get Your First Deal Delivered Instant to Your Email Inbox.
Thank you for subscribing.
Something went wrong.