Podcast- The name says it all.
'Podcast' is a portmanteau word which is a blend of 'iPod' and 'broadcast'. In simple words, podcasts are a series of audio or digital files that can be downloaded by the users to a computer or a media player.
From sharing your everyday experiences for entertainment to using it to garner engagement for your business or blog, podcasts' usage is limitless.
It is a great marketing tool which can be used to increase the audience's interest and engagement towards your online presence. As a result, it can generate a huge amount of traffic for your business.
Needless to say, a lot of people making podcasts, uses WordPress as a strong platform. WordPress comes with a built-in RSS feed system compatible with blogs making podcasts run effortlessly on it.
You can even connect your podcast website to apps like iTunes and reach out to a huge number of subscribers.
In today's post, we have everything you need to know about WordPress Podcasting.
Benefits of Podcasting Using WordPress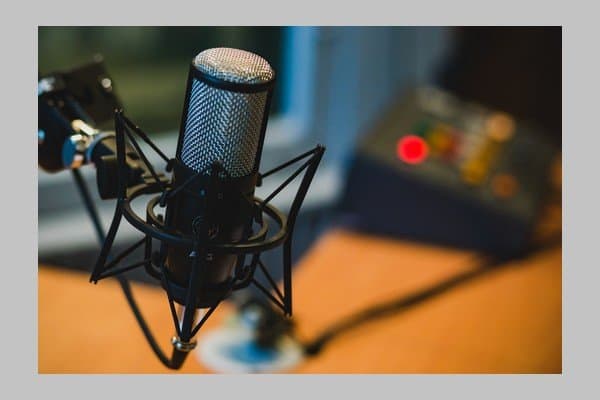 Customer demands are ever changing with technological advancements. In order to meet these changes, tools like podcasts are necessary to stay afloat in the competitive market. When podcasts are combined with WordPress, it can greatly benefit your online business. Here are some benefits of using podcasts.
Opens Doors to Public Speaking
Hosting podcasts on a regular basis can boost your confidence while speaking about your business, products or services in public. A popular podcast also opens doors of opportunities for public speaking where you can promote your business.
Increases Your Website Traffic
Podcasts can help in increasing the reach of your business; it helps in building a wide range of audience-network that will be eventually beneficial for your business in some or other way. Thereby, it leads to an improved traffic generation for your website.
Increased Conversion Rate
Podcasts are used as a marketing strategy nowadays. You can market products through your regular shows. Your subscribers will probably get updates and it's a great opportunity to increase the conversion rates.
How to Podcast in WordPress?
WordPress is a wonderful platform for blogging and website creation. It has gained immense popularity for its ease of use and availability of resources that enhance its functionality and appearance without coding a single word.
Besides, WordPress is SEO friendly and flexible, letting your business develop an impactful online presence. Here's a clear guide on how to make use of podcasts in WordPress.
The first and the foremost thing to be noted is that you need a WordPress website in order to create a podcasting channel. So, if you don't own one yet, install it here.
Setting up a Media Hosting Service
Since your podcasts are huge media files, you will need a good media hosting service, so that you do not have to compromise on your site speed and performance. Blurry is the best option you can opt for.
Tools Required
Podcasting is never a success without good quality microphones. The audio quality relies solely on the microphone you use, so stay cautious while choosing the microphone for your podcasting career.
Microphones for Podcasting
For entry-level, Rode Procraster which is an XLR microphone is the best option. If you have a prior experience in podcasting, Heil PR-40 is a professional microphone which can be your ideal choice.
Additional Tools
You'll also require other types of equipment like a pair of a reliable headphone set as well as a microphone arm. If you are using PCs for podcasting, Pamela comes to rescue for recording audio and video using Skype and it's free of cost.
If you use Mac, it'll cost you some money and a video recorder for Skype is a great option.
Recording Your First Podcast
For recording your first Podcast you will need an audio recording software to easily record and edit your files. After installing it open the software. Go to File menu and start a new project. Click on the Record button and start recording.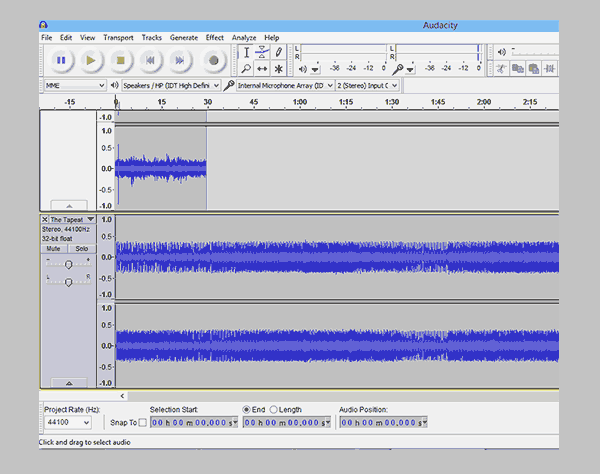 When done go ahead and edit it to remove all pauses, mistakes or anything unwanted. You can add a background music by going to File>Import.
Once the recording is complete, name them as serial episodes or individual ones according to your needs and save them on your computer. Now export them in MP3 format to create superior quality smaller sized files.
Publishing Your Podcast with WordPress
To publish it on your WP site, log in to your admin area and install the free Blubrry PowerPress Podcasting plugin. Now on your WP admin area go to PowerPress and click on the Configure Blubrry statistics and hosting services button.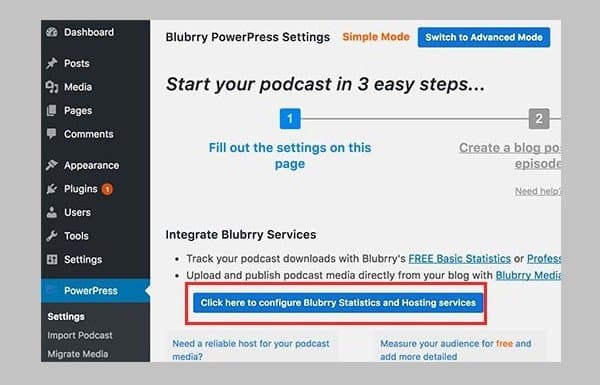 The following window will appear. Enter the details of your Blubrry hosting account and save it.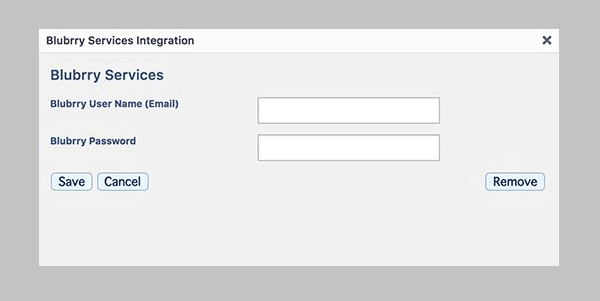 Also, fill out and save the rest of the information on the setting page as follows. These will be used in your podcast's RSS feed, and iTunes will use them to place your podcast in their directory.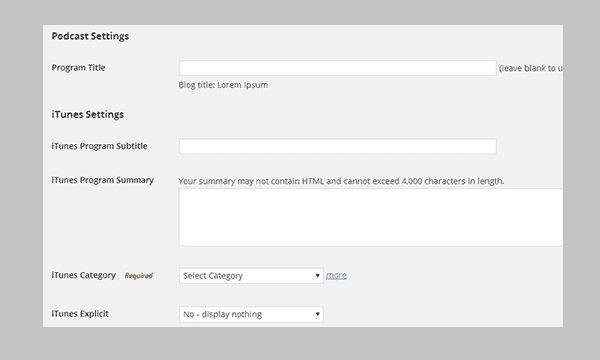 Save changes. Your site is now ready to publish your podcasts.
Uploading Media Files to Your Podcast Hosting
Before publishing your podcasts, you will have to you first need to upload the podcast file to your media hosting service. So login to your Blubrry hosting account and click on Podcaster dashboard.
Now under the Podcast Hosting option click on Upload New Media Files.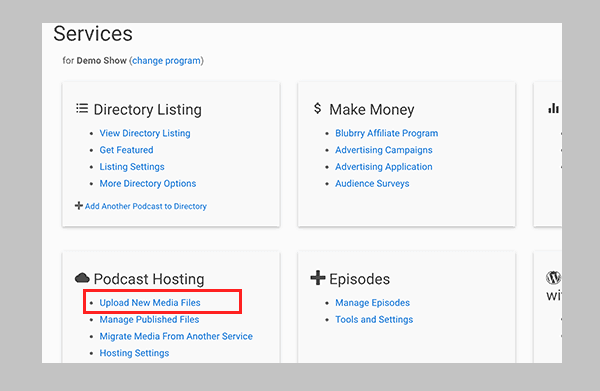 A new page will appear with the Upload New Media option. Click on it and start uploading.
Adding Your First Podcast in WordPress
To add your first Podcast, go to your WP dashboard and click on Posts » Add New page. Give your Podcast a great Title and description to attract viewers. Also, create a separate category for your Podcast files.
Now scroll down the page and click on the 'Podcast Episode' box.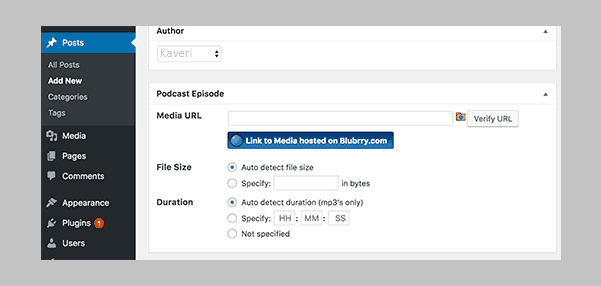 Now click on the folder icon next to the Media URL field and upload the file that you uploaded in your Blubrry media. If you do not use Blubrry hosting, just paste your URL into the box.
That's it! You are all set to see it go live. Just hit the publish button to your right and enjoy the show.
Conclusion
WordPress is a popular word among all the podcasters across the world. From marketing professionals to music lovers, it has become easier for everyone to publish podcasts on WordPress. The reliable platform provides many applications to meet your goals with podcasts.
Whether you want to inspire the world, share knowledge, or entertain your audience, make your presence felt using podcasts and let WordPress assist you in doing that in the most exquisite way.
Latest posts by Kaveri Bharali
(see all)
Where Should We Send

Your WordPress Deals & Discounts?
Subscribe to Our Newsletter and Get Your First Deal Delivered Instant to Your Email Inbox.
Thank you for subscribing.
Something went wrong.