Ever since the end of 2018, when Gutenberg showed up, it was, in its essence, the long-awaited, attractive new option to try out for the WordPress users. The fact that it is a drag-and-drop builder, which enables so many people to create their websites sounded great. The opportunity to create a site by adding the blocks they need and modifying them to the way they like it was a cause for celebration.
It was created to be easy to use and very intuitive. Overall, an editor that provides you with an ultimate solution for your WordPress needs. However, when WordPress Gutenberg saw the light of the day, it immediately caused a massive debate within the WordPress community. "To use Gutenberg or not to" is still happening to this day. There is yet to be a uniform opinion of whether it is a welcome change or unnecessary torture.
New Blocks on the block
However, probably the best opportunity that presented itself because of this, was for the developers to create and add new blocks. In the form of plugins, people can use these blocks to build their site and manage their content. In no time, the WordPress directory was graced with numerous Gutenberg block plugins, providing unlimited options for its users.
However, just like kids in a candy store, you might be struggling now with choosing the right ones. In this article, we will present our pick to help you select the best blocks for your site.
1. Getwid
Getwid is the biggest set of 34+ free Gutenberg blocks. This plugin aims at extending the core functionality of the new WordPress default editor. Simple to understand and implement into a website, these blocks are constantly gaining more and more popularity.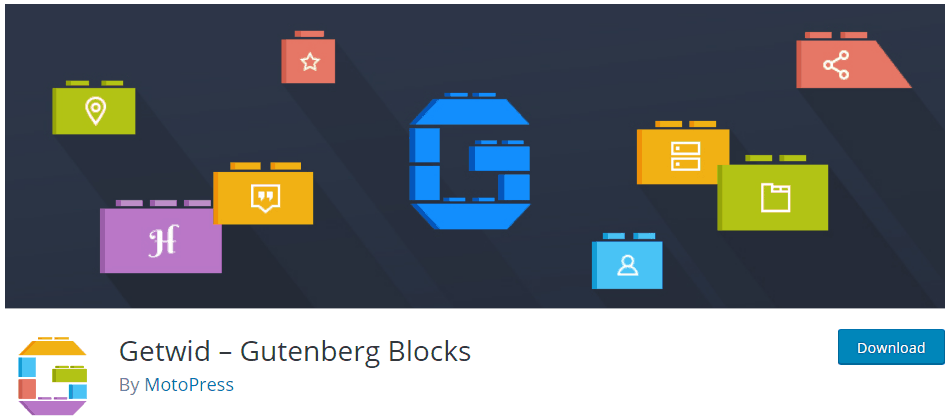 Getwid contains 34+ advanced blocks, i.e. you don't have to install other plugins, Getwid is more than enough and your website loading stays fast. The functionality, given within each block, creates unlimited styling opportunities, with which the website customization becomes a breeze and a very absorbing process. 
Worth mentioning unique Section, Banner and Slider blocks, which are very powerful and comprise a decent bunch of functions for creating eye-catchy banners, CTAs, vivid sliders, full-width website sections with fancy background media file of any type (there are detailed free YouTube video tutorials on each block).
2. Ultimate Addons for Gutenberg
If you were to judge a plugin by its numbers, then Ultimate Addons for Gutenberg will likely come first. It is no wonder, as apart from additional blocks, they pride themselves in how effortless the website building process is with their plugin, entirely for free.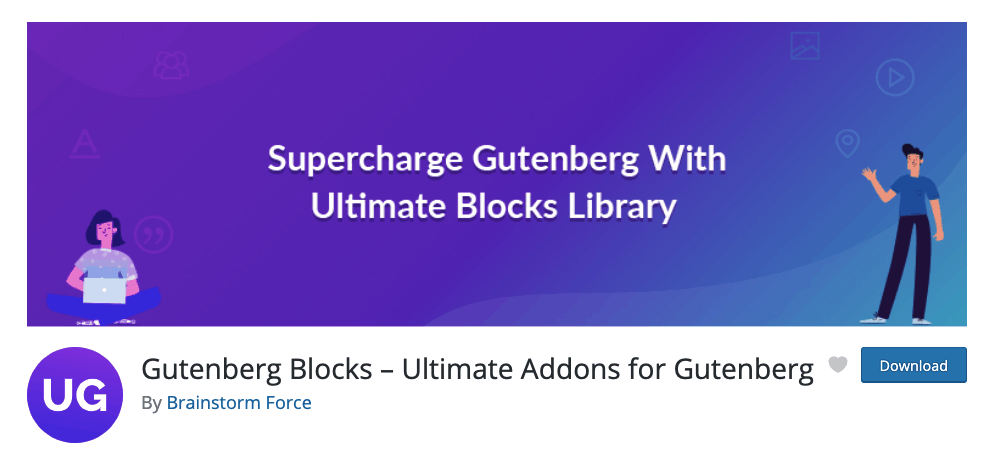 Combining Gutenberg, Ultimate Addons, and Astra themes, they also have over 20 pre-made demo websites. Their users can twist and tweak these to create perfect websites in no time. They are covering a variety of niches, so it is unlikely that someone will be left disappointed.
On the other hand, this plugin brings a bunch of additional blocks to the Gutenberg editor, 17 to be more precise. From Sections, Advanced Headings, Google Map, Teams, this plugin will allow you to add all the necessary components to your website. It also provides Social Share, Testimonials, Call to Action and Icon or Price lists among other blocks, to help you create a beautiful and functional website in no time.
3. Ultimate Blocks
Ultimate Blocks might be the over-the-top name, but it has great potential to live up to it. These blocks came with a specific audience in mind: bloggers and content marketers. It sure does contain the needed blocks to make their content a success.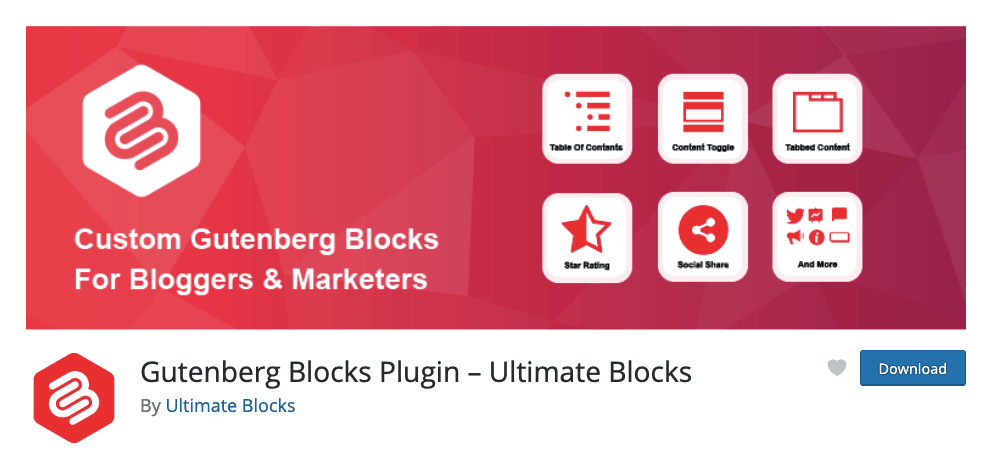 Overall, this plugin offers 18 blocks, all of which carefully selected for the optimal reading experience for their visitors. From Table of Contents, Content Filter and Toggle, Social Sharing and CTAs, the Ultimate Blocks contains all the needed blocks authors will use.
Most importantly, it contains blocks that will add the necessary features to the content. Testimonial blocks, Click to Tweet, Countdown and Progress bar, among other things, this set of blocks has all the needed blocks to ensure the instant success of your content. 
4. Otter Blocks
Otter Blocks is another set of free Gutenberg blocks that you can use to create the desired website effortlessly. Together with the blocks, with this plugin, you get a quite handy library of pre-made templates. You can use them to build your blog, eCommerce, or business website in no time. All you have to do is import them with one click, and customize them to your liking.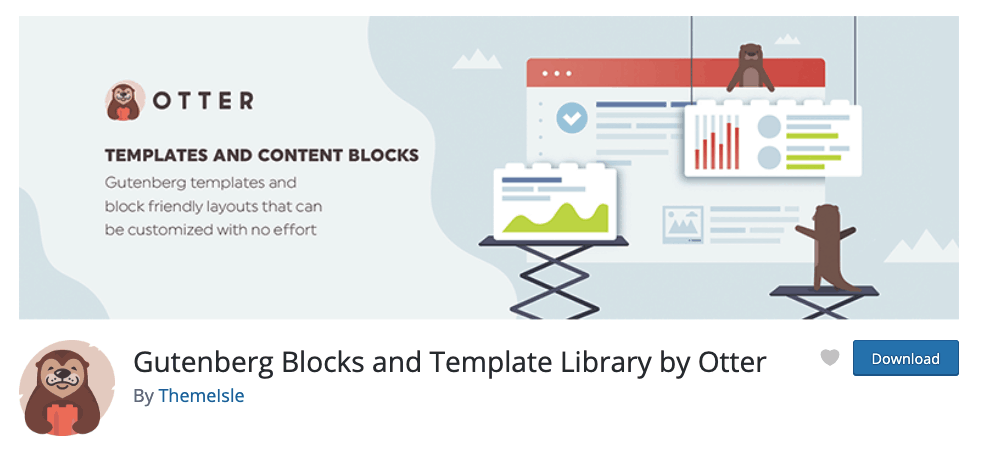 The plugin has 12 blocks that you can use while building your site – if you decide not to use the available templates, that is. From the Section block, which is always the most important one in this kind of sets, you can also rely on other various elements to add to your site.
Take advantage of Advanced Heading Block, and effortlessly add Pricing, Testimonial or Sharing Icons blocks. You can also add Google's maps through one of its blocks, or make sure that the About Author is prominent on your site, for example. Overall, all the blocks together serve as an excellent WordPress website.
5. Atomic Blocks
Another trusted set of blocks is Atomic Blocks, and for a good reason. Atomic Blocks provide overall 22 new blocks to help you create the best performing website you could imagine.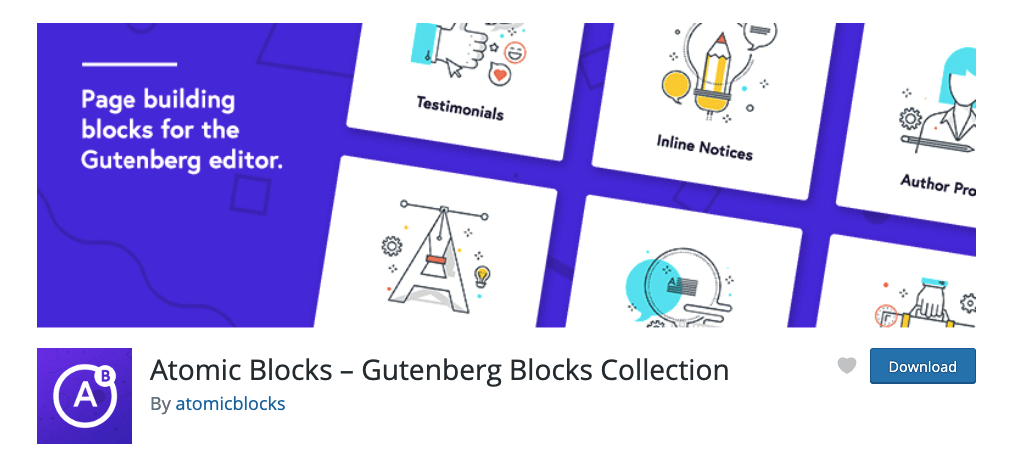 Apart from providing you with the tools you need, this set provides you with the knowledge, too. The team behind it prides itself in the articles they publish within the plugin's help file, to support Gutenberg beginners on their quest for the perfect website. You can pair this plugin with free Atomic theme for ultimate results.
As for the Atomic Blocks, you can rely on it to have any block you might need on your site. From the Post Grid and Accordion to Space and Dividers, these blocks also include Customizable buttons, compelling Call-to-Action, Testimonials, and Share Icons. Overall, that is an excellent site you could get for free.
6. Stackable Gutenberg Blocks
Stackable promises to add the Swag to Gutenberg, which is what every website could use more of sometimes. Coming as both free and paid plugins, the potential of what you can create with it is almost unlimited. While the free version will give you the site you need, the paid version comes with additional layouts and effects to help you razzle-dazzle your visitors.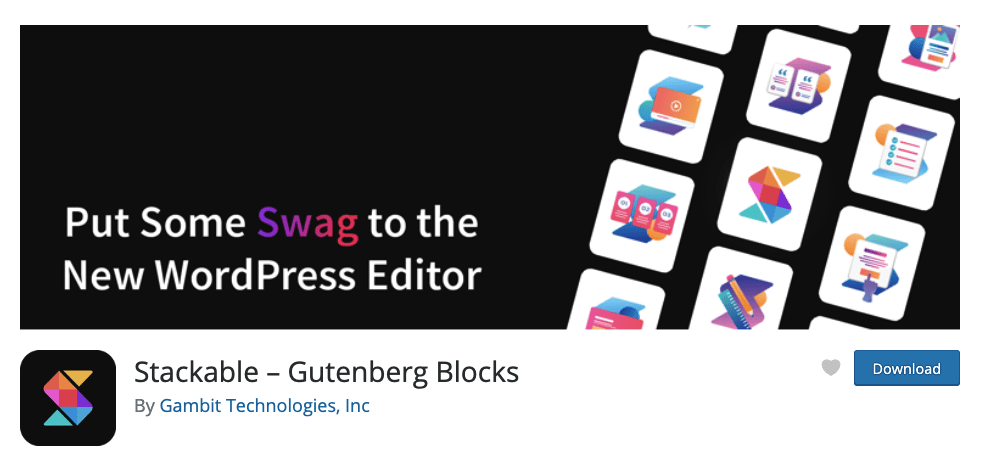 Apart from free blocks, with the free Stackable version, you also get just enough additional options to make your website pop. From the variety of background customization options to interesting hover effects, it will provide your website with the little something it needs. It is also fully responsive, so there is no need to worry about that, either.
As for the blocks, the Stackable plugin comes with 20 blocks for your website creating needs. They are equally divided to provide you with both the functionalities such as Video Popups, for example. On the other hand, you get the opportunity to create an excellent layout with Feature Grid and Dividers. You are unlikely to miss a block with this plugin.
7. Advanced Gutenberg
Probably the one with the highest number of unique blocks in the list, Advanced Gutenberg is a free plugin with tools you need for your new website. Apart from tools, with this plugin, you get more control over your users, too. Not everyone deserves to use the blocks on your site!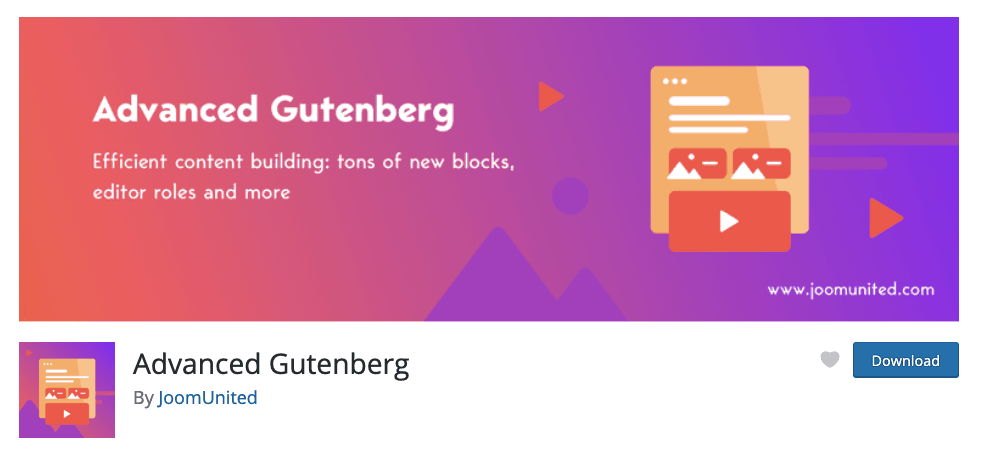 Advanced Gutenberg allows you to have more control over your block editing process. You get the ability to handle columns with pre-created templates to save you time. On the other hand, there is the opportunity to create custom CSS styles for your blocks. Overall, Advanced Gutenberg will have you feel and be in control of this new editor.
It contains 23 blocks, a lot of them being uncommon with other plugins on the list, from Latest Post or WooCommerce Product Slider to Advanced Tables and Lists. You can use its blocks to create beautiful Contact Forms, add advanced Images and Videos, and even add Image Information in a Lightbox. Not bad for a free plugin.
8. CoBlocks
Just like many other block plugins on this list, CoBlocks promise unique blocks and different customization features. However, unlike other plugins, it also offers the layout functionality of other page builders for more comfortable and more familiar experience while building your site with Gutenberg.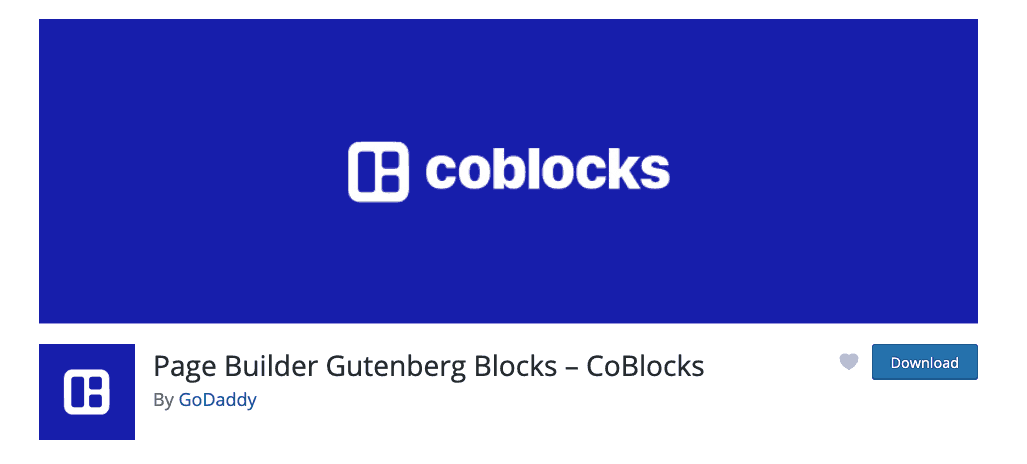 It also promises something that people are missing when starting a website from scratch – additional controls. With this plugin, you get the needed customization options, so that you can, for example, edit your typography as well.
What CoBlocks plugin provides for functionality, it lacks a bit with the number of blocks available. With only 11 content blocks and more in the making, this plugin can offer you some rather useful and unique ones. Apart from Accordion, Pricing and Social Share blocks, it also provides Resizable Rows and Columns block, Gif block, and Github Gist, among others.
9. Google Maps Gutenberg Block
From 11 blocks to a single one, this one can be the most useful block to have on your website. Namely, if you own a store and are looking to direct your visitors to it, this one is a must. Google Maps Gutenberg plugin can help you do that in no time – add a map on your site to help your visitors find you.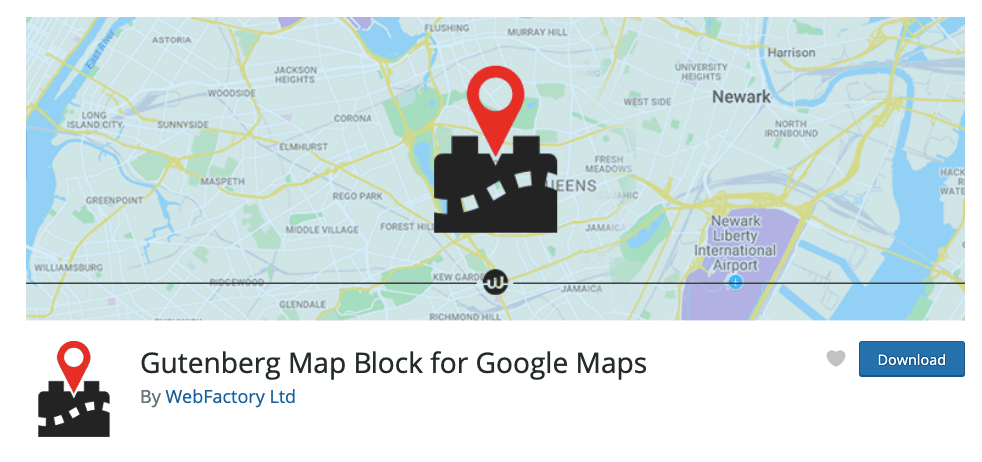 While many of other plugins had this block in their arsenal, Google Maps Gutenberg Block is designed to save you time and money. No unnecessary twists and tweaks, or additional struggling with API keys – add it to the block only once.
There is not much more to say. Add a map on your site in seconds, with no additional nonsense. A single block with a huge potential to drive new customers to your store!
10. Ghost Kit – Gutenberg Blocks and Templates Collection
Those that used page builders in the past will probably find Ghost Kit blocks rather useful. This plugin comes with handy functionalities that will turn your Gutenberg Editor into a pro page builder. You get numerous options you would typically have with another builder. You could also take advantage of a couple of functionalities you can get with the pro version, too.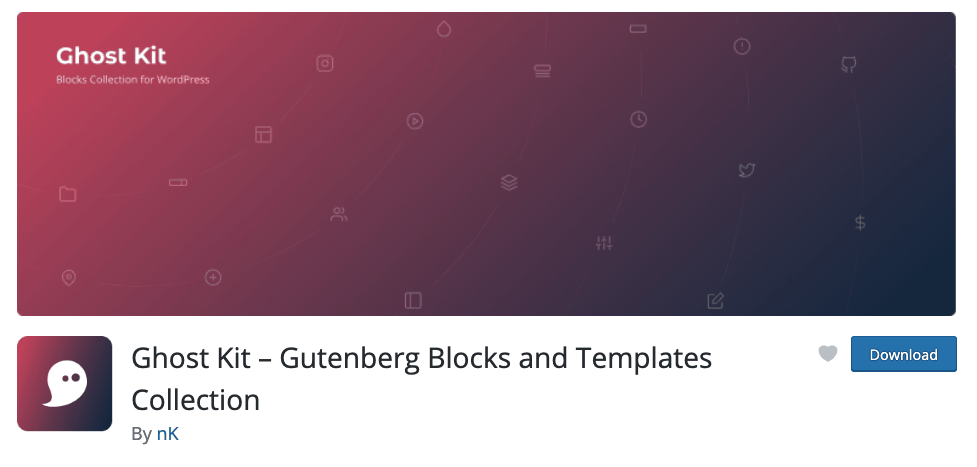 With Ghost Kit, you get to start with a responsive grid, so that, from the start, you can create your website for various screen sizes. Smartphones are becoming the most popular way of browsing the web, so a responsive site is a must.
Apart from these useful features, this kit comes with all the blocks you would need for an excellent site. From Social Media feeds, to testimonials and buttons, you can effortlessly create a useful website. Considering that this plugin has 19 blocks and counting, with many extensions and functionalities available, it could quickly become the kit for using Gutenberg editor.
11. Qubely Gutenberg Blocks
What Gutenberg lacks by default, Qubely can complement with its blocks and layouts. It is another useful plugin on the list with quite many unique blocks at your disposal. Even though it is the last one on our list for no reason, it could be the first one you would download.
With the best bits of everything above, you can utilize this plugin to get advanced row-column options together with some advanced typography options. It provides you with an opportunity to edit your blocks while staying on the blocks visually. Responsiveness is also not an issue, as you can set the specifics for various screens, and also chose which blocks to show on specific devices.
The overall 25 blocks are giving you quite many options for your website. From Video Popup to Buttons and Button Groups, it is unlikely that you won't be able to create the perfect website you need. Add a Google Map, or have your visitors Share, add the Team or the important Timeline. Overall, in this plugin, you get a lot of blocks, and several other customizing features!
Back to you
When summing it up, almost all of these block collections can help you create astonishing websites in no time. They all cover the most important sections to have on your site, so the main difference here stems from the number of blocks and customization options they provide.
However, the truth is, there is no winner here. The winner is the set of blocks that fits your vision you have for your website the best. With most of the blocks on the list being free, there is no harm in giving them all a go and resetting your site until you find the right one for you!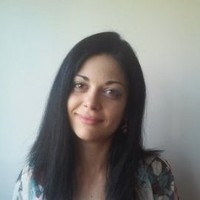 Latest posts by Vladana Donevski
(see all)
Where Should We Send

Your WordPress Deals & Discounts?
Subscribe to Our Newsletter and Get Your First Deal Delivered Instant to Your Email Inbox.
Thank you for subscribing.
Something went wrong.