Just like the WordPress desktop interface, the experts over at WP made sure that the mobile version of the most popular content platform in the world has an app to match its reputation.
However, even though we use mobile phones way more than PCs nowadays (according to research), the majority of WordPress users still create content and post from their desktop computers. This can be considered a bit weird, given that WordPress has an official smartphone app.
One of the possible reasons is that users are simply not used to it by now. Old habits die hard, and this applies especially to cases of long-year digital patterns. Remember when Windows XP started getting replaced with newer versions? We were all clinging to the good, old' XP with all our might.
It seems like the same thing is happening with the WordPress desktop and mobile version. Even though mobile WordPress is perfectly responsive and very user-friendly, most users claim that they simply prefer a 'better view' of the dashboard and the text editor. This may be the case for graphics-rich websites that need a birds-eye view on every piece of content they craft, but many pure-text bloggers still prefer a big screen.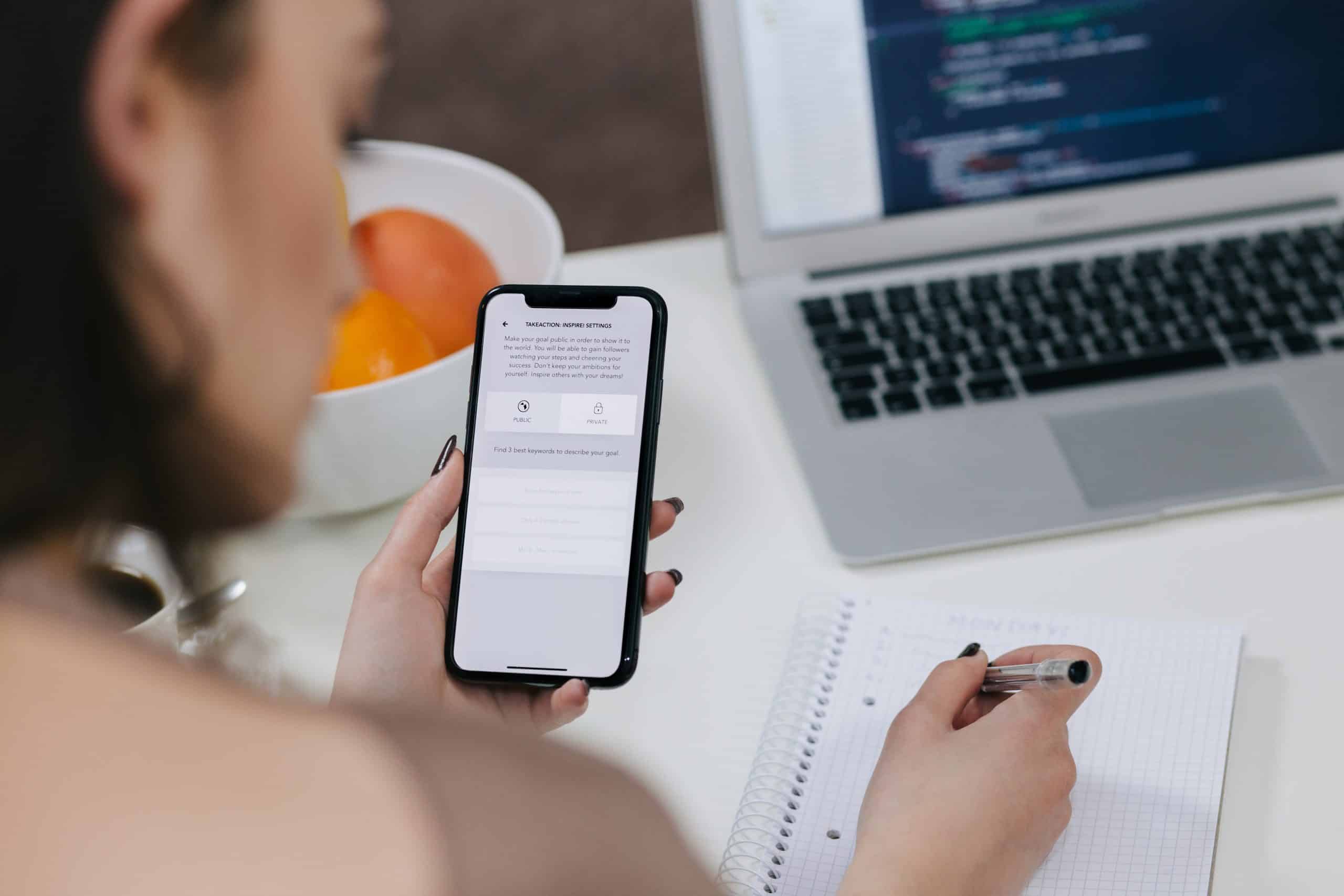 Just like the rest of mobile apps, using WordPress on mobile has a bunch of benefits. We will touch upon them in a minute, but first, let's see what WordPress has in store for smartphones.
WordPress for Android (WP on Google Play Store)
The ever-popular WordPress is definitely extending its reputation to Android users, too. The WordPress app on the Google Play store currently has over 10 million active installations!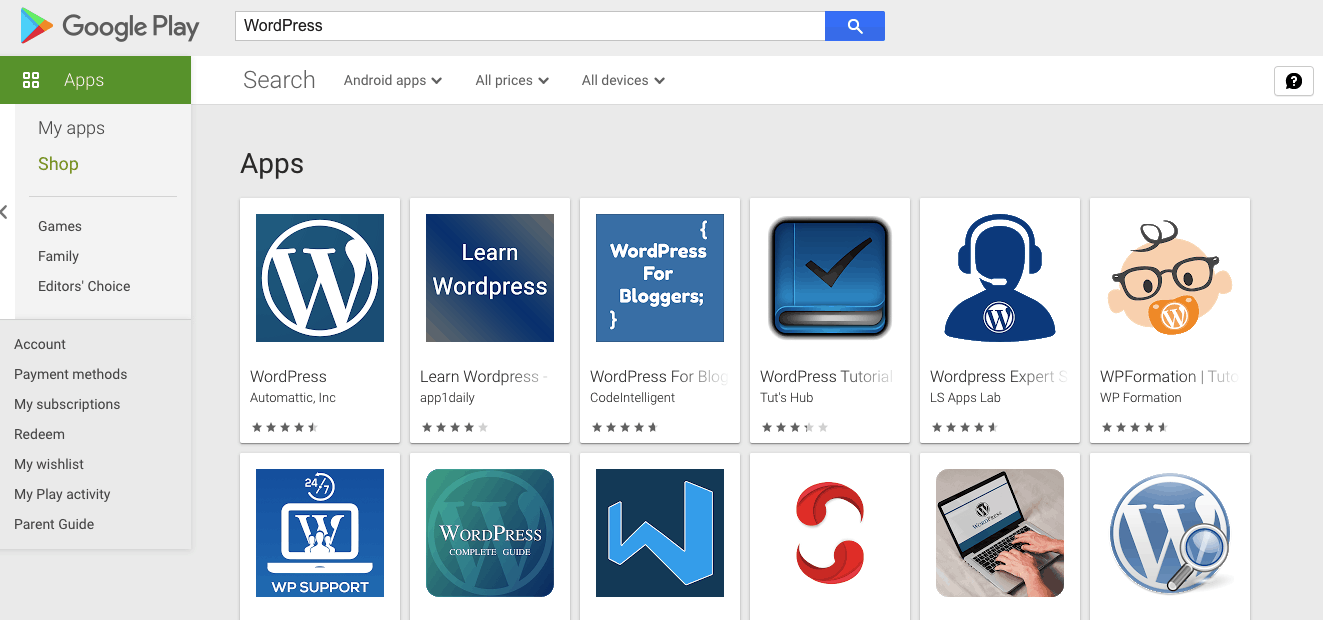 It's also well-rated: WordPress for Android has an average rating of 4.2, counting in more than 125,000 user reviews. There is a small portion of users who have rated it 1-star, but we can probably account for these ratings for the desktop WordPress fandom.
The app developers and team are also very active in the reviews section. If you mention a bug or a problem within the WordPress Android app, they will quickly jump in to get to the bottom of it.
In a nutshell, just like its desktop parent, the WordPress app for Android is the number one content management app in the Google Play Store.
WordPress for iOS (WP on the App Store)
Located in the 'Productivity' category, iOS WordPress is significantly less downloaded than on Android devices. It has a 4.6 rating but based only on 33 reviews.

Just like the Android version, WordPress for iOS devices is completely free and lets you post content from the palm of your hand.
It also has a nifty real-time notification section that resembles a social media network. By tracking these comments, mentions, and likes as they happen, you can have a better picture of what your visitors are doing live.
Benefits of using WordPress on Your Smartphone
If you have been using WordPress on your desktop computer for years, you're probably skeptical about the smartphone experience. We're here to change your mind! Here are all the benefits of using WordPress on your smartphone (Android or iOS) that will make you a die-hard WP app fan:
Posting content anywhere, anytime. This is the most obvious perk of using WordPress on your smartphone, and it completely changes the entire posting game. With WordPress mobile apps, you can share tasty recipes right as you cook them while waiting for the meat to cook. When you're watching a crazy series finale, you can compose a post as you're watching it on your couch. There's absolutely no limit as to where and when you can use it – you only need an Internet connection.
Push notifications. This will really get your community engagement level game to the next level. With the ability to receive push notifications whenever someone likes or comments on your posts, you will be able to respond to your audience quickly.
Simplified interface. Some experienced WP users dislike this, but for most users, this is a huge perk. If you have been using WordPress for years, you are probably accustomed to where everything is and how it works. However, new users of WordPress can sometimes get very confused with all the features and options included in WP's desktop dashboard. The mobile app, however, features a much simpler interface highlighting the most important commands and options.
Get an instant mobile view. Like it or not, the majority of your visitors will probably be smartphone users (according to research, desktop traffic fell under 50% in 2018). When you craft content on your desktop computer, it can be hard to visualize how it will look online, so you have to switch to a mobile view manually. When you're producing content on mobile to start with, you will get a much better feeling of what will work on mobile the best.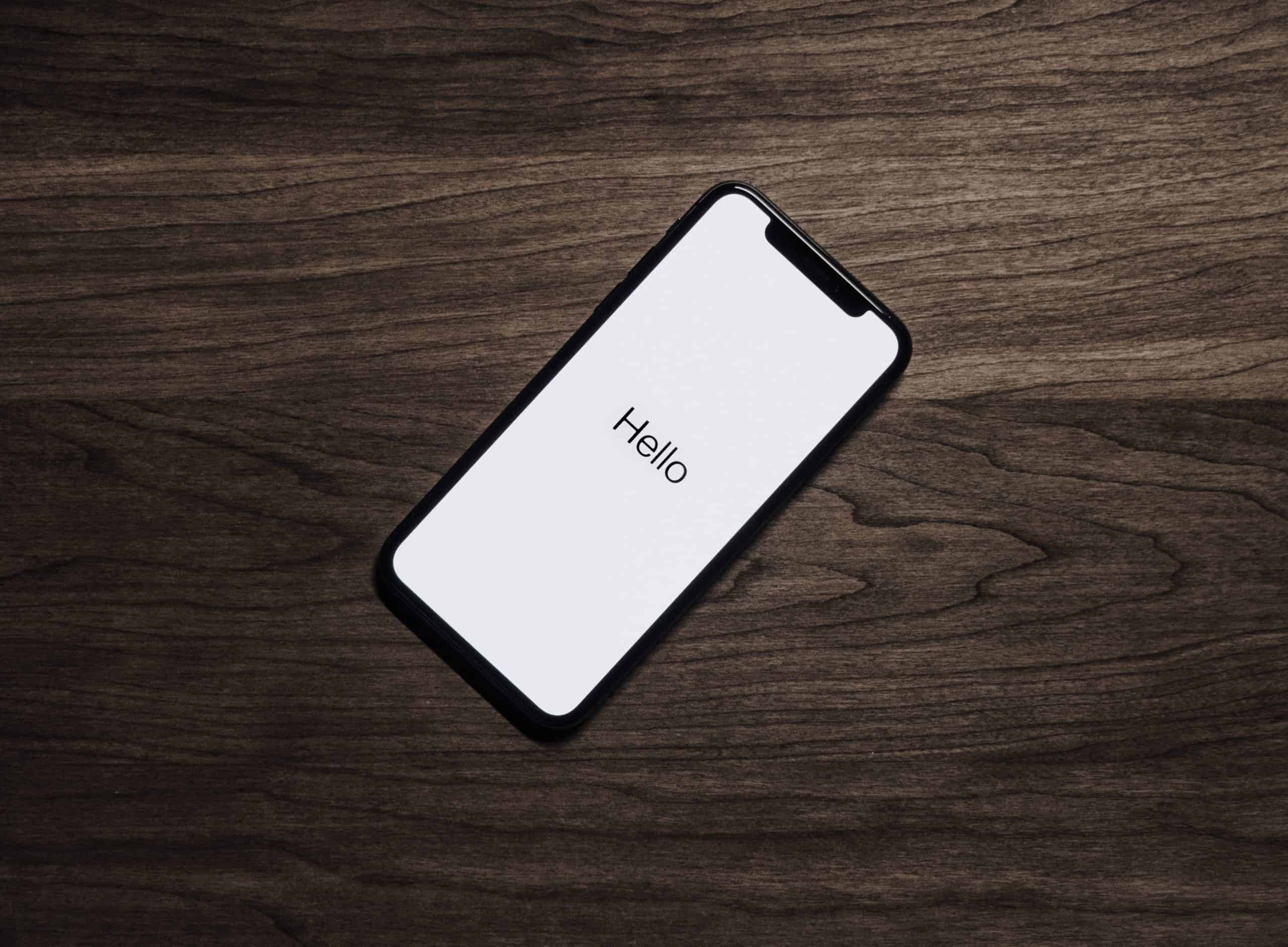 All features of WordPress included. Users usually worry that the mobile version of WordPress is bound to have a cut in features or settings options compared to the desktop version of WP. This is an absolute myth – anything you can do on a desktop can be done on the mobile app in the same way.
Real-time stats. When you have real-time statistics in your mobile WP dashboard, it can be quite fun to analyze your visitor base as you commute to work or wait for an appointment. Just like in the desktop version, the WordPress stats are highly detailed and will show you where, when, and how visitors reach your website.
WordPress Reader access. Now that we've mentioned commute and boring waiting time, another benefit of the mobile version of WordPress is the Reader feature, which lets you keep up with your favorite sites on the go. We all know that there's nothing sweeter than scrolling through your feed on mobile!
How to Use the WordPress Mobile App
OK, you're convinced. Using WordPress on your smartphone is the bomb. Now, where can you find commands and sections you commonly use?
To start with, you will have to log in to your WP account or create a new one. The WordPress app for Android also allows you to add a self-hosted site and continue to enter the WordPress mobile dashboard.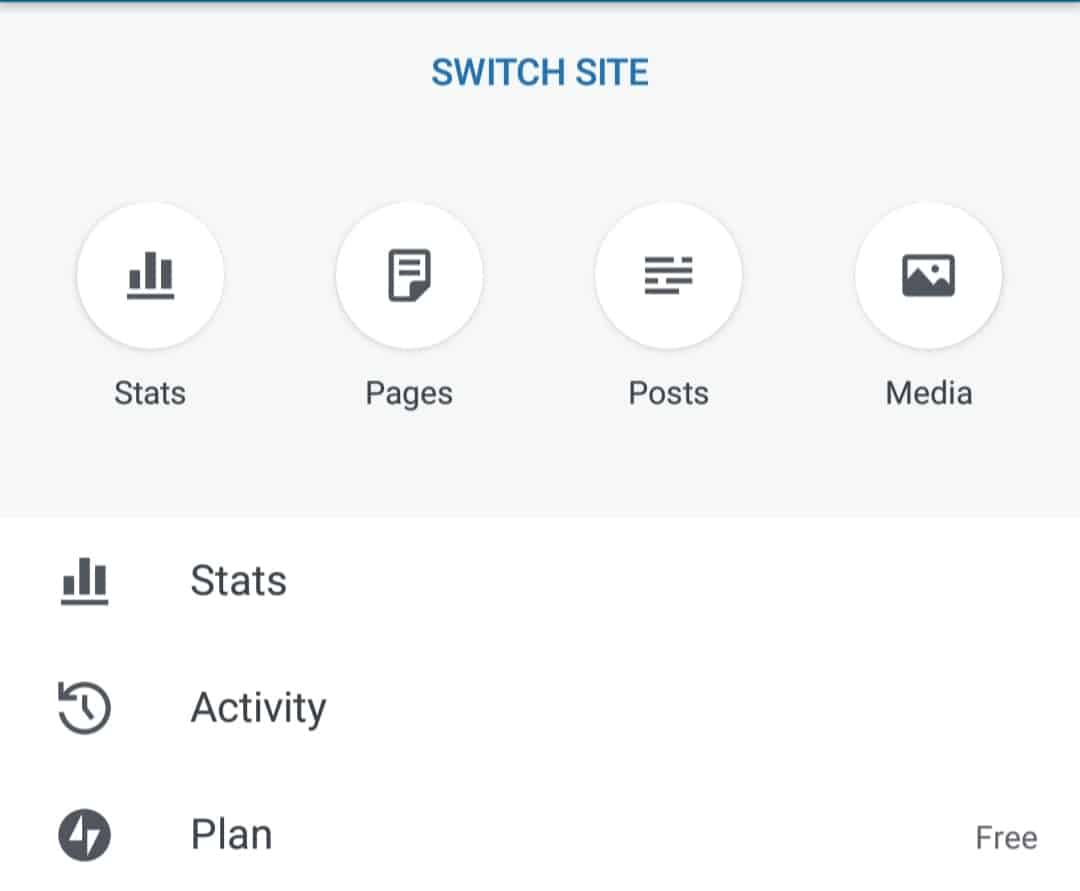 You will be automatically directed to your default WordPress website dashboard. If you want to switch the website, you're editing, simply click on 'Switch Site' below the tag of the current website. There, you will find a list of all sites connected to your WP account.
On top of the app, you will find four sections: WP Editor, Theme, Profile, and Notifications.
Just like in the desktop app, you will publish your posts, media, and other content from the WP Admin area dashboard.
The main page of the WordPress app for smartphone contains the following sections:
Stats – Just like we've mentioned before, Stats and Analytics in the WordPress smartphone app are a nifty way to keep track of your visitors in real-time. When you enter the Stats section, you will be directed to a page with insightful graphs and information about your visitors.
Blog posts – You should click on Blog Posts under the 'Publish' section when you're ready to compile a new blog post. This will direct you to WordPress' text editor, where you will have all the features available as you would in the desktop version, with a mobile-friendly look. More on publishing a post in the next section.
Media – This is where you add your media gallery, just as you would in the desktop version. You can add anything from photos to GIFs and videos.
Pages – The WordPress mobile app allows you to add new pages to your website, too. If you want to create a page, that's not simply a blog post, but a separate entity with its own settings, choose to create a Page instead of a Blog Post.
Comments – Here is where you will find all the comments made on your posts, both approved, pending, denied, and an archive of your previous comments. When you enter the Comments section, you can easily accept or deny comments that are in review.
Settings – The Settings option under 'Configuration' allows you to make important changes to your site. Here, you will find all the info related to your website and WP account.
External Links – here, you have the option to open your website in a new mobile browser tab or launch the Admin area within your smartphone browser
How to Publish a Post on the WordPress Mobile App
We have decided to focus on this WP mobile app feature because it is what most users need and use the most in their WordPress dashboard. Of course, when you're setting up the website for the first time, it may be easier to go with the desktop app simply. On the other hand, publishing is much quicker and more practical on mobile. Here's how you do it:
Log in to your WordPress account or create a new one (you can do this within the mobile app, too.)
On the main dashboard, click on 'Blog Posts' under Publish.
Here, you will find the text editor where you can put in your content. Just like in the desktop version, you have the ability to customize text, add media, and view the text in HTML form.
After you're done crafting the content, scroll down to edit the post information.
Create an excerpt. This is a portion of text that will be shown as a preview on your website, so make sure it's catchy and interesting.
Add tags (separate tags with commas). Tags are important for navigation and SEO. If you have a widget that presents tags to your visitors, it's important that the tags you use are precise and relevant. Tagging a keyword to content that's not relevant can most definitely harm your SEO.
Choose a category. Categories are classes that you have previously created to separate and organize your content. If you don't have one that suits the content perfectly, you can create a new one right within the editor.
Determine status. Choose what you want to do with the post: Publish, Draft, put in Review, or Schedule. That's it!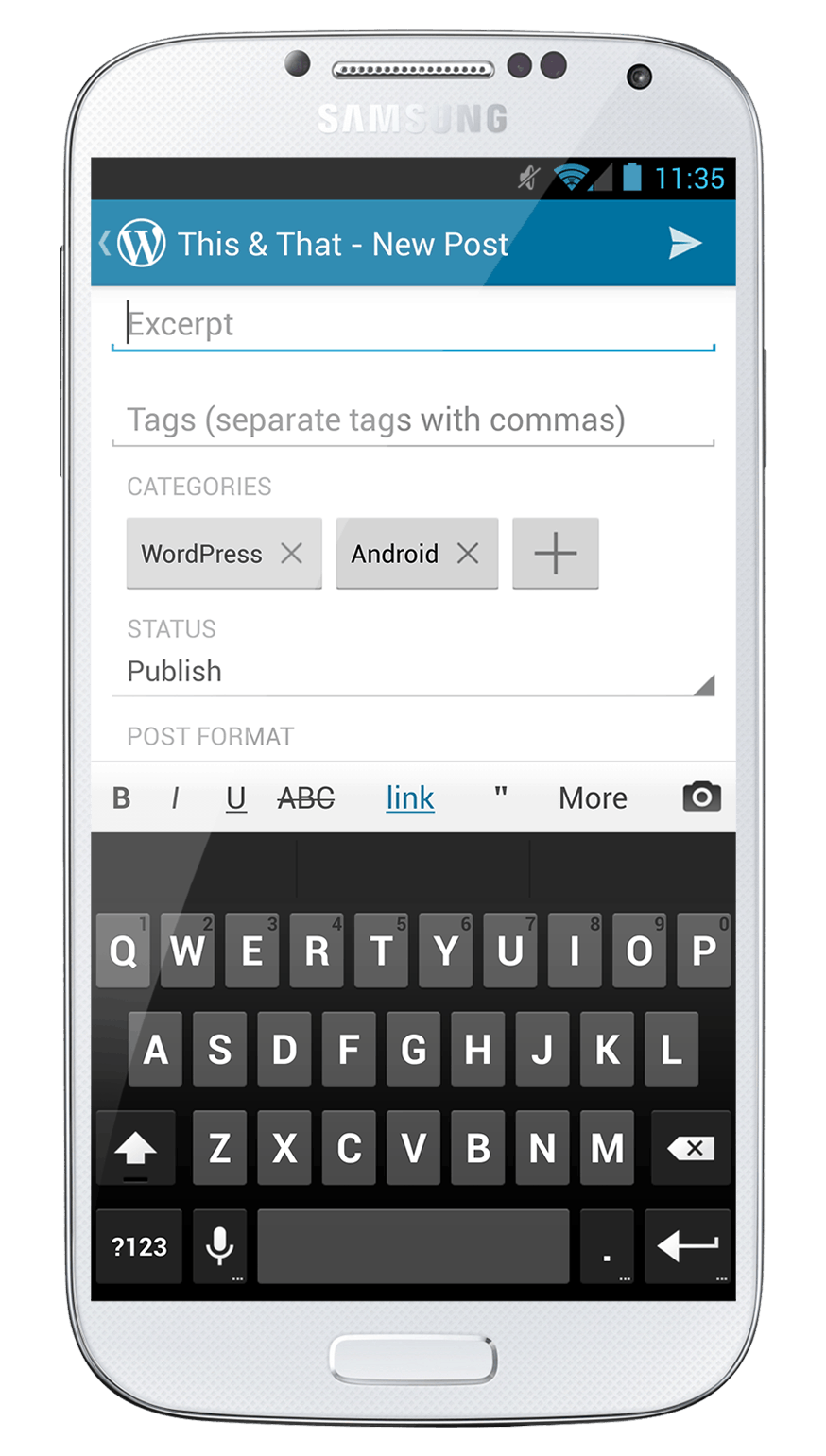 Conclusion: Should you use WordPress on your smartphone device?
The ultimate conclusion after comparing all the benefits and differences to the desktop version is that it's definitely worth it to install a WordPress mobile app.
Installing a WP app for your smartphone doesn't automatically mean that you're giving up your desktop app. Instead, the best solution is to combine these two channels in order to improve and optimize the running of your website.
If you decide to download the WordPress Android or iOS app, they are not too bulky, and it only takes a couple of seconds to set everything up. At the end of the day, if you're not happy with what this app has to offer, you can always delete it.
Chances are, you will grow to adore your new WordPress app, especially when it comes to its posting abilities. This is especially beneficial, for example, for news portals and websites and all content platforms that are time-sensitive. By the time you've reached your laptop and entered the WP Admin area, someone else had already covered that breaking news. (Note: this is only an example of a possible practical application of the WordPress mobile app. In reality, the opportunities for optimizing your website by using a mobile app are endless).
Latest posts by Ana Buljan
(see all)
Where Should We Send

Your WordPress Deals & Discounts?
Subscribe to Our Newsletter and Get Your First Deal Delivered Instant to Your Email Inbox.
Thank you for subscribing.
Something went wrong.