Facebook is probably the social media with the highest number of users, and since you psychically can't be online 24/7 for your customers, you need some help, right? We all know that time is precious, especially in the marketing world – every minute matters.
Luckily in this day of age, we have some pretty awesome tools that can help you manage your social media accounts while you are away from your PC, and the best tool for that is a chatbot. They are an artificial intelligence program that can lead a conversation with a user through a messaging app, in our case Facebook Messenger. They are also helping businesses be a social media rock star. But besides using chatbots, the growth service provider Famoid recommends buying followers organically.
In this article, we complied a list of the top 5 Facebook Messenger chatbots so that you don't need to experiment around trying to find one. So let's started, shall we?
1. SilFer Bots

Let's kick thing off with the best tool you can find out there, SilFer Bots. You won't ever leave your customers without an answer for a long time when you have this handsome devil. Leaving a customer for a longer period of time without feedback is bad for business. And you want to increase revenue, just like every business owner should.
You can train your bot with frequently asked questions, or with keywords – so that the customer can feel like they are appreciated and chatting with a nice lady at the office. It works in a way that you set up frequently asked questions, and then just type in the right answers – it is that simple!
What is even better is the fact that this bot gets smarter and smarter each time you add a new question. It gains the ability to recognize the best possible answer to a question that is being asked if it is not in the system.
It provides the customer with an experience similar to having a personal assistant in a store, and in the end, it gives you a pretty simple checkout.
The messages your bot provides don't have to be just plain and boring, you can always spice it up with GIFs, images, videos, etc. And we all know that the gen z and millenials love a good GIF response. Oh and also, this tool can be connected to stores like Shopify or WooCommerce.
But this is all just scratching the surface of what this game-changing tool provides. So visit their site, and see it for yourself.
2. ManyChat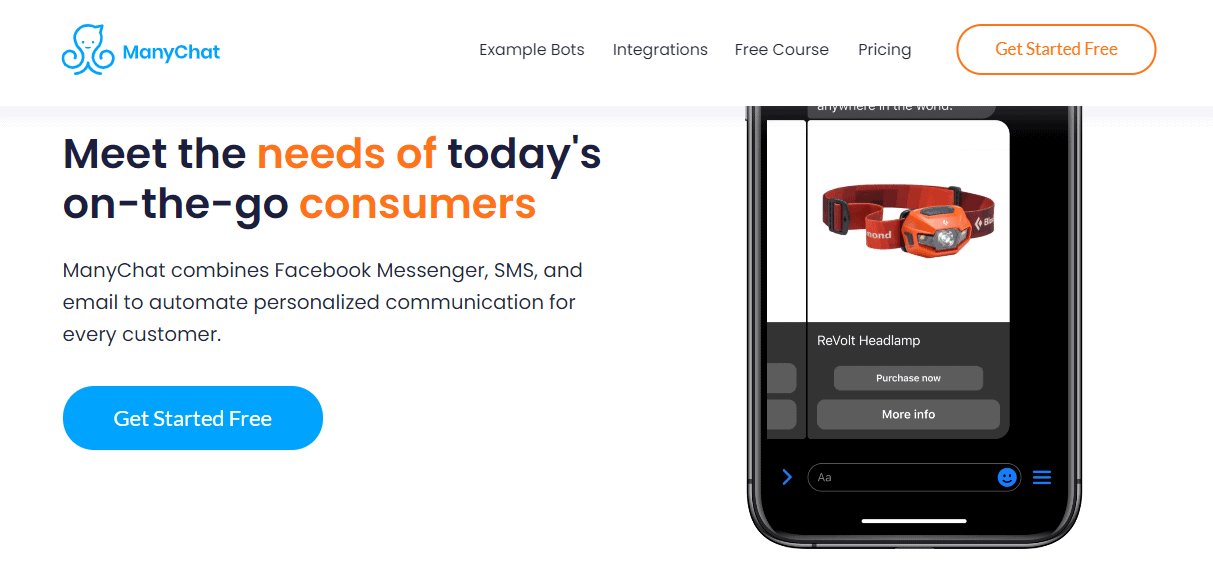 We continue this list with the second-best chatbot – ManyChat. This little helper is very popular amongst influencers, and the reason for that is the fact that ManyChat has a very simple and easy interface to master.
You can easily create automatic text messages that you want your bot to send. But the bot doesn't have to chat on its own – you can also join in the live conversations and give your customers an amazing experience.
With this tool, you can convert any customer who clicks on your ad into a bot subscriber, and the same goes with the people that comment on your posts. It is a pretty good strategy to reach out to people that have commented on a post and maybe don't follow your page.
With a bit of interaction and a great bot game, people will easily become a fan of your page. And just in a few minutes of having this tool, you can set up your first bot, and slowly start adjusting it to your business..
3. MobileMonkey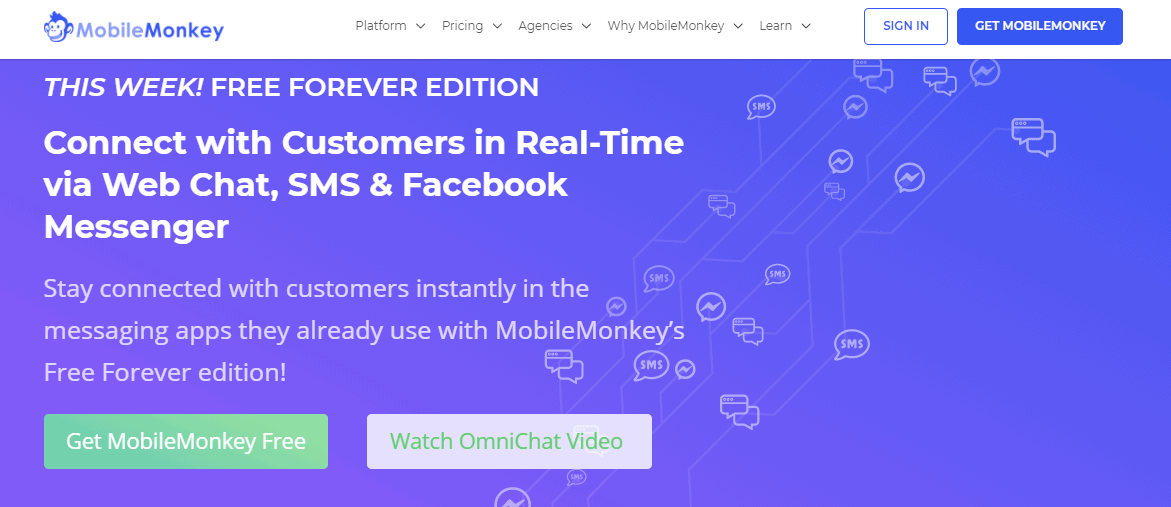 On our well-respected third spot, we have MobileMonkey – the tool that will for sure help you build an amazing chatbot in no time.
This little guy will get into an interaction with someone who has commented on your post and will create a quality conversation, which will help you get all the necessary pieces of information and the ability to follow up with your customer. As we already mentioned, this is a great way to convert fans into subscribers.
It also provides human-like conversations which are based on the questions and answers you provide on your dashboard. Being always available even via a human-like bot will indeed help your brand in many ways.
What is super cool about this tool is that it has an option called Chat Blast, where you can send messages to a group of people at once. This will obviously be a time saver!
4. Chatfuel

Next on our list is a chatbot builder for Facebook Messenger called Chatfuel. Yes, it is called a builder, but you don't need any coding skills to use it because it has an intuitive visual interface.
Needless to say, it is very easy to use once you get the hang of it. And developers will for sure be happy to know that you can do edits from the frontend as well. Also, this little devil will provide you with some easy ways of managing and reusing messages.
One thing that is worth mentioning on its own is that you can create custom target audiences from your bot subscribers. That being said, you will for sure increase your sales, and your social media game will be on point. That means that your customer satisfaction will be increased, which is always a great plus.
5. Botsify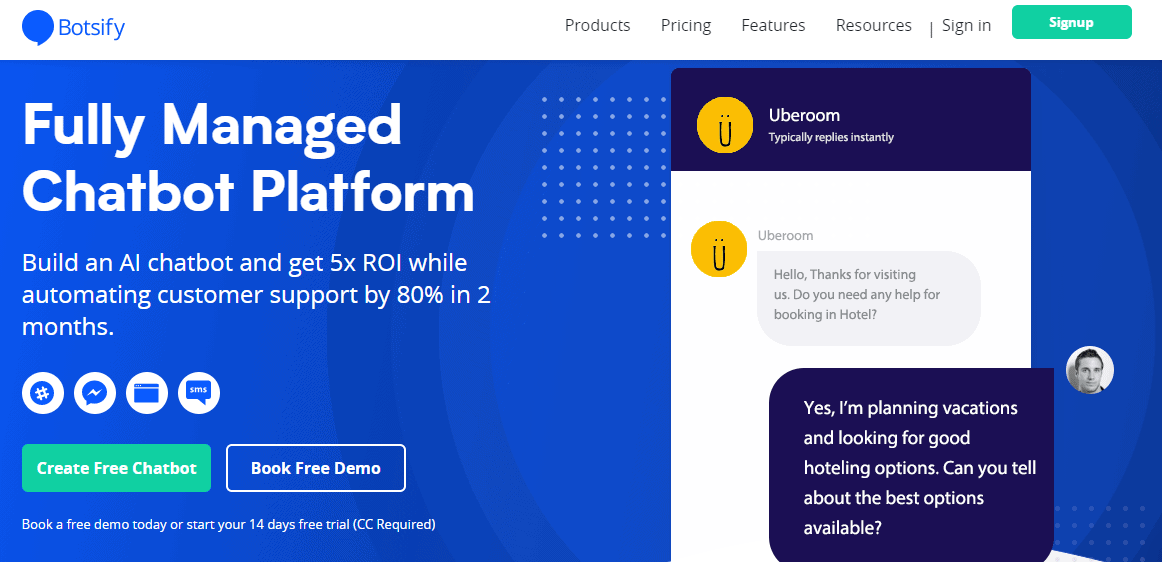 We conclude this list with a chatbot called Botsify – we saved it for last because this one is for the non-techy users, meaning it will be great for beginners.
This tool comes with pre-built templates, so that you can choose well from the beginning. You can also create multiple chatbots for different topics, which will give you some advantage in the online world. Having a chatbot for each of the topics or types of products you have is like having an expert for each of those.
For beginners, this is a valid option to start from, since without any knowledge, you can do some pretty cool stuff.
Conclusion
I hope that this article helped you pick the best chatbot for your needs. These are all some pretty handsome devils that will help you in the social media game big time! And since they exist and are manageable, why not use them to your own benefit.
Once again, SilFer Bots is a great chatbot for anyone, any business, any creator. It gives some pretty cool options, and it is very easy to get the hang of it.

Latest posts by Editorial Staff
(see all)
Where Should We Send

Your WordPress Deals & Discounts?
Subscribe to Our Newsletter and Get Your First Deal Delivered Instant to Your Email Inbox.
Thank you for subscribing.
Something went wrong.