Do you sometimes feel worn out by running a WordPress website?
Even with my eyes closed, I can guarantee that you all raised your hands. Well, that's nothing to be ashamed of, since running a WordPress site involves all of the following: content creating, SEO, strategy planning, website upkeeping, etc. You might as well say raising a WordPress website bears so much resemblance to raising a child – it's a 24/24 job!
Due to this reason, many WordPress websites are left to fall since the owners have too little time to take care of it! Honestly, this case would be heartbreaking if you consider the website as your beloved child! Then, what should we do?
Well, since a parent can always hire a babysitter to help to look after her or his child, the same could be done for WordPress websites! These people are not called "websitesitting," which sounds weird (haha). Instead, they are the mighty WordPress maintenance services!
To be clear, these services do not offer any remarkable features. What they can help you with is carrying out several small tasks that take up so much of your time. By saving your time, it also allows you to use that precious time to do what only you can do, such as planning content ahead, meeting business partners, etc.!
That is too brief on how useful these so-called maintenance services can be! So, what I am going to do next is to give you some names included in the "10 Maintenance Services to Keep Your WordPress Website Secure". Just weigh them up, then decide what is best for your beloved child and choose it!
Now, no more blah blah since you are busy as a bee! Let's get to the point!
The WP Help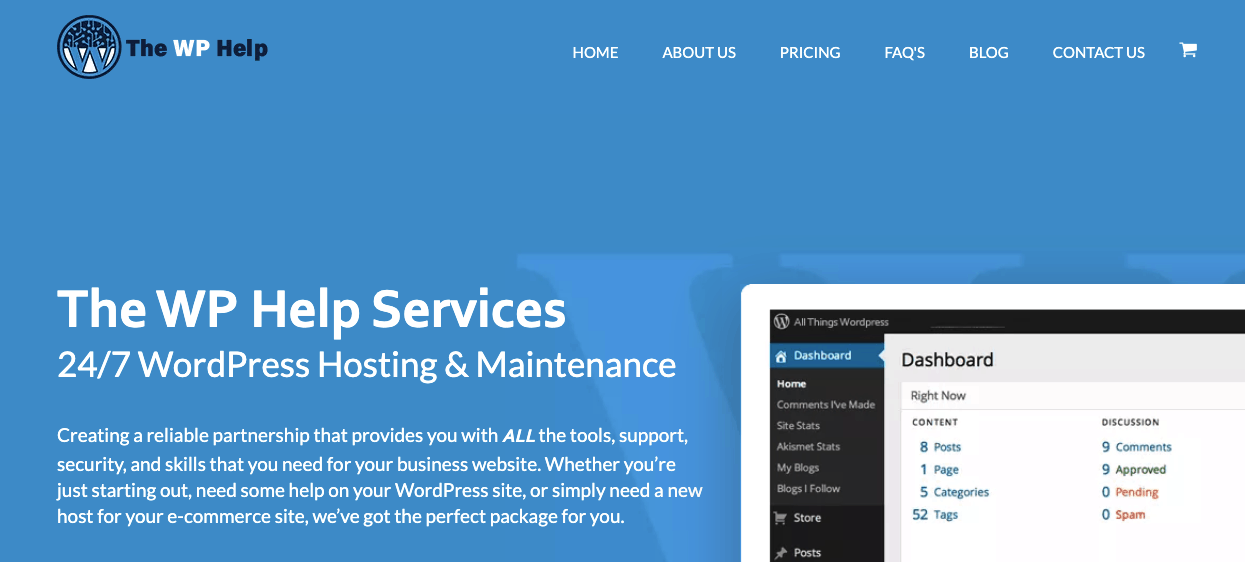 The WP Help is the team to go with when you need more than a bit of your regular maintenance help. They can promise you 24/7 support, help and maintenance of your WordPress site. Still, you can rely on this team for much more. 
On another note, apart from your regular maintenance, the WP Help can also assist you with your hosting needs. Regardless of whether you are just starting out, or you are looking to exchange your existing hosting provider for someone more reliable, WP Help can offer you some great hosting plans together with maintenance for quite a deal. Their prices are more than reasonable, making them a one-stop-shop for all the WordPress support you might need. 
What's more, you can go with the PRO package, which is an excellent solution if you are not into handling mandatory, but time-consuming tasks such as SEO. The PRO plan also comes with unlimited edits, which rids you of need for your own development team.
When speaking of their plans, you can get the Secure plan, covering hosting and maintenance for $45 a month. Secure and Support comes with a better hosting plan, maintenance, and unlimited edits, for $119 per month. There is also the PRO plan we mentioned above, including everything from Secure and Support, as well as SEO and PRO help, (meaning that you get to outsource almost everything!), for $199 per month!
WP Agents

WP Agents is a maintenance service provider that has a team of experts on hand to support all of your WordPress needs. Meaning, you will no longer have to maintain updates, worry about security flaws, or SEO optimization.
There's no doubt that WordPress is a fantastic platform, but with such a varied and in-depth framework comes update after update, not only from the WordPress Maintenance platform but from all of your 3rd-party plugins and theme developers. Take the worry out of pushing updates live and let WP Agents take care of all updates.
The WP Agents team will also make sure your website is backed up and monitored for vulnerabilities 24/7. So if the worst should happen, you will be back up and running in no time.
When it comes to SEO, they have a team of SEO experts on hand to perform a technical audit of your website and take care of any SEO adjustments, so you get off on the right foot. With their help, your business will get discovered more easily, and you'll gain the trust of prospective buyers by being on the first page of Google.
On top of all this, you will also receive a dedicated app for your website, which will enable you to be just a click away from engaging with your audience. The app is available for IOS and Android and comes included in all maintenance plans.
The best features provided by WP Agents include:
Daily Backup
24×7 Security Monitoring (Vulnerability testing)
24×7 Performance Checkout
Uptime Monitor
Monthly round of updates on the website
2 Hours/month FREE website tasks i.e. images, textual edits
Monthly reporting
Bug fixing
PWA Included (Web To App)
2-Factor Authentication
FREE Hosting
To check out more and start your 2-month free plan with WP Agents, be sure to visit: https://wp-agents.com/
WP Tech Support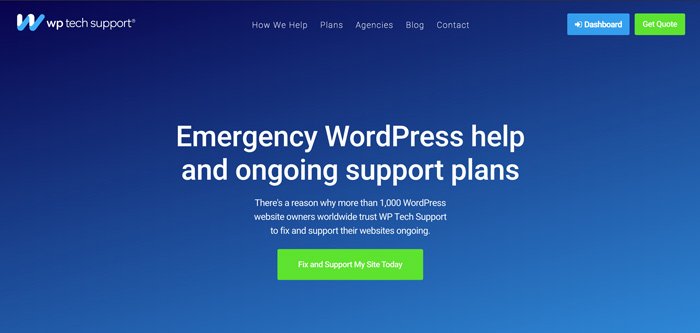 WP Tech Support has been gaining traction in the last 12 months and has experienced considerable growth. They now have clients worldwide and offer a selection of proactive maintenance plans to keep your running smoothly.
WP Tech Support manages all of your site backups, WordPress core updates, improve site security, and more depending on your subscription plan.
Plans come with development time included should you wish to improve or customize your site; this can also be upgraded.
WP Tech Support also offers emergency fixes from as little as $65.
Web321 WordPress Support Services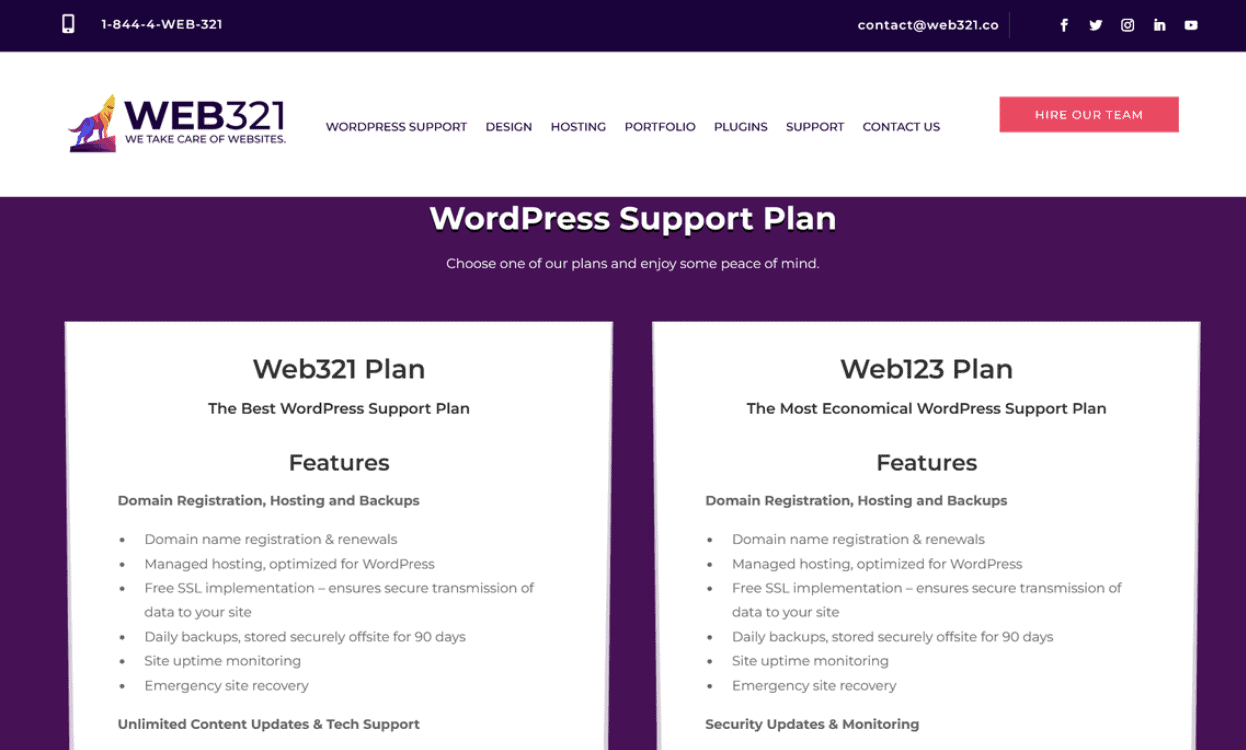 Web321 (https://web321.co/) offers a comprehensive suite of WordPress Support Services: troubleshooting, website migration, security enhancement, SSL certificate installation, content management, and malware removal.
Web321 offers regular WordPress maintenance packages to keep your website running smoothly. These packages encompass regular backups, spam filtering, malware scanning and removal, performance optimization, security auditing, content updates, technical support, and continuous monitoring for website uptime. When a website goes down, usually the first time a client hears about it is when we let them know their website is back up and running.
Web321 offers two distinct services – Web123 and Web321.
The Web123 service is a simplified and expedited solution for smaller websites or those looking for quick fixes and optimizations. It's a streamlined service that focuses on prompt assistance and maintenance for websites with lighter demands. The plan is available for $123/mo. (est. $92/mo. In US dollars).
The Web321 service is a more robust and comprehensive support solution tailored for larger websites or businesses with more complex needs. This service includes advanced content updates, design tweaks, security measures, priority support, and customized solutions to ensure your website operates at peak performance. The plan is available from $321/mo. (est. $240/mo. In US dollars).
Web321 WordPress Support Services is the go-to destination for website owners who are in urgent need of support. Web321 is efficient and responsive. Your website will be well taken care of when you work with Web321 with your Support Request.
Whether you have a smaller website needing rapid service through Web123, or a larger, more intricate website requiring the comprehensive Web321 service, Web321 has you covered.
BitofWP WordPress Support Services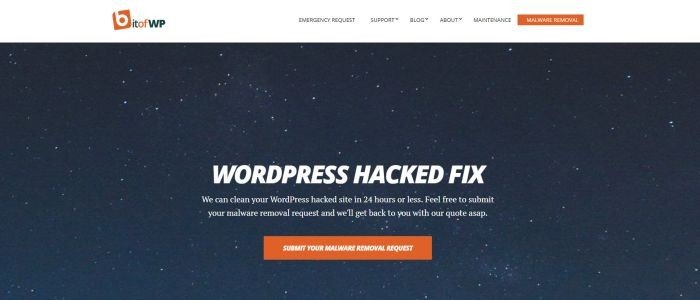 BitofWP offers a range of WordPress Support Services, which include fixes, hosting migration, any CMS to WordPress site clone, HTTP to HTTPS migration, content updates, and last but not least, Malware Removal.
They also offer monthly WordPress maintenance plans, which include site backups, spam removal, malware fixes, PageSpeed optimization, security checks, content updates, site and server repair work, and uptime monitoring. There are three WordPress maintenance plans available, Megabit ($19/month), Gigabit ($49/month) and Terabit ($99/month) to which you can subscribe and pay monthly.
BitofWP WordPress Support Services are targeted towards site owners who need emergency support since they work 24/7. They usually need less than 24 hours to audit, clean and secure your site, so expect a fast recovery once you submit your Support Request.
If you're looking for WordPress Support or a WordPress Hacked Fix, then visit BitofWP and submit your Support Request.
WP Site Care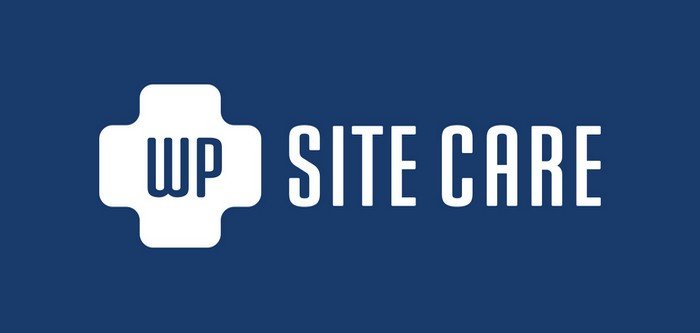 The fantastic service was launched in 2012 and soon became one of the top maintenance services that everyone knows and loves. What they offer are the same with many others of the niche, but they do an excellent job of them! These include dealing with security matters, maintenance, and so much more! What makes it so efficient is the service will handle all of the backups using the Amazon cloud. With WP Site Care, you have more time for your websites and your life too!
Regarding pricing, well, totally no worries about that! WP Site Care costs you only $99/month-to-month or $79/month if you choose the yearly pack. But, the collection of marvelous things about WP Site Care does not stop there! They also provide customers with a more-than-devoted support team who will reply to your ticket after in typically one hour!
If you decide to level up a little bit, maybe it's Pro plan is the choice! This option is priced at $299/month if billed annually, or $399 a month if you use the month-to-month pack. Using this plan, you are entitled to all features of the first plan, together with such features as 2 Development hours per month, CloudProxy Firewall, Staging Environment, Uptime Monitoring, etc.
Sounds interesting? Visit its WP Site Care now!
FixRunner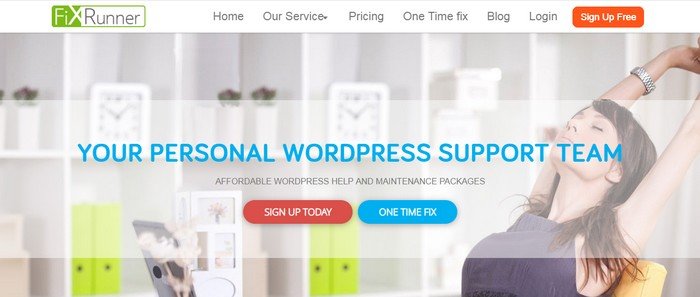 FixRunner is a team of WordPress fanatics with years of experience in providing expert and timely website support. While most WP support companies offer similar services, the level of professionalism and quick responding are what makes FixRunner stand out from the crowd.
Whether you are having issues with malware, hacks, themes, and plugins, or you want to speed optimize your WordPress website or set up backups, FixRunner is there to help. Besides regular site maintenance, FixRunner also offers some more advanced options, such as custom development, site upgrades, and even white label support. Additionally, they are online-store friendly, as they provide dedicated WooCommerce support.
What is great about their business model is that they offer affordable One-time Fix at 49$, which will solve your most urgent problems. But trust us, after you see how diligently FixRunner team works, you will sign up with one of their monthly plans right away.
Their Premium plan ($59/mo) will get you started, Rocket plan ($89/mo), or the Advance plan at ($149/mo) will give you their full service. And if you are not sure which one will work best for you, you can always request a free quote.
WPCurve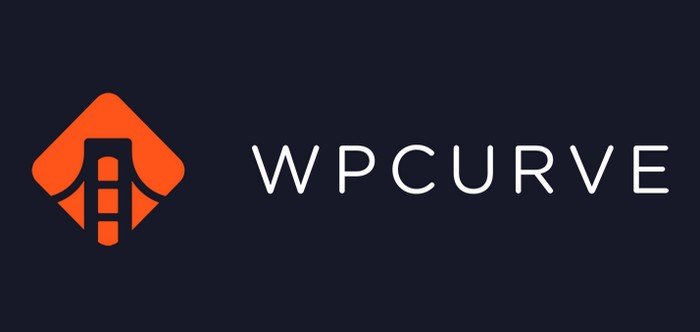 If you don't know, now you do: WPCurve can be considered as one of the most popular and fastest-developing services in the industry of WordPress maintenance! With a little help from a talented and hardworking developers team, you shall have no worries over taking care of your beloved website. They will do your security jobs, carry out maintenance tasks, fix theme and plugin issues, optimize site speed and conversion!
After sending these jobs through email, you have to sit and wait for them to be resolved in less than 8 hours of work. In case using email is not your way of working, then a 24/7 live chat will always be ready to take your orders.
What about pricing? For a regular subscription, you will be charged $79 a month. Using this plan gives you an unlimited number of small, 30 minute jobs for one WordPress website such as site monitoring, conversion boosting, site speeding, etc. Or if you want something more incredible and meticulous, you could try the $99/month Professional level.
Still confused? Visit WP Curve to see for yourself and decide!
Maintainn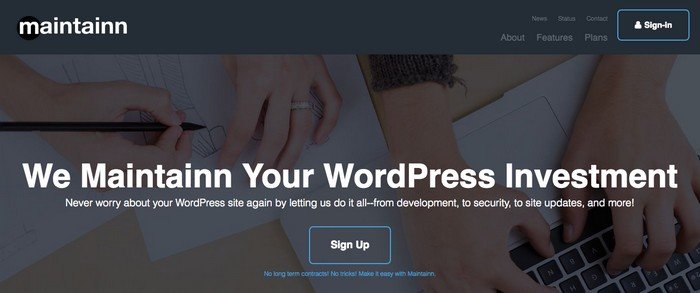 One of the WebDevStudios family members, Maintainn, is regarded as one of the most highly-praised support services. What can they offer customers?
First thing first, Maintainn caters for WordPress websites of all sizes. The dedicated and professional team at Maintainn can help you with such tasks as ad hoc development, security, and updates. Furthermore, to ensure the best results, they let the most experienced experts, such as Securi handle your security and Amazon cloud to deal with the website backups.
Another thing you should take notice of is the fact that Maintain also helps migrate your website to a new host if you have any idea of changing host. Along with that, they will also assist you in setting up a staging environment for testing.
So, as for pricing, the Premium plan starts at $49/month with such features as 24/7 security monitoring, off-site backups, WordPress core updates, theme and plugin updates, etc. If you opt for the Premium+ priced at $99/month, you will be offered bonus features such as 1 hour of support monthly and 30-minute response time.
For more details on its plans and features, click and go to Maintainn!
FixMyWP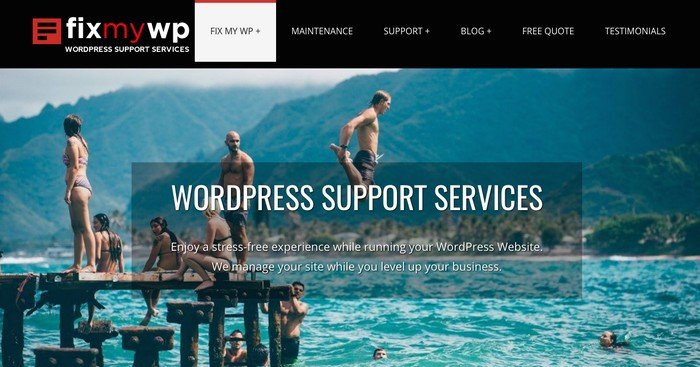 FixMyWP is not a maintenance service only since its full name is FixMyWP – WordPress Support Services.
As the article is about maintenance, I should talk about maintenance first. FixMyWP states right from the first line of description that the service aims at people who want to "get away from their site-related everyday tasks and focus on growing their business." The FixMyWP maintenance services are divided into two plans: WordPress Junior ($50/month) and WordPress Ninja ($100/month).
If you are an average blogger who wishes for a service that does all the security updates, resolves plugin conflicts and backup tasks, welcome to the WordPress Junior! Or, if you are an owner of a WordPress business website, maybe the other one is the choice! With WordPress Ninja, your website is kept up-to-date, virus-free, and safe with off-site weekly backups! More details on its plans could be found at the site (which I will lead you to later).
Need anything more than the maintenance services? Here at FixMyWP, you can also find such services as solving WordPress hack, WP Optimization, WP Theme Fix, WP Plugin Fix, WP Upgrade, WP Migration, etc.
Too many options to look into. So, to figure out what you need from FixMyWP apart from the maintenance services, feel free to come to its website!
WP Shrug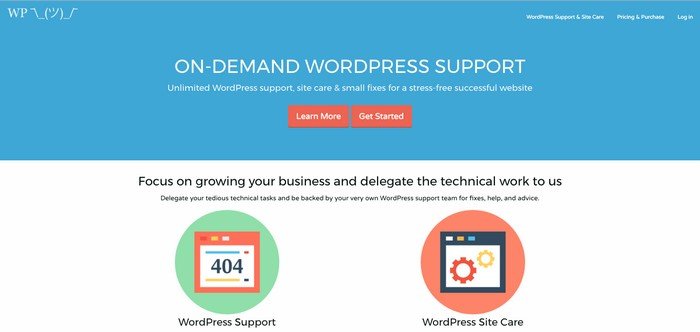 WP Shrug is a such a renowned WordPress support and site care service that you must have heard of. In case you have not, let me introduce it briefly! WP Shrug provides live chat and email support for all kinds of issues, including fixes, help, and advice. There is a lot that it can offer, but here I will name just some: It manages WordPress updates, WordPress backups, domain name, security monitoring, uptime monitoring, SSL certificate, etc. Plus, there are so many video tutorials for you to watch and learn!
Since its features are the most abundant of all brands I have just listed, its pricing plans are also quite different. WP Shrug offers three choices of plans: silver, gold, and platinum. For the silver plan which costs £59/month (or £49 if billed annually), you will have Live Chat & Email Support, 4 Hours Average Fix Time, Managed WordPress Updates, Real-Time Cloud Backups, 24/7 Security Monitoring & Hack Cleanups, WordPress Video Tutorials.
For the gold plan (most popular and costs £119/month or £99/month if billed annually). You are entitled to all features in silver plan plus Sucuri Firewall Protection, Pingdom Uptime Monitoring, 1 Click Staging Website, Version Control, etc.
Still not enough? Maybe you will find just what you need in the platinum plan! Where to look for it? Just visit WP Shrug!
WP Maintainer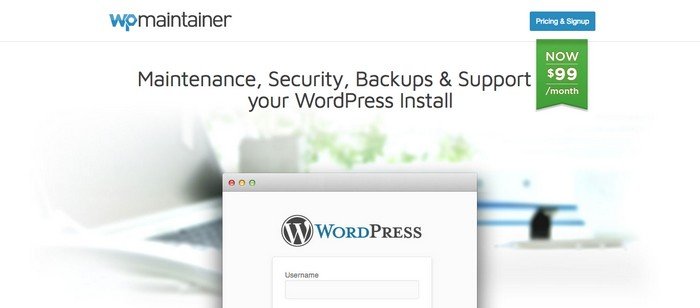 Created and run by one of the most heartfelt and hardworking teams in the WordPress community, WP Maintainer will never let you down!
Just like many other maintenance services, its services include WordPress core plugins and themes updates, plus compatibility upgrade support; Backups on-site or off-site according to a schedule that you decide; and free WordPress migration in which you will be moved for free during the setup stage to a more suitable hosting environment.
Furthermore, you can get monthly WordPress support. Feel free to ask the development team to install a plugin, clean up CSS issues, or style a review plugin.
Most importantly, discount and discount! Becoming WP Maintainer's customer means you will be offered a discounted retainer rate for additional website maintenance and support services. This sounds more than perfect for those who run more than one WordPress websites at once, right?!
Of all the good stuff I listed, the most surprising one must be its price! WP Maintainer has one and only one plan costing $99/month, and that's all! What a straightforward, simple way to get one of the best services available!
For more information, why don't you visit its website at WP Maintainer?
WPMatic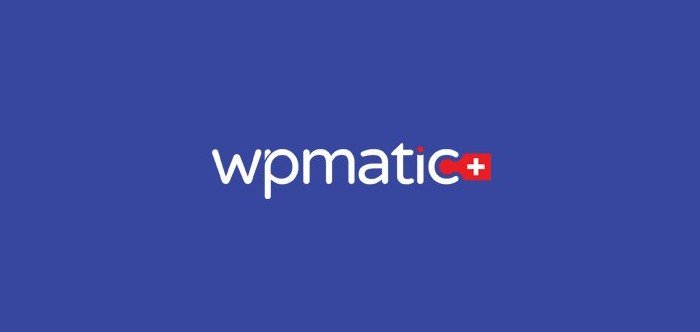 Just take a glance at WPMatic, and you will see how distinct it is from the others. Claiming itself to be 360-degrees one-on-one support for any WordPress issue. WPMatic makes sure that whatever problem occurring to your website can be solved by the team! The figures themselves say it all: 25,962 clients, 15,295 problems solved, 107,065 devoted hours! What more could you expect?
As for features, WPMatic does everything from A to Z when it comes to WordPress, just like what it states! It can install WordPress on your hosting, make your site mobile responsive, help you migrate your website, update the theme, check security, manage users, etc. You name it, WPMatic does it for you!
Its three monthly packages, including Starter ($59/mo), Business ($99/mo) and Enterprise ($159/mo) will satisfy all of your needs. Besides the monthly package, it also lets you choose between two other options: custom and yearly! So, if you are not sure about what to choose, click WPMatic to examine the possible choices more carefully!
WPCopilot

For the ninth item, let me bring you the one and only Australia!
WPCopilot is one highly trusted Australian WordPress support service that receives such remarkable reviews as "anything that does arise is fixed promptly and with no impact on my business.", "AMAZING! Super fast service, friendly responses to questions and problems, and excellent value for money.", etc.
So, what exactly does it offer, and why does it get so many compliments? There are quite many things they can do, but they generally can be divided into four types:
WordPress Performance (Page speed optimization. Google Analytics set up. Choosing WordPress plugins. Email and lead capture forms, etc.), WordPress Security (backups scheduling, security hardening, hacked WordPress websites fixing, etc.). WordPress Fixes (HTML/CSS styling issue, plugin and theme conflicts, eCommerce problems, etc.) and finally, WordPress Learning!
That's basically what WPCopilot is all about! Once you become one of the members, should any problem occur? You need to send them a quick email, and they will take care of the rest! The best part is; nonetheless, you only have to spend $49/month for membership!
What else can you get for being their members? Check it yourself at WPCopilot because I'm sure it will be a little bit too overwhelming to handle!
The WP Butler

The WP Butler is a little bit different from the others; I decide to put it last! Founded by Dave Clements, the famed expert WordPress developer, The WP Butler allows you to build your custom plan. Instead of having a fixed set of features for a monthly fee, the choices are all yours. In this way, you can lower the amount of money you have to pay. What do these tasks include? Well, they include uptime monitoring, malware scans, backups, and updates.
What is more, you can also have him check up on your site when you want. Just make sure you let him know in advance! Adding development time to your plan can also be done with the hourly payment.
The WP Butler has four plans to suit all needs, which are Individuals and Bloggers, Small Business, and Enterprise. Prices start from $41/month, which is not at all a costly amount compared to its rivals out there!
To see if its plans are to your liking, visit The WP Butler right now!
WordPress Maintenance Service by WebfulCreations
Webful Creations provides very reliable and low-cost WordPress Maintenance service. Depending on the type of website you have e.g personal, small eCommerce website or big corporate business website. You have the option to select a relevant package from available maintenance packages. They provide you careful updates, edits, error fixings, speed optimization, SEO checks, and reports. 
The Plans they offer. From which you can select a relevant plan for your website. 
Personal ($29/Month)

Small Business ($49/Month)

Corporate ($79/Month)
24/7 Unlimited Website Edits & Customization Requests
There are several circumstances when you need edits on your website.  For example, you may need to change an image on a slider for your marketing campaign. Some parts of your website layout might not be looking right or you have a better idea. These are all WordPress edits you can request with WordPress maintenance support.
Performance Optimization
They know the importance of website performance either its related to speed or is it related to validation of code W3C. Maybe your website is sending unused code which is compromising the speed. Sadly we have seen people ordering WordPress optimization service and considering they are done with website performance. They should know with each WordPress update, theme update, and plugin update you always need to optimize website performance. WordPress speed optimization is continuous work which this company does weekly.
SEO Audit & Optimization
Without traffic, it doesn't really matter how nice you designed it. With their WordPress support service, you get detailed reports on how you can improve the ranking of your website. WebfulCreations regularly review your website and provide you a list of keywords which should be ranked and which can be ranked. On the other hand, they also make sure your website's code is 100% according to the search engine's requirements. Proper headings and titles usage is part of this report.
WP Buffs

Speaking for myself, I am strongly impressed by what is shown right after I landed on WP Buffs website! Well, I was greeted with the question: At 39,000 ft., your website crashes, what do you do? With that, they also give you several options, which all point to the best options: Let the Buffs handle everything!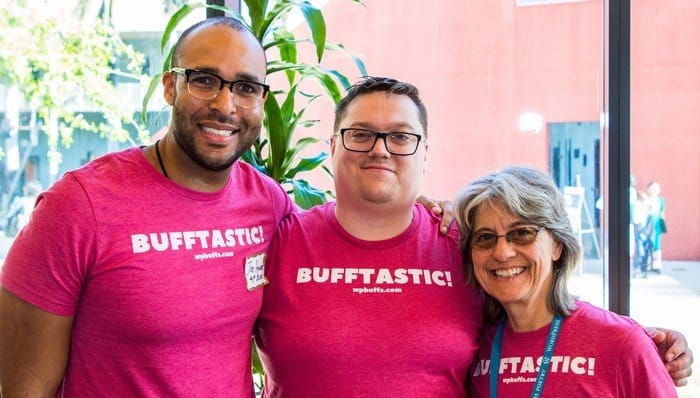 Classic but impressive, right? If that is the case, well, you will find it more impressive to know that indeed, the Buffs help you handle everything! WP Buffs does daily cloud backups using Amazon S3 infrastructure, making sure to have all of your core files and database stored. It monitors and checks up on your website for hack attempts in real-time. It scans the core theme and plugin files to ensure current requirements.
What is more, they also offer other different features such as Unlimited Website Edits, Formidable Security as well as Speed Improvements! To see all the performance, updates, backups, uptime, traffic, and security, use the Weekly Reports feature!
Just like the first one, WP Buffs has two packs: billed monthly and annual subscription, together with three plans: Perform Plan Pro ($120/mo), Perform Plan ($80/mo) and Maintain Plan ($40/mo)! To see into which plan suits you best, how about proceeding to the website of WP Buffs?
Where Should We Send

Your WordPress Deals & Discounts?
Subscribe to Our Newsletter and Get Your First Deal Delivered Instant to Your Email Inbox.
Thank you for subscribing.
Something went wrong.