So, you've decided to set up your own online store? That's great, but what platform are you going with? You certainly don't want to waste any time writing code for this kind of website yourself or, even worse, paying someone to do it for you. That's too expensive and takes way too much time.
The best course of action is to find a place where you can create your own webshop in a matter of minutes and get access to all the features you need for a successful enterprise. The platform you're looking for is called SmartSeller, and in this review, we are going to show you why that should be your number one choice, and why you should click here to learn more at the SmartSeller website.
How to Build a Store With SmartSeller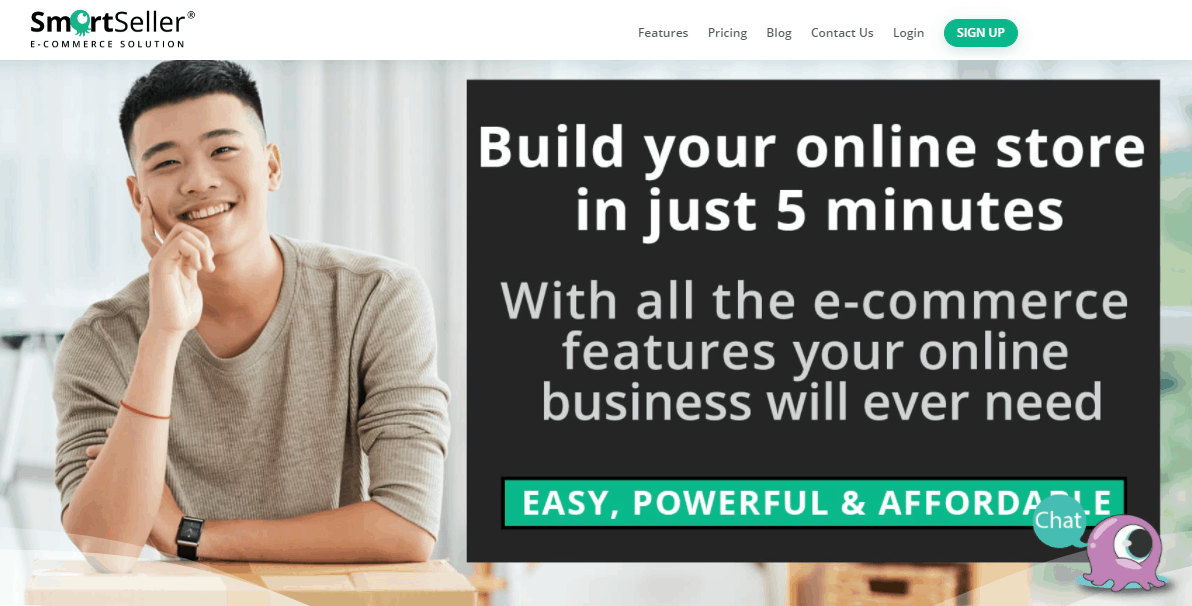 The first step towards your goal of running a successful online shop is designing the website. As we said, this only takes a few minutes with SmartSeller, but don't think that means you have just some basic options to choose from. No, no, no, you can actually pick your favorite from more than 50 templates and then add a bit of your own touch to them.
You don't have to be a programming genius for that since everything can be done with just your mouse. It goes without saying that you can pick your custom domain name, too.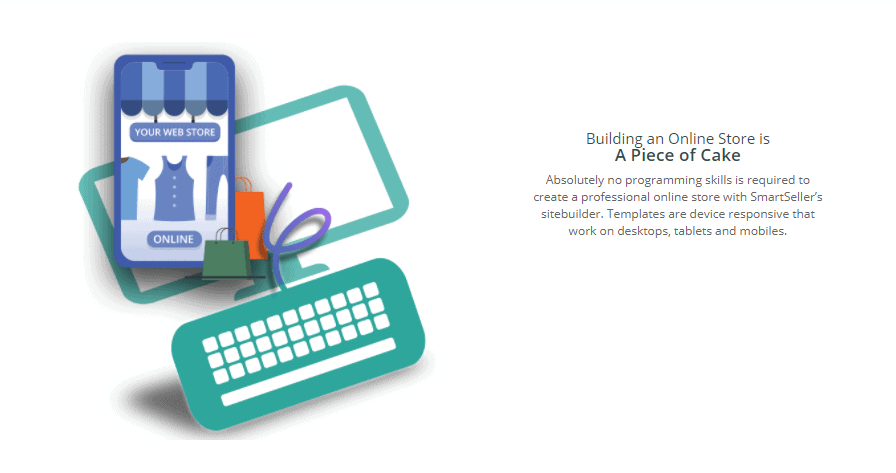 It's very important to stress that all those templates are also mobile-friendly, which means people will easily be able to make purchases from you using any device. But what's perhaps even more important to emphasize is that SmartSeller is very careful when it comes to your SEO and has tools that can help you find your way to the top of search results in no time.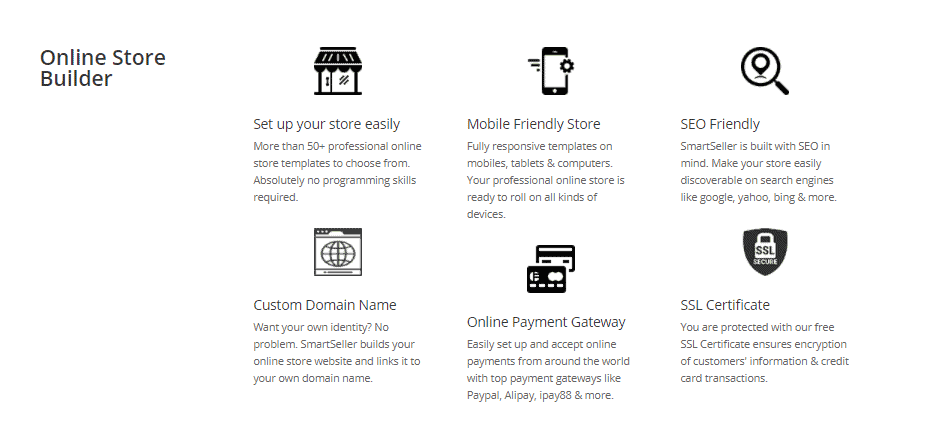 Last but not least for this part of the review, we have to mention the payments. There is an impressive array of gateways you can offer to your prospective clients, including PayPal, Alipay, ipay88, and many more. Therefore, you can be certain your offer in this respect will be up to the challenge. Oh, and you also get an SSL certificate that guarantees all transactions are secure. Not bad, huh?
Managing the Store
Obviously, now that you have everything set up, your job is not done. It's actually just beginning because you now have to make sure the store operates smoothly. Fortunately, there are quite a few handy features to help you with that, too.
For example, the product listing panel is extremely easy to use, and you can add all sorts of information about your products there: apart from the price, a detailed description will introduce the customer to the product and even show them how many pieces you have in stock. And if you have a big store and are transferring it to this platform, you can upload all the products you have, no matter how many of them there are, through a simple CSV file. A nice touch is that you can add a watermark to any picture, too.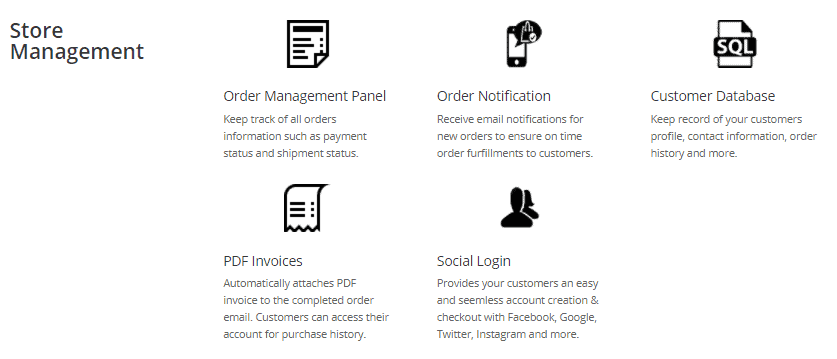 When it comes to information regarding your customers and their actions, SmartSeller helps you easily keep track of all the orders you receive. Not only will you be notified by e-mail when a new order arrives, but you will also be able to track its payment status and its delivery status.
Your invoices come in a simple PDF format and can easily be attached anywhere, and the user accounts for your website can be created through Facebook, Google, and other similar platforms.
The Numbers
Once everything gets rolling, you will need to keep track of how your shop is doing. SmartSeller provides you with plenty of options for analysis, starting with a detailed dashboard of your store that tells you exactly how it's performing. From overall revenue to the most popular products, even your inventory status, all vital information is easy to come by and displayed in such a way that anyone can immediately see what's going on.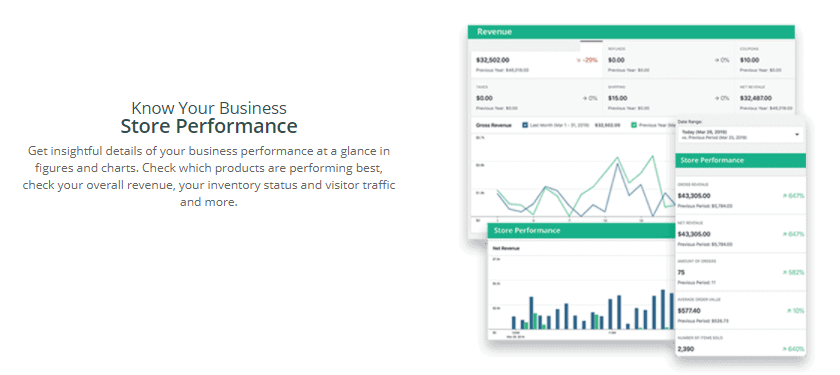 Furthermore, you can also use Google Analytics to examine the traffic you're getting and see which areas you should focus your efforts on the most.
In addition, SmartSeller also works with Facebook Pixel, meaning you can easily track what your visitors are doing and create a more efficient marketing strategy.

Combining all of these resources is absolutely vital because it helps you run a much more efficient business. However, this would all be impossible without the marketing tools at your disposal here, so just keep reading because we are about to get to a very interesting part of this review.
How Can You Reach Your Customers
Oh yes, if you're at all interested in marketing, you are going to love what this platform has to offer you. What is especially commendable is the fact that you can seamlessly integrate some very powerful and proven marketing tools. A great example of that is Mailchimp, one of the biggest, if not the biggest marketing platform in the world. With it, you can send automated e-mails or even create Facebook ads to reach a large audience.
Speaking of Facebook, apart from the aforementioned Pixel, it is also possible to sync everything up with Facebook Shop. Not only that, but you can also use a bot there to help you communicate with your prospective customers. Apart from answering the messages you receive via Facebook Messenger, the bot can also answer comments, which can save an incredible amount of time.

But we're still not done with big brands connected to SmartSeller because this platform also allows you to engage in multi-channel selling. In other words, you can run your own store and essentially translate it to places like Amazon and eBay, thus selling your products there, too.
You can also easily share everything you're selling through a variety of social networks like WhatsApp, Instagram, Facebook, and even WeChat, just to name a few.
As you can see, the marketing options are quite impressive, but we still have many of them to go through, options that will allow you to be more direct and attract customers with more concrete deals.
Make the Right Deal
One of the most basic and most powerful tools you as a retailer can use is to give your prospective clients a discount. But not only does SmartSeller help you offer a special deal to anyone who comes and visits your website, there are some other perks your customers can enjoy too.
You can, for example, set up a credit system that rewards anyone for making a purchase so that they can eventually collect that credit and exchange it for some sort of a gift. Speaking of gifts, gift certificates can also be created, which adds a very nice option for your store.
But the discounts you offer don't have to be static – you can set up dynamic discounts that are directly dependant on the quantity of the item you have in store. Moreover, you can bundle up products and sell them at a discount price to further entice people to make a purchase. It's a great way to connect items that you have in stock and want to clear out, while at the same time you are in a position to give your customers some great suggestions.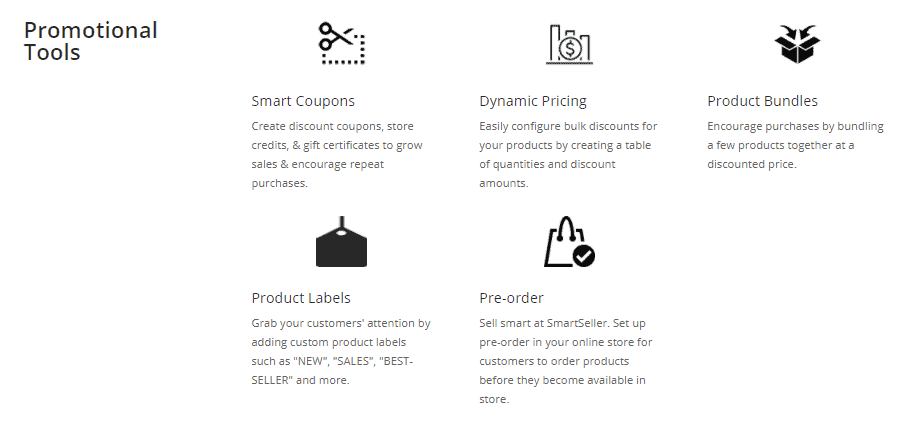 To help you with that, SmartSeller also has labels you can put on each product to divert visitors' attention to them by saying they are NEW, BEST-SELLING, or simply ON SALE.
The icing on the cake of these great features is the fact that you can offer pre-orders, too! So, if you have a product that's extremely popular, you can drive the hype up with this tool and sell it out even before it becomes available in your shop. Besides, people love shopping like this and know that they have secured their product no matter how high the demand is.
SmartSeller Affiliate Program

As you can see, there are quite a lot of great features here, and anyone looking to open a webshop is sure to enjoy doing it with SmartSeller. This gives you a chance to further increase your income from the website you have here. How? Simple, just sign up for the SmartSeller affiliate program!
Whenever someone subscribes to this platform by using your link, you will earn a commission. Because of that, you may even want to think about investing in marketing that, in addition to your other products, of course.
All you have to do is register as an affiliate on SmartSeller's website and you will immediately be able to offer this deal to your visitors. After that, you can pretty much leave things as they are and generate a nice passive income.
But how much can you earn this way? Well, a pretty nice sum, actually. You get 25% of what each person you bring in spends, so it can really pay off to bring in new clients to SmartSeller like that. However, that's just one way how you can earn as an affiliate.
You see, a multi-tier system is also in place, meaning that if the person you bring in decides to become an affiliate themselves, you will get a cut from everyone THEY bring in too. You can see how this can potentially be very lucrative, right?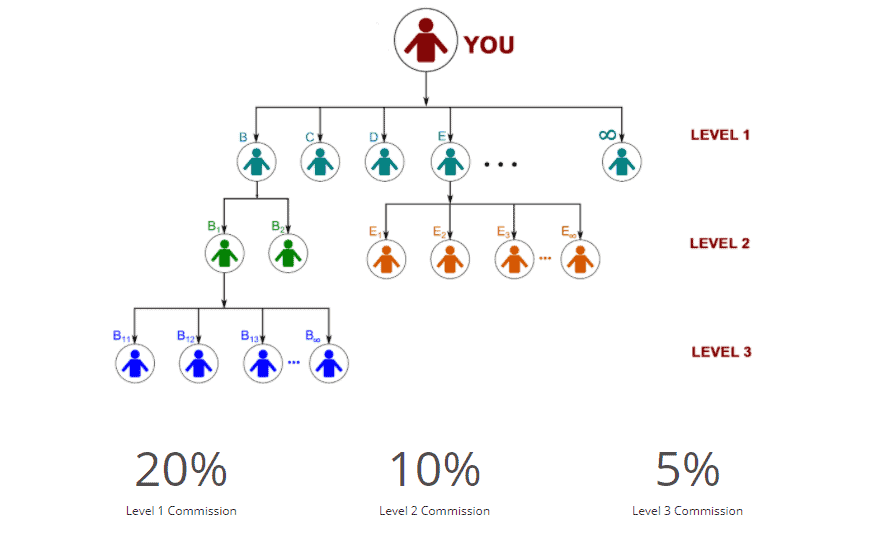 The exact amount of how much you stand to gain depends on the plan people you bring in choose, but in any case, the payments will come to you once a month via PayPal, so make sure you have your account there all ready to go.
Naturally, SmartSeller won't leave you stranded to come up with everything yourself. No, apart from the unique link necessary for every affiliate, you will also get access to a bunch of other helpful tools. These include a 360-day cookie, for example, which keeps track of the customers coming to your website.
Furthermore, you will get access to various marketing kits such as banners, brochures, and images that you can then use in your campaigns, on your websites, or on social media. All these elements are optimized for the best possible results, and you can click here to learn more at the SmartSeller website.
Pricing
Before we go, a few quick words on the prices you can expect.
As you may have guessed from the previous part of the review, we are talking about subscription-based payment models here. You know how it goes: you can choose between annual and monthly payments, but annual subscriptions bring you a lower price on average per month. In this case, you get two months free.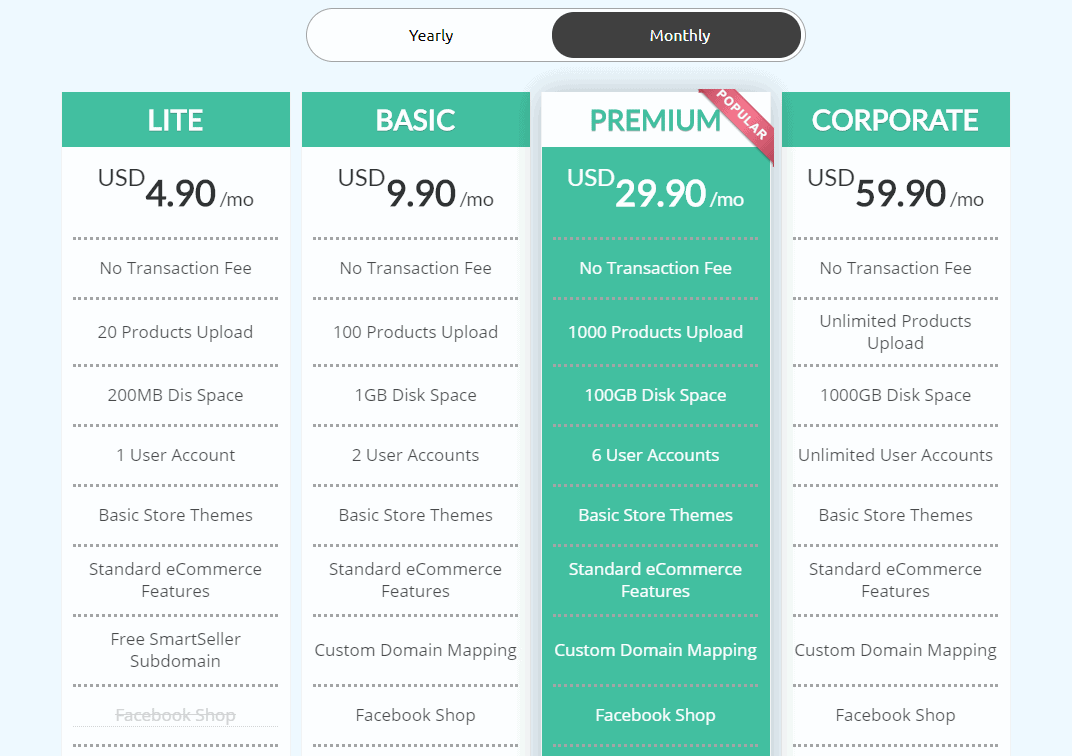 There are four plans you can choose from, with the most basic one (Lite) starting at just 4.90$ per month (4.10$ if you go for an annual subscription), whereas the highest-tier (Corporate) plan sets you back 59.90$ per month.
Naturally, there are major differences between the plans, from the number of products you can upload to the number of user accounts you can have, so take a look at the size of your webshop and then choose accordingly.
Conclusion
SmartSeller is a great platform for creating online stores that gives you absolutely everything you need to run a successful business and then some. There are plenty of great templates to choose from, and you can set your shop up in a matter of minutes, which is just one of the major advantages here.
On top of that, you have a variety of ways to keep track of the numbers related to your store, and the amount of marketing tools and deals you can offer is extremely impressive.
Finally, the SmartSeller affiliate program can provide you with a fantastic passive income because that way you can get up to 25% of each new subscriber you bring in, and if you want to utilize it, you can click here to learn more at the SmartSeller website.
In short, there are more than enough ways to achieve profit. So, if you want to become a successful entrepreneur and launch a webshop that is going to be able to reach a whole lot of people, just pick one of the plans SmartSeller has to offer and watch your business grow.
Latest posts by Marko Domljanovic
(see all)
Where Should We Send

Your WordPress Deals & Discounts?
Subscribe to Our Newsletter and Get Your First Deal Delivered Instant to Your Email Inbox.
Thank you for subscribing.
Something went wrong.