Getting your big break online is no easy task. There is already a sea of other websites out there trying to make a living. A significant portion of that sea is enormous websites with a whole team working behind them, ensuring that the site is optimized, working flawlessly, and attracting customers at all times.
One of the most critical roles in those teams is one of a Webmaster. It sounds grand, and it is, as it is their job to manage all the aspects of a website. From managing content to troubleshooting issues, it is their job to make sure that customers can enjoy spending their money on a particular site.
Managing websites, sites, applications, designers, developers, and overall, every aspect of a company's online presence is a tough job. No wonder that good Webmasters are rare and hard to find, as managing all this takes some ninja-level skills.
It's just me behind my website
If you have just started with your online presence, then you are probably filling in the shoes of each role without noticing it – Webmaster's one too. While you might have outsourced the content creation or design of your website, continually making sure that your website is running smoothly is probably something you have been working on yourself.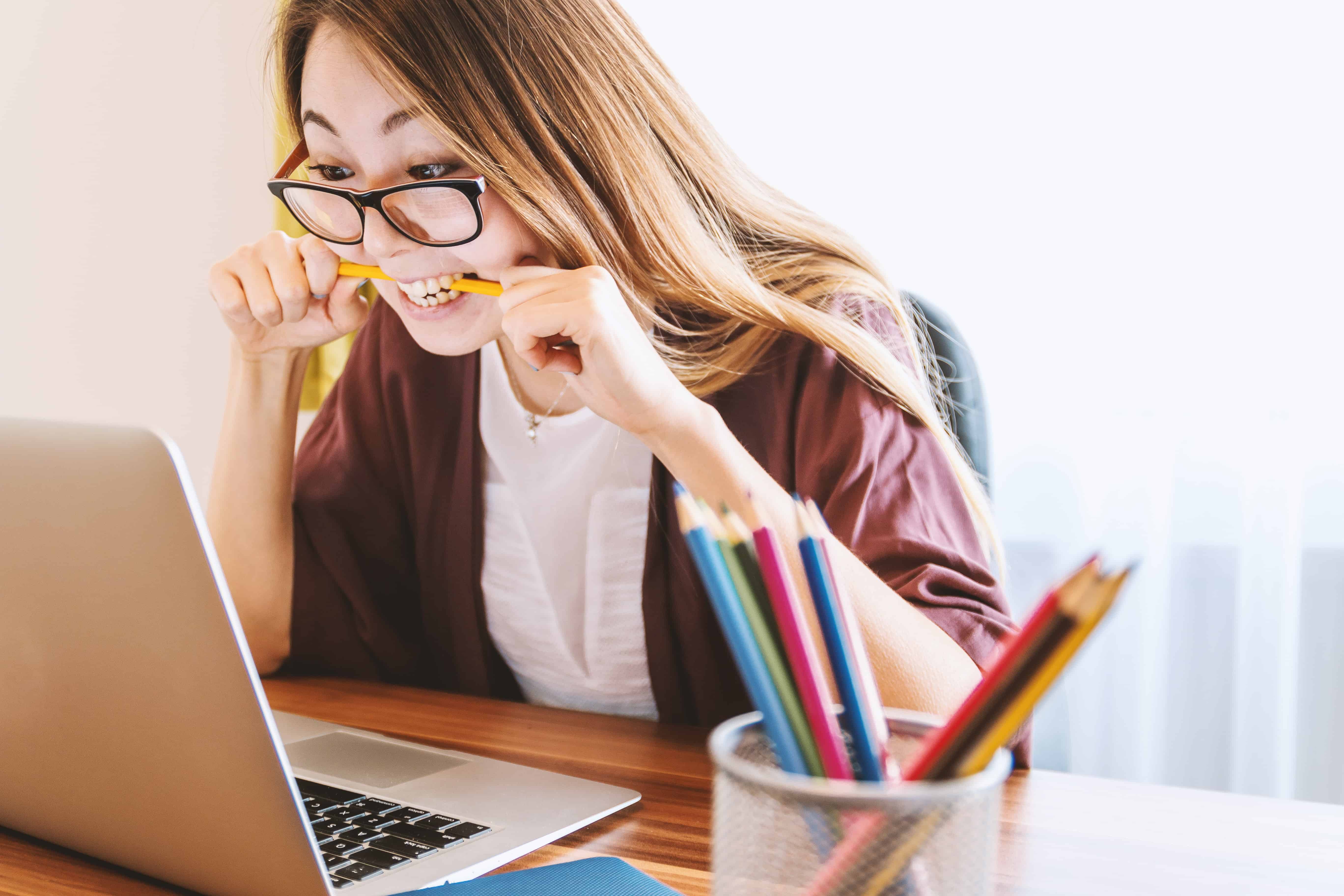 This is likely no small feat for you. However, every excellent Webmaster also knows that half of the work is all about having the right tools. Managing all these tasks every day requires proper tools to monitor the website, domain, and SSL, among other things.
They also need a useful and accurate speed test for their website. With a heavy reliance on Google Analytics and AdSense, integrating these and utilizing them to the fullest is another must-do on each Webmaster's list.
So, yes, summed up, you need to rely on a bunch of tools, which can prove quite costly. There are plenty of free tools out there, to be honest. But, you will likely notice that you are paying an arm and a leg, and the currency is your time. Logging into all these free tools scattered all over the internet is undoubtedly the time not well spent.
There has to be a simpler way
There is. Luckily, a couple of webmasters noticed how difficult it is to find reliable and practical tools. They created Webmaster Ninja – a set of tools which every webmaster, or even website owner, should take into consideration, and in the end, use daily.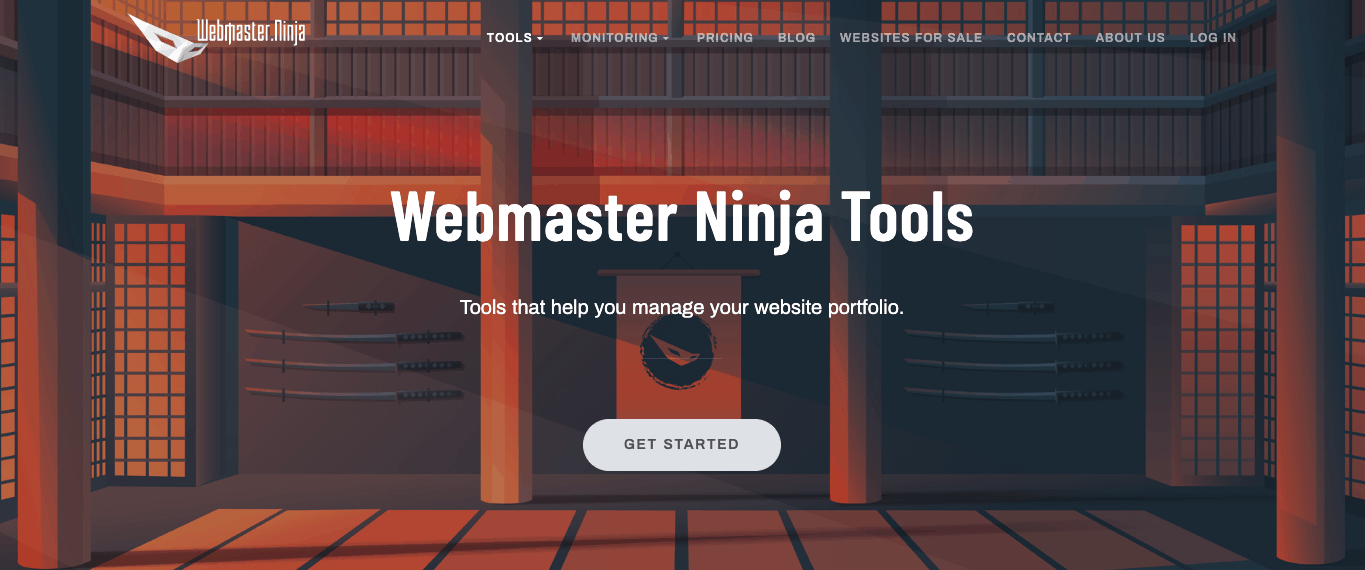 What is the Webmaster Ninja?
Webmaster Ninja is a set of tools that you get entirely for free once you create your account. All it takes is your email address, and you will get your personal dojo. It is a dashboard within which you can handle and keep in check the information about all the important aspects of the website you are managing.
What are the tools that you get within a dojo? Let's check them out.
Website Manager Tool
Managing one website is a lot of work – managing multiple ones can make you go crazy with things to do and stuff to finish. You could easily get swamped and stressed out. Worst case scenario, you get overruled by a bunch of yellow post-it notes, Trello tasks, or any other way of keeping your to-do list in check.
Website Preview
The good news is, the Webmaster Tools dashboard offers a comprehensive preview of your website within a single glance! Effortlessly check all the needed information within your dojo. From the registration date to the Alexa rank – you can see everything without having to employ several different tools to get the required info.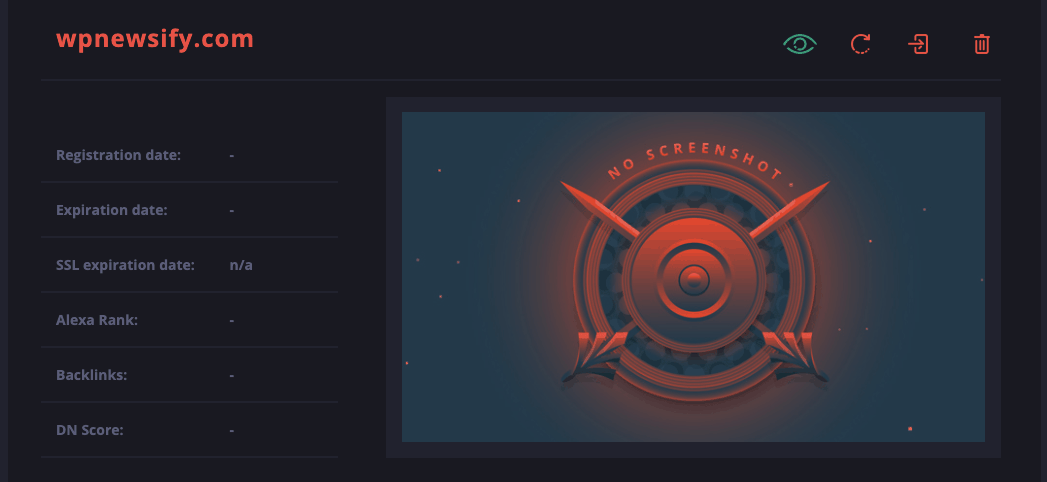 Another critical thing to consider is that this tool can help you get the same information about as many websites as you would need. You might be managing more than one. Add a hundred, if you have them on your other to-do lists. Still, we would wonder how you were able to manage all of them without the help of this fantastic dojo in the first place.
Of course, it would not be a simple thing to do if adding websites to your portfolio was complicated. Luckily, adding a new site is as simple as possible – just type in, or copy-paste, the websites' name! If you have many websites to add, you can do it at the same time, separate it by a comma.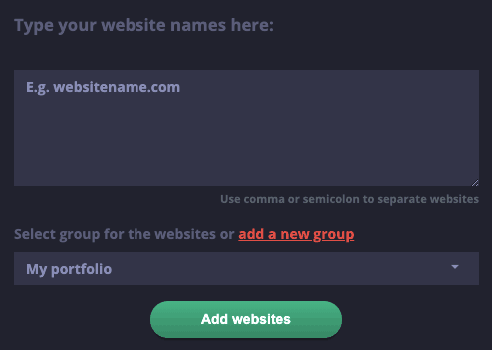 However, being able to see all of your websites at one glance will surely make you feel like you are in control once again. This is another feature of Website Manager Tool that you can take advantage of to help you out. With it, you get the ability to review the whole portfolio of your websites!
Preview multiple sites
Once you add many websites to your portfolio, you might still see only one in your dojo. That shouldn't worry you – all you should do is switch the preview option. You can only see one, and get the needed information, or you can choose a preview that allows you to see multiple websites at once.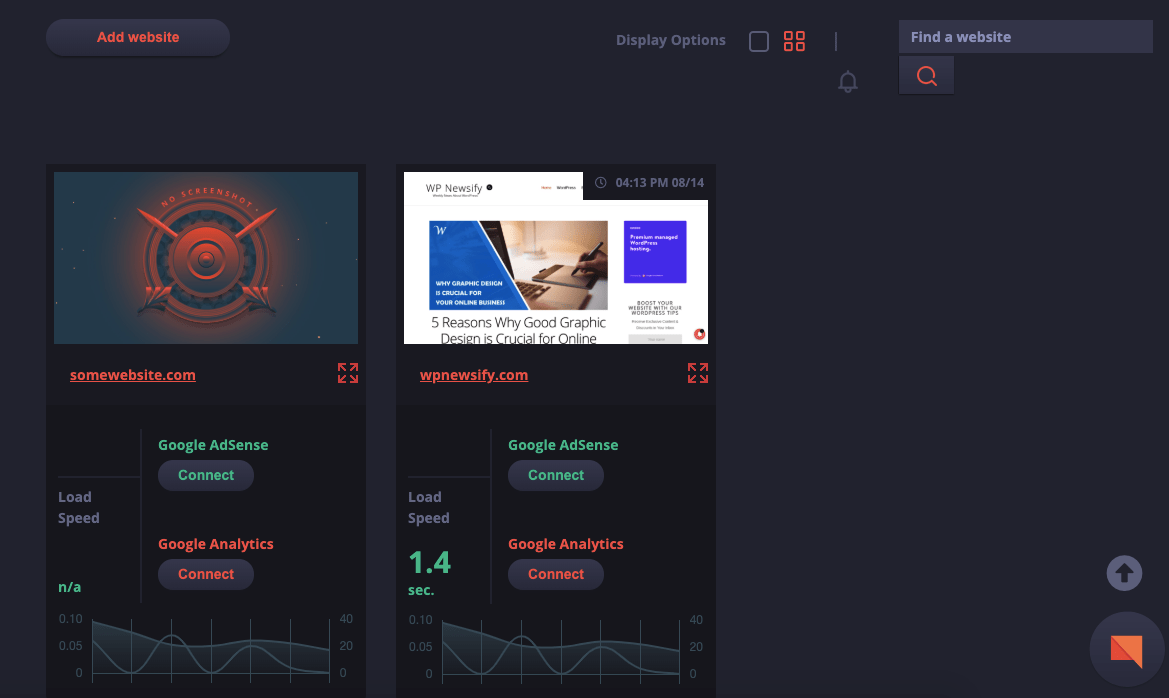 Of course, if you want to see detailed information about a single website from the multiple previews, all you should do is click on the "full screen" button on the specific site. It will revert to the single website preview with the selected website's details.
Separate portfolios
Up to three websites on your main preview are perfect. If you've got more, such as those hundred websites mentioned before, it might get hectic again. Here is where "Groups" or, also known as "Separate portfolios", come in handy.
Effortlessly create a group of websites related to each other, and move the sites of your choosing to it with a single click. If you know you will have many websites from the beginning, it would probably be easier to create groups first, and then add sites to it, though.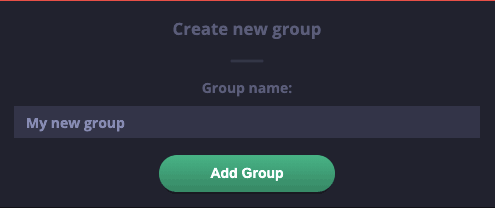 Website manager tool's handy integrations
If a website manager doesn't use Google's tools, is he or she really a website manager? This is why any tool that doesn't offer integrations with these accessible and quite handy tools is somewhat obsolete.
The Website Manager tool offers integration with both Google Analytics and Google AdSense! Thanks to this, you can effortlessly connect your Google Analytics or Google AdSense accounts with Webmaster Ninja.

This will result in an even more comprehensive overview of the websites in your portfolio. After you connect these accounts, you will be able to see, as you are scrolling through your collection, the stats you need. Is your website slacking or performing as you want it to perform? How much revenue did your sites bring to the table today, last week or last month? Yes, all that within the same dashboard.
Domain Checker
As you probably heard already more than once, it all starts with the right domain name. So, relying on an online checker before you start working on your online presence might be the best idea since sliced bread. One of the Webmaster Ninja tools is the domain checker. It helps you find the perfect domain name for your new website.
Check several different keyword combinations at the time
Check as many as you need. Just add the set of keywords in the appropriate box and then add some more in the second box. Select whether you would like your domain to be .com or .net (or mix), and click check.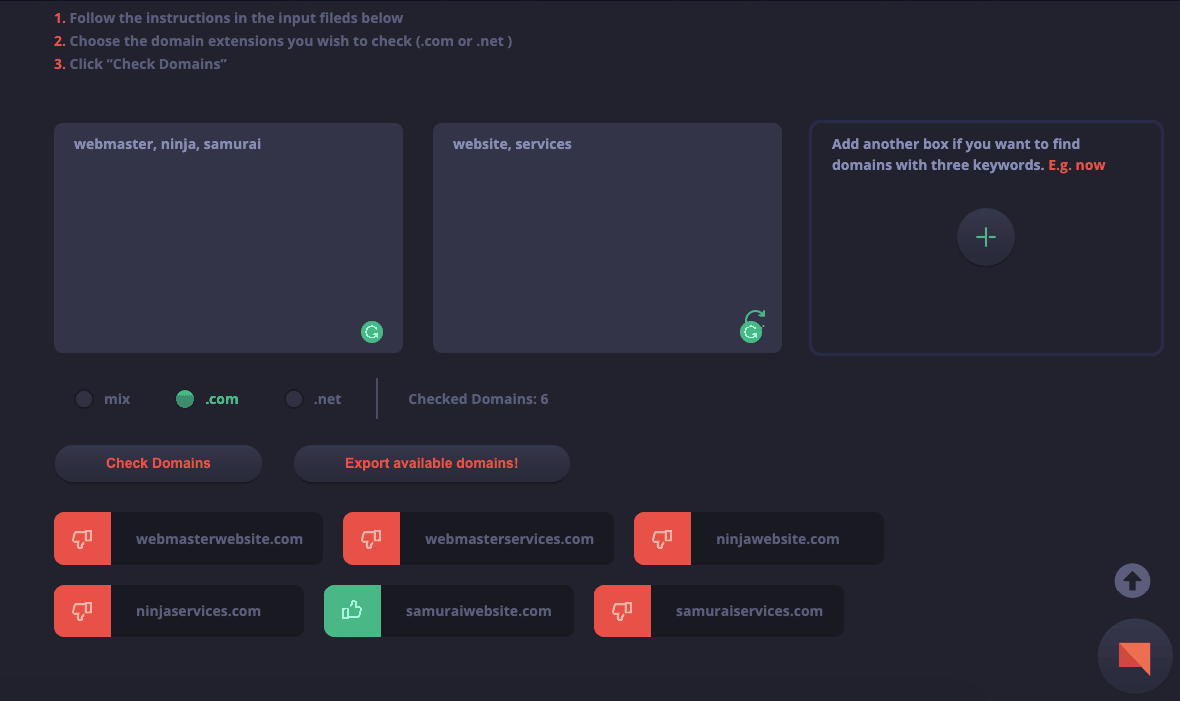 You will see the list of domains that could be created with those words, but you will also see which ones are taken already as well. Regardless, you will get numerous combinations of domain names which you can use for your business.
The good news is, you can add any keywords you would like to get the most out of your domain. If your business is geo-targeted, just add the location into the checkbox to find the best domain, including the location. This is also a great way to check out the competition, too!
Export your results
If you need these domains elsewhere, for example, if you want to share the possibilities with your team, all you have to do is click on an "Export Available Domains!" button. It will instantly download your results in the form of an Excel Sheet so that you can share it, edit them, sort and store it the way you need them to be.
Test Your Website's Speed
There has been a lot of talk about the website's speed, and everyone should have listened. Not only can the speed of your site immensely impact your bounce rate, but it also has a significant impact on SEO as well.
Visitors nowadays are not prepared to wait more than three mere seconds for the website to load, which is a significant decrease when it comes to patience since dial-up internet. So, if your website is slower than that, you shouldn't be surprised to see that your visitors love to hit the "back" button and head on to your faster competition.
On the other hand, Google has implemented the website's "Speed Score" as an essential aspect of SEO. If you want to get on the first page of Google's search results and get yourself some organic traffic, then you shouldn't neglect the speed of your website.
Every good webmaster already knows this and needs the right tool to keep himself informed about the website's speed at all times. That is where the Webmaster Ninja's website speed test comes handy.
Effortless speed test
To get the information on your website's speed, all you should do is add the URL of the site you want to check – and the tool will do the rest. You will get to see the average time it takes your website to load, and it will add the result to the website's dojo preview, too. If you see the number 3, or even 2 show up, as a result, it is not the time to panic, but to do something about it.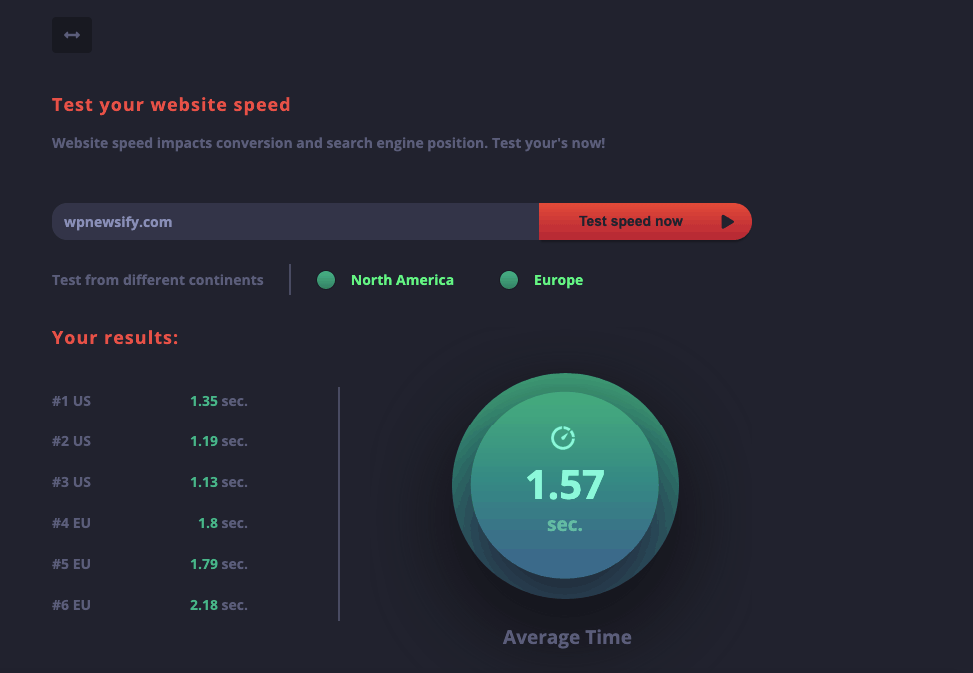 Multiple Continents
All this speed talking would be super simple if you operate locally. Just checking against your location will probably get you excellent results. But what happens when someone from across the world tries to access your site? If you are trying to appeal to the global market and international visitors, you need to take into consideration how long it takes them to load your site, too.
Luckily, with this tool, you can select multiple locations and check against several continents. Just check a couple of buttons! You will not only see the average speed, but you will effortlessly get to see how quickly your website has loaded in several continents. Being able to check in no time how your website is faring globally within a single dashboard can help you save many customers and stay on top of your SEO game.
Notification center
A sound notification center is almost mandatory. Especially if the disaster strikes, you need to be notified immediately, so that you can react and prevent the potential chaos.
Webmaster Ninja's notification center is rather straightforward and simple. It allows you to see any adverse changes that could be happening on any of your sites.

You've got mail
What would be the point of notifications if they were solely inside the dojo? That would mean that to keep yourself informed you would have to stare at the dashboard at all times. This won't leave you with much time to sort the issues you've been receiving notifications about in the first place.
This is where that email you used for registering to the Webmaster ninja tools comes handy, as the notifications will also be sent to that email address! Emails are an essential means of communication nowadays, and you probably have some notifications for them set in place too. You are very unlikely to miss any trouble happening with any of your sites.
Is there more? Yes. Take advantage of monitoring, too!
Well, apart from these tools that you can use to stay on top of your webmaster game, this team thought of another thing: monitoring.
There are numerous benefits to keep an eye on the stats of your website at all times. Who would know that? An experienced webmaster. This is why, apart from these tools, you can take advantage of monitoring options Webmaster Ninja provides.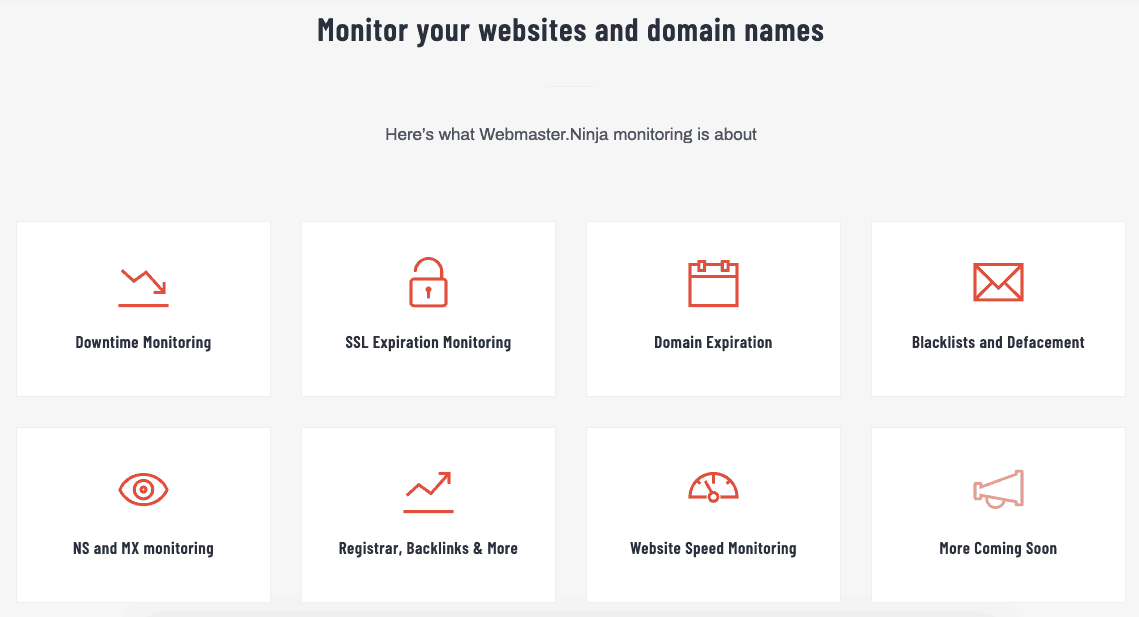 Downtime monitoring
Don't wait for a huge drop in sales to let you know that your site is down. With Webmaster Ninja's Downtime Monitoring, you can see if something is wrong rather quickly so that you can react and prevent the potential disaster.  It checks the uptime every five minutes, and you get notified if something is wrong instantly.
SSL Expiration monitoring
"This website is not secure". If you hate seeing this on other websites, you want to remember to renew yours on time. With this feature, you get notified if your SSL certificate is expiring soon. Prevent the embarrassment, and ensure that your site is secure at all times.
Domain Expiration
Yes, unfortunately, this still happens. It shouldn't happen to you! Just like with SSL, there is nothing wrong in having someone remind you it is time to renew your domain. An additional useful feature is "Recommendations and coupons". Use it to save a couple of bucks upon your next renewal!
Blacklists and Defacement
Most certainly – you don't want to be on any blacklist anywhere ever. Getting blacklisted by Google is rather traumatic, and it could happen to you! With this monitoring tool, you will get a notification if Google has changed its opinion about you so that you can send it flowers immediately. You also should send flowers to any of those email subscribers who marked you as spam. You will know if it happened thanks to this feature.
Website Speed Monitoring

No need to go into details of why speed matters again. It is important to know that together with the ability to test your website's speed, you also get to monitor your site's speed at all times.
NS and MX Monitoring
You want to ensure that your NS is pointing to the proper registrar and your MX to the desired email provider. If something is wrong, with this useful monitoring, you will get notified instantly.
Registrar, backlinks, and more
This feature puts your mind at ease when it comes to your domain name. If you recently bought it or moved it, you will cherish the fact that this feature does the needed checks. Alexa rankings and your backlinks are also monitored, so you can easily see how your website is doing in those fields as well in no time.
All in all
Probably the best part of using Webmaster Ninja's tools is the fact that all of them are free! Yes, you can sign up and create the account with just your email. Considering that it will be put to good use, it is a ridiculous price to pay to have your Webmaster Ninja dojo.
What is apparent is that the creators of these fantastic tools knew the problems Webmasters are experiencing. That is because all of the features are well thought out. If you are looking to step up your webmasters game, or simplify an existing one, signing up with Webmaster Ninja could be the best course of action you took to becoming a proper ninja!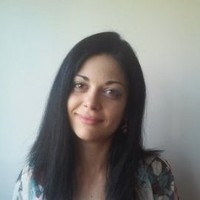 Latest posts by Vladana Donevski
(see all)
Where Should We Send

Your WordPress Deals & Discounts?
Subscribe to Our Newsletter and Get Your First Deal Delivered Instant to Your Email Inbox.
Thank you for subscribing.
Something went wrong.