Another wonderful week in the WordPress community has passed and I (with co-workers) have put together a list with loads of great and must-read articles in our weekly recap WordPress.
Personally, I have worked, breathed and lived with WordPress for nearly 10 years and I must say that it is really addictive. After all these years I find it still fun and interesting to read news about WordPress every week. I still love to try out new themes and plugins that are released into the community.
Simply put: I love being a part of the WordPress sphere and all the people I've met and made the acquaintance of is big. What a feeling! If you have just familiarized with WordPress, let me say that it is absolutely the best community to join. It will not take long before you meet like-minded people to chat with or meet in any of the worldwide Word Camps organized annually.
Let's check out some of our awesome WordPress news this week!
WordPress News
WordPress Relaunches Plugin Directory with New Design and Improved Search Algorithm: The new WordPress Plugin Directory is live. Contributors have been working for the past year on rebuilding the directory with a new design and better capabilities for searching through the 45K+ available plugins.
Live from WordCamp Miami. It's the WP eCommerce Show!: : Bob Dunn reports from WordCamp Miami, which took place last weekend. In his podcast, you can join in and listen to topics such as The basics to get started with your online store. How to earn the trust of your customers etc.
Community Team Releases Plugin That Displays WordPress Events Nearby: Nearby WordPress Events is a plugin that attempts to detect a user's location and displays upcoming events within the WordPress News dashboard widget. Events include WordCamps and Meetups from Meetup.com.
WordPress Polyglots Team Calls for Volunteers to Organize Global Translation Day Three: The WordPress Polyglots team is asking for volunteers to help organize WordPress Global Translation Day Three. The event may take place on September 30th.
WordPress Resources: Tips & Tricks
Poedit 2 Introduces Direct Connection to WordPress, Adds Support for Twig Templates: Poedit 2 introduces direct connectivity support for WordPress, allowing developers to connect directly to the server instead of working with unpackaged plugins/themes locally.
How to Add Medium's Most Popular Features to WordPress: WordPress theme and plugin developers have been looking at the positive features of Medium, however, and if you're a Medium fan, you can adapt your site to look like and behave just like the blogging platform.
The 3 Things to Look for in a Great WordPress Theme: In this post, I will help you determine the different WordPress theme categories so you can limit the types of themes to choose from and make it easier for you to make a decision.
Sell WordPress Themes/Plugins Online: 6 Killer Actionable Methods: Developed an amazing WordPress theme/plugin but still have no clue how you might sell it? Check out some killer actionable marketing techniques that will have money pouring in almost instantly!
Who Uses WordPress? How About These 100+ Famous Brands: Who uses WordPress? Here are 100 great examples of famous brands using WordPress. We have musicians, corporations, media companies, artists, car manufacturers, universities, tech companies, movies, quite literally everyone.
Clef's Dead, Now What? 4 Free Two-Factor Authentication Alternatives: The Clef plugin made logging into WordPress easy and more secure thanks to two-factor authentication. But it was recently announced that Clef is sunsetting and now users need to find an alternative.
WordPress Tutorials
How to Merge Two WordPress Blogs Without Losing SEO Rankings: In this article, we'll first explore why you'd want to merge two blogs, then guide you through the process of doing so in five steps, all without affecting your SEO rankings.
How to Create a Local WordPress Site Using XAMPP: Do you want to create a local WordPress site on your computer using XAMPP? In this article, we will show you how to create a local WordPress site Using XAMPP.
How to Add a Coupons Codes Page to WordPress: Adding a coupons codes page to your WordPress site is extremely easy. It can also be very beneficial for you and your audience. So how do you go about setting one up?
How to Add and Customize Video Headers in WordPress: In this post, we will walk you through how to use the new video header feature, complete with styling and customizations.
How to Remove Query Strings from Static Resources in WordPress and Speed up Your Site: Query strings are parts of URLs that you can find after a question mark (?) or ampersand (&) symbol. Browsers or external applications usually add these parts to URLs in order to add additional parameters.
WordPress Themes & Plugins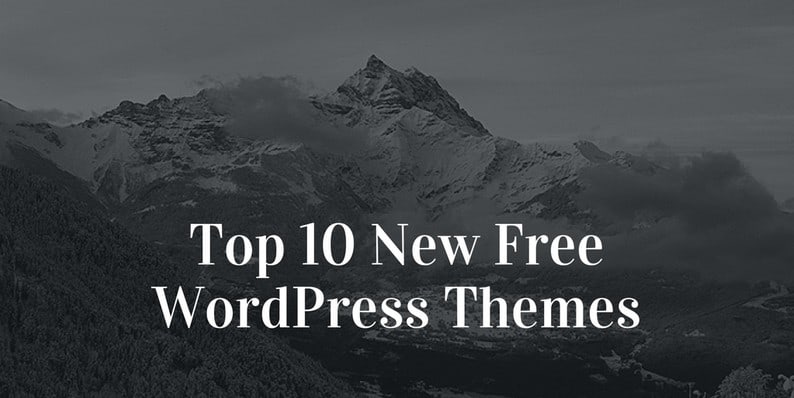 Top 10 New Free WordPress Themes March 2017 Edition: It's time for our monthly roundup of the top 10 new free WordPress Themes for March 2017. Today's collection consists of many great and useful themes for a variety of niches. We hope you will find an inspiring WordPress theme for your website.
The Recent Selection of the Best 15 Bright and Multifunctional WordPress Restaurant Themes: So, do you want to build a cool and eye-catching website? I can't see the problem because today one may easily do it and even more with the help of the bright selection of the best 15 ready-made and multifunctional restaurant WordPress themes!
The WPLift Roundup of the Best Free WordPress Themes March 2017: This month was heavily focused on business themes with multipurpose business themes being a common theme. Blogging themes, especially professional blogging themes, followed after that.
44 Best Free WordPress Blog Themes for 2017: Are you looking for a free WordPress blog theme for your website? In this article, we have hand-picked some of the best free WordPress blog themes that you can use on your new blog.
In Defense of the Jetpack WordPress Plugin: The Jetpack WordPress plugin has seen its share of drama over the years. Some folks argue that it's a burden on site resources, while others can't imagine running a website without it.
WordPress Product Reviews
WP Event Manager Review – A Plugin To Create Event Listing Websites: WP Event Manager Plugin is a plugin to turn your WordPress website into an event management portal. In this post, we will discuss WP Event Manager plugin which works perfectly with any theme.
Sliced Invoices Review – A Powerful Free WordPress Invoice Plugin: Sliced Invoices is a WordPress invoice plugin that gives you full control over sending invoices and quotes to your clients.
How to Make An Event Site With WordPress? (WP Event Manager Plugin Review): As the marketing of events through the web is trending now, I have taken a nice opportunity to talk about the possibility of creating the event sites with WordPress through this post.
Lifter LMS Review: A Course Builder That's Meant For Making Money [Update 2017]: Posting a video course on YouTube might get you some followers, but it's no way to run a learning business. Lifter LMS has an impressive number of features, and you can extend the functionality with the help of paid add-ons.
WordPress Podcasts
How to Make Money with WordPress, with Matt Mullenweg: This week, we have the very distinct pleasure of talking to a gentleman who is not only a talented member of the WordPress community … but the one responsible for it.
177 WP-Tonic: Jackie D'Elia: Evolution of a Professional Web Developer: We talk to a great friend of the show, Jackie D'Elia who is also one of our regular WP-Tonic expert panelists. Jackie has a great personal story of how she got involved with the WordPress community.
178 WP-Tonic: Best WooCommerce Plugins and Extensions: There's a ton of information in here about WooCommerce plugins and extensions, including what plugins you'll need for specific functionality in WooCommerce.
EP228 – WordPress Database Spring Cleaning: This week on WPwatercooler we'll be discussing how you can do some spring cleaning in your WordPress database to make it bright, shiny and new again!
WordPress Interviews
Changing Lives: Justin Frydman: In this new episode of Changing lives, we'll meet with Justin Frydman, a full stack web developer and systems administrator with 20 years of experience.
Ending Notes
In conclusion! Yet another exciting and awesome week in the WordPress community! I wish you have a wonderful weekend. If you have some time over you can make use of the tips in our WordPress weekly recap post. Please let me know about all WordPress stuff you come across so we can add them to our next roundup.
Where Should We Send

Your WordPress Deals & Discounts?
Subscribe to Our Newsletter and Get Your First Deal Delivered Instant to Your Email Inbox.
Thank you for subscribing.
Something went wrong.