Many WordPress developers believe that a theme with more features sells better and satisfies more customers. A jam-packed theme with plenty of options is considered a state-of-the-art piece of design. To some extent, this idea is valid. However, countless features don't guarantee countless satisfied customers. It's a paradox of choice, and Barry Schwartz's TED talk explains it in a scientific way. Schwartz claims that too many options and too much freedom don't make a person happier.
WordPress users are on the edge of facing the paradox of choice. Nowadays, WordPress themes are multipurpose, complex, and highly customizable. Most of them have a built-in page builder. Some of their creators claim that the users have full control over every pixel. Is it genuinely necessary for the average user to control the entire web page layout? This is a hot topic, and at the moment there is no right or wrong answer. As long as it implies human nature, it won't have a clear answer ever!
Meet a New Way to Build Your WordPress Site
Pepper is a unique theme that resolves the paradox of choice for WordPress users. It looks great, is user-friendly, and is FREE. On top of that, it assures the perfect balance between the number of features and user comfort. Pepper differentiates from the rest due to its modular concept.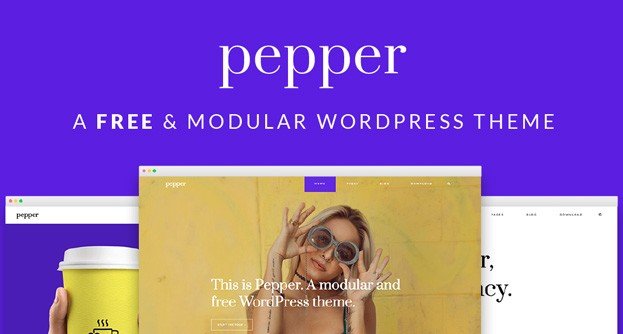 Think of the modules like pieces of clothing. A page builder gives you the power to change t-shirt material, the shape of the buttons, and so on. A module is as a t-shirt crafted by a skilled team that studied your body and knows your preferences. Just select the proper size and color, and fine-tune it to make it perfect.
Note that I didn't say that a page builder is useless. No way; they are amazing. However, in some instances, they are daunting to users, and a modular concept is a better solution.
If you are curious about modules, Pepper is the proper theme to introduce them to you. And since Pepper is free, you should definitely give it a try. Of course, there are many other reasons to download and install this wonderful theme.
Six Powerful Modules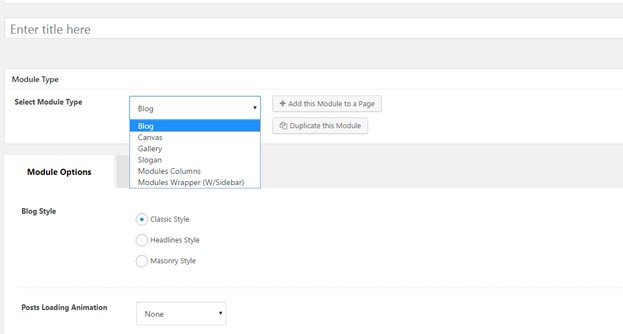 Pepper sails with six modules: Blog, Canvas, Gallery, Slogan, Columns, and Wrapper. Each of them is customizable and can be used for a large pool of purposes.
Blog is a module that has a self-explaining name. It has three layouts and many styling options.
Canvas is a free editor and a great tool to add your personal contribution. It is suitable for adding images, code, text, or shortcodes.
Gallery is the module responsible for displaying images. You benefit from three gallery styles—Mosaic, Masonry, and Perfect Grid—and five layouts. These options are more than enough to create cool image galleries.
Slogan is the module for writing convincing slogans and displaying a converting call-to-action button. It's an irreplaceable module for business websites or landing pages.
Columns is a powerful module that helps you to add other modules inside the columns of a layout.
Wrapper lets you group other modules into a big one that is placed next to a sidebar. It is a priceless module for bloggers.
It's Not Just Different, It's Efficient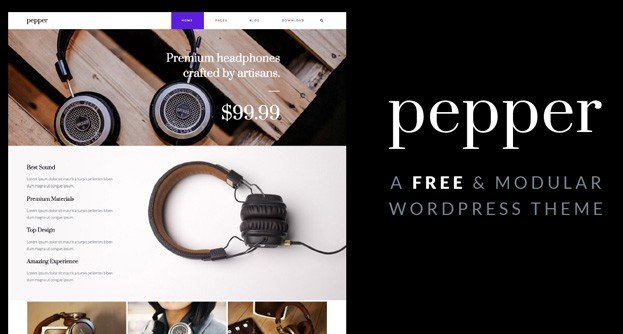 Using modules instead of a page-builder isn't only an approach for the sake of being different, but they are the most useful tool for less experienced or medium WordPress users. Users can focus on creating content and adjusting the design to reflect their identity and needs.
Creating a blog layout is a breeze. Select the blog module, then head to "Module Options." There you can choose from three blog layouts: Classic, Headlines, and Masonry. After selecting the posts per page and displaying or hiding the navigation bar or posts offset, go to "Module Style." There you are free to stylize the background and the header. Hit the "Publish" button, and voila, your blog is online! It's a matter of only 15 minutes to create and publish this module. All the modules work similar to this one.
Save Time and Delight the Public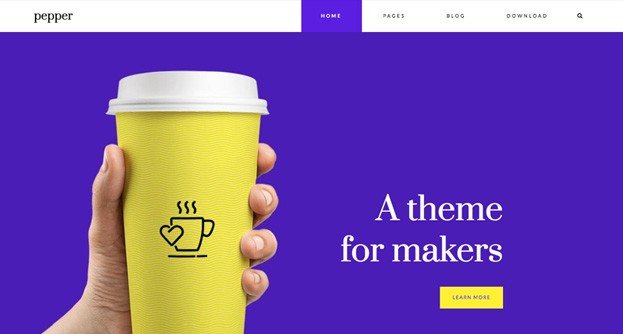 The modules save time and let you create an outstanding online presence. They are highly polished and designed to delight visitors. Without a doubt, the developers tried their best to create these modules. The modules are not only visually appealing but also fully responsive and retina ready. Your website is rendered smoothly no matter the screen size of the device used.
Artisan Themes, the creators of Pepper, mastered the creation and use of modules. In fact, its entire arsenal of impressive WordPress themes is based on modules. Check its themes and the "Ready Made Sites" section. If you are skeptical about the power of modules, the demos from this section will convince you to change your mind.
Multipurposeness
Usually, a free theme lacks many features in terms of functionality, but that is not the case with Pepper. Even though Pepper is free, it is suitable for many types of projects. It could be the base of a good-looking corporate website or a portfolio for a design agency. The sky is the limit with Pepper! Here are some resources that guide you to use the full power of Pepper: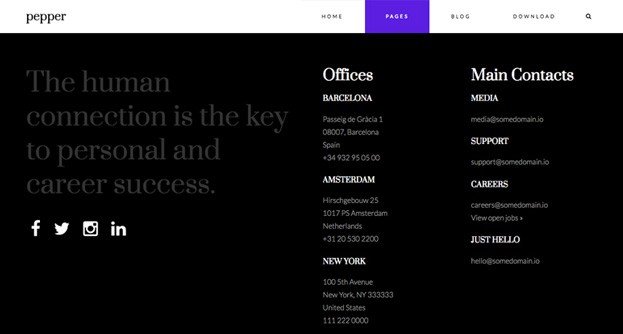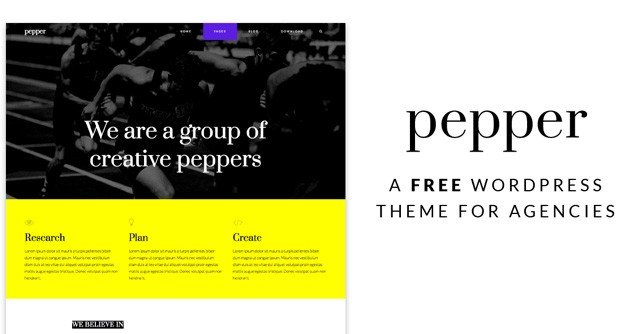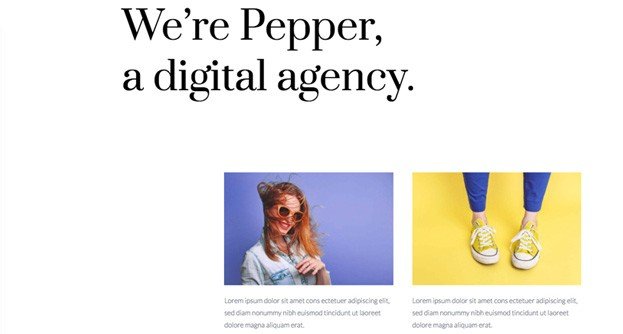 Extensive Knowledge Base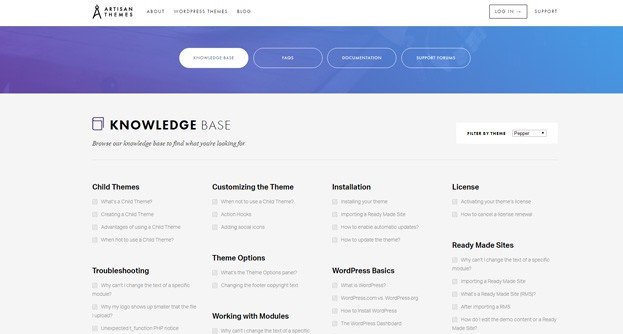 Pepper is easy to use and intuitive. However, the theme developers crafted an extensive knowledge base. When I say extensive, I mean extensive! Here are some tips from WordPress basics to working with modules and child themes.
Artisan Themes' clients get an invite to a private Slack community to interact with them. It's an efficient and friendly manner to offer support and develop and strong collaboration between clients and the theme providers. Another modality to get in touch with the theme creators is via the support forum. Of course, you can consult the blog to find useful WordPress tips and tricks.
Wrapping Up
Pepper is an original and interesting modular WordPress theme. It's simple to use and satisfies the requirements of both advanced and amateur WordPress users. Also, it's not negligible that this theme is free! You can download, install, and test it yourself.
We greatly appreciate the input of our readers, so we are waiting for your opinion about Pepper!

Latest posts by Daniel Pintilie
(see all)
Where Should We Send

Your WordPress Deals & Discounts?
Subscribe to Our Newsletter and Get Your First Deal Delivered Instant to Your Email Inbox.
Thank you for subscribing.
Something went wrong.