Another week in the WordPress community has passed and we have put together a bundle of great WordPress news, tips, tutorials and more which we recommend you take a closer look at. Furthermore, the articles today contains valuable tips and tutorials! New WordPress themes and plugins for you to try! Great podcasts to listen to! In other words, an ordinary exciting week with WordPress.
Let's check out some of the articles included this week!
WordPress Version 4.7.2 and earlier versions were affected by security issues resulting in a security update to version WordPress 4.7.3. It is strongly recommended that you update to the latest version if you have not already done it?
WordPress.com releases a new add-on for Google Docs. This free add-on allows users to write and edit documents collaboratively in Google Docs and then send the document directly to any WordPress.com site as a draft post. The add-on can also connect to Jetpack-enabled sites, offering the same functionality for self-hosted WordPress users.
Here is our Weekly WordPress Recap: WordPress 4.7.3, Chrome Add-On for Google Docs & Clef Shutting Down.
WordPress News
WordPress 4.7.3 Security and Maintenance Release: WordPress 4.7.3 is now available. This is a security release for all previous versions and we strongly encourage you to update your sites immediately.
WordPress.com Releases Chrome Add-On for Google Docs: The free add-on allows users to edit documents collaboratively in Google Docs and then send the document directly to any WordPress.com site as a draft post.
WordPress Collaborative Editing: Matt Mullenweg about the new Google Docs integration that just launched – basically it builds a beautiful bridge between what is probably the best collaborative document editor on the planet right now, Google's.
Clef is Shutting Down June 6th: Clef, a two-factor authentication service founded in 2013 has announced that it is discontinuing its product. Users are highly encouraged to transition to a different two-factor authentication provider as soon as possible.
WordPress Resources: Tips & Tricks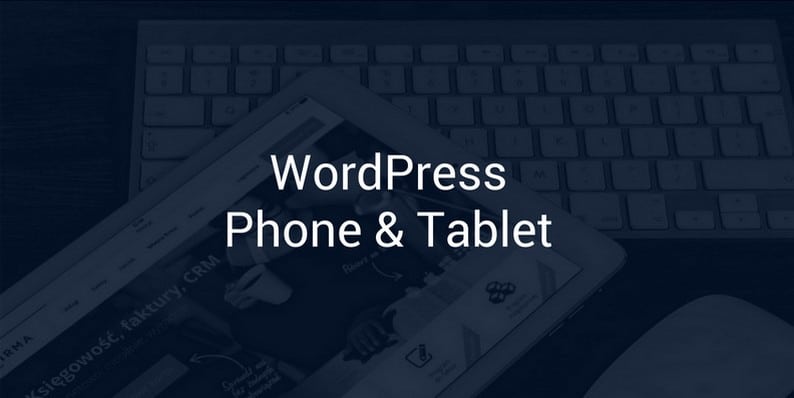 How to Manage a WordPress Website via Phone and Tablet: Let's take a deeper look into some methods and specialized mobile apps that assist you in managing your WordPress websites.
WordPress Security: 19 Step by Step Guide for 2017: In this WordPress security guide, you can read about the latest tips, trips, and techniques to enhance the security of your WordPress site.
Three Years with the WordPress REST API: In December WordPress 4.7 shipped with a built-in REST API, giving every WordPress site out-of-the-box REST endpoints for the core WordPress data types such as posts, comments, and categories.
9 WordPress Experts Share Their Biggest Website Mistakes: Let's dive into the mistakes of 9 WordPress Experts, and discover what they learned from their failures (so you can learn without having to go through the same pain).
How to Install Favicons and Mobile Icons on Your WordPress Site: Getting favicons set up should be a priority for every WordPress site owner. The good news is that it takes just a few minutes of your time.
Google Launches Invisible reCAPTCHA: The evolution of reCAPTCHA technology continues, as Google opened up registration for its new Invisible reCAPTCHA.
WordPress Tutorials
The Complete Beginner's Guide To Creating An Effective Robots.txt File For Your Blog: Did you know that you have complete control over who crawls and indexes your site, down to individual pages? The way this is done is through a file called Robots.txt.
How To Add A Facebook Login Button To Any WordPress Website: With Facebook being the most popular social media website, having a Facebook login button on your website would be a smart move.
How to Add Live Chat to Your WordPress Site: Setting up WordPress live chat is easy and cheap (if not free). Secondly, you can match your chat app to your website.
How to Set Up KeyCDN for WordPress – CDN Made Easy: Are you looking to speed up your WordPress site? Learn how to set up your very own WordPress CDN using KeyCDN.
MailChimp WordPress Integration Guide – Set Up with WordPress?: MailChimp WordPress integration is popular among so many webmasters and bloggers at present.
WordPress Themes & Plugins
Best Anti-Spam Plugins for WordPress to Keep Your Site Clean and Safe: Let's take a look at some og the best anti-spam plugins for WordPress that can help you clean up your site and make it even safer.
Top 10 WordPress Themes for Bloggers in 2017: Some of the best and top 10 WordPress themes for bloggers in 2017 are listed in the article.
Multi-Purpose WordPress Themes or Just Not Fit for Purpose?: If you're anything like me the idea of having a WordPress theme that can be all encompassing is an exciting prospect. One theme to rule them all (my precious), however, the reality is somewhat different.
20+ Best Ad Management Plugins for WordPress in 2017: Ads help you make money from your website. That's a no-brainer. However, not all bloggers prefer to display Google Ads in their website.
WordPress Product Reviews
5 Best WordPress LMS Plugins Compared (Pros and Cons): Are you looking for an LMS plugin for your WordPress site? Check out the best WordPress LMS plugins with pros and cons to help you choose the perfect solution for your online learning website.
Why Elementor is the Perfect Plugin for WordPress Marketers: Elementor is a visual page builder. That means you can build and edit detailed landing pages (as well as other posts/pages), even if you don't know any code.
WordPress Giveaways
Introducing HappyThemes: A New WordPress Theme Shop +Giveaway: In today's giveaway, HappyThemes giving away 3 Lifetime Membership Accounts for 3 winners worth $149.
WordPress Podcasts
172 WP-Tonic: Round Table: Site Architecture And SEO: Listen to things connected to SEO and site architecture to how you can use website structure (pages and blogs) to influence how Google see your site.
WordPress Plugins A-Z #297 Help Desk within WordPress Admin, Demo Site Creation: Episode about plugins for Interactive Flip Books, Tax Reports, Help Desk within WordPress Admin, Demo Site Creation, and much more.
Leading, Empowering, and Inspiring, Episode 138: Episode about the origins of managed WordPress hosting, serving a niche in a crowded space, find your differentiators that set you apart from the competition and more.
EP226 – Preparing Images of WordPress – WPwatercooler: This week on WPwatercooler we'll be continuing our image discussion from last week focusing on how to go about preparing your images for your WordPress site.
Clef Is Shutting Down, Configuring User Avatars, and WPCampus 2017: Episode about Clef shutting down, WordPress 4.7.3, and WordPress.com's new add-on for Chrome.
Ending Notes
In conclusion! That's all folks! Yet another great week in the WordPress community has passed. I hope you can make use of some the tips in our Weekly WordPress Recap posts. Please let me know about all awesome WordPress stuff you come across so we can add them to our next roundup. Drive safe and have a wonderful weekend!
Where Should We Send

Your WordPress Deals & Discounts?
Subscribe to Our Newsletter and Get Your First Deal Delivered Instant to Your Email Inbox.
Thank you for subscribing.
Something went wrong.