Over one billion, that's how many users YouTube has. With that many users, can you imagine how your e-commerce sales would shoot through the roof if you manage to get even 1% of the YT traffic? That's how much of a dent YouTube can make to your online business. And that's the reason why you should be on YouTube. You can also consider the fact that you can aslo buy views on youtube to reach out to the wider audience.
If you're looking for YouTube marketing tips that you can use for your e-commerce business, then you're in the right place. I am going to share with you seven tried and tested methods of marketing on YouTube that's bound to get you positive results. Let's hop right in.
1. Design your thumbnails the right way.
Thumbnails are the first thing you see before watching the video, so it's crucial that they're attractive and relevant. You can achieve this through a visually appealing design, displaying the title or topic of the video, and using the right YouTube thumbnail size. These attributes help your viewers quickly spot you among the thousands of videos, recognize your brand, and understand (in a glimpse) what they can get from your video. Thankfully, there are tools online to help you design thumbnails the right way. One such tool is Fotojet. Fotojet offers templates that you can readily customize. To start designing, select YouTube Thumbnail, and you will see this digital canvass:

Select from a range of template designs, such as landscape, fashion, and travel. You may also opt to design your thumbnail from scratch by inserting text, background photos, and other attributes. What's superb about Fotojet is that it already sets your YouTube thumbnail templates to their recommended size, which is 1280 x 720 pixels. A handy tool like this can go a long way to jump-start and sustain your YouTube marketing campaigns.
2. Show consistent branding.
It's not enough you have well-designed thumbnails. You should be consistent in your branding, as well. Consistent branding in your YouTube thumbnails distinguishes your videos among other videos and helps people associate your business with your brand attributes. Take a look at Brian Dean, founder, and CEO of Backlinko: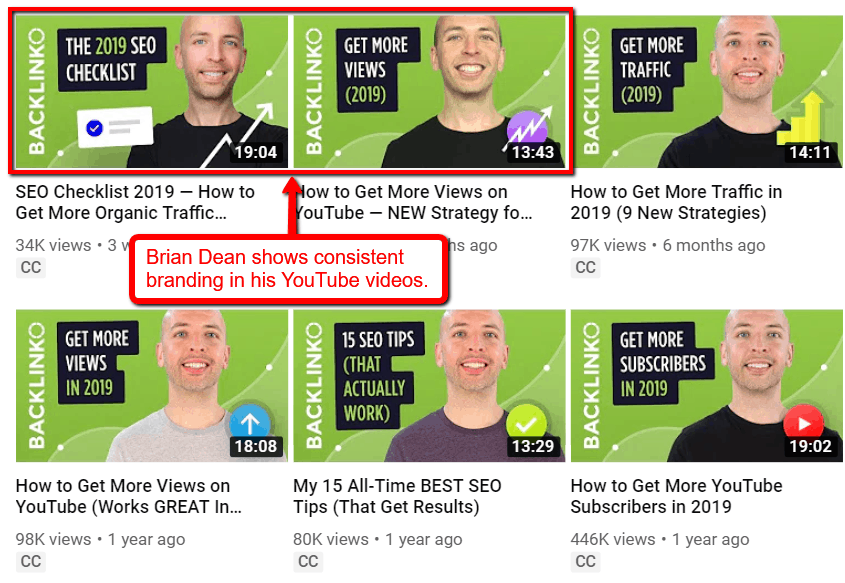 As you can see, Brian Dean used the same shade of green as his background and in his YouTube videos. He even stands on the right side and places the video title on the left side consistently. He also reflects this kind of branding on his website, so viewers see the connection and recognize it to be the same brand.
3. Optimize your videos.
Adding appropriate keywords to your YouTube videos is vital because it helps you rank in the search results and increase your chances of getting more traffic. It is one of the most powerful ecommerce strategies not just on YouTube but also in Google. And so the question becomes, what tools can you use to uncover the right keywords? Ubersuggest is one such tool. Just type in a niche-related seed keyword, and the tool will come up with several suggestions. To show you how the tool works, I typed in "Digital Marketing" as an example. This is what Ubersuggest came up with.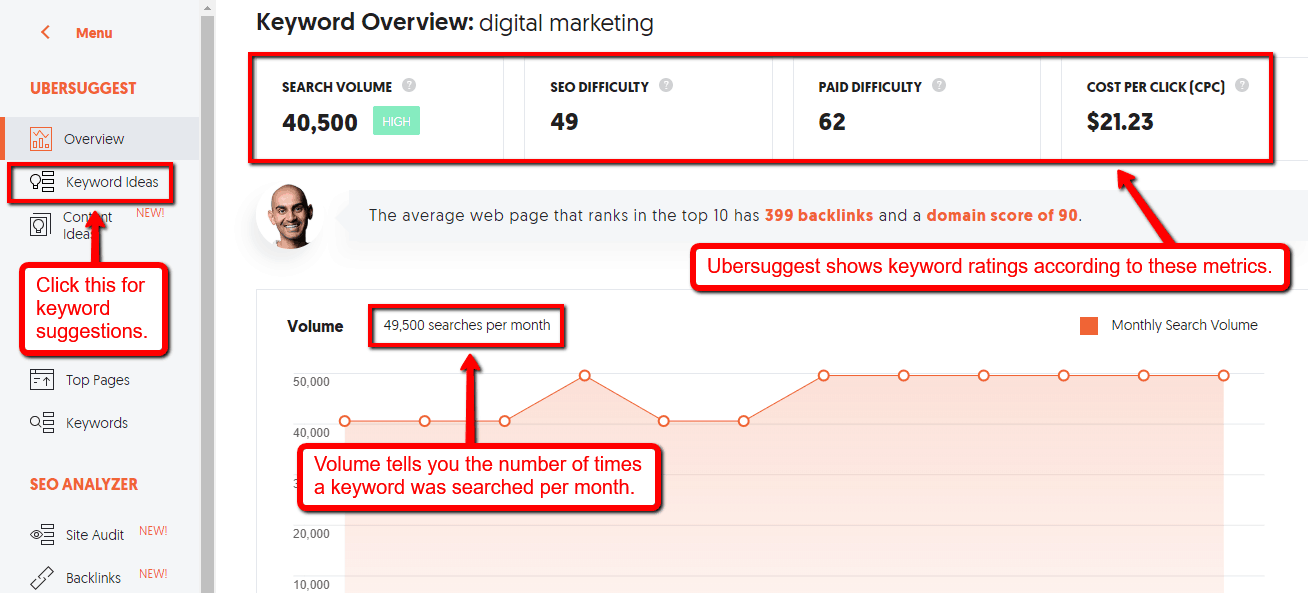 Ubersuggest shows you in a nutshell how well the keyword is doing in terms of search volume, level of competition in organic and paid searches, and cost as a Google ad. There's also a graphical presentation of how many times people search for the keyword every month for a whole year. You can even click Keyword Ideas on the left for keyword suggestions. With Ubersuggest, you get truckloads of valuable data to help you decide which keywords you should use to optimize your videos.
4. Use the About section to your advantage.
You can use the About section to your advantage by introducing your business there, providing additional useful information, and sharing how viewers can reach you. Often, viewers who meet you for the first time read the About section so they can get to know your business better. Below is how Lewis Howes leveraged the About section: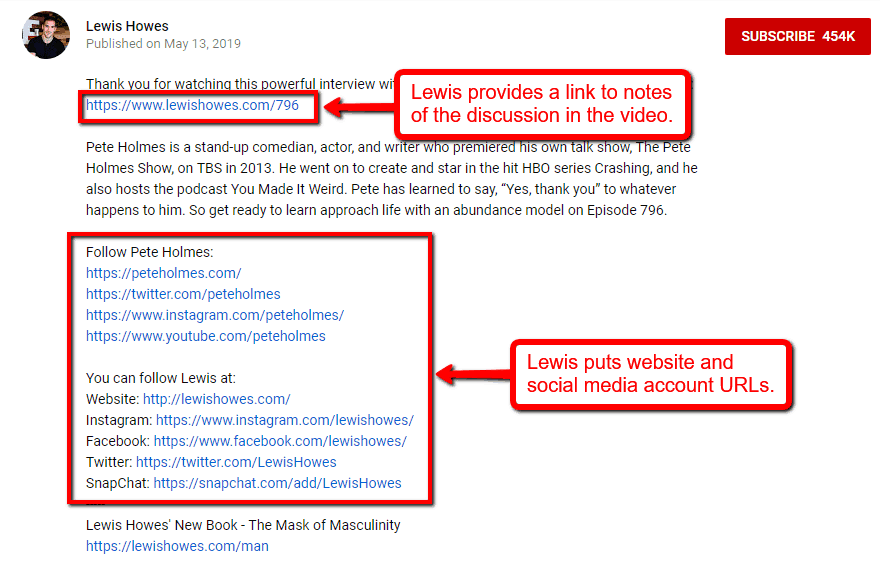 He provided a concise narrative introduction to his guest speaker and filled it richly with links to notes on the video discussion, his website, social media accounts, and books. Including information like these in the About section adds value to your video that can make your viewers patronize your business.
5. Create how-to and informational videos.
How-to videos allow you to present the features of your product and how people can maximize the benefits that come with using it. For instance, if you run an online tutoring business, a marketing tip for leveraging YouTube is to create educational videos that elaborate on your services. If you're selling hardware equipment or home appliances, you can show and tell viewers which buttons to push or how to fix them if you encounter simple problems. You can buy subscribers to get this going and attract more people. Here's an example by Marie Forleo: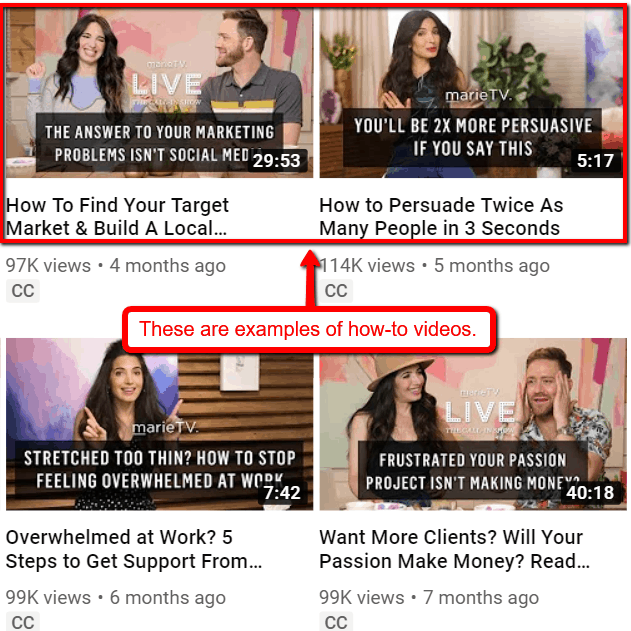 Just like in the screenshot above, display the title clearly, so viewers know it's the how-to video they're looking for.
6. Advertise with Google Ads.
It's also good if you pay to advertise your videos to reach more audiences intentionally. Because Google owns Youtube, you can promote with Google Ads. Google Ads guides you through each step and gives you complete control over every aspect.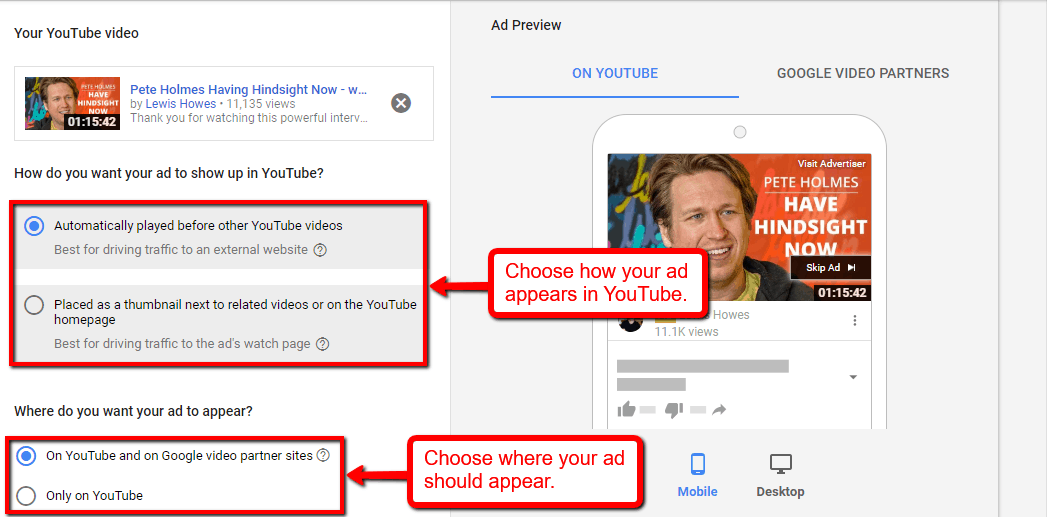 You can choose how and where to display the ad, the demographics of your audience, their location, and then plan your daily budget.
7. Use cards.
If you're looking to advertise your business on social media, especially on YouTube, a useful feature you can maximize is cards. Cards work excellently in marketing your YouTube channel, other videos you uploaded or external links to your website and landing pages. They function on desktop and mobile, and you can insert a maximum of 5 cards, which will suffice for your YouTube marketing campaign. Here's an example by Neil Patel: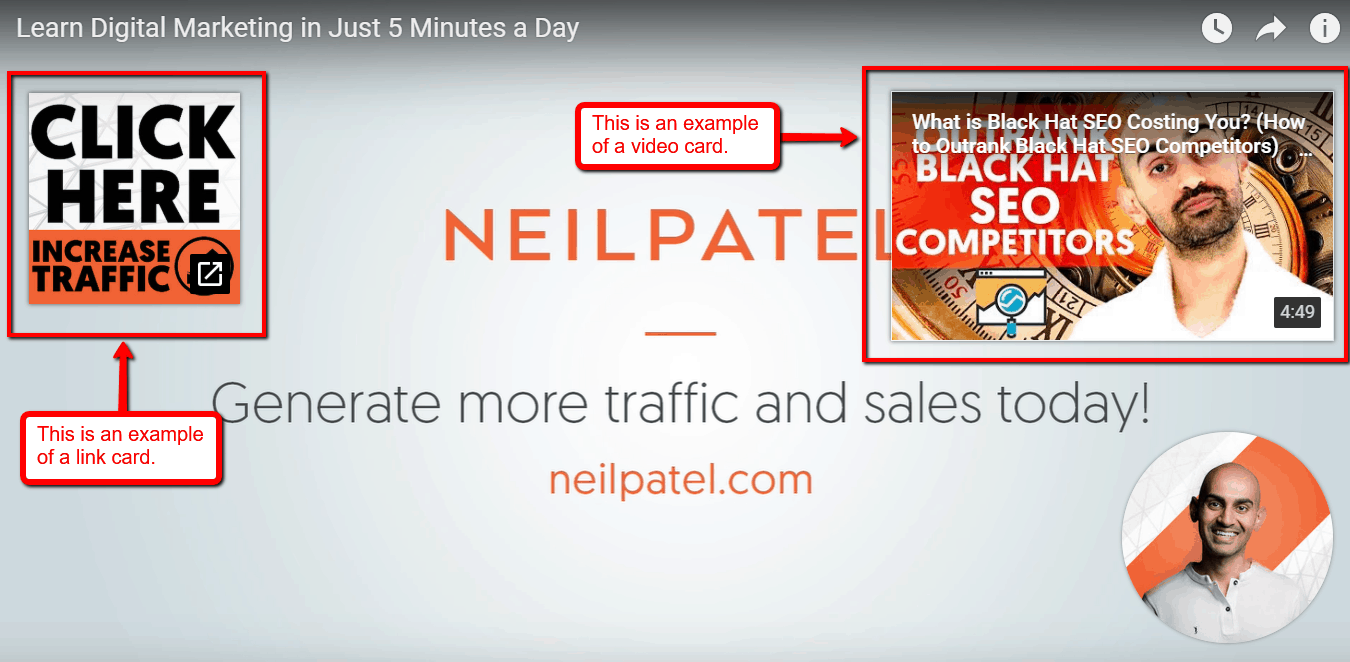 Neil Patel strategically displays two kinds of cards: a link that leads you to his website, and a related video. Aside from them, you can also insert channel, playlists, or polls cards.
What's next?
What are some of the best YouTube marketing tips that you've used for your e-commerce business?
If there are strategies, tips, or even questions that you'd like to share, feel free to do so in the comments section below. Cheers!

Latest posts by Editorial Staff
(see all)
Where Should We Send

Your WordPress Deals & Discounts?
Subscribe to Our Newsletter and Get Your First Deal Delivered Instant to Your Email Inbox.
Thank you for subscribing.
Something went wrong.