A few months ago, we compiled a list of the best under construction page plugins for WordPress. Since then, one plugin captured the most of our attention, and we have been using it on our sites when we needed a landing page for sites in maintenance mode. We are talking about UnderConstructionPage plugin for WordPress.
In the last year, Under Construction Page went from having "only" 20,000 to more than 100,000 active users! The plugin has been free, and it has allowed users to quickly generate under construction pages that look good, and that keep users' interest even while sites hadn't worked. But as from the last update, the developers are starting to prepare the users for something even better! UnderConstructionPage is about to get a premium version that will transform the free WP extension into a perfection.
What Can You Get with the Free UnderConstructionPage Plugin
Before we get to announce the new set of features in the PRO version, let's see what the current one will give you for free. For starters, you should know that the plugin is completely beginner-friendly. It will prepare everything in the background, so you don't have to know how to handle response codes, work things around WordPress and setting things up. You just have to install the plugin, pick a theme you like and change the status to enter the under construction mode. Well, you can even set a date, and the plugin will automatically launch the page for you!
Design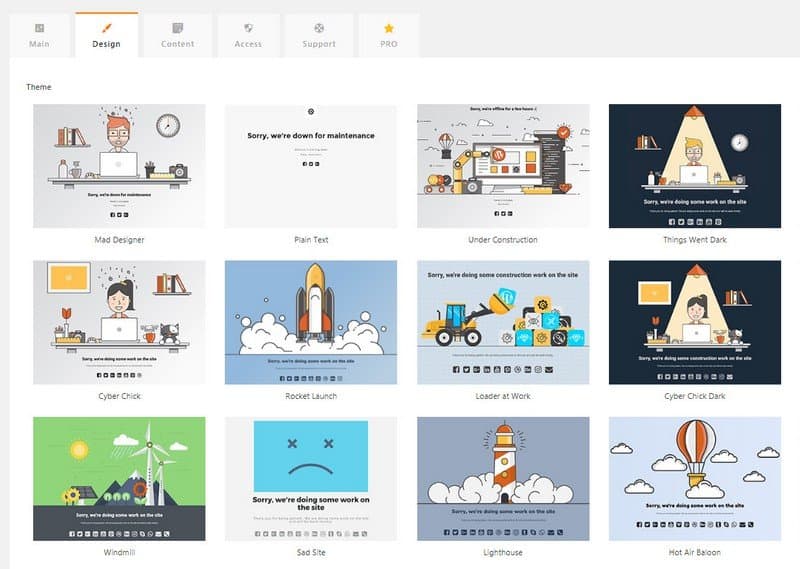 In the free version, there are currently more than twenty-five themes. Those were designed to match practically any site that comes to your mind. So instead of worrying about design elements, images, and forms, it suffices to select a theme that you like the most. UnderConstructionPage will do the rest and create the page for you.
But if you are more skilled and know how to work with CSS, you can always transform the entire page and adapt it to your needs. And even in that case, the under construction page will stay mobile friendly and responsive.
Content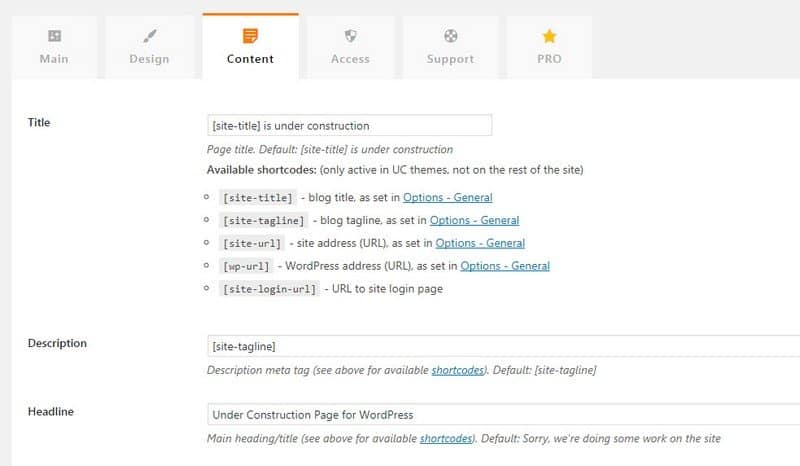 Although the appearance of the page is generated by the plugin, it is advised that you produce your own content. If you're in a hurry, you can even leave that to the plugin and show the standard message. See a few under construction demo pages, and everything will be more clear.
But if you want your WordPress maintenance page to really stand out, you can utilize the power of WordPress' standard Visual and Text editors. Just write what you want, insert images, videos, and style the page like any other post. It's fun, and it will help you connect with your audience.
In order to really connect with the audience, UnderConstructionPage lets you easily embed social icons. There are dozens of social media icons ready for the page; you just need to enter the URLs to your profiles. The plugin will paste the little images below the content and allow your visitors to contact you even if your site is down for maintenance.
Access
If you were about to swiftly launch maintenance mode without extra options, no one would be able to see the regular site. But the plugin gets around that – by checking user roles and particular usernames, you can allow specific users to avoid the under construction mode. Instead, selected users will be able to see the normal website you're working on, and use it as nothing happened. We just love the feature, and can't imagine working without it.
Support
Even though the plugin is free, the developers had added a simple contact form directly to the plugin. If you have any questions about the plugin or problems with the mode, just send an email. The support team will answer in less than 24 hours and help you with anything you need.
Under Construction Page Video Presentation
Learn How To Enable Maintenance Mode in WordPress With Under Construction Plugin
Ready for the Pro Version?
According to ratings and reviews, users lover Under Construction Page. They say the plugin is simple, versatile, and it helps them with showing maintenance pages. But the developers have been working on a premium version, and since the last update, you can even get on the early bird list which means you can sign up for the PRO version, get it cheaper and a week before others!
But before you leave your email, let us show you the galore of features that will come with UnderConstructionPage PRO.
Versatile & User-Friendly Drag & Drop
For those who want more control over maintenance pages, the PRO version will bring a Drag&Drop builder. It will let you add countdown timers, forms, videos, animated backgrounds and custom layouts without any coding knowledge. You'll be able to select an element and move it anywhere on the page. How amazing is that?
Local Emails/Leads Storage
Without having to pay for third-party services, you will be able to collect emails. All leads that you receive will be stored in the plugin, and you will be able to view, search and export the subscribers when needed.
Universal 3rd Party Autoresponder Support
MailChimp has become one of the most popular autoresponders. In the PRO version, you will just have to enter your API key, and the plugin will connect you to the MailChimp list of your choice. Then you will be able to quickly generate forms and collect emails from your visitors.
The same goes for GetResponse, ActiveCampaign, Aweber, CampaignMonitor, Drip, MadMimi or any other mailing service!
Custom Private Access Links
If you're working for a client, it will be easy to generate a custom private link. By sending the link to a customer, he will be able to go around the under construction page and see the regular site. It will work similar to whitelisting users and user roles.
Conversion Tracking
Whether you want to track newsletter signups, contact form submits or button clicks and video plays, the plugin will let you access the data. You can even send the data to Google and built-in analytics system for easier data management.
Track Referrals & Affiliates
You will be able to create a unique access link for every referral. Then you'll be able to track how many sessions, clicks, and conversions it brings in.
+300,000 Searchable Photos Library
If you decide to customize the page in detail, you will love the fact that UnderConstructionPage will connect you to more than 300,000 free pictures! All you will have to do is search for a photo and select it as the background. All photos will be free of charge, and you will get to use them on any page you want, even for commercial projects.
Built-in Analytics
If you don't like using Google Analytics to track the statistics of the visits, the PRO version of the plugin will come with the built-in analytics system. That means you will get to quickly see the number of visits and other stats directly from the dashboard.
Custom Access & Page Rules
If whitelisting users isn't enough, you will get to view your full site based on IP, role, or username. It will be even possible to whitelist or blacklist specific page so that they are always or never hidden by UCP.
Integrated Contact Form
Without having to use third-party solutions. You will be able to integrate a contact form to your page and allow visitors to send you quick messages.
+100 Templates for Everything
UCP PRO is so much more than an under construction page builder. Whatever page you need, you will get to use more than one hundred templates to generate one.
Final Words
No matter what kind of maintenance, under construction or landing page you need. The Under Construction Page plugin will let help you. And while you can generate an amazing page with the free version, the PRO one will make the plugin perfect and give you total control over the maintenance mode. Sign up for the Construction Page PRO. 
Latest posts by Ivan Jurisic
(see all)
Where Should We Send

Your WordPress Deals & Discounts?
Subscribe to Our Newsletter and Get Your First Deal Delivered Instant to Your Email Inbox.
Thank you for subscribing.
Something went wrong.