This article is all about making your WordPress website cleaner, faster and optimized. These are the three most fundamental operational traits of any WordPress website.
WordPress took the world by storm because of its powerful content management system, features and the huge repository of the plugins.
Post Revision is a well-known feature where post revisions are saved as backup copies after every save of the post's draft. You can revert back to any of the copies in case of any issues. It is common to have around five to ten revisions of the post. Over time, these revisions accumulate in the database and brings the website to a crawl.
I will now cover three excellent solutions to handle revisions and make your website and database cleaner and faster.
Let's start.
Better Delete Revision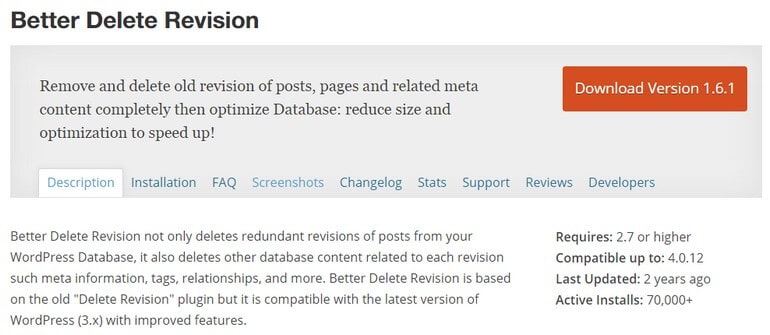 The Better Delete Revision plugin removes old revisions of posts, pages and related meta content from the WordPress database. This plugin only works on the revisions and will not affect the published, draft and scheduled posts.
After you have installed and activated the plugin, you will see a Better Delete Revision option under the Settings in the WordPress Dashboard.
Click it to visit Better Delete Revision Manager page.
On this page, you can see how many redundant posts you have removed since you started using the plugin. Just under the lines, there is a button labeled Better Delete Revision Manager. Once you click it, the second screen will have two buttons, Check Revision Posts and Optimize Your Database.

Once you click Check Revision Posts and you will see a list of posts that can be deleted.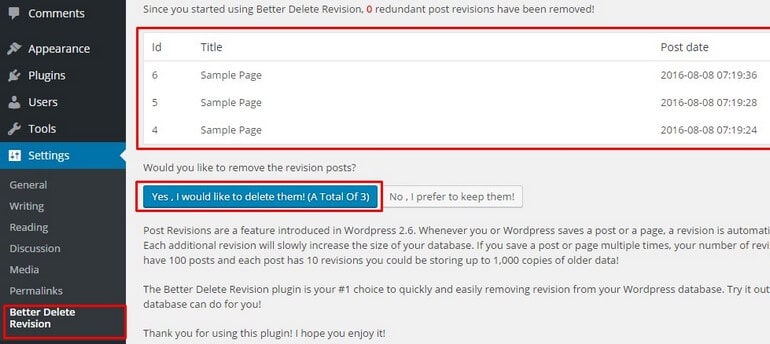 Clicking the Optimize Your Database button causes the plugin to check the entire database. It then shares the status of OK if everything is optimized.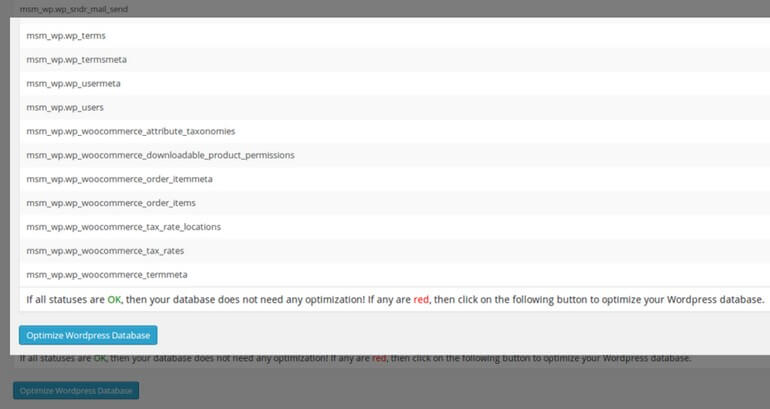 I highly recommend this plugin for keeping the database clean and optimized.
VaultPress

VaultPress is a real-time backup and security plugin that synchronizes every post, media, comments and revisions on their own servers. This plugin is very suitable for companies and brands that require a third-party backup of their website.
The users must sign up to a plan before using their services. You can choose from three paid plans: Lite, Basic and Security Bundle.
Install the plugin from your WordPress Dashboard.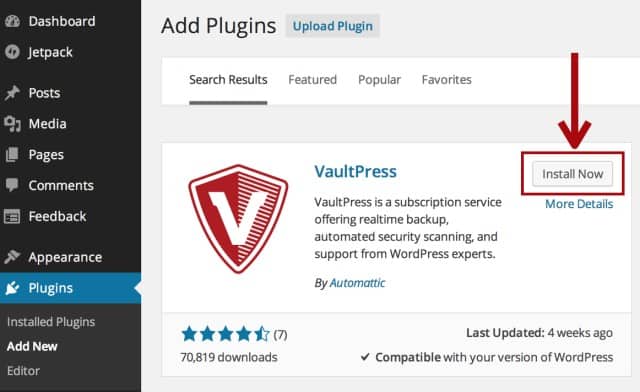 Activate the plugin by clicking Activate Plugin.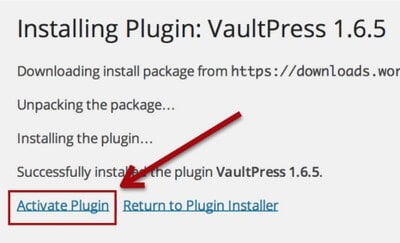 Once the plugin has been activated successfully, you can find the tab in the menu bar.

If you are already a registered member, just paste your registration key in Already have VaultPress account section. Otherwise, you can always choose a plan by clicking on View Plans and Pricing.

Hit the View Plans and Pricing button, you will be redirected to the VaultPress website.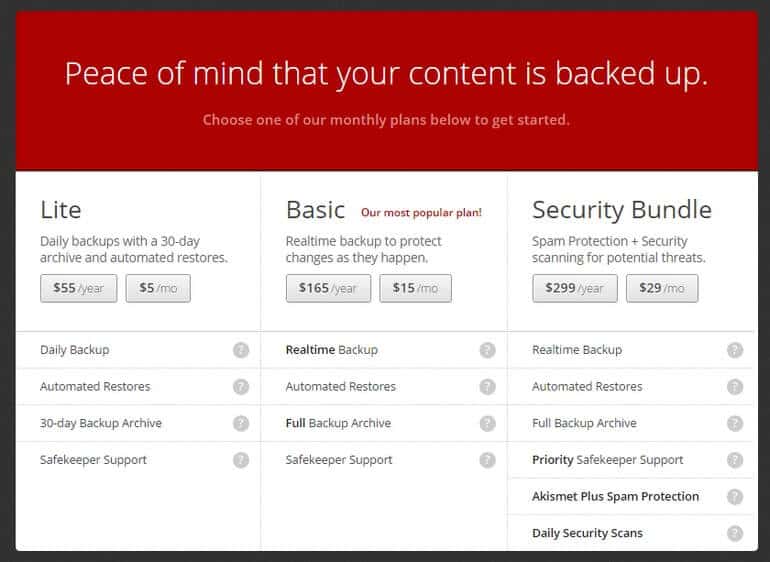 Revision Control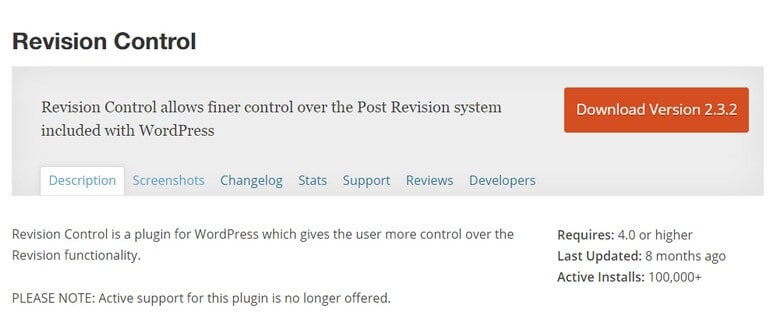 The Revision Control plugin offers a wide range of services for managing post revisions. You can set a global limit on the number of revisions for all posts and pages. You can also enable or disable revisions for individual pages and posts.  You can easily find the plugin in the WordPress Plugin directory. Please note that this plugin is not actively supported by the developers.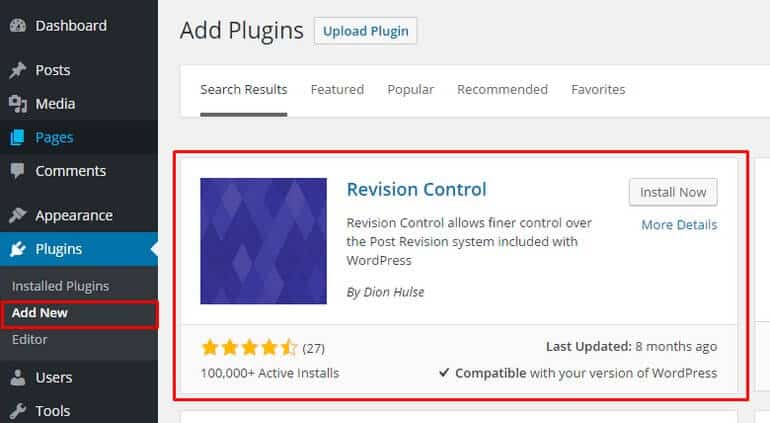 Click on the Install Now button, you will be redirected to the plugin activation page.

After installing this plugin, you can see the available Revision Control Options.
You can set the number of saved revisions for posts and pages.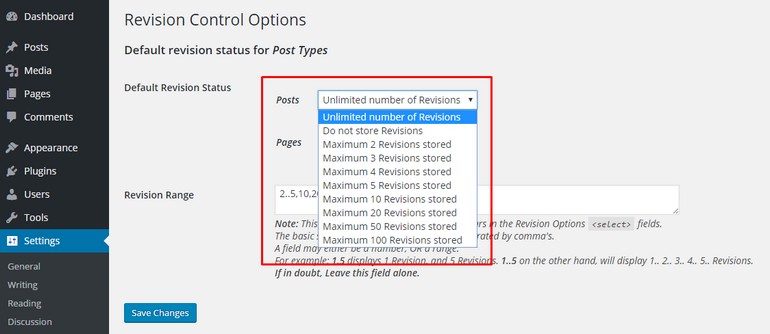 In addition to the above plugins, you could also try the following three plugins as well:.
If you need any clarification about these plugins or wish to add to the discussion, please leave a comment below.
Author Bio:

Danish Ashrafi is the Community Manager at Cloudways, a company that specializes in WordPress Hosting. Danish loves front-end development and designing websites based on WordPress.
Where Should We Send

Your WordPress Deals & Discounts?
Subscribe to Our Newsletter and Get Your First Deal Delivered Instant to Your Email Inbox.
Thank you for subscribing.
Something went wrong.