If you open your WordPress site and navigate to the plugins sections, you can see that there are more than 52,000 plugins just on the official repository. That's a huge number, don't you agree?
Finding those several plugins that will help you run a successful site takes more and more time every day. And if you add several more thousands of premium plugins that you can't even find on the repository, how can someone who's not an expert know which plugins are good & safe to use? This is where TidyRepo comes to help you.
To be fair, TidyRepo isn't new. The site exists for about five years, but it hasn't been that active in the last few years. But let's see what happened and why the site is back on the WP scene.
Let's Welcome the New TidyRepo
Jay Hoffmann created Tidy Repo as a place where only good & valuable plugins get reviewed. After some time on the site, Jay decided to retire because he simply doesn't have enough time to manage everything on his own. Although Jay was the main guy between all the reviews, he now stays active as a consultant who will make sure the vision of the repo stays intact. We still hope to see an occasional review from Jay himself.
Jay handed over TidyRepo to the guys at WebFactory who have been working with WordPress for more than ten years. They have had dozens of reliable WordPress plugins and projects that involve the popular CMS, so they know what are they doing. You might recognize them by some of the popular plugins that we already reviewed like UnderConstructionPage, Google Maps Widget, Coming Soon PRO or Security Ninja.
Web Factory has now taken over which means they are continuing the blog, plugins reviews and helping people in finding the right plugins. The guys have already started working on the new ideas, so you can expect a few minor changes to the original site, as well as some new features & sections that will be added over time. For starters, there's now an entire page dedicated just to discounts!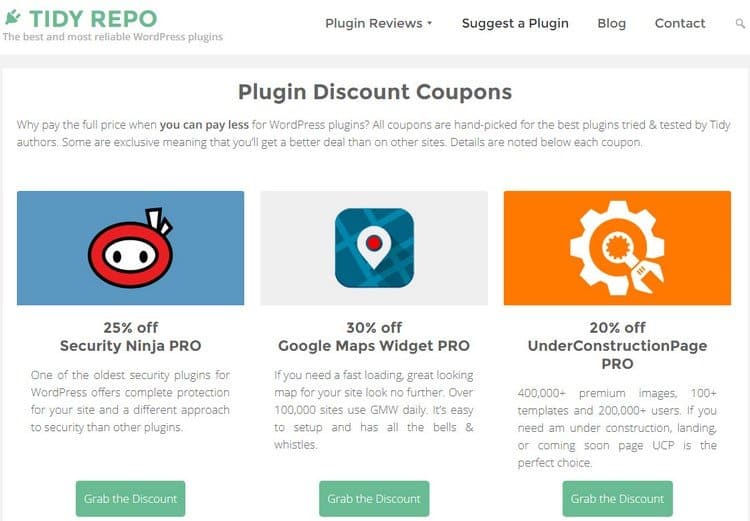 If you open TidyRepo, you will see that there have already been a few new reviews and they're going to publish at least two new ones on a weekly basis. So, don't forget to stop by to see if there's a new plugin worth your attention. TidyRepo welcomes new authors, so if there's a good plugin that might not have been discovered by the crowd, you just might find it on Tidy.
Suggest Your WordPress Plugins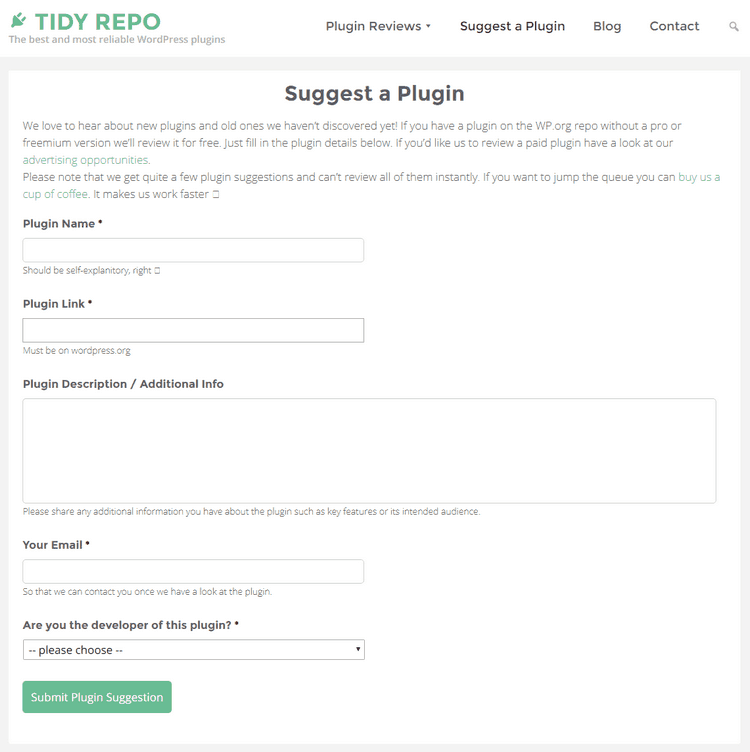 WebFactory encourages everyone to suggest new plugins for the repository. Use the suggest plugin form to send your plugin suggestions (whether it's your own plugin or the one you really love and use on your sites) and the feedback form if you have anything else worth mentioning.
If you have a free plugin, the guys who manage TidyRepo will be more than happy to take a look and consider your plugin for a review. This is your chance to get a word out.
What About Premium WordPress Plugins?
Tidy has been usually dealing with free WordPress plugins. But since there are so many premium extensions available on the market nowadays, there is now a new section that deals with paid plugins. Everything's clearly marked so you will immediately know if the plugin you're reading about is free, freemium or only offers the paid version.
Don't be shy leaving comments on their articles, and let them know if there's anything worth checking.
Latest posts by Ivan Jurisic
(see all)
Where Should We Send

Your WordPress Deals & Discounts?
Subscribe to Our Newsletter and Get Your First Deal Delivered Instant to Your Email Inbox.
Thank you for subscribing.
Something went wrong.