I once heard a saying which I personally believe is indeed true: "Investing in education is investing in the future."
As a WordPress writer for years, I have written about quite many types of WordPress themes – multipurpose, e-commerce, photography, portfolio, etc. However, education is one aspect of life I find so important yet haven't had a chance to write about.
Since it has been a thriving branch of business for a long time, new WordPress themes relating to education are developed every day. The most popular of those is LMS (Learning management system) themes that help you build your dream e-learning site!
Still, launching the best sites of the kind is not about purchasing a random theme or plugin and install it. It is about choosing the one that fits your needs and ensures you will achieve your goals with it. What can be the biggest goals for e-learning sites, if not boosting students engagement? If you're on the hunt for a plugin that allows you to manage in-person, hybrid, or virtual learning in one single platform, Classtra might be exactly what you're looking for. It's simple to set up, compatible with desktop and mobile, and customizable to the highest degree to ensure a completely smooth learning experience.
On the other hand, when it comes to themes, well, time to discover the "flagship of LMS theme of 2018"! I give you eLumine – The only theme you need for a perfect WordPress e-Learning Website!
Why Is eLumine the Perfect Choice for Your WordPress E-Learning Website?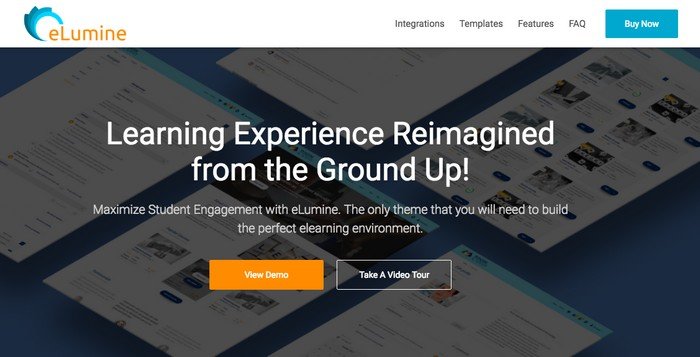 Any masterpiece starts with a simple thought. With the idea of powering the most successful e-learning WordPress websites, WisdmLabs has created and launched eLumine, the LMS theme that proudly carries that mission. eLumine helps websites not only stand out in the crowd to attract but also functions to keep them around with the courses you have to offer.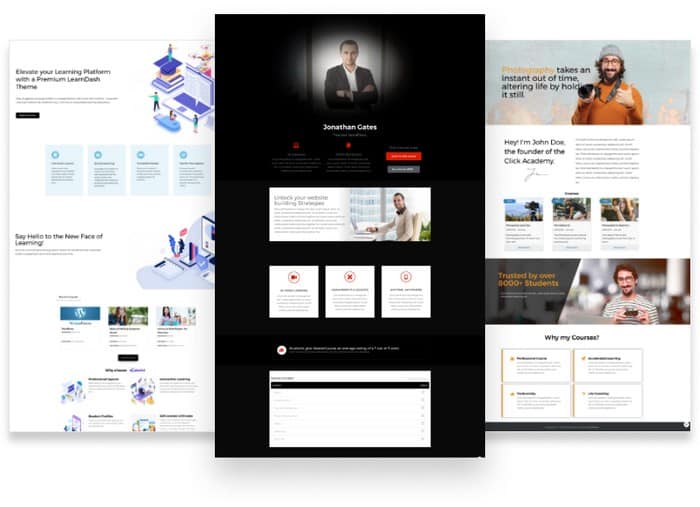 Besides its stunning design, eLumine's functionality is really something to admire. Doubt that? See these for yourself:
Multiple Color Schemes: four default and customizable color palettes from eLumine will help build an eye-catching site.
Fully Responsive: As the theme is fully responsive, your site is bound to look super stunning with all screen sizes.
Visual Page Builder: Featuring Unyson's Visual Page Builder with a drag-and-drop feature, eLumine gives you easy experience in page creation and section arrangement.
Dynamic Sidebars: With multiple display options, dynamic sidebars can be collapsed anytime.
Font Awesome Icons: Transform your site and add more fun to it with the icons supported by eLumine.
One-Click Backup Support will help back up your courses with a click of a mouse.
Multilingual Support: Wherever your students are from, don't worry because the theme is translation-ready and supports all languages.
Ready to import starter sites. Setup your ENTIRE LMS within a few clicks. 3 demos, ready to import in one click for 3 different businesses:
–Classic LMS: How a basic LMS looks like.
–Single Instructor: To showcase a single Instructor on your LMS.
–Master Course: To showcase a single Course on your LMS.
Numerous WordPress Customiser Options: Need not waste time transitioning between frontend and backend in order to customize your LearnDash Site. eLumine offers various options in the WordPress customizer in order to make sure you save time and witness all your changes in real-time.
Just a really quick glimpse into eLumine! Want to know it better? Keep on scrolling for more impressive features and details about them!
eLumine's Main Features
Picking out several features to high light was never an easy task, especially when you write about something as unusual and possessing a lot to talk about as eLumine! However, since eLumine is an e-learning WordPress theme, I will put more focus on its education sides!
Multiple Layouts Specifically Designed for Learning
Beautiful layouts are important for any WordPress theme. However, for an e-learning WordPress theme, a good look is not everything if it does not come with high usability. Understanding this deeply, the design team at WisdmLabs has spent hours to create tailored layouts for improving the learning experience.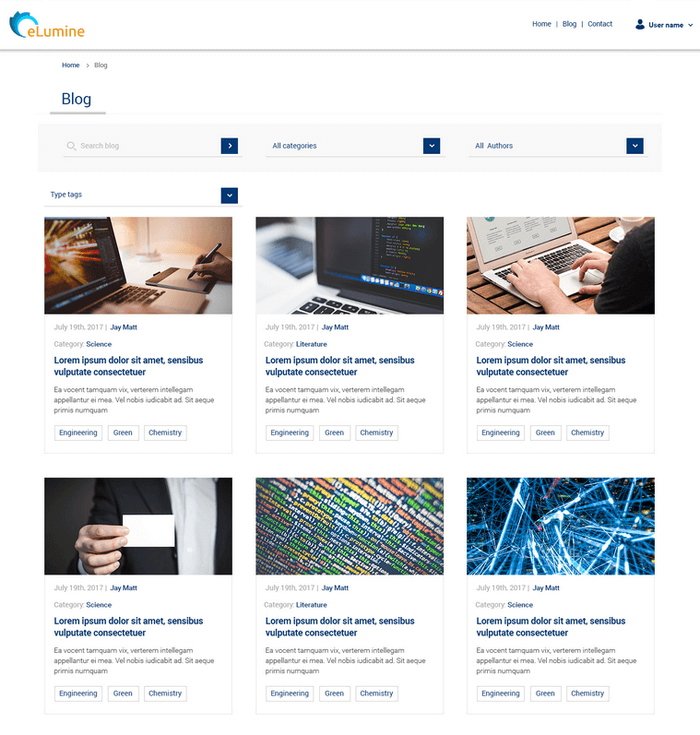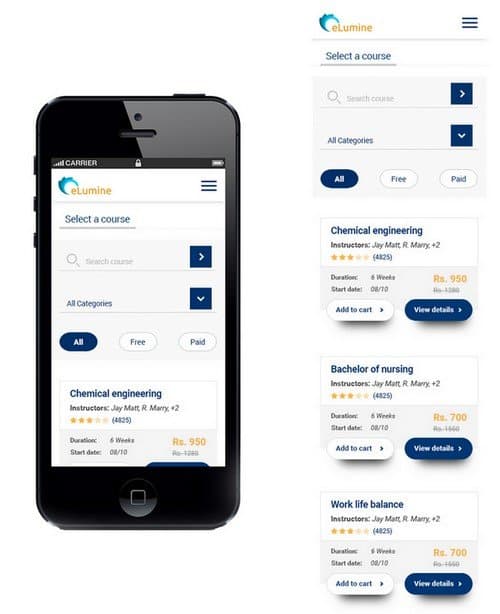 Offering users a perfect combination of structure and elegance, the layouts will certainly bring your e-learning WordPress website to a new level.
Build Your Own Network of e-Learning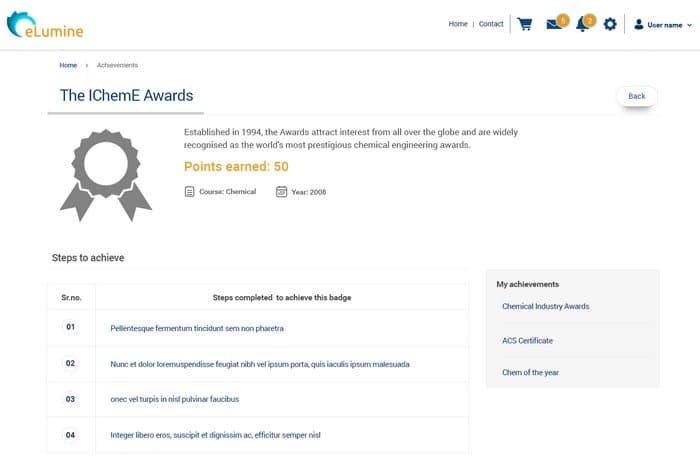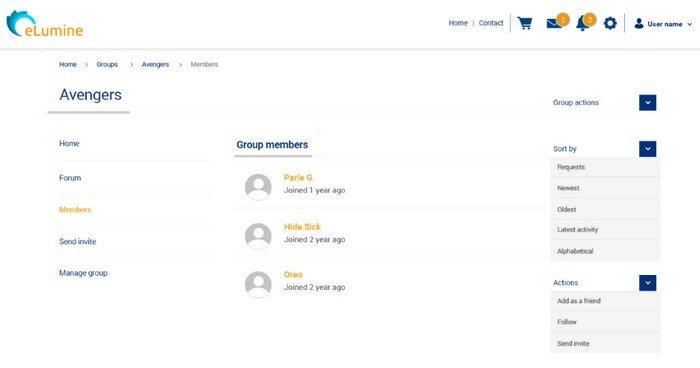 What makes it really intriguing about eLumine is the vision of its creators who integrated social networking plugins to the theme. With these, it is easy to create a helpful and collaborative network in which students can compete with one another by participating in games and leaderboards. This way, students can explore more, learn more while relaxing their mind after hours of studying.
That is why I find this feature definitely smart and worth sharing!
Unique Quiz Module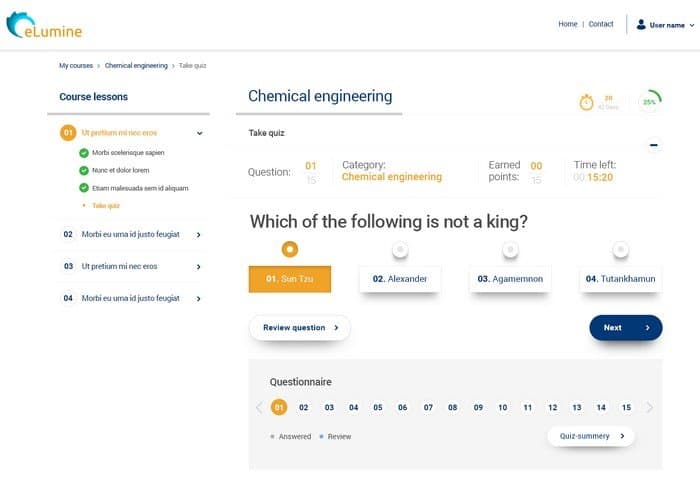 Quizzes are not only fun but also helpful for students when it comes to memorizing what they have learned. That is why it is essential for e-learning site to have a quiz module! With eLumine, not only will you get a quiz module, but your quiz module also possesses the one-of-a-kind look and feel. That is not to mention the high customizability that comes with it.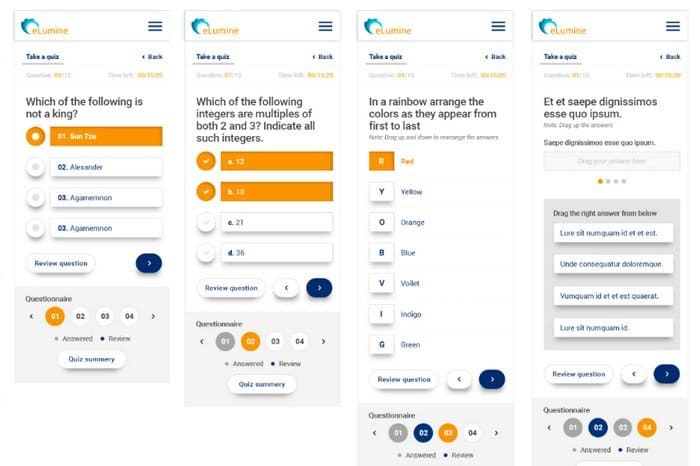 I myself think really highly of this feature! What makes it so special, you ask? Well, from what I have observed, no matter how fantastic a quiz module or templates are individual, they may not fit the theme as expected. eLumine's quiz module and predefined templates, however, totally go with the theme!
Highly Compatible with Top Plugins
As I've told you that I would focus on e-learning related features only, it would be a defect if I did not mention the amazing plugins with which eLumine is compatible. With the aim of perfecting your customers' learning experience, eLumine offers you the compatibility with:
WooCommerce: As a learning site with courses, your WordPress website definitely needs the best plugin for

e-commerce actions

!
LearnDash, as "the most trusted WordPress LMS", makes it easier than ever to sell your online courses.
BuddyPress: To create the coolest networking platform, you can't ignore BuddyPress, one of the best-known of its kind!
bbPress: Building a forum could never get any easier and faster with the help from bbPress!
Considerate Feedback and Reviews System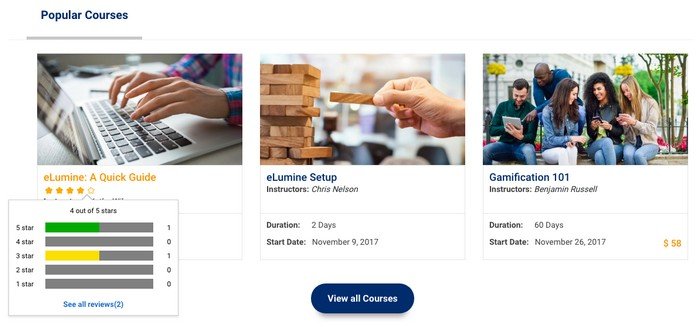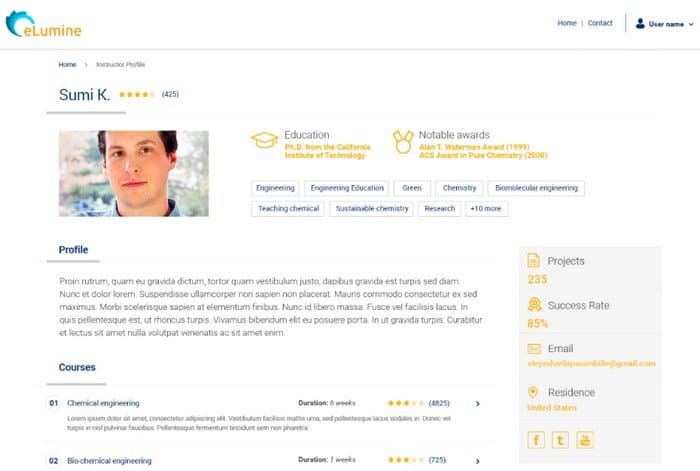 What I adore about eLumine is that they actually care about the feelings of your customers. So, to make sure your customers can express what they think of your e-learning website and you can know their thoughts, eLumine supports the Ratings, Reviews and Feedback extension. The best thing is, you yourself as the owner of the WordPress website, can depend on these feedbacks and reviews to improve the courses and personnel!
If you have the already 5-star courses and lectures, then these can also act as motivation for you to maintain the quality! You see, no one wants to enroll in a poorly-rated course, right?
What Really Makes eLumine Stand Out?
In the previous part of highlighted features, I said I would focus all on e-learning related features, didn't I? Well, honestly speaking now, for eLumine, that's a normal thing to do. Why? Because unlike most themes which focus on styling and design, putting efforts into how beautiful the theme looks, eLumine pay most of its attention to learning aspects, which lead the way for its design!
The creators at eLumine studied carefully what a training organization and e-learning website would need from a WordPress theme, then, from what was found, they crafted eLumine's learning-oriented layouts.
This is also what makes eLumine so different from the rest!
Systematic Documentation and Devoted Support
For any WordPress theme or related product, documentation and support should always be two of the most important parts to examine. No matter how "perfect" a product may seem, something can still go wrong. That explains why when I look at a WordPress product, either a theme or plugin, I always spare some time to see 1) how devoted the support can be, and 2) how detailed the documentation is. Exploring those of eLumine, I am super delightful.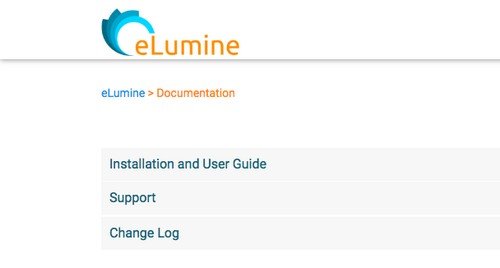 First, the documentation is absolutely informative yet systematic and easy to read. Here you find instructions on how to set up the theme and customize it, how to use its features, how to back it up, etc. Plus, all of their information is presented with pictures so it would be easier for you to understand!
For the support, eLumine's support involves Licensing, Support services, and its Cancellation/Refund Policy. That is not to mention the thoughtful FAQs they have readily. In case a problem happens with your theme, you can always contact the support team during their working hours!
Take A Video Tour
Final Thoughts
Well, I hope you like what you've just read! Because if you don't, you are missing out on one of the most worthy WordPress themes that will ever come across in your life. It is well-coded, beautifully designed and 100% e-learning focused, so why not? What is more, don't forget the reasonable pricing it offers! With only $99/year for 1 site and $129 for 2. I don't think you can find anywhere such a theme with such modest prices.
In case you doubt that I am, as a reviewer, a little overwhelmed to write the truth, eLumine always welcome you to experience it yourself via its Demo!
Where Should We Send

Your WordPress Deals & Discounts?
Subscribe to Our Newsletter and Get Your First Deal Delivered Instant to Your Email Inbox.
Thank you for subscribing.
Something went wrong.