Pinterest is one of our favorite social networks to share images and articles. Pinterest is a popular visual social network launched in 2010 with 250 million monthly active users.
Users can upload, pin, or save images on so-called pinboards. It's a network for everyone. You can create and share pinboards with your interests that can be everything from recipes, travel, nature or as in our case blogging and WordPress.
We have one of the largest and most popular pinboards about WordPress with members such as Yoast, SEMRush, GoDaddy, TemplateMonster, Imagely, and many more well-known profiles within the WordPress and SEO industry. Check out our WordPress pinboard; why not follow or join us.
Pinterest is a creative platform that is actually built with Drupal! But for those who want to create a design-like Pinterest website in WordPress, I've searched high and low for great Pinterest-Style WordPress themes and below is the result.
15 Free & Premium Pinterest-Style WordPress Themes
The list I put together contains a mixture of both premium and free WordPress themes. As a result, I bet you will find one or maybe more themes that is suitable no matter what size your wallet is.
So let's get started…
Pinboard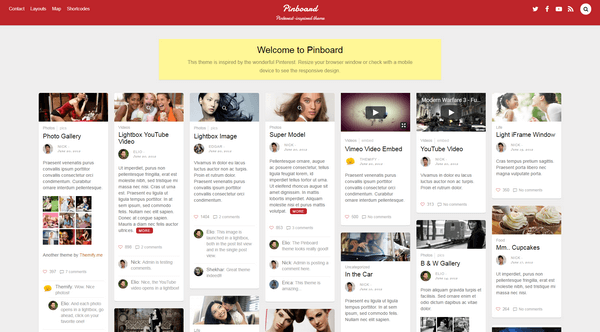 Pinboard is a Pinterest-inspired WordPress theme created by Themify. So, you're a fan of Pinterest and want to set up a similar website, then Pinboard is a great choice. The theme features an auto stacking layout with infinite scroll and the design is responsive, meaning your site will look perfect in all devices from desktops to mobile phones.
Pinboard is a great looking WordPress theme. It's perfect for anyone who wants to display a lot of content like articles, videos, lightbox content, galleries and more on a restricted area. Features that stand out are the auto stacking layout, Infinite scrolling, and the multiple grid layouts. But there are of course more features such as — drag and drop builder. SEO optimized Google fonts, Woocommerce compatible, social media icons etc.
Pinfinity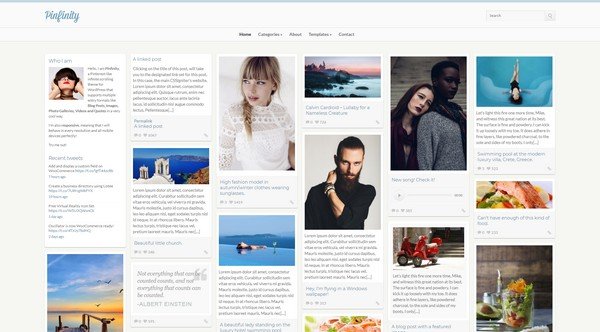 Pinfinity is another stylish Pinterest-inspired WordPress theme. This is an elegant theme from the well-known WordPress theme company CSSIgniter. With a clean grid layout, this theme is perfect for exhibiting your creations, articles, videos, links and more. Just like Pinterest, Pinfinity also comes with infinite scrolling, which automatically loads new articles when a visitor reaches the end of a page.
Some of the key features that are included in Pinfinity are easy customization of the theme, speed optimization, SEO it is ready. Translation ready, compatible with popular WordPress plugins. Additionally, it is also possible to add page builders like Elementor, Divi Builder and SiteOrigin Page Builder. In conclusion, Pinfinity is a winning WordPress theme for anyone who likes or is inspired by Pinterest.
Pingraphy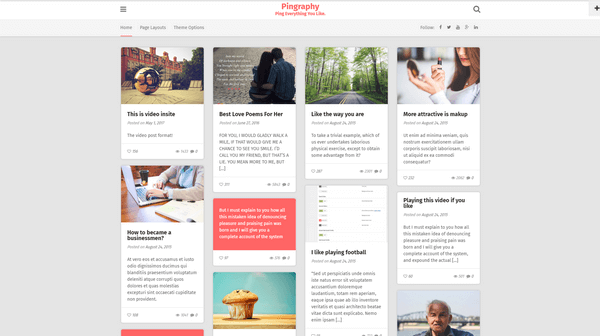 Pingraphy is another cool Pinterest-style WordPress theme. It is a premium theme by ThemeCountry. If you are considering setting up a website or changing your current design and layout to something more Pinterest-like then, Pingraphy is an excellent choice. Just like Pinterest, Pingraphy comes with Masonry layout and infinite scroll which makes it possible to visualize your content in an elegant and orderly manner.
Some features in Pingraphy that are well worth highlighting are as follows. Theme options panel. Responsive and fluid design, support for many WordPress custom post types. SEO optimized for better ranking in search engines. Social media buttons, 630+ Google web fonts, related posts, author box and much more. Pingraphy merely is an affordable WordPress theme in Pinterest style.
Pinable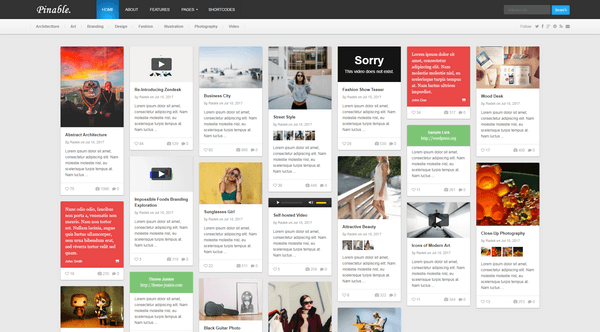 Pinable is a WordPress theme by Theme Junkie created with Pinterest in mind. This is a beautiful and magnificent looking Pinterest-style theme that is perfect for curating all kind of content. Share post types like articles, photos, links, or videos. Pinable comes with a grid layout with infinite scroll meaning more posts are automatically loaded when a visitor comes to the end of the page. Due, all the features included in the theme, it is easy to customize the theme via the live customizer.
Here are some of the key features in Pinable. Multiple content layouts, responsive design, a library of shortcodes. Blog layout, custom menu, custom logo and much more. As a result, Pinable is a perfect choice and WordPress theme if you want to dress your website in a Pinterest inspired style.
Pluto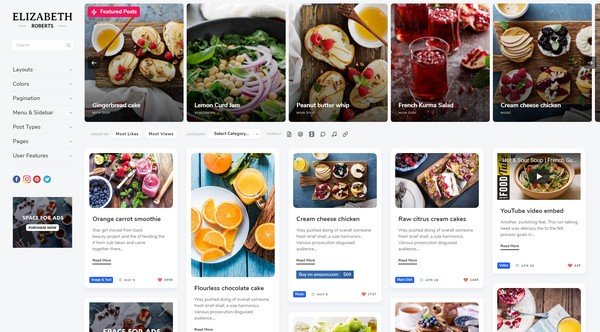 Pluto is an elegant premium WordPress theme in Pinterest style. This is a theme packed with great features and options that will make your website really stand out from the crowd. In addition to getting just a theme, when buying, you also getting plugins for $70. Premium plugins included – Visual Composer, UserPro, Mega Main Menu, and Private Messaging. Furthermore, you can also try the theme for free before purchase.
As I mention, a lot of great features are included such as Smart Photo Protection meaning you can protect your photos from being copied. Admin options panel, eight post formats, multiple AD locations, unique reading mode. Unique QR generator, SEO optimized, responsive design, contact page, and much more. Pluto is particularly relevant to anyone who wants to create a website similar to Pinterest.
Fashionista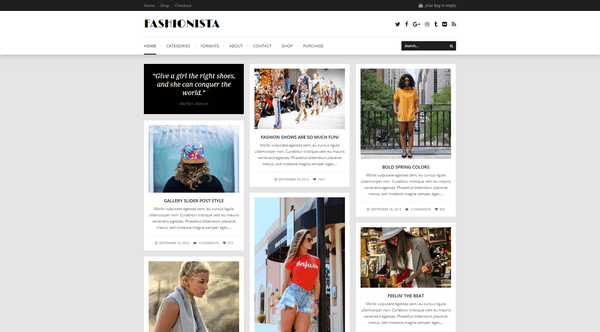 Fashionista is an artistic Pinterest-inspired WordPress created by WPExplorer. The focus of the theme is fashion as the name suggests. But Fashionista works for all niches and can be used to present photos, articles, videos, links and more. Due to the WooCommerce support, Fashionista also works as an online store. It is a sophisticated theme with Grid and masonry layout that is perfect to showcase just about everything.
Features included in the theme are the following – Post format support for creating custom posts for photos, galleries, quotes, links, text etc. Responsive design, meaning your website will display correctly in any device. Infinite Scroll, Load More and Standard Pagination, choose navigation styles for your homepage. In conclusion, Fashionista is a clean and classy Pinterest blog and shop WordPress theme that works great for all kind of content.
Pin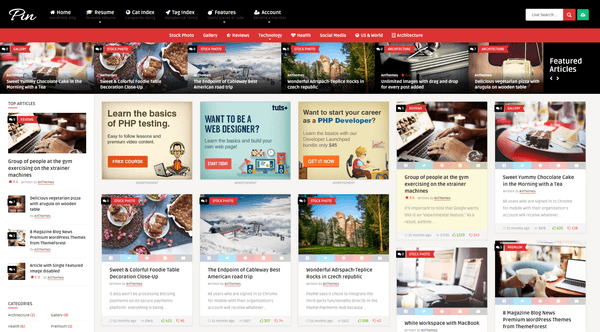 Pin is a creative WordPress theme in Pinterest style and is perfect for anyone who likes Pinterest and wants to create a similar website. This is a theme with a beautiful grid and Masonry style layouts, which allows displaying a lot of content in a highly stylized and structured way. Pin is built with the latest HTML5 and CSS3 techniques. The design is also fully responsive so your website looks perfect in all devices.
Some of the key features included in the theme are Fly-Out navigation for mobile and tablets. Frontend user content and post management. Choose between default pagination or infinite scroll. Possibility to live search with thumbnails. 13 custom widgets and much more. Pin is a customizable and flexible WordPress theme and is perfect for all Pinterest enthusiasts out there.
Pinboard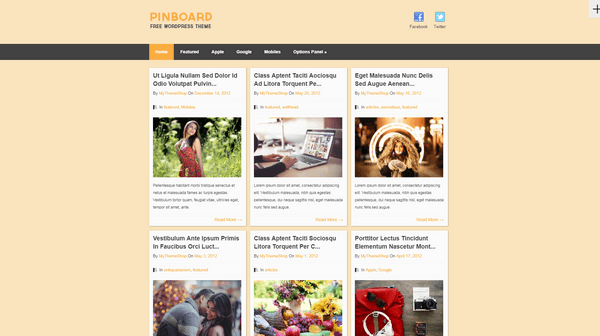 Pinboard is a free WordPress theme from MyThemeShop. This is an excellent looking Pinterest influenced theme with a grid layout. Like all themes from MyThemeShop, this theme is also optimized from every possible aspect. The theme also comes with an easy-to-customize options panel where you can change most settings.
Moreover, Pinboard has a simple yet appealing grid layout, perfect for displaying your website content in an organized manner. In addition, Pinboard is a responsive and with the fluid design your site will look perfect on all devices. More features that are included are as follows custom widgets, SEO optimized, unlimited color schemes. Related posts, unlimited backgrounds, translation ready and much more.
Gridly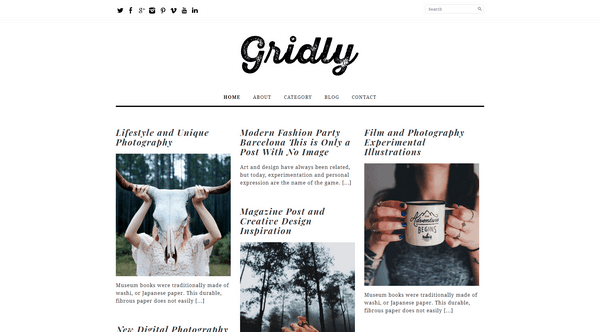 Gridly is a free masonry WordPress theme from Dessign Themes. This is a theme with clean and spacious design and is perfect for anyone who likes website layouts similar to Pinterest. There is also an option to upgrade to the premium version that includes support, updates and free setup.
Some of the features included in Gridly are theme options, SEO optimized, custom backgrounds and colors. Gridly also comes with a fully responsive design so your website will display correctly on all devices. This is a great looking free WordPress theme created by Dessign Themes. Why not give Gridly a try?
Blossom Pin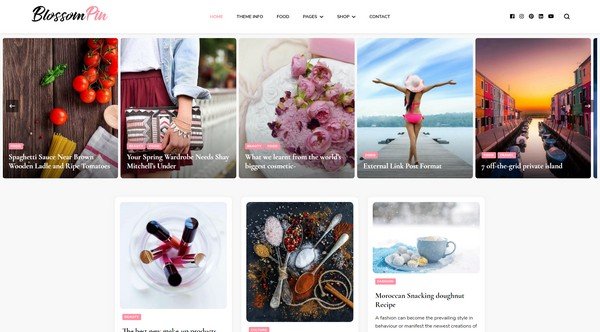 Blossom Pin is a beautiful and eye-catching free WordPress theme from Blossom Themes. In addition to the Pinterest-inspired layout, Blossom Pin also comes packed with great features. Blossom Pin is a WordPress theme suitable for all niches. It does not matter if you showcase fashion, travel, food, news or your blog posts; with this theme everything displays nicely.
Key features included in Blossom Pin: Attractive slider, infinite scroll, Instagram integration, Newsletter section, SEO and speed optimized. Schema friendly, WooCommerce support, author bio section in the sidebar, 20 custom widgets, etc. Blossom Pin is an outstanding theme with an unusual amount of great features for a free theme. If you encounter any problems, follow the detailed documentation.
Gridsby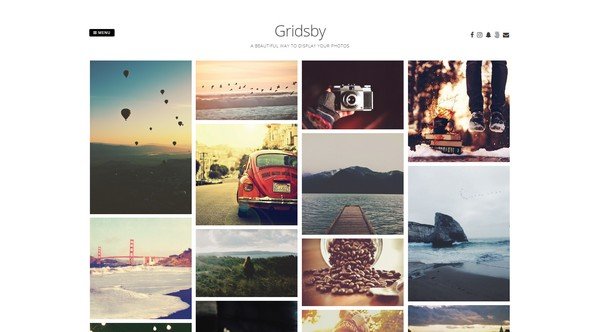 Gridsby is a free gallery WordPress theme in Pinterest style from Modern Themes. This theme is perfect for displaying and showcasing photos same as Pinterest. Furthermore, Gridsby is fully responsive so your website will display and look perfect in any devices from desktops to mobile phones. Due to the feature of posting images to a gallery on the front page make it easy for you to add any photos.
Via the live customizer, you can optimize the theme settings. Key features included are post format, post format galleries, post navigation: Google font selector, PSD files, updates, and free support. Gridsby with its clean and beautiful design make your website stand out from the crowd. Showcase your best photos in style.
Garfunkel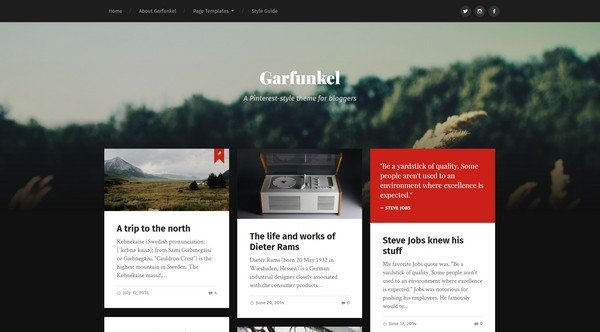 Garfunkel is a formative free Pinterest-style WordPress theme. Anders Norén is the creator of this theme. Furthermore, this is a sophisticated theme with masonry layout that shows all posts in a Pinterest-style grid. Which is perfect for websites such as magazines and news sites. Garfunkel is also fully responsive and retina ready, meaning you can use high-resolution icons, plus the theme will look grand on all devices from small to big.
Garfunkel's key features are Jetpack integration, infinite scroll. Support for six post formats. A social menu, six custom widgets, two-page templates plus much more. It is also possible to tweak and customize colors, background images, add your logo via the WordPress theme live customizer.
Stacker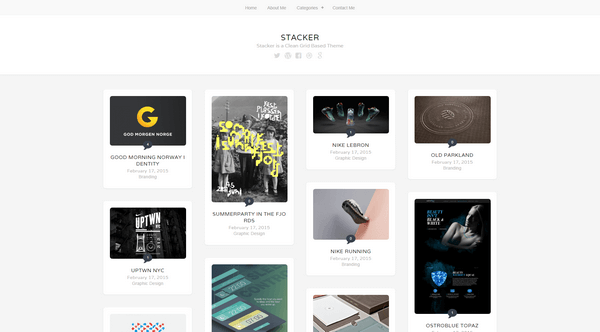 Stacker is a free Pinterest-based WordPress theme from ThemeFurnace. With a minimalist and clean layout makes your content stand out and displayed in the best way. Stacker is suitable for varying niches such as photo websites, news, and magazines, fashion and more. You can customize the columns of images to optimize your content. The theme is responsive, and it will adjust and scale to look perfect in any devices.
Some of the features included in Stacker are live theme customizer, custom widgets, and widgetized areas. FontAwesome icons, Google fonts, customer support, and detailed documentation if you run into any problems. Stacker is also a great looking and beautiful WordPress theme in Pinterest-style and with this theme you can boost your content correctly.
Masonry Brick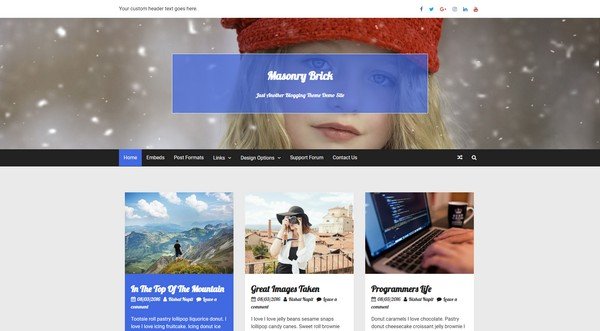 Masonry Brick is a beautiful free WordPress theme with masonry layout. With this theme, you can display your content elegantly and creatively. It also comes with support for custom header and custom background, ten post formats, and custom social menu.
Moreover, you also have the option of individually selecting layout options for each item or page. Pick a wide or boxed layout. Add Custom CSS. Related posts, Lightbox for images, add social media links in the author bio and much more. Masonry Brick is a perfect choice if you want your website to look like Pinterest.
Reblog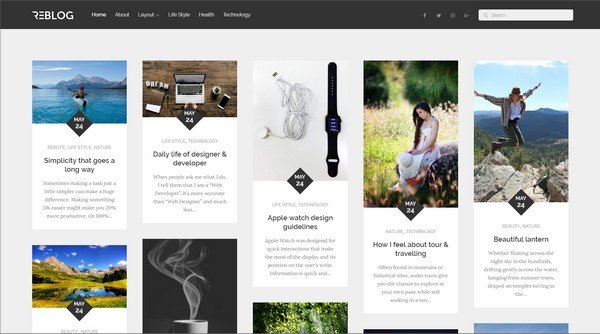 Reblog is another beautiful masonry blog WordPress theme that is perfect for websites, such as magazines, blogs, portfolio and news websites. The issue features a minimalistic, elegant and responsive design. The masonry grid style layout allows your content to be exhibited in the best possible way.
Reblog come with a lot of great features and customization tools such as Live customizer, mobile friendly, color option. Custom widgets, custom CSS option, footer section, demo import and more. Furthermore, there is also an opportunity to upgrade to the pro version if you need more features and support. Reblog is a beautiful Pinterest-like free WordPress theme with an elegant look and style.
Wrapping Up
In conclusion, these Pinterest-Style WordPress Themes will take you a long way to build a creative website. However, why not start with a free theme and if you need more features and maybe more support, grab a premium theme. I hope any of these Pinterest-Style WordPress themes will suit you. Anyway! Have you tried or do you use any of the themes in the list? I would love to catch your views in a comment below.
Disclosure: Some of the links in this post are "affiliate links." This means if you click on the link and purchase the item, I will receive an affiliate commission.
Where Should We Send

Your WordPress Deals & Discounts?
Subscribe to Our Newsletter and Get Your First Deal Delivered Instant to Your Email Inbox.
Thank you for subscribing.
Something went wrong.