Thinking of getting your products or services noticed by a large body of an audience? Think of a WordPress classified ads theme!
When it comes to doing business, many people think quality decides sales, which is true to some extent. However, think to yourself, what is the point of offering the best quality products or services, if no one knows about them? It's a whole process starting with a coming soon page, producing quality content, displaying high-quality images, branding, etc. But there's a special sector in that process where WordPress classified ads come to the rescue! This type of themes helps WordPress users build amazing classifieds or listings websites, that is, if you choose an average one. In case you pick a highly effective classified ads theme, there will be so much more to it!
Care to know about one? If you do, may I present to you ClassiEra – one of the most highly-praised classified ads WordPress themes of the day!
Whichever product you want to promote, ranging from sports equipment, electronic devices to fashion items, ClassiEra will have you covered in the most graceful way possible! Eager to know what it can do? Please continue!
ClassiEra – the Rising Star in the Sky of Classified WordPress Ads Themes
Building a WordPress website of classified ads is no hard task, however, building an amazing one requires an amazing theme! That is exactly the purpose of JoinWebs launching ClassiEra. This theme will provide your visitors with a space to list products/services for sales, while also capable of being a directory where local businesses and attractions can be listed.
With two versions – ClassiEra Classic and ClassiEra Modern, ClassiEra is bound to satisfy the most demanding visitors of your site!
The look is not everything ClassiEra has to offer! Besides its visual appeal, the theme also has fantastic features any theme of the kind would envy:
7 easily-arranged layout designs with wonderful effects;
2 post template designs to create ads at an ease;
Full responsiveness that guarantees good user experience;
List and Grid View – adapting to visitors' diversified tastes;
Unlimited color scheme that will definitely meet your demands;
Basing on the renowned Redux Framework;
Font-Awesome icons and 650+ Google Fonts are included;
Powerful backend theme options to make it easier for admin to control the theme (available with ClassiEra 2.0);
Advanced Search Bar with advanced filters for convenient search (available with ClassiEra 2.0);
Layer Slider integrated, making it possible for great slideshows (available with ClassiEra 2.0);
Great typography, strong focus on usability and user-experience;
Easy-to-use Turn ON/OFF Featured Ads option;
Built with HTML5 & CSS3 & Bootstrap 3;
RTL option;
ClassiEra's Main Features
For a theme that has so many highlights like ClassiEra, picking out several features to put the spotlight on is a hard and frustrating process, not to mention the epicness of ClassiEra 2.0. In the latest version, the number of marvelous features is way more impressive. Curious? Let me give you some insights!
7+ Unique HomePage Designs
As the world's biggest classified ads WordPress theme, ClassiEra aims at satisfying each and every requirement made by customers, the first of which is definitely the look! In this regard, ClassiEra has two versions to choose from: The classic ClassiEra and the modern ClassiEra (ClassiEra 2.0). For the latter version of ClassiEra 2.0, I will certainly dedicate a whole separate section to it since there are so much to talk about.
However, what I want to emphasize at this point is the fact that the classic version is already packed with so amazing homepage layouts!
Each homepage layout in the pack has been designed and fine-tuned to the smallest details in order to meet the tastes and requirements of all customers! To tell the truth, during my time here, I have come across quite many themes with spectacular layout designs. Nonetheless, to find a theme with such meticulous care put on each and every layout is truly inspiring!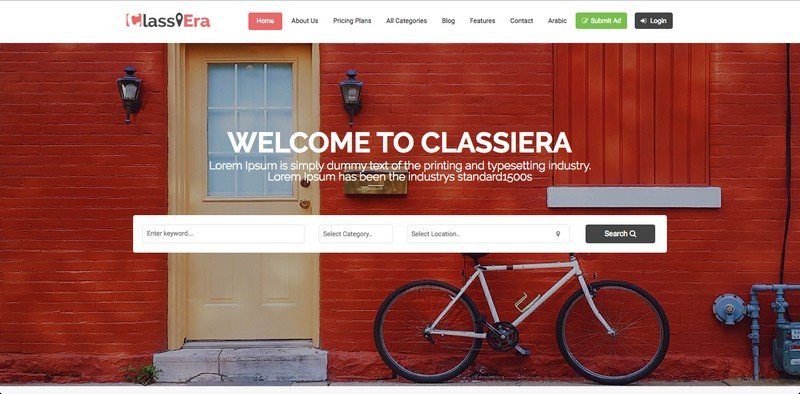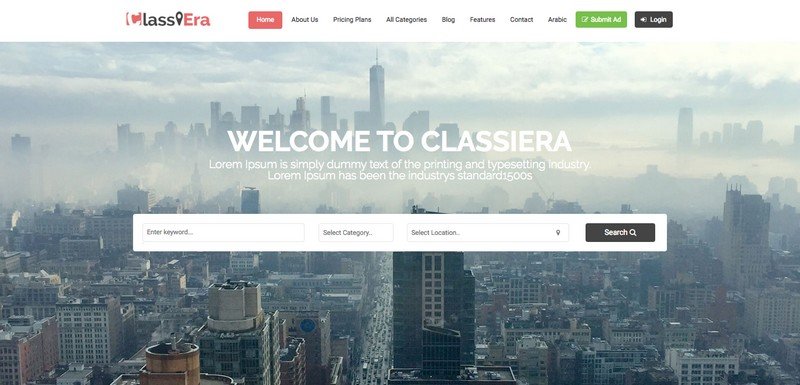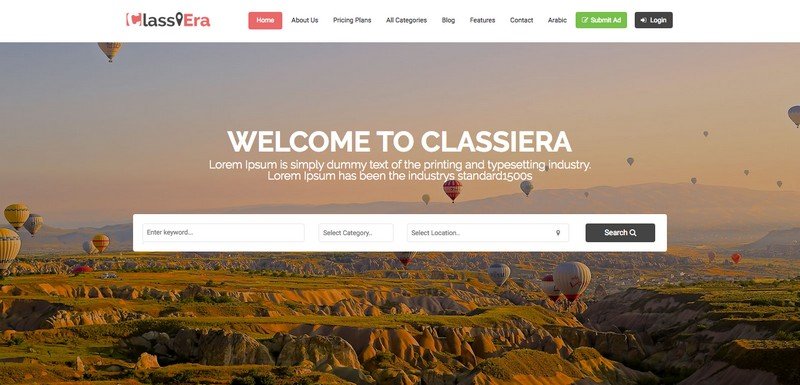 Advanced Search Bar and Filters
Quick question: What do people look for in classified ads website? Bingo! Information. That makes the search system super important!
Bearing in mind the highest level of usability and user experience possible, the ClassiEra team has given strenuous hours to the birth of the two wonderful search-related tools: search bar and search filters!
With the highly intelligent search bar, it is possible to find ads by simply entering the keyword. Then, the drop-downs, the category suggestions, and the location detection will help you find the ad you wish for. For example, you wish to find ads about "laptop", then enter the keyword, select "technical services" as suggested, finally, fill your location or click the symbol at the end of the box to get yours automatically. Click "Search" and you are done!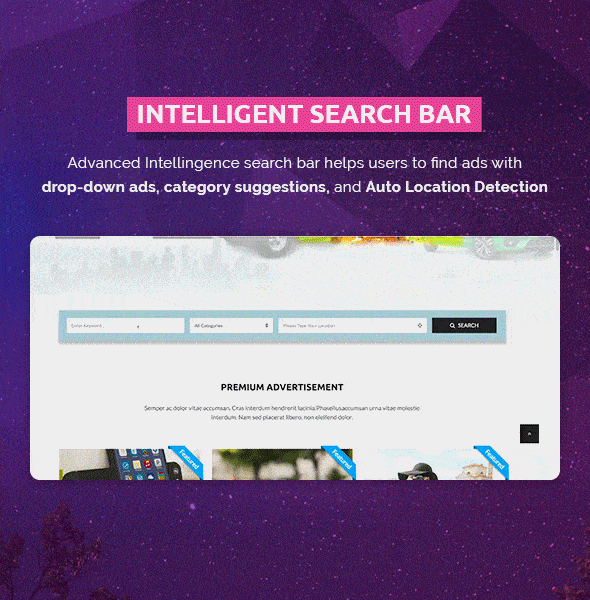 After hitting the button, you will then be diverted to the search page, where you can further deepen your results by adding such search filters as price range, location, category and item condition. Say, want a laptop for $900? Just adjust the price range and see what you are offered!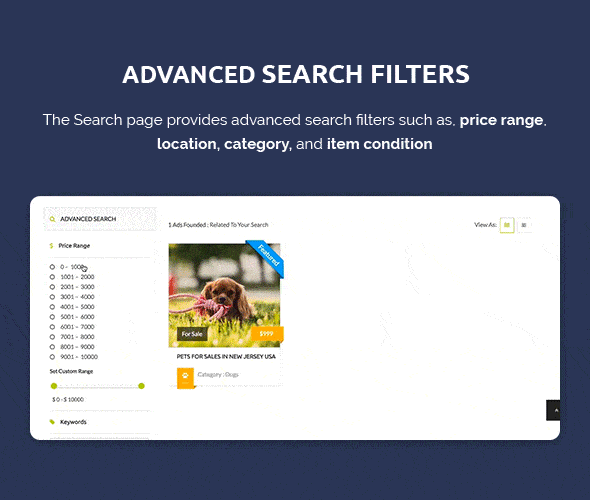 Top Plugins Included
Plugins play a vital role in all WordPress themes' functionality! ClassiEra is no exception. To make a great theme that reaches beyond all limits, the team at JoinWebs wisely makes use of 3 framed premium plugins:
WooCommerce: As the best shopping cart plugin ever to exist, this highly customizable plugin will grant you everything you need for e-commerce actions.
Redux Framework: Offering a simple, streamlined and extensible framework to work on, this plugin will help save time and ease the development process.
LayerSlider: This is a multi-purposed animation platform allowing you to produce beautiful slideshows, image galleries, landing pages and animated page blocks among others.
Google Maps Integration
In order to help you with finding the locations of searched ads, the theme is thoughtfully packed with Google Maps. Successfully found out the location but do not know the directions to it? Let Google Maps save the day by showing you how to get there with the most suitable route!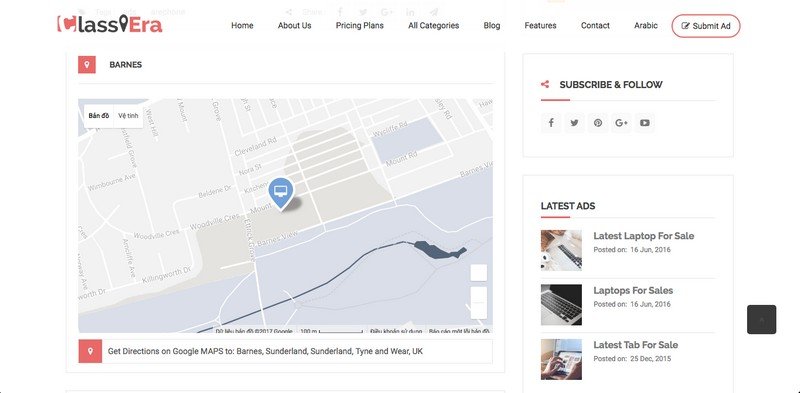 What Is New to ClassiEra 2.0
As I promised above, now we move to the fun part: Introducing ClassiEra 2.0! Please excuse me if this article is longer than expected since it is definitely hard to describe how miraculous the ClassiEra 2.0 is in short words!
7 Outstanding Layout Designs
As if the classic ClassiEra were not good enough in terms of look (which is of course not true), the devoted creators decided to add 7 eye-catching and clearly mesmerizing layout versions into ClassiEra 2.0, making it one of the most diversified WordPress themes you will ever meet in your life!
With these new layouts of ClassiEra 2.0 – Lime, Strobe, Coral, Canary, Ivy, Iris, and Allure, you won't have worries about not satisfying visual needs of customers, since they were all carefully researched before putting into reality in order to cater to all tastes!

Besides the new layouts, other new looks for header styles, category styles, ad post styles, pricing table styles, etc. are also presented in ClassiEra 2.0.
Fantastic, isn't it?
The Ultimate "Offer to Author" Feature
Whatever layout you are in, there is an "Offer to Author" box in the ads page. This is one of the most astonishing features that I adore! ClassiEra 2.0 is so thoughtful that it allows purchasers to bargain with the sellers.
For example, if the item is priced at $600 and you would like to buy it at no more than $550, then simply type the number in the box, fill up your email and click "Send Offer". What a clever way to please both buyers and sellers!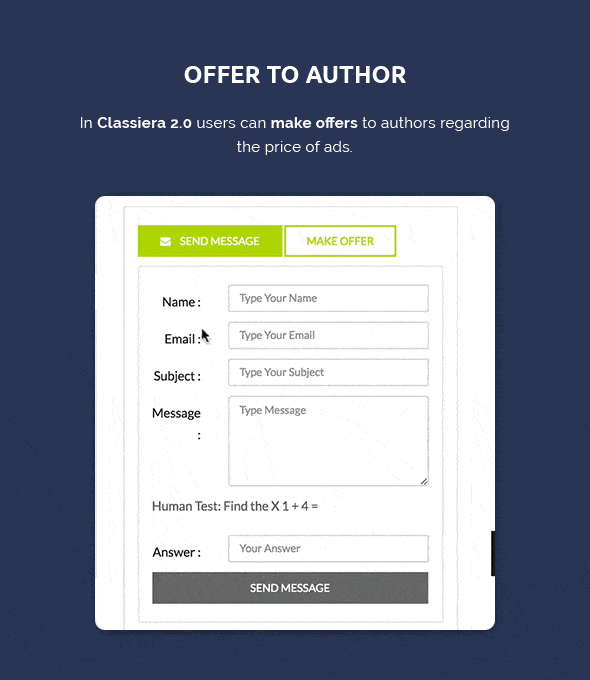 The Easy-to-use Frontend User Dashboard and Frontend Ads Posting
To top them all, ClassiEra 2.0 offers front-end user dashboard with front-end ads posting. Making it possible for users to post ads, manage records, profile settings and plan history in the most effective way!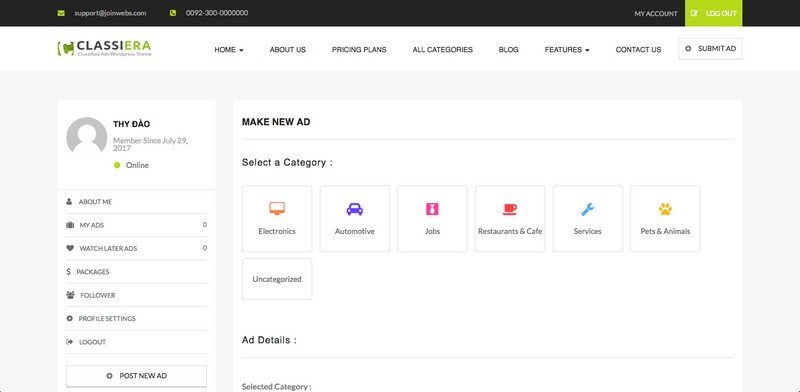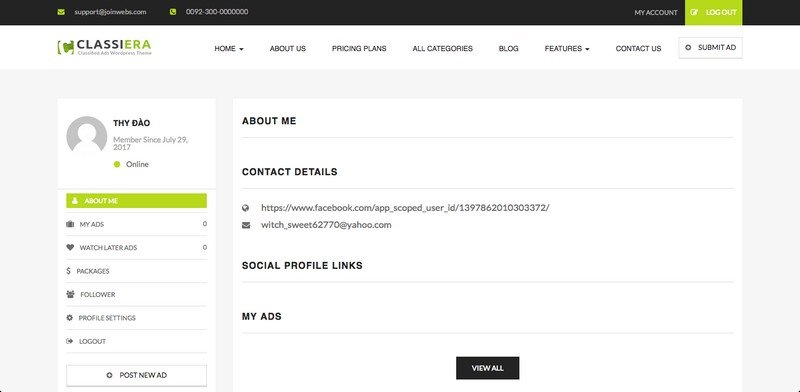 Super Dedicated Support and Documentation
Using "super dedicated" for ClassiEra's support and documentation is not an overstatement at all, if not an understatement! Why? Because the team is so careful and thoughtful that they offer the all three types of support for us:
Detailed Documentation
YouTube Video Tutorials
Human Interaction Support
I like how JoinWebs always put their customers first by making every way that is convenient for the customers. Furthermore, these three types of support is clearly an evidence for it! That is not to mention how comprehensive the documentation is honestly! I have seen and read quite many documentation pages throughout my career, but never have I had the chance to go over something so meticulous, so informative and so nicely arranged as in ClassiEra's documentation!
Open the documentation and you will see everything you would want to know about the theme, such as general information, how to install it, what is included in theme options, FAQs, some credits and sources and finally, its theme changelog! Basing on what I see, there is no doubt that the team at JoinWebs must have spent a lot of time building this thorough documentation for their customers!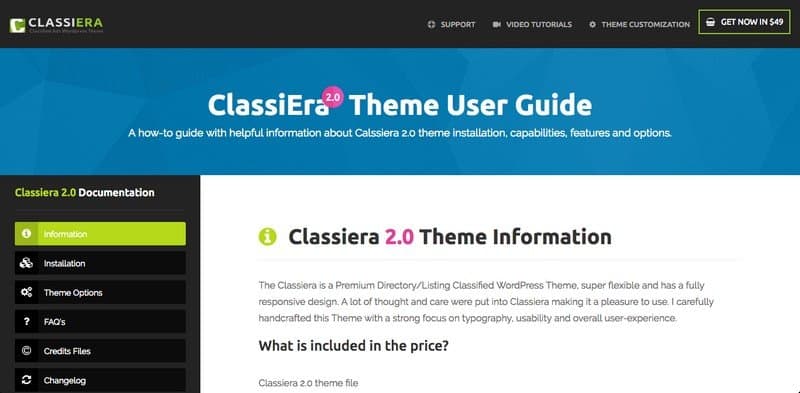 In addition, the JoinWebs's professional support team is always available to reach out to you 24/7! Have problems with the features? Got a bug? Need help with third-party assets? Simply give them a ticket and they will be right at it!
Final Thoughts
Finally! With the fantastic ride, I have just taken you for, I believe you have already developed your own judgment on ClassiEra, which is not much different from mine, right? From what ClassiEra has shown. It obviously deserves a spot in the list of must-purchase items if you are thinking of classified ads site!
One more reason to hurry up and grasp the ClassiEra 2.0? Just for a limited time period, the theme is priced at $49 for all the gorgeous looks and incredible features. If it takes you too long to think! You might miss this offer and end up buying the theme for the original price of $69! If I were you, I would waste no time thinking twice about snatching a theme that is so well-coded, so carefully designed and so devotedly supported at such price. The clock is ticking! Act fast and you will enjoy an outstanding piece of art with the help from a professional team in no time. Or take it slow and you will miss the chance. Your choice!
The best-classified ads WordPress website ever to be created is just several clicks away from you, the next one is visiting its Demo to see for your real eyes what I have just presented in the article, and believe it!
Where Should We Send

Your WordPress Deals & Discounts?
Subscribe to Our Newsletter and Get Your First Deal Delivered Instant to Your Email Inbox.
Thank you for subscribing.
Something went wrong.