First of all, I would like to ask if you recognize the increasing presence of so many directory websites for local and global businesses out there? If you are a WordPress user you will look for a WordPress plugin or a theme.
Even though there is absolutely no question that Avada is the #1 best-selling Multipurpose WordPress Theme of all-time. It allows you to build any business website whether profit or non-profit without learning to code. But for those who want to start an online directory site, they will have to look elsewhere.
After doing research we strongly believe that ListingPro is here to do for WordPress Directory category what Avada did for WordPress Multipurpose category. If you read the article below you will know why we think ListingPro is going to be the Avada of WordPress Directory Themes.
Nowadays, more and more business directory websites are established and run, just for one simple reason: the demand and supply theory. Those people are willing to spend time finding and researching on the best possible products and services is now merged with the enterprises' desire to promote their business on the largest scale possible.
Speaking of promoting on a large scale, how about you do it on websites such as NYTimes, TechCrunch, GQ, and so on? Even though that might seem too out of budget for you it doesn't have to be if you use found.ee.!

Essentially found.ee. is an amazing ad platform that will allow you to promote yourself/your business on the most premium websites out there for the faction of the usual price. On top of all that, it will help you design ads and will also allow you to track their performance, add branded links, use geo-targeted landing pages, and data management.
This combination of people researching and enterprises promoting leads to the unprecedented growth of directory websites. But what does it mean for those who want to be directory websites owners?
Well, it means competition!
Among those amazing directory websites, how to make yours stand out? Tricky as it may seem, I suggest one simple answer: to have a WordPress directory theme that can beat all others, a coming soon page that will garner lots of hype and some nice photos to decorate the site.
After carrying out a thorough research on the top WordPress directory themes and plugins, I have found out one of the most astounding multi-purpose directory themes ever – ListingPro, the #1 WordPress Directory Theme!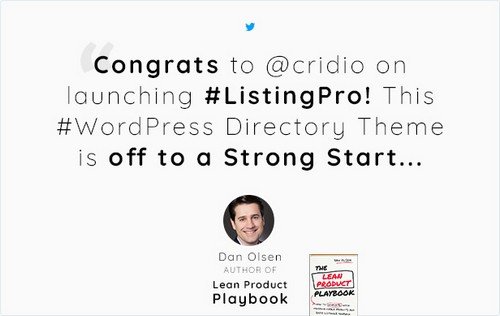 Whether you want to build a searching system for hotels, restaurants, shops, all of the above or any other type of business. ListingPro can be a wise choice as long as it involves listing! That is not to mention that what it gives you is so much beyond just a directory website! Interested in finding out what ListingPro has to offer customers? Keep on reading then!
LisingPro – One of the 2017 Most Surprising WordPress Directory Themes?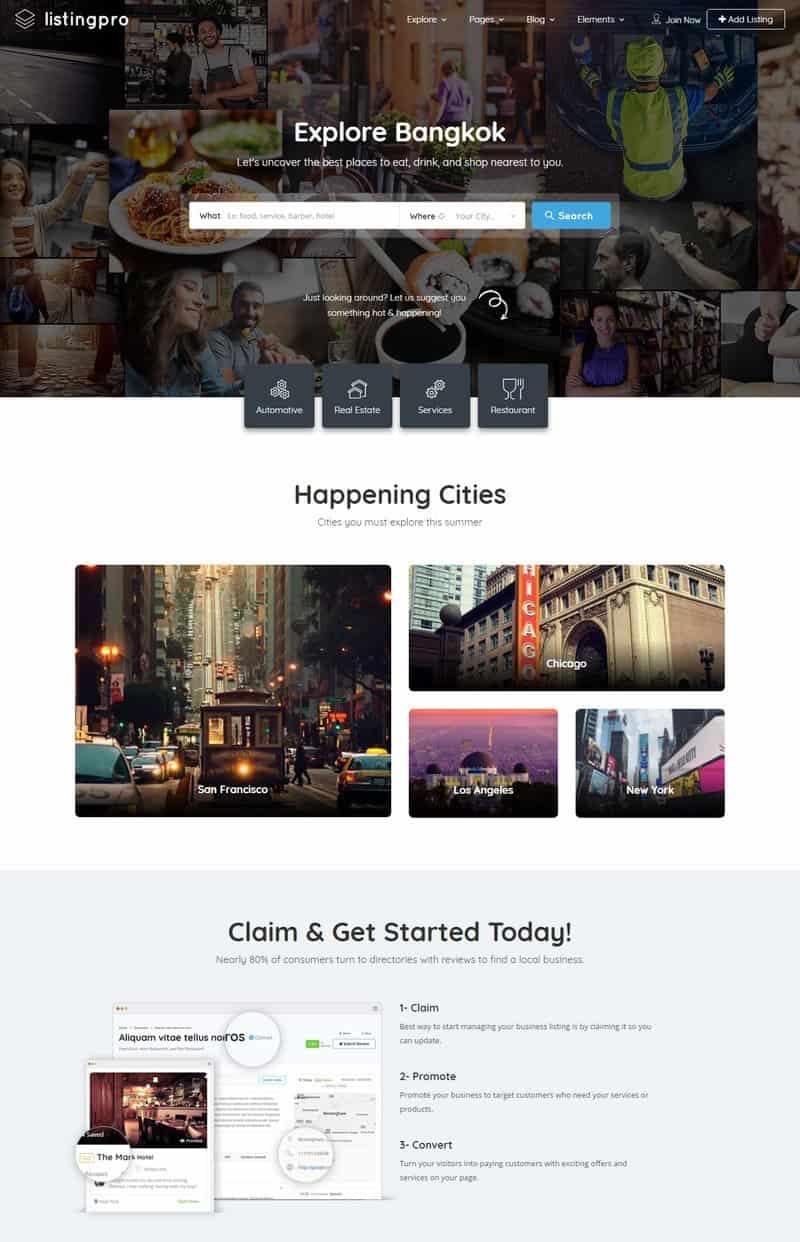 Why surprising, you ask? Well, because ListingPro is home to almost all MUST-HAVE directory features that are bound to make your mouth dropped! That is why although ListingPro is clearly not the first of directory themes I have come across, it is, in fact, the most captivating of its kind! Designed to fit all purposes of WordPress website owners. ListingPro aims at satisfying all critical wishes of web owners and their visitors alike. That explains why it has so many high impact useful features that I will talk about right down below.
However, before that part, there are two major pieces of information that you should not miss.
Right now, CridioStudio is offering the theme at a very competitive price of $49 and it only lasts for a few days. When the offer ends, it will be priced at $150 or more, which means you will save nearly 70% if you make a purchase now! Good things don't wait for hesitating people! So, make a good decision!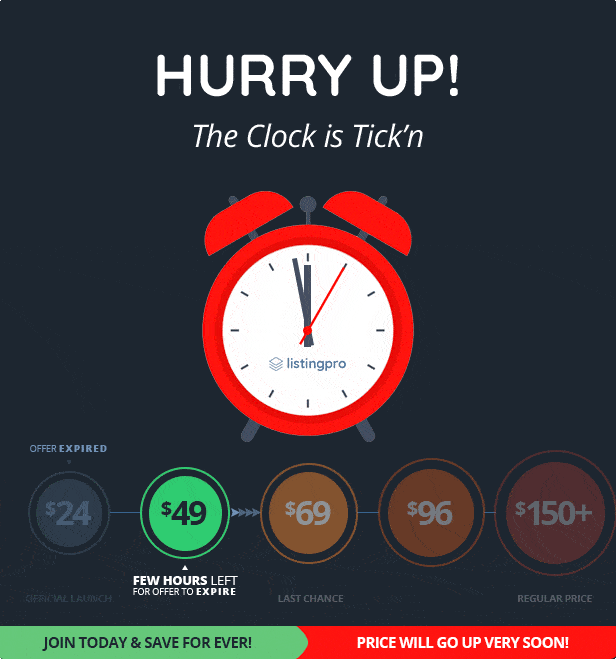 CridioStudio is proud to announce that ListingPro has made it into the ThemeForest's weekly updated

2017's Best Selling WordPress Themes

! for two consecutive weeks.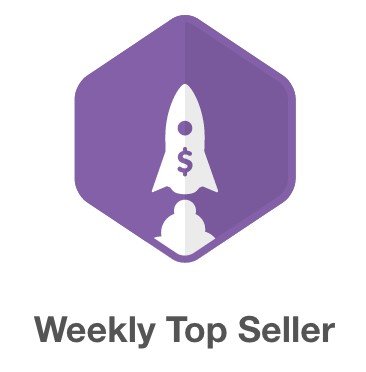 Moreover, it has broken all records by making over 180+ sales in less than 72 hours and nearly 300 sales in less than one week! These records are unprecedented for a directory themes and listing category, so they must be a solid proof of how excellent it is!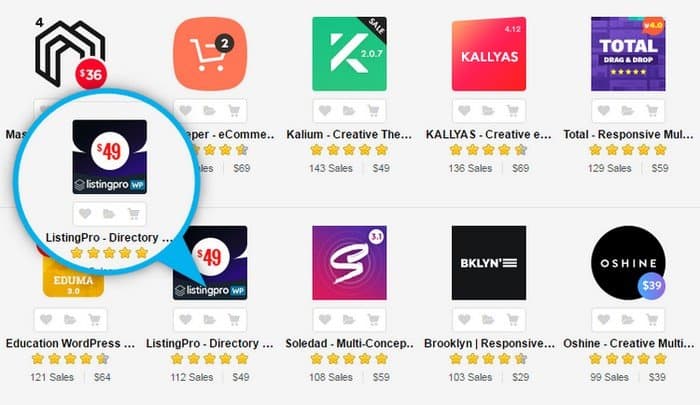 Now, back to business! What is included in the ListingPro that makes me lose our mind over it? Let's check it out, shall we?
ListingPro

has such elegant layouts with fully responsive design, which ensures the good look of your website.

The Google map integration with custom markers aims at maximizing the satisfaction level of your customers.

Not enough? Maybe the Mapbox API will add to the greatness.

The unlimited color scheme will allow you to have a website for your own purposes and liking.

The ability to submit listing template is also one point that should not be missed, maybe you could try it out sometime?

Having some questions? The detailed FAQ is there for help, so you will not have to contact CridioStudio directly.

Pricing? Not to brag but ListingPro is under one of the best pricing policies in the market! Don't believe me, check for yourself!

Need some guarantee? ListingPro also has testimonials to serve, not to mention the 20+ five-star reviews for its support! You can count on Hyllekvist, one of the purchasers of ListingPro, as he said:
"This is a great theme, with tons of functionality. The support is top dollar and the guys are improving the theme and listen to customers suggestion. WHAT MORE CAN BE SAID?
THIS THEME IS AMAZING,  CONGRATULATIONS TO CRIDIOSTUDIO."
To maximize your control over the setting-up phase of your website, custom select boxes are also included.

Retina ready is a must for all the best WordPress themes, and ListingPro is not an exception.

Contact page templates and Blog templates are up and ready for use, so if you want to save time, just make the most use of them.

Font Awesome is also integrated to ensure the best look of your future directory website.

Built on the Bootstrap framework, ListingPro surely will not let you down in terms of performance.

Finally, the theme's super clean codes provide your websites with the best chances against hacking.
ListingPro Main Features
If you already feel overwhelmed with what I have just listed above, then guys, embrace yourself! Because those are just several key points I would like to point out about this marvelous WordPress listing theme! Down here, I will go straight into the super duper spotlights! Want to undergo more shockwaves? (not literally, of course) Follow me!
The Amazing Search System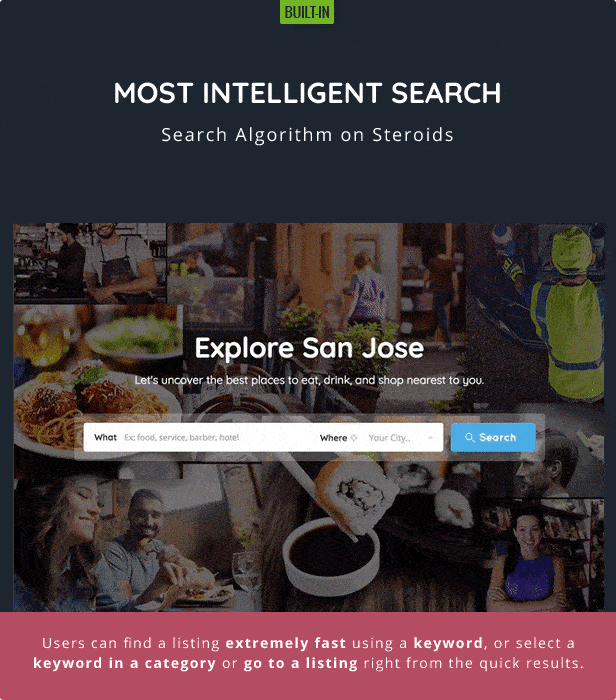 What does it take to build a good WordPress listing website?
Duh, it definitely is the search system! Believe me, the more advanced it is, the more likely your WordPress website will rock the Internet. Talking about that, I have to affirm with ListingPro, you are entitled to an out-of-this-world advanced search system. Why "out-of-this-world"? Simply because everything about this search system can only be described as "too good"!
First, it is easy to set up and run the search system from the website owner's point of view. That is a guarantee since there is nothing much for you to do because it is all integrated into the theme.

Second, it is extremely helpful in terms of catering for customers needs. Much of it depends on you, the website owner. But with the help from ListingPro, it will be a piece of cake to add elements to this awesome search system.

Third, it will be super easy for the customers, to use the system since every element is nicely displayed on the screen. You don't need to worry about customers losing their way while working with your system. Customer wants to type a keyword? Do it! Not yet really figure out what they are searching for? They can let the listing help them!
Google Map Integration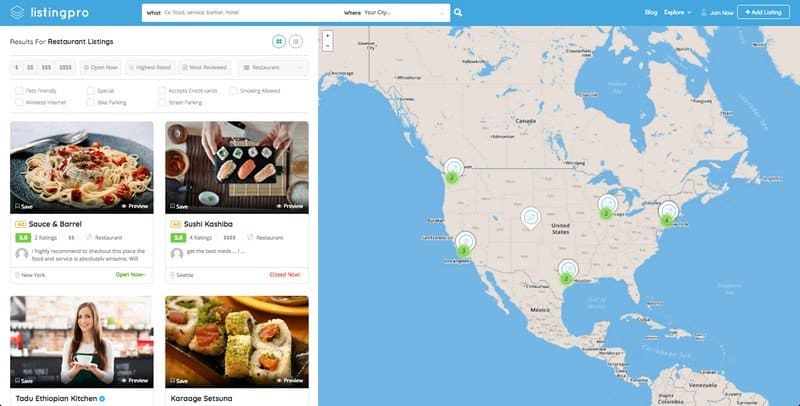 For a WordPress website that focuses on searching locations, Google Map is definitely something that cannot be missed. For the theme ListingPro, Google Map is not only included but also utilized at its best. While using your website, customers will easily find the location they want to see, and then easily locate it on the nicely displayed map. By this way, it is undoubted that customers will be more than willing to return to your website for the next trip!
Superb Review And Ratings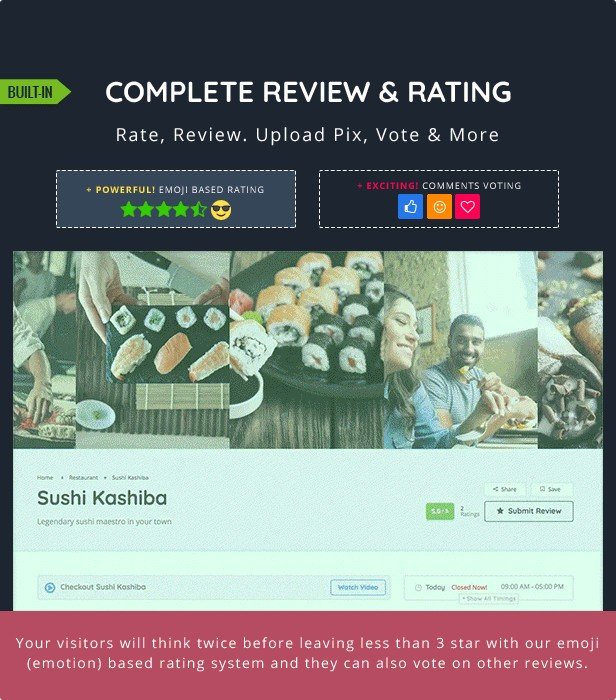 Everybody love review and ratings!
Think about it, if the owners deserve a praise, they would love to receive it. In case they do not, they would love to receive feedback about their products and services in order to improve. As for customers, since the need to convey and express oneself is rather intensive. They usually feel like leaving a review along with ratings for products and services after using them. Now, imagine that you are a customer who is about to leave some comments and ratings for a product, what would make you happier and, as a result, kinder with words? An appealing review-and-ratings section? Or a not-so-good-looking one?
I bet you have your answer, right? As much as everyone love review and ratings, everyone also loves a well-organized review and rating section! With ListingPro, that part is 100% guaranteed! Not only does it have an easy-to-use interface. It also provides your customers with cute features alongside, such as the brand-new emoji voting. With this cute emojis, who are heartless enough to leave bad reviews? Apart from rating and reviewing, visitors can also upload pix, vote, and do many things more with ListingPro!
Most Importantly, All Features Are Built-In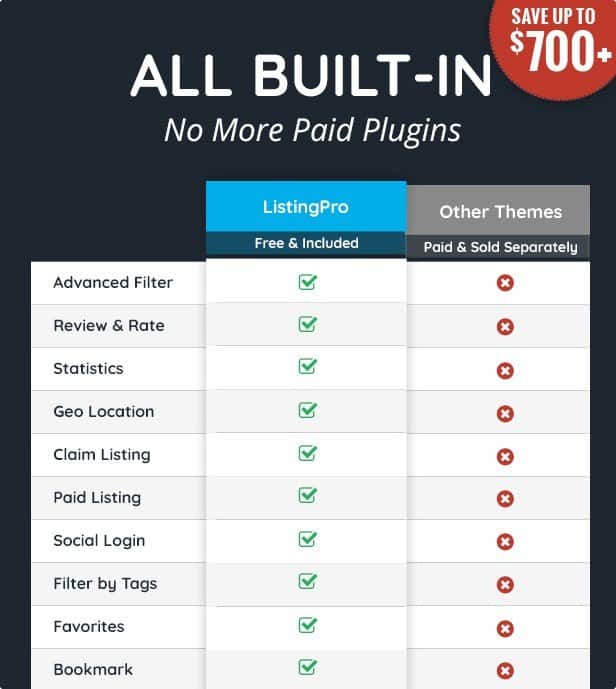 That is a different way of saying you won't have to spend any more penny to experience all the great features of ListingPro!
To be specific, what are included in the theme? Well, the answer would be everything I have listed since the beginning of this article and so many more! Here we have an advanced search system with powerful filter, an easy-to-use review and rating section, statistics, geographical locations on maps, claim listing, paid listing, favorites, bookmark, etc. You will need no more additional plugin to run your WordPress website smoothly since CridioStudio aimed at it from the start with everything you should need to be integrated into the theme.
Since all the features and plugins included in ListingPro would cost $700 separately, you will save a big amount of money just by purchasing this End-to-End Directory Listing Solution, it's not just a theme!
Support And Documentation
Before going into details about ListingPro's documentation. I would like to mention one big thumb up about its support, and that is the 1-on-1 user testing! This testing technique focuses on the user, hence being able to improve the theme in a way that meets the requirements of users. CridioStudio must be very thoughtful and caring towards their customers to apply this technique besides the countless strenuous hours they spent on creating and launching the theme!
As for the support, my reaction to it? Totally a W-O-W!!!
Honestly speaking, I have seen and experienced several themes with a large number of thumb-ups for support, but when it comes to ListingPro, I was like … totally speechless! Buying Listing Pro means buying a comprehensive directory listing solution together with a more-than-devoted developer team, who are willingly come to your rescue anytime you need! Don't believe me? Then go check their Reviews on ThemeForest, where the purchasers use such words and phrases to describe it as "rocks", "unmatched", "responsive and super helpful developer team" or "friendly and understanding". Curious about why it's got so many five-star reviews for support? Hit the purchase button and find out yourself!
What is Missing about ListingPro?
Just like anything else on this whole globe, ListingPro is not perfect. 
It still needs more time to advance itself by adding more features in order to perfect its functionality. Basing on comments and reviews from customers. It can be seen that ListingPro still lacks several useful features and extensions, such as the Event Management Extension, Product Catalog, etc. However, it is just a matter of time before the awesome team at CridioStudio makes these wishes come true as these extensions and features are already on the roadmap! Besides, I believe the creator won't miss out on adding more and more features. Making ListingPro the top-notch choice for everyone who is looking out for the best directory themes solution!
Final Thoughts
Being a perfectionist is tiring since I am not easy to be pleased and always find faults in almost everything I take a look at. It is quite annoying sometimes. Then, I came to know about ListingPro, one of the very few exceptions!
Looking into ListingPro, I see a WordPress theme that is not only feature-rich, well-coded, and carefully designed to fit all needs, I also see, very clearly, the heart and soul of the team at CridioStudio (by the way also created the WooCommerce theme XSHOP) who must have put the very ounce of effort to give birth to something so magical! Thanks to their creativity and hours of hard work, here we have a listing theme that caters to all directory listing purposes, no matter which type of listing website we aim to build.
Thanks to their thoughtful after-sales policies, here we have no worry whatsoever about any flaw or problem because their devoted support team will always be by our side. Costing you $49 (for now only, since the price will be raised to $150 in the near future). ListingPro is such a bargain compared to its rivals. Furthermore, to spend only $49 for such a wonderful product is definitely not something that happens on a daily basis! Therefore, if you would like to jump at it (and I highly recommend you to), take a glance at its Live Demo!
Once upon a time (but not so long ago), a man who I really look up to, Mr. Peter Nilson, the founder of WP Newsify & WP Pluginsify, said something about ListingPro that I now cannot agree more: "ListingPro could become the AVADA of Directory Themes." After experiencing ListingPro by myself, it again dawned on me that I will never stop listening to his wise words.
And that is just before I watched its behind-the-scene video! Seeing how dedicated and hard-working the team is. I have yet one more reason to believe that ListingPro is one of the best directory themes solution for now! Don't trust me, trust yourself by watching the video!
Have you had the opportunity to try the ListingPro Directory Theme yet? If you have, I really would love to hear all about it in a comment below.
Where Should We Send

Your WordPress Deals & Discounts?
Subscribe to Our Newsletter and Get Your First Deal Delivered Instant to Your Email Inbox.
Thank you for subscribing.
Something went wrong.