Finding a powerful tool that can measure your WordPress website's traffic and analyze data? Look no further than the title!
Google Analytics has been known in the industry as the most widely used and trusted web analytics service since its launch in 2015. From that point on, the service has never stopped improving itself, adding and enhancing features. Until July 2017, according to a report by w3techs.com, Google Analytics was used by approximately 55% of all websites on the Internet, including many all-time favorite names like Google (of course), Youtube, Reddit, Weibo, Tumblr and the WordPress.com itself! Those are some words for you to imagine how immense this service is before we get down to work.
To begin with, I will break down the article into several parts as to make it easy for you to follow. What we will be discussing about Google Analytics are:
A Quick Introduction to Google Analytics
Why We Need Google Analytics as a WordPress Website Owner
What to Expect from Google Analytics and How to Get it:
– How Is My Audience Doing?
– Where Does The Traffic Come From?
– How Can I Get More Traffic?
– Which Posts/Page Are Most Favored on My Site?
– What About My Site Speed?
– How Can I Improve My Site Speed?
– What is Happening on My Site Now?
Bonus Tip: The Best Way to Read Google Analytics
Seems a bit overwhelming? I know, getting to know something for the first time is always a bit scary. But don't worry, I will take it slow and in details!
Are you ready? Let's go!
A Quick Introduction to Google Analytics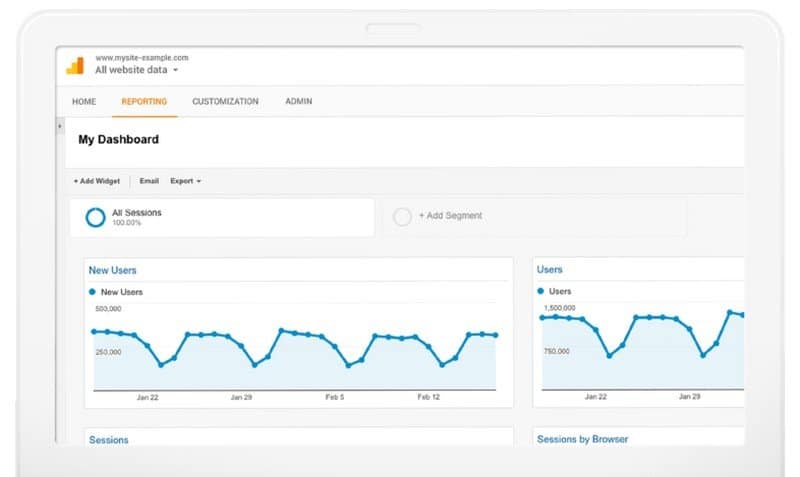 There are many clear and detailed instructions available on the Internet on how to install Google Analytics, this one from WPBeginner for example, so I will just go straight to the next step. Barely know what to do after installing it? Do not feel pressured, since it is quite normal. We all need a little knowledge before we start, and that is exactly what I am going to provide you with!
After getting your website installed, you will see its name included in the list on Google Analytics homepage. Before we move to the reports section, let us have a quick glance at the basic elements on the homepage.
Home: Here is where you can have a look at the overall performance of your WordPress websites: users, revenues, conversion rates, sessions, etc.
Customization: With all the pre-made reports the service has to offer, you can build a page to display the reports you want. Besides, there are blank canvas options from which you can create your own custom reports.
Shortcuts: At the top of every report, you can see a menu with customization and export options. It also includes an option to add a shortcut to the report.
Google Analytics Report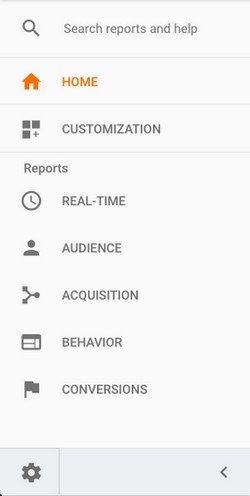 This is where all the main reports are located, comprising several different categories. What I do now is to introduce all these categories and their roles.
Real – Time: These reports offer you details about the visitors on your website, divided into 5 different reports: Locations, Traffic Source, Content, Events, and Conversions. You can also see the number of visitors currently visiting the website.
Audience: Basically, these reports tell you who your visitors are. They give you all the information they can gather about your visitors, for example, what language they use, whether they are males or females, how old they are, what they take interest in, whether they are a return visitor or not, etc.
Acquisition: These report to you where your visitors come from, for instance, channels, referrals, paid search engine traffic or organic search engine traffic.
Behavior: With these reports, you can see what your visitors do once they are on your website. These tell you about their landing pages, exit pages, site search and also site speed.
Conversions: Mostly used by e-commerce website owners, these reports focus on product performance, sales performance, transaction and purchase time.
Custom Reports
In times of need, can you set up your own reports to track something more specific and not available in the available reports? Yes, you definitely can! For your information, in addition to the ready-to-read reports, you can build reports with all the metrics decided by you!
This feature can be found laying under the Customization option.
Why We Need Google Analytics as a WordPress Website Owner
Easy, because it will be our loss if we refuse something so helpful and free.
For a WordPress website owner or any other website owner, it is essential to know everything about your website as well as your visitors. Having a deep understanding of these two elements will allow you to create suitable plans for your website, target the right audience, maximize marketing efforts and consequently achieving your ultimate goals, whatever they are! "Then why Google Analytics out of all the similar tools available?", are you wondering?
Well, Google Analytics stands the tallest because it is not only helpful and free as I mentioned above, it is also easy-to-use with detailed documentation online, and extensively integrated with other tools. What is more, there is a great advantage for Google Analytics users that users of other tools of the same kind cannot enjoy, which is the whole Google community to lean on if something's wrong!
Sounds amazing, right? If you want to discover even more amazing things, let us come to the main part!
What to Expect from Google Analytics and How to Get it:
1. How Is My Audience Doing?
Besides starting a survey, you can count on the Audience menu to help you understand your audience.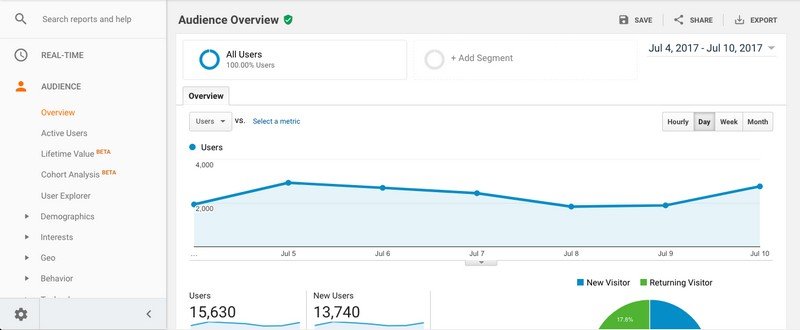 From what is shown, you can discover such information as the locations of your audience, the technology they are using to get access to your website, their demographics (age, gender), what they are interested in, etc. One practical way to take advantage of this menu is to see whether you have a mobile-friendly website, and should you have one. To do this, go to the Mobile under Audience, then choose Overview. Here you will see how many of your visitors get to your site via desktop, how many via tablet and mobile devices!
2. Where Does The Traffic Come From?
To get a quick grasp of where all your traffic is from, click Acquisition > Overview. Here you will see the numbers of people visiting your site grouped basing on their traffic type: organic search, direct search, referral, social media, affiliates, paid search and display. To go into details, click All Traffic and focus on Channels and Referrals. While Channels tells you every single way someone could use to visit your website, Referrals will focus on visits from people who click on a link on another website to go to yours. Thus, if you do guest-posting, Referrals presents a great way to see whether you are getting any visits from the guest-posts on other sites.

In case you really want to know more about traffic from social media, the Social reports will show you details about the networks you get traffic from, including Facebook and Reddit among others.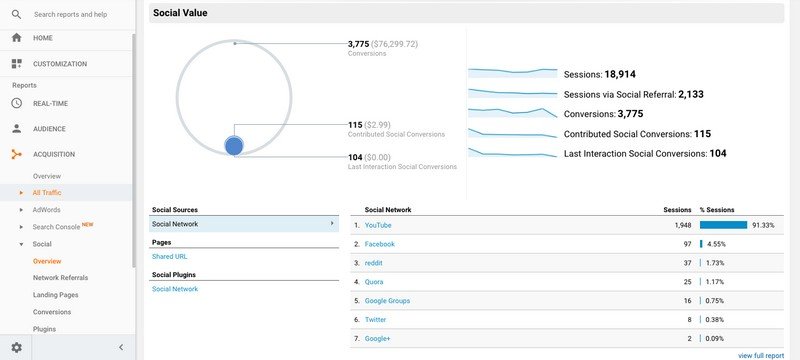 3. How Can I Get More Traffic?
Now, knowing where the traffic is from, can we attract a lot more? Yes, we can! There are basically two ways for you to do that:
First, by following two simple strategies: work more on things that work and cut down on things that don't. Give your Social reports a look, for instance. Let's say, despite the fact that you run many ads on Facebook and not on Twitter, there are a lot more visitors coming from Twitter than Facebook. Hmm, what should you do? Well, just invest more in Twitter and lessen your time on Facebook, of course. Be realistic and focus on stuff that brings the real benefits!
Another way is by digging deep into your best social network in the Social Overview section. Click on it to see what page of yours is more popular on that particular network. If you see any trend that is favored, BAM! Write more about it and promote on that network! That is how you will get a lot more traffic in return.
4. Which Posts/Pages Are Most Favored on My Site?
Truth is, content to a WordPress website is like health to a human being.
Therefore, it is so important for a website to have healthy content which is loved by its readers. Similarly, it is much as important to check which posts and pages are doing well on your WordPress site, so as to improve the content and make it healthy. In order to disclose this information, click Behavior > Site Content > All Pages. Here you know which posts/pages are visited the most throughout the website, the average time visitors spend there, bounce rate and exit percentages. Of all these metrics, take a close look at the average time since it tells you for how long people read your posts. As it normally takes a person about 1 minute to read 130 words, you can use this as a measure to see whether people read the whole article, or skip it.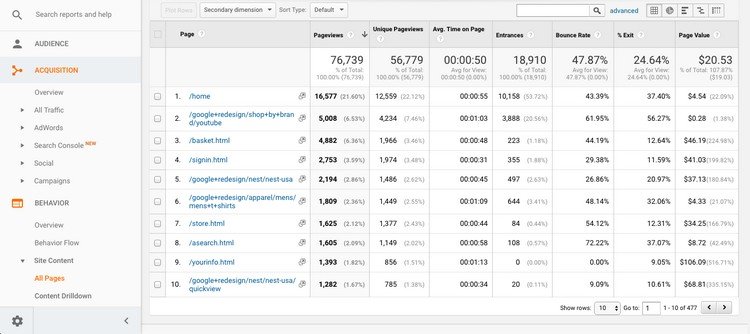 5. What About My Site Speed?
Needless to reiterate how vital site speed is to the survival of a WordPress website, right? No visitor will wait for your website to load if it takes too long. That is why you must always keep an eye on-site speed. But how? Testing with site speed test tools is one choice, but why bother using tools when you already have real-time data at your fingertips? Well, not literally at your fingertips. It is located at Behavior > Site Speed > Page Timings to be exact.

Not only displaying the length of time it takes for the pages to load, this section also compares that of each page with one another!
6. How Can I Improve My Site Speed?
Within the Site Speed drop-downs, you will see Site Speed Suggestions. Click on that and you will be diverted to a table, each page listed there comes with several page speed suggestions. You can carry out what is suggested to make your website load faster. In case they seem too complicated for you to implement, you can always get a pro to do it for you.
7. What is Happening on My Site Now?
It would be a big big mistake if I left out one of the essential reports – real-time! In fact, it matters so much that I decided to leave it last. You know what they say: Save the best for the last!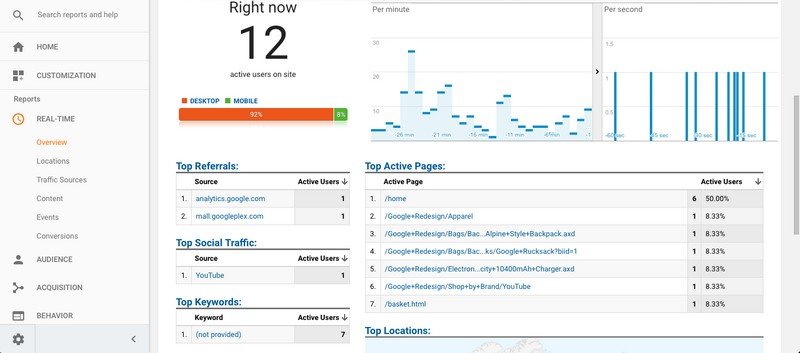 So, what does it tell you that is so important? Well, it provides you with up-to-second information so that you can act up on immediately. For example, it lets you know who is on your website, at the very moment of viewing, and how they got to your site. Moreover, if one of your posts suddenly goes viral on a social platform thanks to social sharing, it will notify you at once. How to deal with the information after that is your choice! For example, whether to join your readers in their discussion about the post or to email a thank-you letter to whom made the post famous is totally up to you to decide!
Having such information to rely on is amazing, don't you think? Together with your ability to think on your feet and quick actions, these real-time reports can totally take your WordPress website to a whole new level.
Bonus Tip: The Best Way to Read Google Analytics
Just a quick tip before closing: compare dates!
Although reading Google Analytics is no hard task, a small tip will further ease your mind, right? When you take the first look at reports, it could be a little bit overwhelming. So, I recommend not to start reading right away, but to select your desired date range and the date range to compare it to. You will see these options on the top right side of the dashboard. Comparing dates allows you to check your WordPress website's performance against another period, as well as the progress your website is making and finally, benchmarks in the data.
Several date comparisons can be:
This week VS. last week
This month VS. last month
The past 30 days VS. the same 30-day period of last year
The past 30 days VS. the 30 days after installing Google Analytics
That, friends, was some basic how-to information about Google Analytics. Just a tip of an iceberg, actually! There is so much more about the service that cannot be covered in just an article. Thus, the best final advice I can give you is to explore on your own! The more you work with it, the better you will be at it.
Where Should We Send

Your WordPress Deals & Discounts?
Subscribe to Our Newsletter and Get Your First Deal Delivered Instant to Your Email Inbox.
Thank you for subscribing.
Something went wrong.