Ask me one Internet topic that never loses its heat? Security! You certainly do not want to endanger your newly-built WordPress website, do you?
For years straight, the first thing I have always advised WordPress users to do after setting up a WordPress website is to strengthen its security. And there are of course reasons behind. For your information, Internet hacks and breaches occur on a daily basis and have never stopped.
According to statistics updated on June 20th, 2017 by Revision Legal, the first months of this year witnessed a remarkable increase in the scale of cyber attacks. Early in May, many entities around the world were attacked, including multiple healthcare systems across the UK and Russia's Interior Ministry. You see, cyber attacks determine not to leave any website safe! So, who knows if your site could be the next victim?
As a matter of fact, protecting your WordPress website from such risks is a must. What is left to decide, however, is what tools we should use for that. Hmm, how about a plugin that scans your website for dangerous factors ranging from malware's, vulnerabilities, blacklisting, to spam injections? How about one that conducts login protection to keep out brute force attacks? How about one that sends you email alerts so that you can take preemptive actions?
If there is such a plugin, I think it will make a perfect option. Want to hear some good news? Yes, there is such plugin! It is called ThreatPress, the mighty Security and Monitoring WordPress Plugin!
What Is ThreatPress – The Security and Monitoring WordPress Plugin?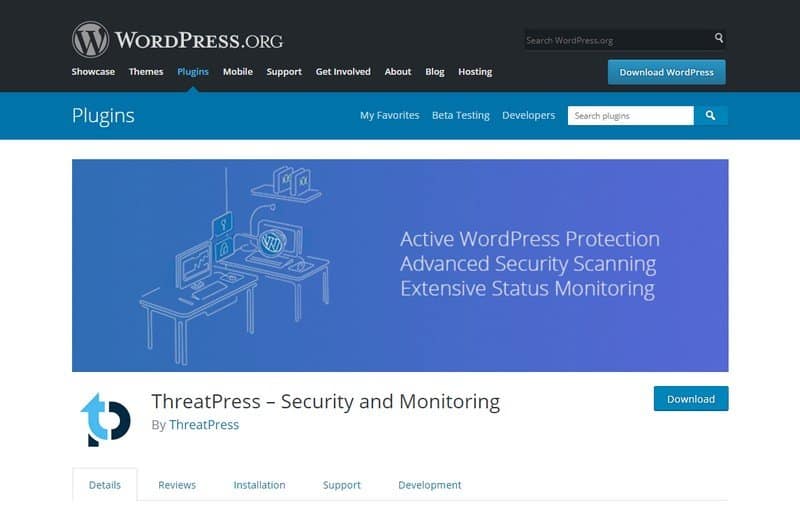 First thing first, as usual, I will guide you through an intensive introduction journey into ThreatPress, the plugin I find so magical. Created by ThreatPress, the devoted cyber security company specialized in WordPress security services and products, the ThreatPress – Security and Monitoring Plugin is no doubt just another top-notch product from the team. What can it do and why I use the term "top-notch"? The reasons can be summed up into:
It's free, simple, easy-to-use and functions super fast;
It checks your website's core changes, plugins, and themes based on its ThreatPress WordPress Vulnerabilities Database.
It helps with monitoring the well-being of your website through the integrated ThreatPress Site Scanner.
Those are just a very brief glance into the powerful ThreatPress –  Security and Monitoring WordPress Plugin. Not to brag, but this plugin was actually born from the marvelous combination of the two already-too-cool products – the ThreatPress Database of vulnerable WordPress products and ThreatPress Sitescan scanner. This inclusion definitely supplements the greatness of the service by making it easier, faster and more efficient to function.
What I really adore about the plugin that made me rate it 5 stars instantly just like other clients, is the fact that the plugin is very lightweight. Due to this, you will have no worries about it taking up space. Honestly speaking, to have a plugin with awesome features that add to the security layers of your WordPress websites, yet so lightweight and simple, is not something we see every day.
Core Features
Since we are done with some of the highlights from ThreatPress – Security and Monitoring Plugin, it is time to dig deep into details. What exactly has it got to be a dreamlike security plugin for us all?
1. Mighty Security Checks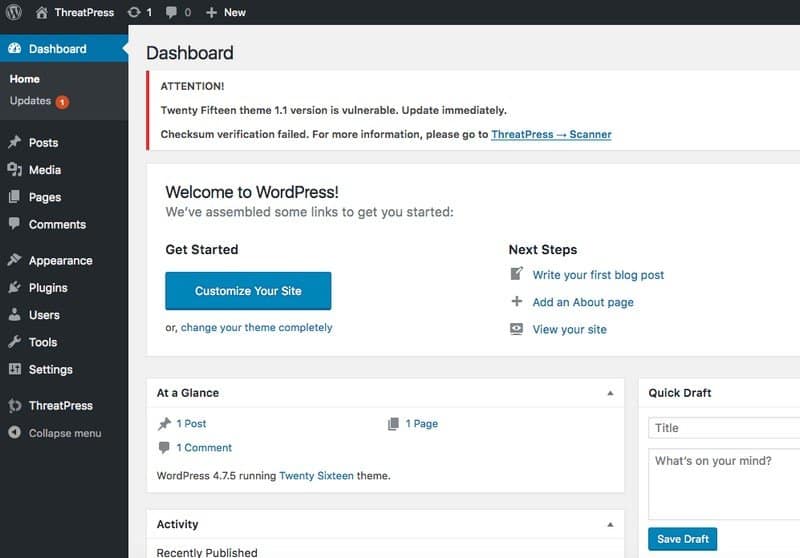 For a security and monitoring plugin, it is undoubtedly very important to offer an excellent level of security. Of course, ThreatPress knows that too!
Using ThreatPress – Security and Monitoring Plugin, WordPress users can perform checks on core, plugins, and themes whenever they want to. By taking advantage of the ThreatPress Database of vulnerable WordPress products, these checks will be as thorough and meticulous as possible. What is more, due to its thoughtful options that the creators put into, users can either perform checks all by yourself or make it do checks periodically as you command.
Want to protect your WordPress baby? Better do regular checks on it first! In that light, ThreatPress might just be the missing piece you need.
2. Powerful Scanning and Core Integrity Test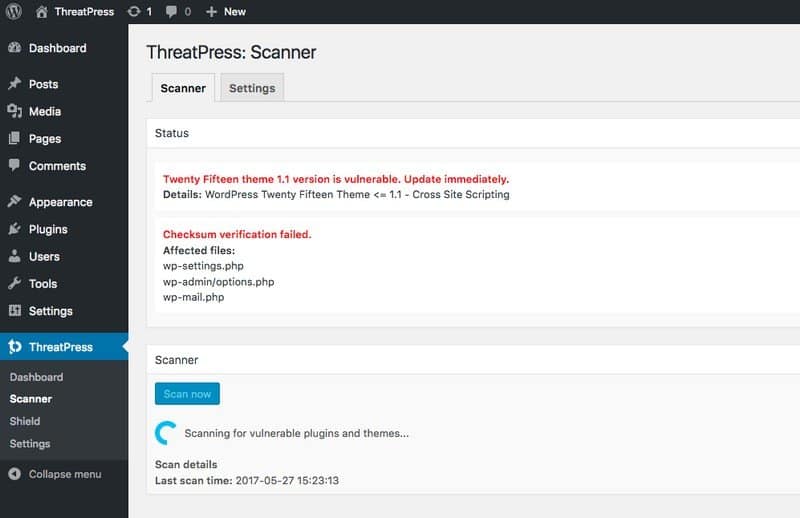 While all the checks are carried out, a parallel scan hosted by ThreatPress SiteScan API also takes place to even thicken your security layers. Throughout this scanning process, the status of your website will be checked against such databases as Google Safe Browsing, Phishtank, Malware Domain List as well as Spamhaus-ZEN. With such variety of databases used in the scanning process, it is guaranteed not to miss a single tiny issue. Besides, this feature is highly time-saving compared to using the tools one by one.
Similarly, the core integrity test will leave no malware unnoticed. The test will check all the WordPress core fires of your website installation, then verifies the checksum of every file after the processes.
Think to yourself, how can any malware or issue escape such a procedure?
3. Convenient Scheduled Scans
In order to maximize your convenience, the creators also put in scheduled scans. Do not have time to do it all by yourself? Do not worry since ThreatPress has figured it out and will take care of it for you! With all the time saved by this feature, you can either rest up or do something more profitable with your site, (thinking of new business plans maybe?) while the plugin conducts the scans.
Sounds relaxing, right? It is in fact relaxing! All you need to do is visit the settings options and check the boxes. Finally, let the scans do themselves!
4. Intelligent Email Alerts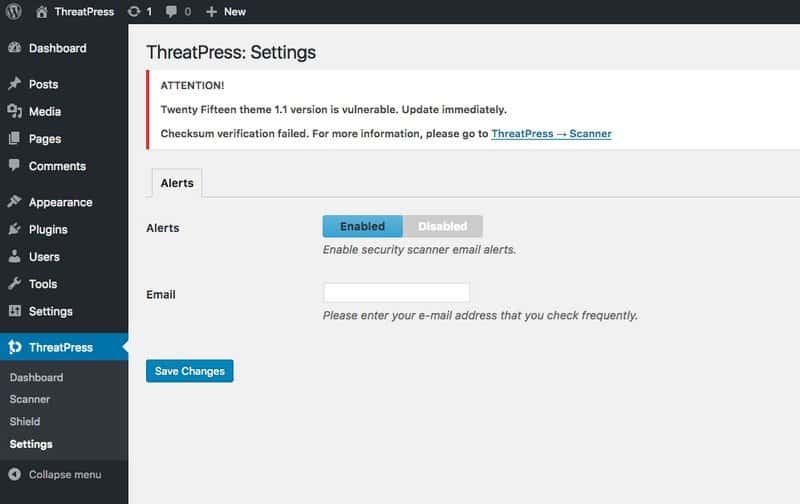 In the Settings page, you will find another vital option, which is whether or not to activate scanner email alerts. Many people leave it disabled since they do not wish to receive more items in their mailbox. However, speaking as someone who prefers carefulness at its best, I personally think it is better to keep check of all these scans by enabling email alerts.
After all, being mindful does not cost you much time or energy, but not being so, otherwise, can lead to quite devastating results!
5. Effective Login Protection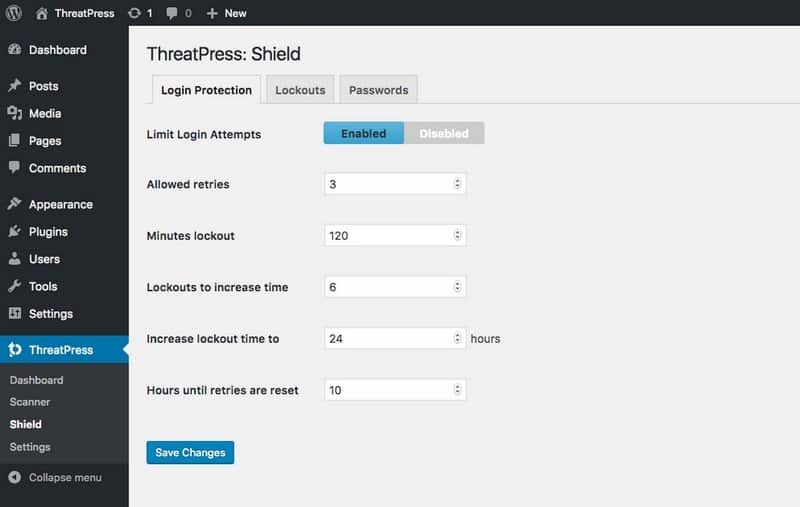 Another thoughtful function to protect your WordPress website from hacks is login protection. In the Shield section, you will see this feature together with lockouts and passwords options. So what is it capable of? Well, as you can see, it allows you to set the permitted login attempts, minutes lockouts and more. In this way, you can easily prevent brute force attacks!
6. High Level of Compatibility
As ThreatPress – Security and Monitoring WordPress Plugin is compatible with many other security plugins, you can freely raise your protection level to as high as it takes. Remember what I have said many times before in many different articles? The more security layers you have, the safer your website will get!
Therefore, you may as well search for one or two more security plugins that are as highly effective as ThreatPress just in case.
The Secret to Its Awesomeness
As mentioned above, ThreatPress, the Security, and Monitoring WordPress plugin is awesome not just because of its own features, but also because of the perfect integrity of its two other wonderful siblings – ThreatPress WordPress Vulnerabilities Database and ThreatPress Sitescan scanner.
Now you wonder what is so cool about the two products that contribute to the awesomeness of the ThreatPress plugin?
ThreatPress WordPress Vulnerabilities Database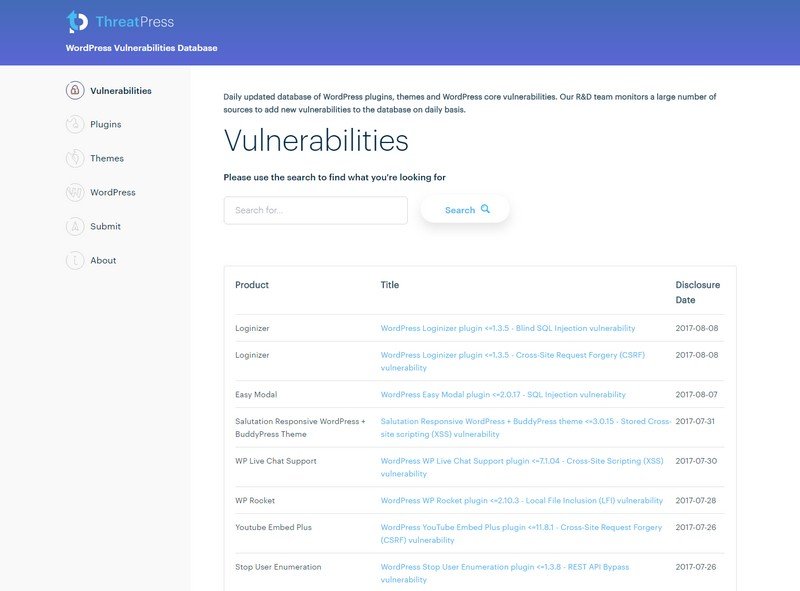 This database, ThreatPress WordPress Vulnerabilities Database, I must say, overwhelms me! I believe this is ThreatPress team's pride and joy, and it should be!
With all the stored and systematized information about vulnerabilities of WordPress software products, this database will be your hero if you ever find yourself having trouble keeping track with all the WordPress software products (which I bet you are indeed having trouble with).
Since ThreatPress – Security and Monitoring WordPress Plugin uses a ThreatPress Database API, it will always fetch you the latest data, not to mention the precise checks. So basically, it will tell you everything you need to know about WordPress itself, its plugins and themes.
Such questions as "Which plugins are vulnerable and which versions?" "What are the vulnerabilities?" and "How to solve them?", etc. will all be answered with the ThreatPress WordPress Vulnerabilities Database.
ThreatPress WordPress Sitescan Scanner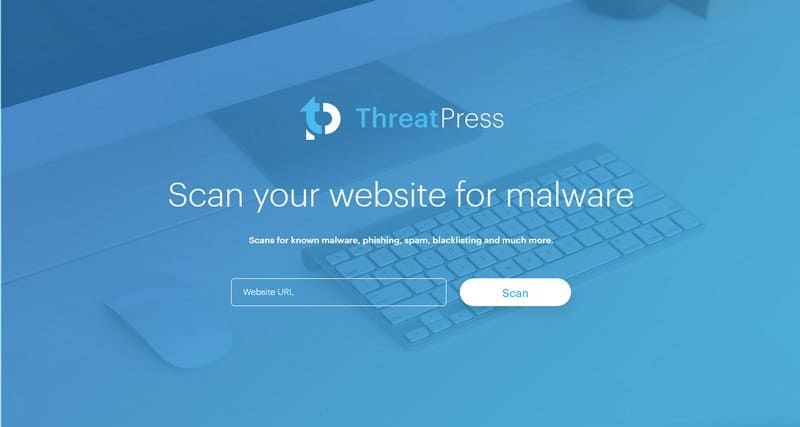 I seriously must thank the team at ThreatPress for making this service, ThreatPress WordPress Sitescan Scanner possible, that is, checking websites on several systems simultaneously!
But what does it check to be exact?
Well, it makes queries and checks websites through a variety of sources including Google Safe Browsing for unsafe web resources. PhishTank for sites that are involved in phishing actions. Malware Domain List for sites considered as malware spreading sites. Spamhaus-ZEN to combat against cyber attacks. What is even cooler, it also checks the status of your hosting server and much more!
Now easily accessible via ThreatPress Security plugin, all these features of WordPress Sitescan Scanner will surely satisfy your security needs!
Final Thoughts
All in all, you must agree with me that this open source plugin, ThreatPress – Security and Monitoring WordPress Plugin, is all we can ask for and beyond! Last time I checked, security remained one of the biggest concerns for any website owner, including those of WordPress websites. As I am sure you are among this group, installing ThreatPress will share as much as 80% of your headache, especially with the help of the integrated Vulnerabilities Database and Sitescan Scanner. For the rest 20%, let us see how flexible you can be with other security plugins because of ThreatPress, as I said, is highly compatible!
Have any questions to ask or problems to solve regarding this magnificent WordPress plugin, do not hesitate to contact for help at its Contacts page and let the team get back to you as soon as possible!
For a free, simple and highly effective plugin, I would be really confused if you did not jump at ThreatPress right now!
Where Should We Send

Your WordPress Deals & Discounts?
Subscribe to Our Newsletter and Get Your First Deal Delivered Instant to Your Email Inbox.
Thank you for subscribing.
Something went wrong.