Moving your WordPress website from one host to another can be a harrowing experience – if you let it be. Thankfully, if you're trying to move a WordPress Website to a new host there are lots of things to look out for that can make your life a lot easier.
Some of these options include built-in tools that can help you export and then re-import your website, or perhaps even some web hosts that may offer to help you with the migration process. The actual process can be quite pain-free, leaving you only with fine-tuning your site once it has been moved over.
Breathe deeply and relax because this really isn't too difficult. BUT, expect to spend a fair bit of time on the move because the migration process will require that you deal with a lot of design and cosmetic issues on your new host.
Step 1: Choosing a New Host
Although many people get intimidated by the prospect of moving their website, one of the most important steps before the actual move is to choose the right web host to move to. Everyone will have different requirements for a web host, and it takes time and research to make the right choice.
This is compounded by the fact that there are so many web hosts in existence today that choosing the right one can quickly become a real challenge. However, this is an entirely separate issue from moving your WordPress website. So I'll just give you some quick look-out points here;
Know your needs – There is often never a perfect fit, so make sure you keep in mind your core requirements and look out for those first.
Performance – Aa good indicator of a good web host is how much detail is in its service level agreements. Make sure you find one that isn't squirrely about stating a guarantee of uptime.
Support – A good web host will not only

offer technical assistance

but also make available materials that can help you grow your website to its fullest potential.
Expect to pay a price – There are free web hosts and there a good web hosts, the two categories seldom intersect. Make sure you

know how much you should be paying

for some features in web hosting.
Special Deals – Look out for great

deals around holiday seasons

and choose those periods to take up new deals.
Security – With

security being such a big deal today

, a web host that pays attention to this detail can help you avoid a world of pain later.
Step 2: Exporting Your Existing Website
Once you've chosen your new web host, you will need to start the actual moving process. Don't worry, this really isn't overly complicated. The first thing you must do is to back up a copy of your content before export your website from your existing host.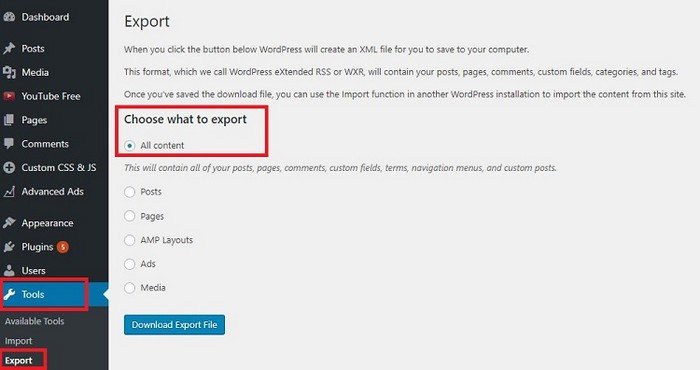 In your website's WordPress administration panel, you need to go to Tools -> Export. Select the 'All Content' option and then click on 'Download Export File'. The system will then let you download an XML file – make sure you take note of where it is saved on your computer.
Do note that this export process will save all your content – it does not include widgets, themes or other settings, you'll need to set those up again manually on your new host.
*Note: The export process only exports the contents of your blog – the posts and pages. It will not export widgets, settings or anything else – those will have to be set up manually later.
Step 3: Preparing Your New Host
What you do here depends on what type of hosting you have bought. If you chose to move to Managed WordPress Hosting, then you can skip this step. If you have chosen any other type of hosting, then you will need to install WordPress before you can move into your new home.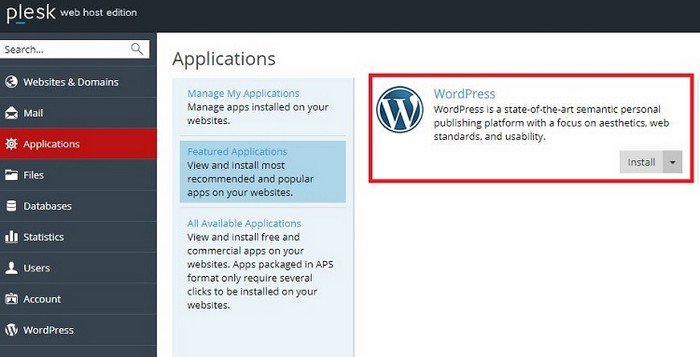 Caption: This installation screen example is from Plesk, yours may look different depending on what web host you are using.
Almost all control panels on web hosts will have installers which you can use to set up web applications like WordPress. In your web host account, look out for an application installer such as Softaculous or something similar.
Once you've found that, just do a normal WordPress installation by clicking 'Install' and following the instructions you'll be given.
Step 4: Moving Your WordPress Website to Your New Host
Once the installation of WordPress is complete on your new web host, you'll be ready to move your content in. This process is as easy as exporting your content from the old site was! Again, in your WordPress control panel, click on 'Tools' then 'Import'.
You will see a list of options as to what kind of locations you can import your content from. Click 'Install Now' at the WordPress option.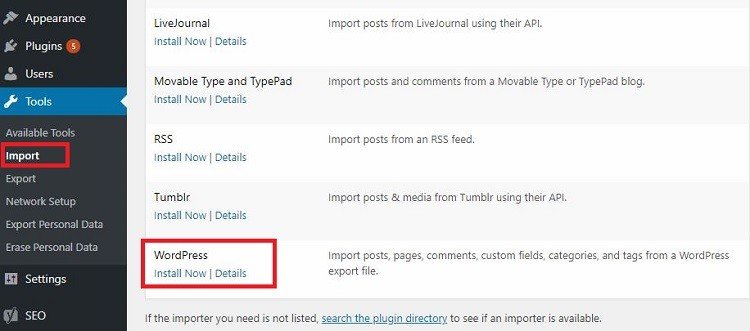 Don't mistake the 'Install' here with a WordPress installation. What you are actually installing will be the import tools for WordPress.
After that is complete, click on 'Run the Importer' and then select the file that you originally exported from your previous WordPress site.
When doing this, make sure that you choose the option to download and import file attachments. Failing to do so will result in you missing out on your images or other multimedia files! When done, just click 'Submit'.
Step 5: The Finishing Touches
To be honest, this is the most time-consuming part of the process. As you have seen, the actual move itself has been quite painless. In fact, you should notice that all it takes is a few clicks of a mouse.
Before your site is up and running again. You need to do some housekeeping so that it looks and acts like your old site did. You will need to reinstall all the plugins that you used on your old site and setup your theme like the way it used to be.
Those, however, are just cosmetics. You also need to double-check that the move went well and that everything you need was moved correctly. Go through your articles one by one to check on details like formatting and images.
One of the most important things you need to keep in mind is preserving your SEO. Assuming you've run a site for some time now, everyone will already know the site – not just your visitors but search engines like Google.
Conclusion
By following these easy steps, you can see that moving your WordPress website isn't something to be worried about. There is very little technical expertise required and most of the time you will be spending is on cosmetics.
I have moved my sites many times now and almost entirely without fail. The move itself only takes up around 10% of my time. The difficulty is in getting the new site to look like your old site. I do recommend that you take this opportunity to correct any existing design flaws from your old site.
If what you've seen still seems daunting, there are other options. Some web hosts will offer free migration services if you sign up with them, so keep a look out for those. If there is a host that you really want to move to that doesn't offer free migrations, then ask.
Asking never hurts and you never know, they may be nice enough to approve some help on a case to case basis. Some really won't but if you're willing to fork out some cash they may help with the move for a nominal fee.
Latest posts by Jason Chow
(see all)
Where Should We Send

Your WordPress Deals & Discounts?
Subscribe to Our Newsletter and Get Your First Deal Delivered Instant to Your Email Inbox.
Thank you for subscribing.
Something went wrong.