It's that time again: Say Hello to the Twenty Seventeen WordPress Theme.
A new year, a new version of WordPress and a new default WordPress theme in WordPress. Say hello to Twenty Seventeen. While we wait for the 4.7 release lead by Helen Hou-Sandi why not preview and have a look at the new upcoming default theme in WordPress?
Each year, WordPress is updated every three to four months. Once a year, the update is bundled with a new default WordPress theme since the WordPress version 2.1. The arrival of a new theme usually tends to be big news in the WordPress community. A lot of blogs, including us too, wants obviously present the new and upcoming default theme in WordPress.
Although many associate WordPress and earlier themes with the Kubrick theme, it wasn't the first theme that was shipped with WordPress, it was a theme called WordPress Classic. Recognition factor equals zero, right? In fact, there are not that many people who know about it. (except we WP geeks).
Since 2010, and WordPress 3.0 "Thelonious" we have been able to use a new default theme every year. If you're wondering why it is released a new default theme each year, Lance Willett says back in 2012:
"With Twenty Ten a new pattern started, with every single year having a new theme, naming it by the year. Twenty ___. This gives the theme an expiration date and it doesn't have the pressure to be the end-all theme for the ages because it'll be replaced in the next year rather than in five years."
Before we take a look a closer look at the Twenty Seventeen Theme, check out the list of the default themes since 2010. 
What is your favorite yearly theme?
Twenty Seventeen Theme
In WordPress 4.7 scheduled for release in December 2016) comes the Twenty Seventeen theme bundled in the WordPress release. The theme is designed by Mel Choyce (@melchoyce), and the direction of this is the theme is a business website or product showcase. Which is a great choice if you compare with the previous default themes.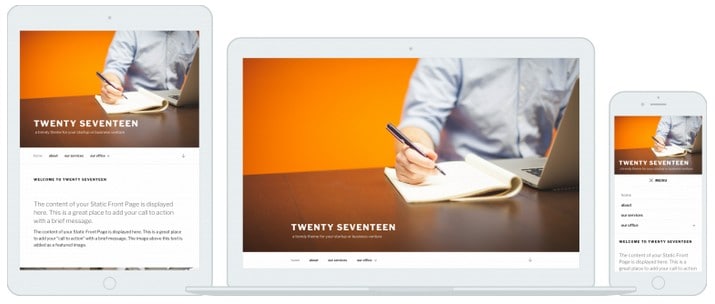 Helen Hou-Sandi says the following about Twenty Seventeen:
"In addition to having a wide appeal, Twenty Seventeen will focus on providing a seamless initial theme setup so anyone can set up a website for themselves or their business with minimal hassle."
Twenty Seventeen also aims to show off new core features and enhancements, such as:
A better flow for using a static page as your front page.
Visible edit icons in the Customizer, replacing the current hidden shift+click method.
Expanding custom header images to include video (think: atmospheric video headers!).
Dummy content for live previews.
Helen Hou-Sandi also says: Twenty Seventeen will also use plain CSS. It won't use preprocessors in the development of the theme. This will keep it simple, making the theme easier for everyone to understand, quicker for anyone to modify and better to maintain in the long run.
As of WordPress 4.7 Beta 1, we can take a sneak peak, take Twenty Seventeen for a test spin and check out the new default theme in WordPress.
The Twenty Seventeen is a brand new default theme. Hopefully, it brings your site to life with immersive featured images, video headers, and subtle animations. The theme focusing especially on business sites and features multiple sections on the front page as well as widgets, navigation and social menus. It is easy to personalize it with a custom color scheme and showcase your multimedia content with post formats. Check out a preview image below of the theme or a live demo right here. 

Just remember that the Twenty Seventeen theme is not available "officially" until WordPress 4.7. But if you want to get a head start you can install the WordPress Beta Tester plugin (you'll want "bleeding edge night lies"). Then you can test both WordPress 4.7 and the Twenty Seventeen theme before the official release WordPress 4.7.
What's your opinion about of the new default theme in WordPress? Better or less good than the previous theme Twenty Sixteen?
Wrapping Up
In my opinion, this is one of the best themes as default themes in WordPress and I really hope Twenty Seventeen could be a boost for WordPress in 2017. There have been some default themes in WordPress that could have been improved in both functionality and design. But with the Twenty Seventeen theme which is a modern theme hopefully, it can give WordPress a lift which I personally think is needed.
Personally, I'm a bit of opponent of a new default theme every year. I don't think it benefits the WordPress development in the right direction. What is your opinion about a new default theme in WordPress every year? Continue as is or come up with a new concept?
I would love to hear your opinion in the comments below!
Where Should We Send

Your WordPress Deals & Discounts?
Subscribe to Our Newsletter and Get Your First Deal Delivered Instant to Your Email Inbox.
Thank you for subscribing.
Something went wrong.