You can imagine your most difficult science notes sorted and simplified at one go, or just think of a round a grocery store and getting done with weekly groceries under one roof.
One Page Business Pro is one such Single Page WordPress Theme for various businesses, creative websites, agencies and freelancers by CyberChimps.
This theme is user-friendly, as it's just for a single page website with no hassles. It's a magic wand with everything available at one glance without going back and forth.
CyberChimps' One Page Business Pro Theme is based on a sophisticated yet instinctive design which can be used by any business.
Let's Check out the One Page Business Pro Theme Review
First, for the sake of Installation; you either install via FTP or copy directly. Also, do ensure your WordPress version is 4.7.5 as it this theme is compatible with this version.
Highlights
You can modify and edit, display and hide each section individually. You can change the section names as per the business need.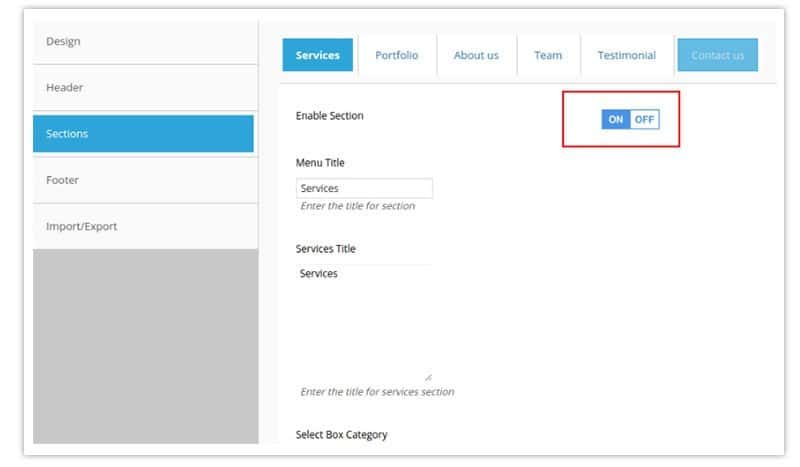 Sections
This theme has sections like About, Services, Portfolio, Team, Testimonial, and Contact. These sections will be helpful for providing your business information, venue, contact names and the services available with you to all your customers. With such 7 sections, you will expose your services transparently to the customers. Considering one by one;
Home
This is the first page of your web site, which helps or rather motivates the user/viewer to read further. With a full-width background image with a call-to-action at a display, all impulsive customers get affected by the first-sight which eventually improves the bottom line of the business.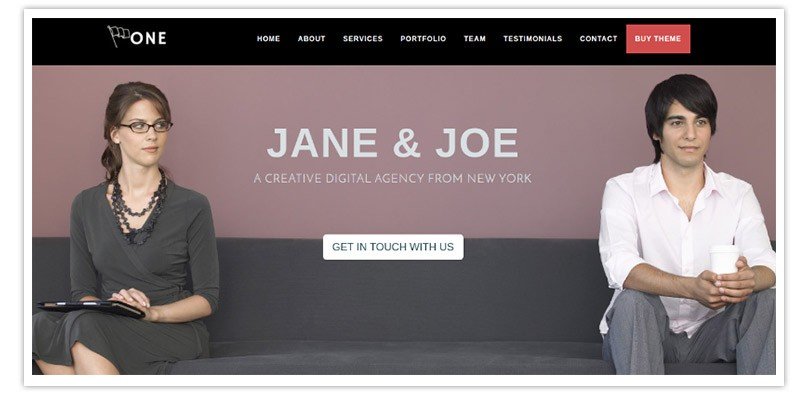 About
It is about you, your business, its nature and quick peek at your expertise. And showcase it all with a customizable title, description and an image.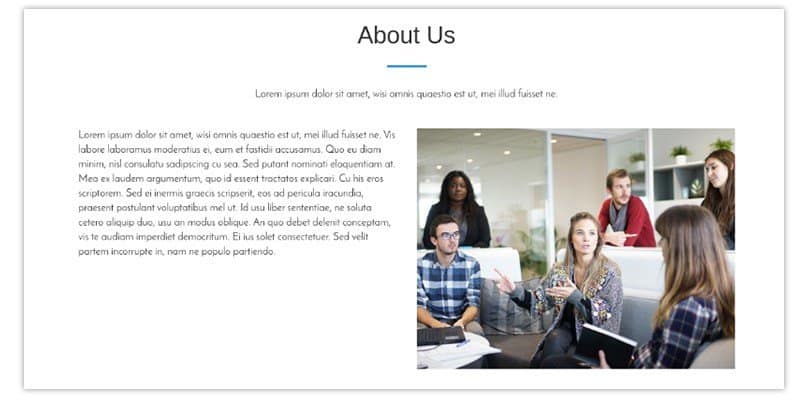 Services
This section means the ultimate interest of the website, with which you can address the customer about your products.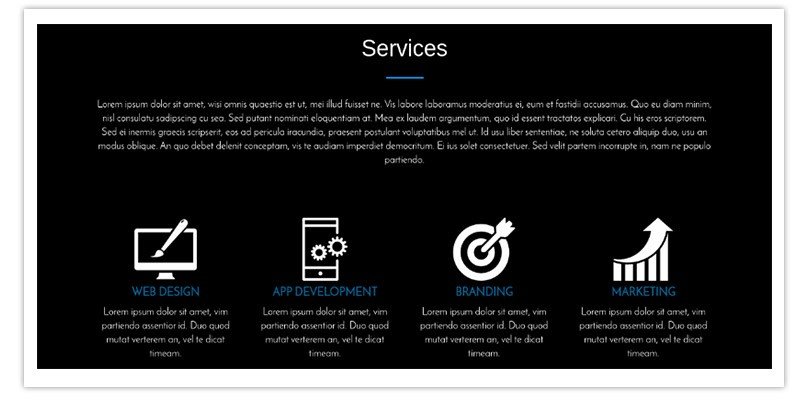 Portfolio
Importantly, you can showcase your portfolio here, wherein your business ventures, various variants and experiences can be featured as images with modal effect.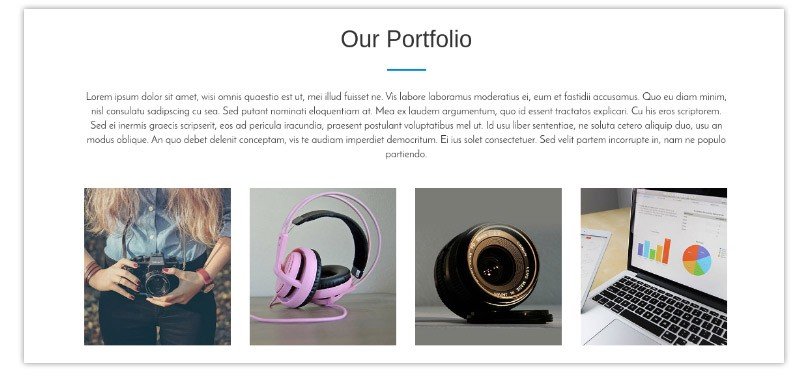 Team
You can share the names of team members and their responsibilities.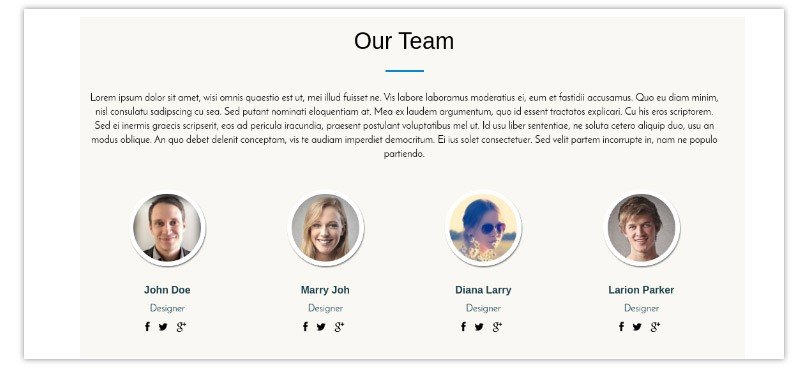 Testimonials
You can share few customer reviews about your product or services. These first- hand experiences can be showed attractively with the customer's name and what he has to say.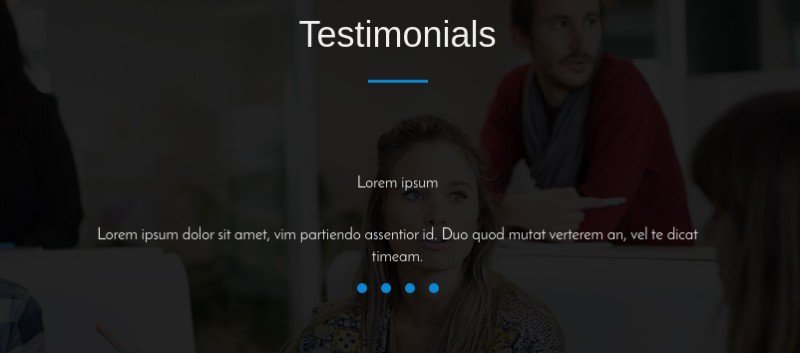 Contact
This form is built-in with customized data fields on how to reach you / your business.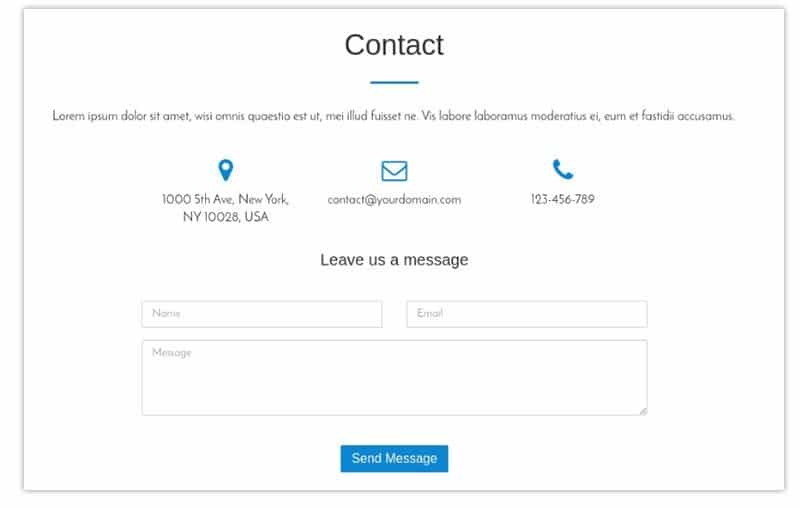 Dynamic Alignment
You can add as many images as possible. The images can be of any size and resolution. The beauty about the theme is it can realign the image automatically as per the space available. So, you need not worry about the image size and dimension as it fits the available pixel space.
Modal Dialogue Popup
Images here zoom into a popup. This new popup is created on actual click. Transitioning to a new window for images gives it more business view. You can choose which images should have the modal effect.
Slider
You can use a slider to transition from one testimonial to another. Slider gives more smooth sliding effect, and it gives your website more professional and a business outlook.
Mobile Compatibility
This one-page business pro theme maintains the focus on your business and helps you engage with your customers without redirecting them to different web pages. Whatever service product, goods you intend to sell or market can be done by using just a single page. This theme is a mobile responsive theme and works great on desktop, tablets, laptops, and smartphones. Theme adjust per use and maintains its responsiveness throughout.
Sticky Menu
The Sticky menu consists of two levels. One shows the sections that can be navigated and the other shows the current section which is currently active. This behavior can also be seen when the scrolling is active. You can easily adopt the single page theme to the number of sections that you intend to use. Disable any section you don't wish to use, and you can rename any section to your customization, and you can use it. You can upload any new logo and can replace the default logo.
Social Media Icons
Social media icons provided in the footer serve the purpose of easy redirection to your social media accounts. Apart from this, the website is SEO optimized. This ensures that your website will always receive good ranking in search results. This is all at one go, at one click and on one page.
Theme Pricing
One Page Business Pro – Single Page WordPress Theme is available on CyberChimps for $27 only. CyberChimps' Annual ($67 for first year and $33 yearly renewal) and Monthly ($9 / month) Clubs also comes up with One Page Business Pro and 54 other stunning themes and plugins.
The Privileges of a CyberChimps' Annual Club member are:
Access to 55 Current Themes & Plugins
Website setup of a single domain exactly like the demo
You can cancel anytime – no contract
12 New Themes a year
Use on unlimited websites forever
Try One Page Business Pro now!
Latest posts by Susmita Pendse
(see all)
Where Should We Send

Your WordPress Deals & Discounts?
Subscribe to Our Newsletter and Get Your First Deal Delivered Instant to Your Email Inbox.
Thank you for subscribing.
Something went wrong.