WordPress is perhaps the most popular and the most recognizable blogging and content management platform in the world. It's used by budding bloggers and publishing juggernauts like Huffington Post alike, which is frankly amazing.
Despite its undeniable popularity, many people including savvy bloggers do not realize that WordPress actually comes in two distinct flavors: WordPress.com and WordPress.org.
On the face of it, it's just a small difference which might pertain to the domain extension. While in fact, there's a huge difference between the two which is also why many users make uneducated choices when choosing WordPress for content management.
In this post, we're going to take an in-depth look into WordPress.com and WordPress.org and the main differentiating factors between them. We'll also discuss which one of these will be best suited to your needs.
Self-Hosted WordPress – WordPress.org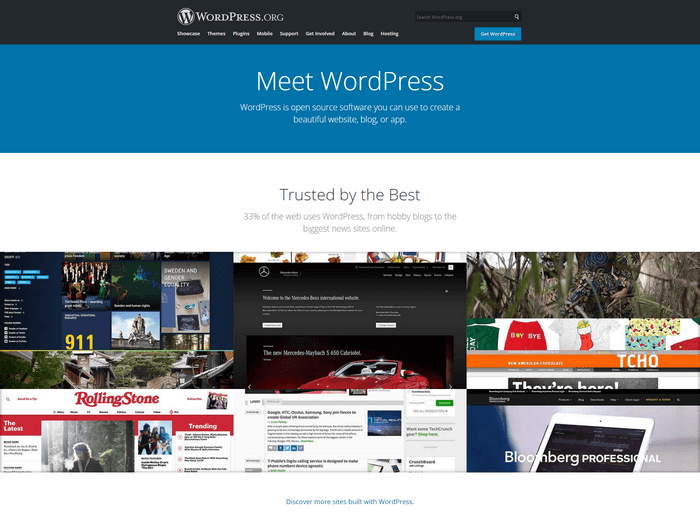 WordPress.org represents the self-hosted version of the WordPress CMS. It's often referred to as the 'real WordPress', reasons for which will become apparent as we go into more details.
Simply put, WordPress.org is available as a downloadable software package which puts you in charge of deploying and hosting it on a web server. Like other self-hosted web platforms such as Magento, you'll have to invest in web hosting and a domain name to get your WordPress.org site up and running.
This might sound awfully technical but in reality, WordPress.org is very easy to deploy. Just watch a few YouTube videos and you'll be able to deploy a WordPress.org installation in a couple of hours.
So you might be asking, what's so great about WordPress.org and why is it called the 'real WordPress'?
Let's look at some of the reasons why it is the preferred version of WordPress.
Customization
WordPress.org is open-source software, so you get full control over customizations including code-level changes. This is perhaps the biggest draws of WordPress.org as you really can modify any part of your website, provided you have the technical skill to do so.
WordPress.org on its own is quite powerful and arguably the best content management platform out there, but you can further enhance it with modifications. It is completely up to you on what you want from the platform.
This level of customization is not available with competing platforms such as Squarespace, which chooses to go with simplicity over customizability.
Free to Download and Modify
As mentioned before, WordPress.org is open-source, so it's completely free to download, use and even modify.
Data Privacy
If you're very particular about control and privacy of your data, then WordPress.org should be your choice for a content management system. That's because when you deploy it, WordPress.org requires that you setup a database for it.
That is a fairly advanced step but it also gives you full control over your data. Services such as Squarespace and Wix store your data on their own cloud servers. While there's nothing wrong with that if you violate any rules you run the risk of your data and website being deleted.
Plugins
WordPress has one of the strongest, if not the strongest developer communities out there. Due to its popularity, there are thousands of plugins available to enhance the functionality of the platform.
But new users need to proceed with caution when it comes to using plugins. Install too many of them and you run the risk of creating conflicts which can cause real harm to your website's stability. Sadly, not all plugins are created with a focus on quality so you have to be careful with what you choose.
It's always a good idea to install a plugin in a sandbox environment to see if it will interfere with the website's routine operations.
Professional Ecommerce through WooCommerce
WooCommerce used to be a third-party plugin that enabled complete ecommerce functionality for WordPress. However, due to how popular and good it was, Automattic (parent company of WordPress) ended up buying it.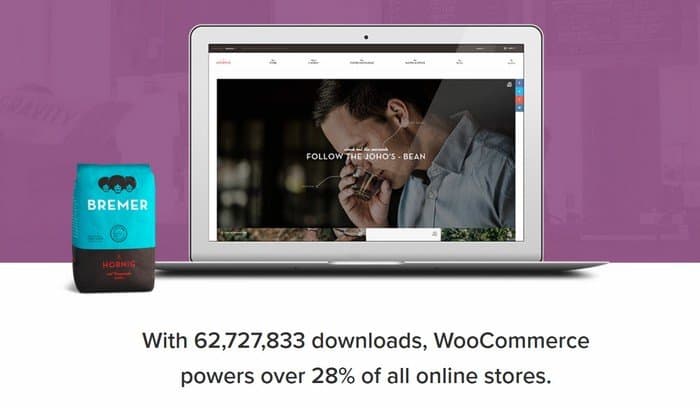 Image: Woocommerce.com
WooCommerce transforms WordPress from a world-class CMS to an ecommerce platform of equal caliber. Among self-hosted ecommerce platforms, WooCommerce is definitely one of the better ones out there. Even compared vs Wix and Shopify, WooCommerce holds its own because of how customizable it is.
Hosted WordPress – WordPress.com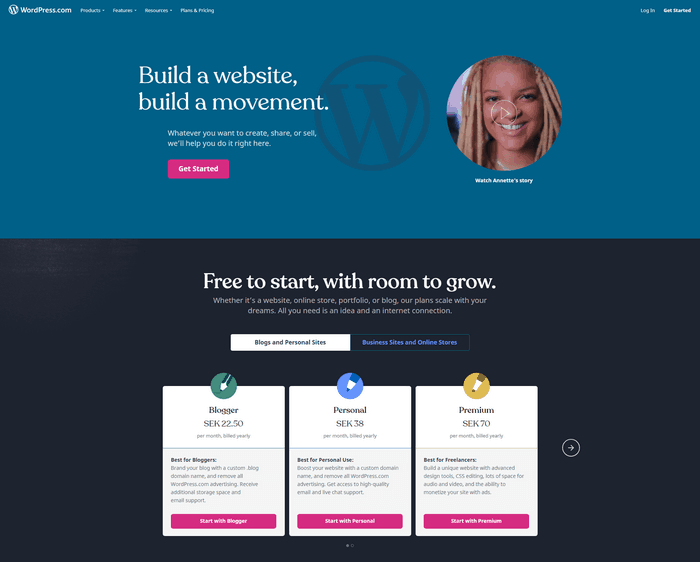 WordPress.com is the cloud-hosted version of WordPress and operates much in the same way as Squarespace and Wix do. Users are required to register for an account and once that's done, they're taken straight to the WordPress dashboard where they can begin customizing their WP website.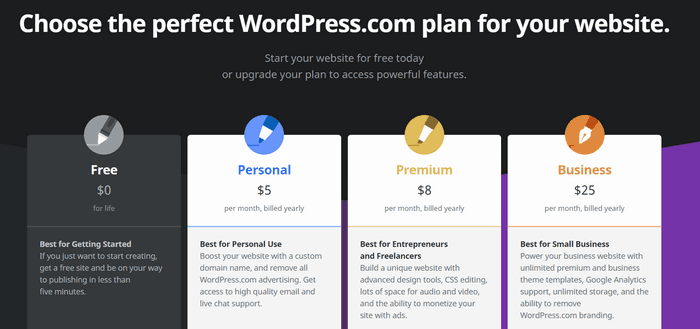 With WordPress.com, there is no need to buy web hosting or a domain name. It's an all-in-one package which is very user-friendly and probably why WordPress remains the most popular blogging platform on the planet.
The most basic version of WordPress.com is available completely free of charge to users. Simply create an account and you can launch your WordPress blog (hosted on a subdomain of WordPress.com).
Users who want more functionality and flexibility can opt for one of the paid subscription plans, which are as follows:
Blogger ($3 per month, billed yearly)
Personal ($5 per month, billed yearly)
Premium ($8 per month, billed yearly)
Business ($25 per month, billed yearly)
The Convenience of WordPress.com
The most noteworthy benefit of WordPress.com is just how affordable and convenient it can be. If you're on a very tight budget and want to launch a blog/website as fast as possible, the 'Personal' and 'Premium' plans will do the job quite well.
It's a great choice for budding bloggers, designers and others who want to showcase their work through a personal website.
So with all that we've mentioned so far about WordPress.com, it seems like a pretty good deal doesn't it? The answer to that is yes and no. 'Yes' because this is the most convenient way to launch a blog if you're in a hurry and have no budget.
'No' because even some of the paid plans have stripped-away-functionality of the WordPress platform. The most noteworthy omission from the 'Personal' and 'Premium' plans is the ability to install WordPress plugins.
The 'Business' plan does allow you to install plugins but then it's also more than thrice the price of the 'Premium' plan and almost five times as expensive as the 'Personal' plan.
Automatic Updates and Patches
Unlike WordPress.org where you have to diligently keep your WordPress installation up to date, WordPress.com will get updates and security patches automatically. This is common in tools such as Shopify, Wix and Squarespace and WordPress.com users get the same peace of mind.
Drawbacks of WordPress.com
There is a reason many say that WordPress.org is, in fact, the 'real WordPress'. Here are a few reasons why WordPress.com is inferior to WordPress.org:
No Control Over Data
WordPress.com stores all your data on a cloud database. While this database is highly secure and reliable, you simply do not have any control over WordPress can do with your data. If you violate any terms and conditions, your data will simply be wiped and you'll get banned from the platform.
No Plugins
Quite surprisingly, the cheaper WordPress.com plans do not include plugin functionality in them. A big chunk of the platform's appeal is its library of plugins. With that gone, you simply won't have the flexibility of taking your website much further in terms of functionality. The $25/month Business plan does come with access to plugins, but then it is significantly more expensive.
1-Click Installs for WordPress.org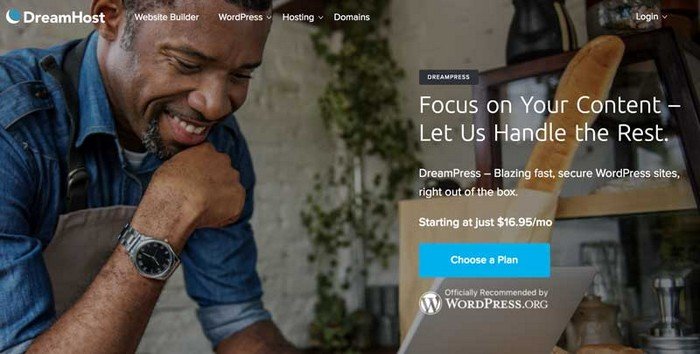 Image: Dreamhost.com
Many web hosting providers offer 1-click WordPress.org installs, which completely negates any technical complexity associated with its deployment. Thus, there's even less reason to opt for WordPress.com considering you don't get the full benefits of the platforms.
Which One Should You Choose?
For most people out there, our standard recommendation would be to opt for a web host that offers 1-click WordPress.org installation. Heck, there are even hosts that offer WordPress packages so there isn't even a need to 1-click install it.
WordPress.com is simply not worth it if you're serious about your website. We would recommend it only to people who are absolutely not concerned with any sort of extended functionality for their website. Also, people who're on a tight budget can opt for basic WordPress.com packages and get access to a great CMS.
But if you have more than $10 per month to spare, choose WordPress.org.
Author Bio
Vlad Mkrtumyan is a serial entrepreneur, SEO enthusiast and a passionate networker at Logic Inbound. He started his journey creating apps for the Google Play store during high school. In his early 20s, he developed a software product for real estate brokerages across the US. These days he focuses his efforts on learning and dispensing knowledge about search engine optimization, digital marketing, and ecommerce.

Latest posts by Editorial Staff
(see all)
Where Should We Send

Your WordPress Deals & Discounts?
Subscribe to Our Newsletter and Get Your First Deal Delivered Instant to Your Email Inbox.
Thank you for subscribing.
Something went wrong.