Invoice generator software aids in the creation of standard invoices and credit notes. It allows accountants and business owners to compute taxable amounts, log transactions, and communicate with vendors and consumers.
You can create recurring billing invoices for Lump Sum billing lines. The regular amounts are calculated when you generate invoices by selecting the frequent code in the Invoice Generation processing options. The pay items for a contract invoice make up the whole amount of the invoice.
1. Zoho Invoice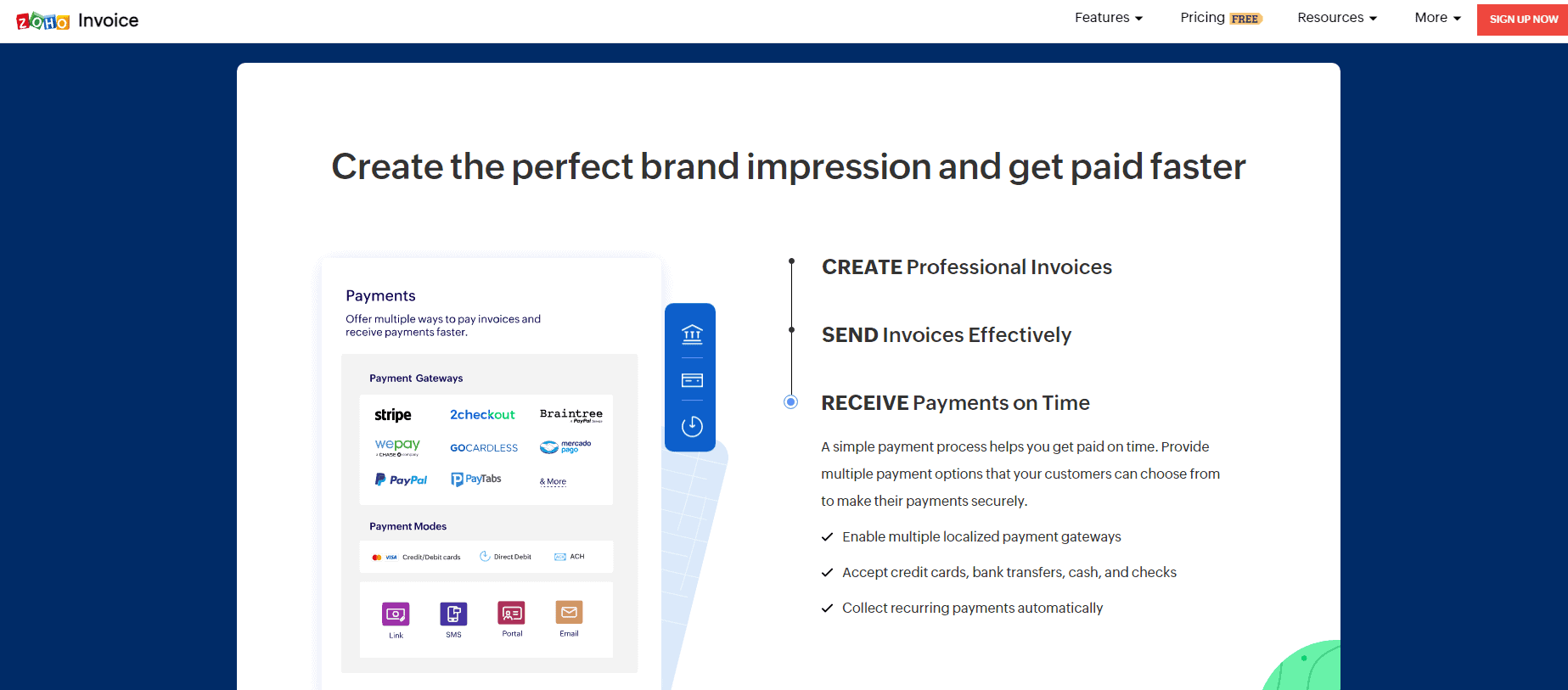 First on our list is Zoho Invoice, a free online invoice generator that allows users to log time, customize invoices, and get paid online more quickly. Zoho Invoice, founded in 2008, has progressed to become one of the most excellent free invoice generators in the business.
Zoho is best suited for small to medium enterprises because it is jam-packed with tools to help with invoices and receiving client payments. It is the most incredible free invoice generator that comes with a variety of pricing options. Additionally, if you choose a yearly subscription, you will save two years.
2. InvoiceNinja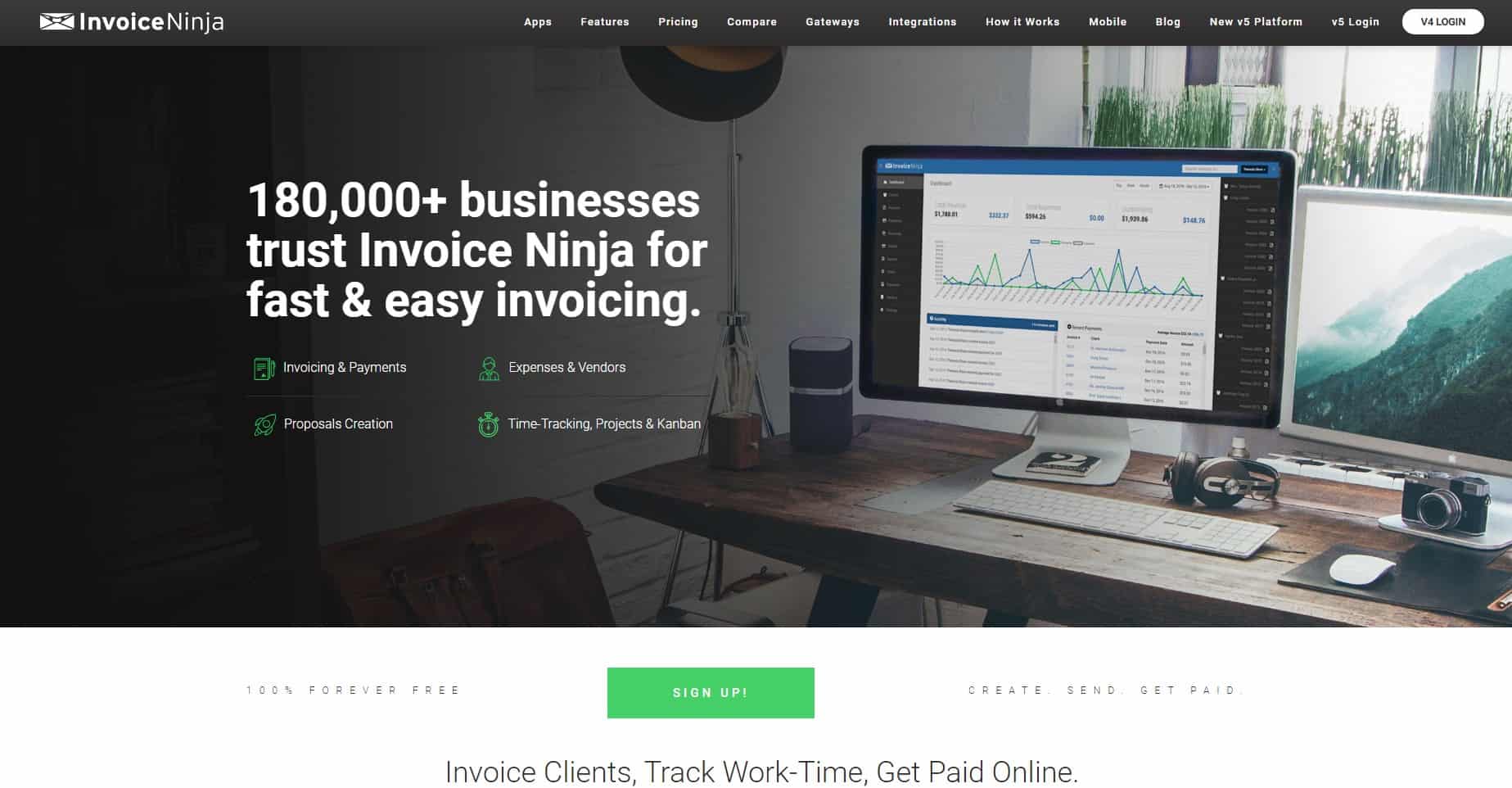 InvoiceNinja is more than simply an invoice generator; it also includes CRM features for managing inventories and tasks. By adequately processing invoices and costs, InvoiceNinja gives users complete control over their business. Users can design professional invoices from scratch or start with one of the built-in templates.
InvoiceNinja is one of the best invoice generators you could wish for, as it is jam-packed with solid features. That isn't all, though. For local installation and customization, InvoiceNinja also provides a free, open-source version. The platform also connects with over 50 well-known payment channels, including PayPal, Stripe, WePay, WorldPay, and many others.
3. Wave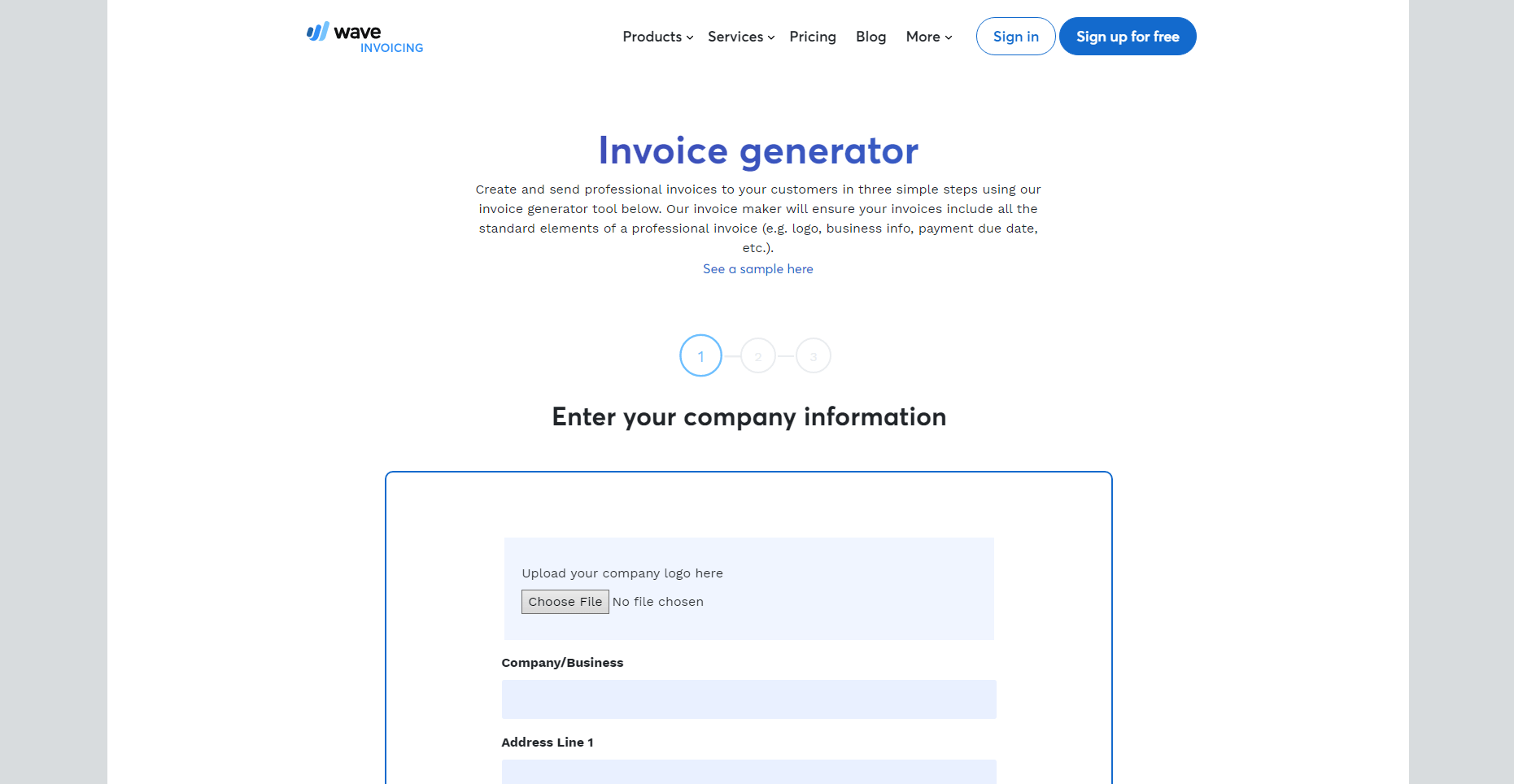 Wave is one of the most widely used invoicing systems globally, and the platform's unmatched performance lives up to its reputation. The platform is also adding new features to assist users in running their businesses more efficiently.
The Wave's main features are accounting, invoicing, billing, payment tracking, payroll administration, and receipt scanning. It does not only helps you create outstanding bills, but it also helps you keeps track of your finances.
Wave, like PayPal, does not require a fee to create an account or download the mobile app. However, if you need more services, you will be charged a nominal fee.
4. Invoice Home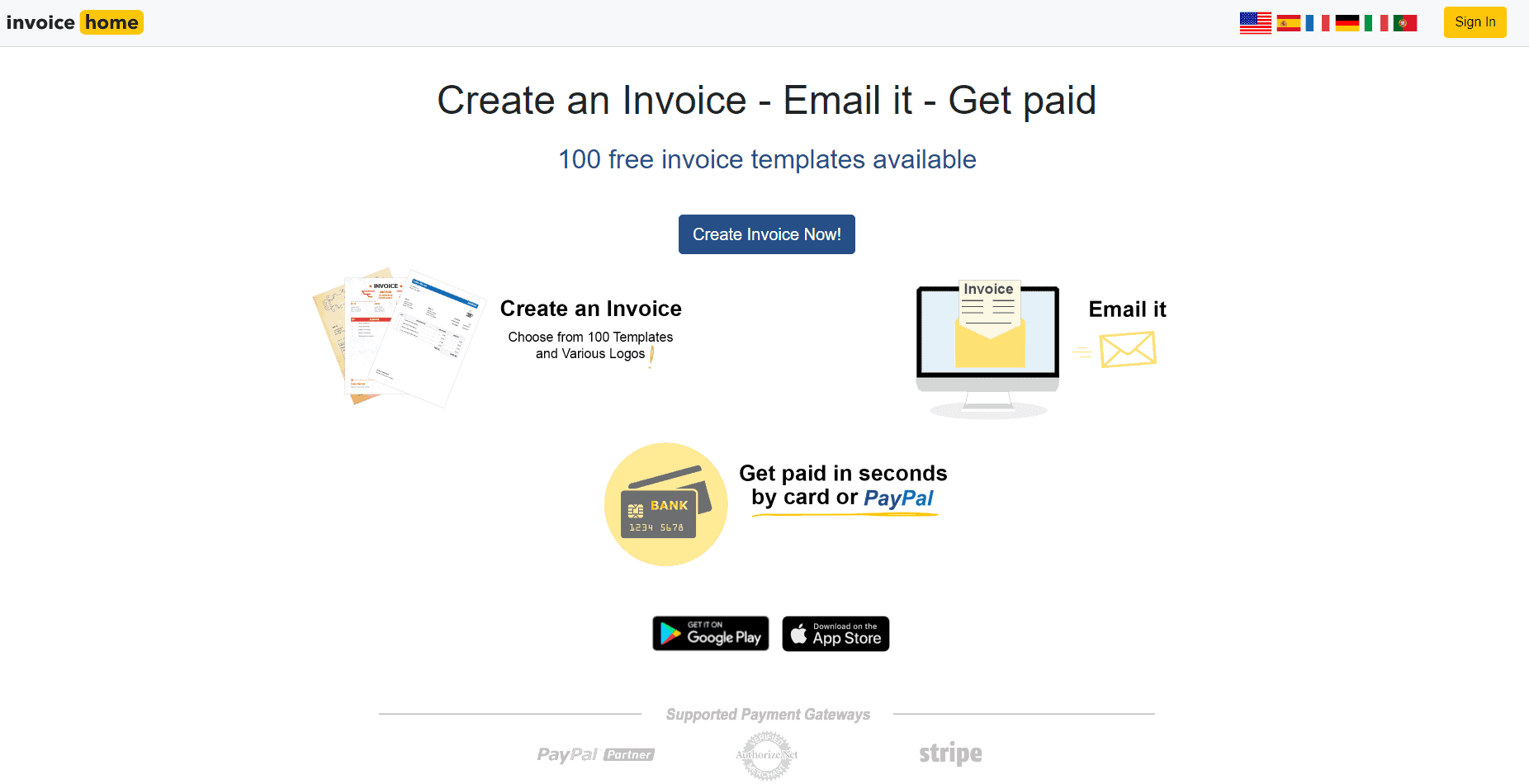 Invoice Home comes with the necessary features to make invoicing a breeze for you and your company. Users may create professional invoices using Invoice Home, which can be downloaded and sent as PDF files. It is regarded as one of the most excellent free invoice generators and lives up to its reputation.
There are additional customization options available for personalizing these templates as well as building your invoice from scratch. The site is available in four languages and accepts more than 150 different currencies. For prompt payments, clients can pay directly from invoices via PayPal, Stripe, or Authorized.net.
Invoice Home provides essential invoice production services for free, but users must subscribe to one of their subscription plans to get premium features.
5. ZipBooks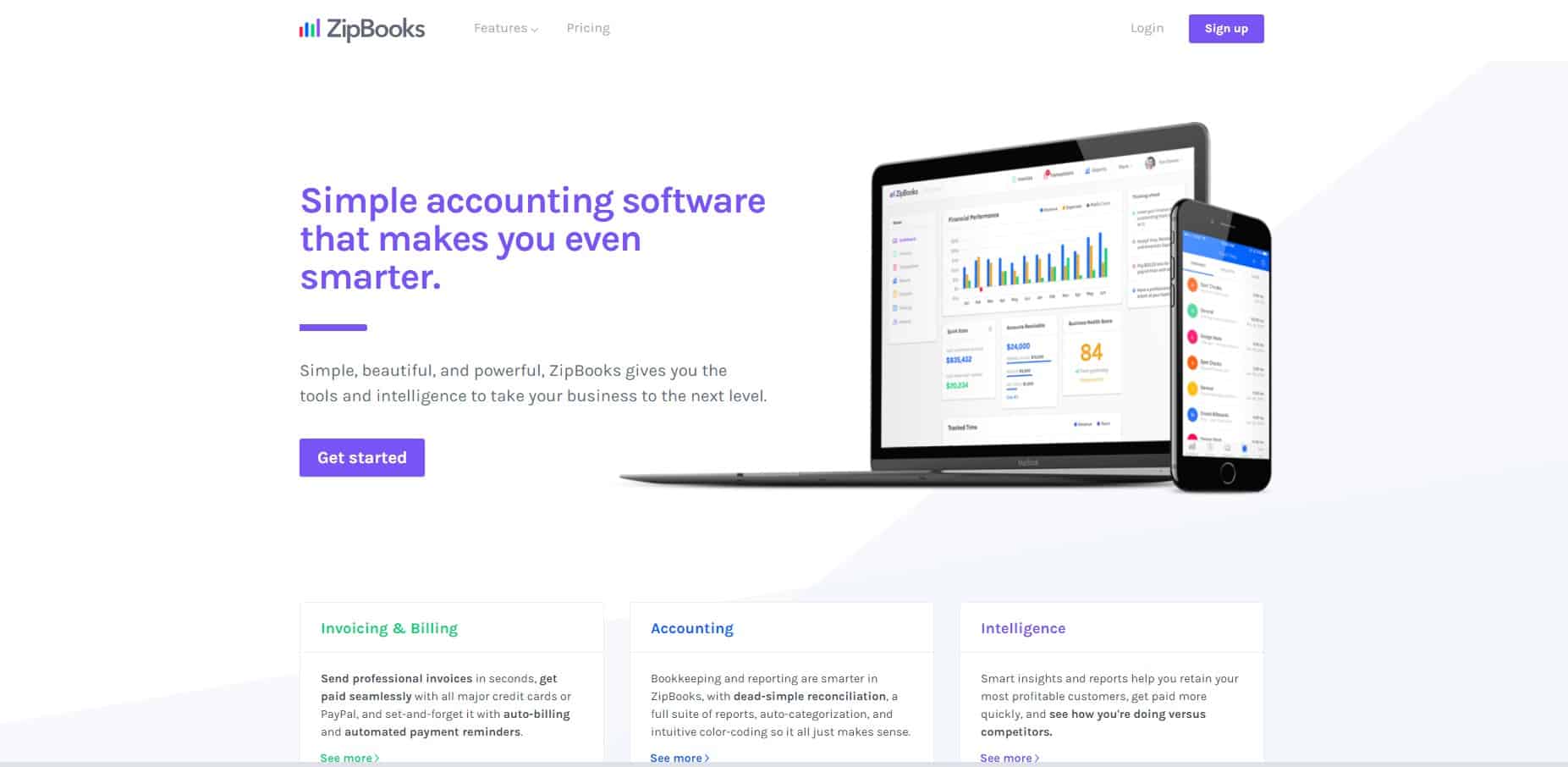 ZipBooks is a cloud-based invoicing service for small businesses that are entirely free. ZipBooks launched in 2015, yet despite its late arrival, the platform has made a reputation for itself. The software includes time and expense monitoring, invoicing, client messaging, and payroll integration, to name a few features.
For improved financial operations and increased productivity, ZipBooks has an easier-to-navigate user interface. It gives users complete control over their businesses by allowing them to see a clear picture of their financial situation to make informed decisions.
The program assists users with their finances and offers business advice and health scores based on the information they submit. You'll be able to make smarter business decisions with ZipBooks in your hands.
6. Invoice Simple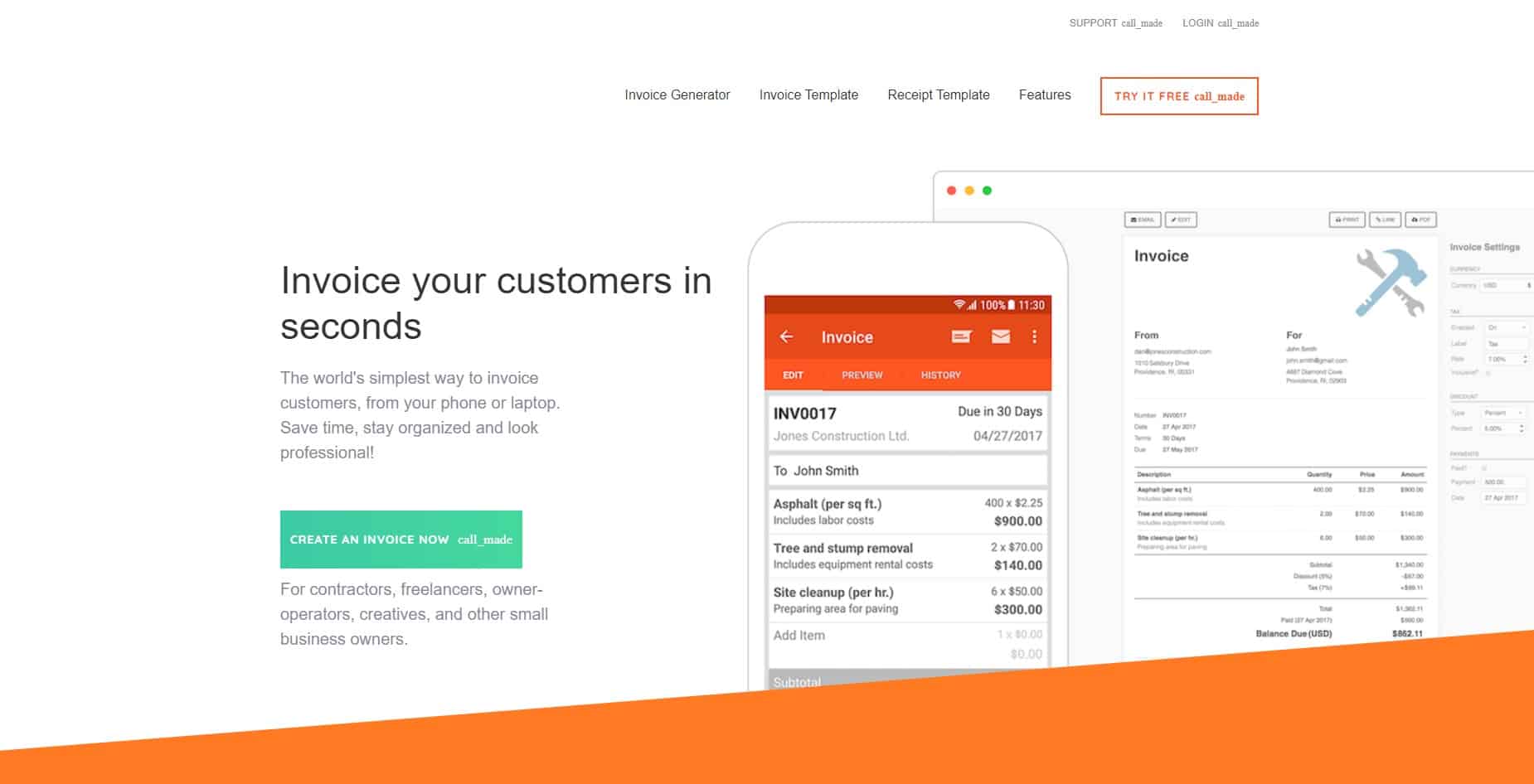 Next, we have Invoice Simple, another excellent free online invoice creator. This tool, which was launched in 2014, intends to translate estimations into personalized invoices and financial tracking. Invoice Simple was created with the invoicing needs of small businesses in mind. The platform's incredible features make it possible to manage and organize funds for a small business easily.
Invoice Simple is the go-to solution for making invoices because of its clean and straightforward UI. Due dates, signatures, discounts, and photographs to invoices are all considered by the platform. With all of these elements, your invoice will appear professional. Invoice Simple accepts various payment methods, including debit and credit cards, cheques, and even cash.
Invoice Simple now has mobile apps for Android and iOS, so you can stay on top of your business no matter where you are. For effortless success, all of your data will be securely synced between devices. Create, transmit, and monitor invoices on the go with Invoice Simple, and keep your money in order.
7. Lucidpress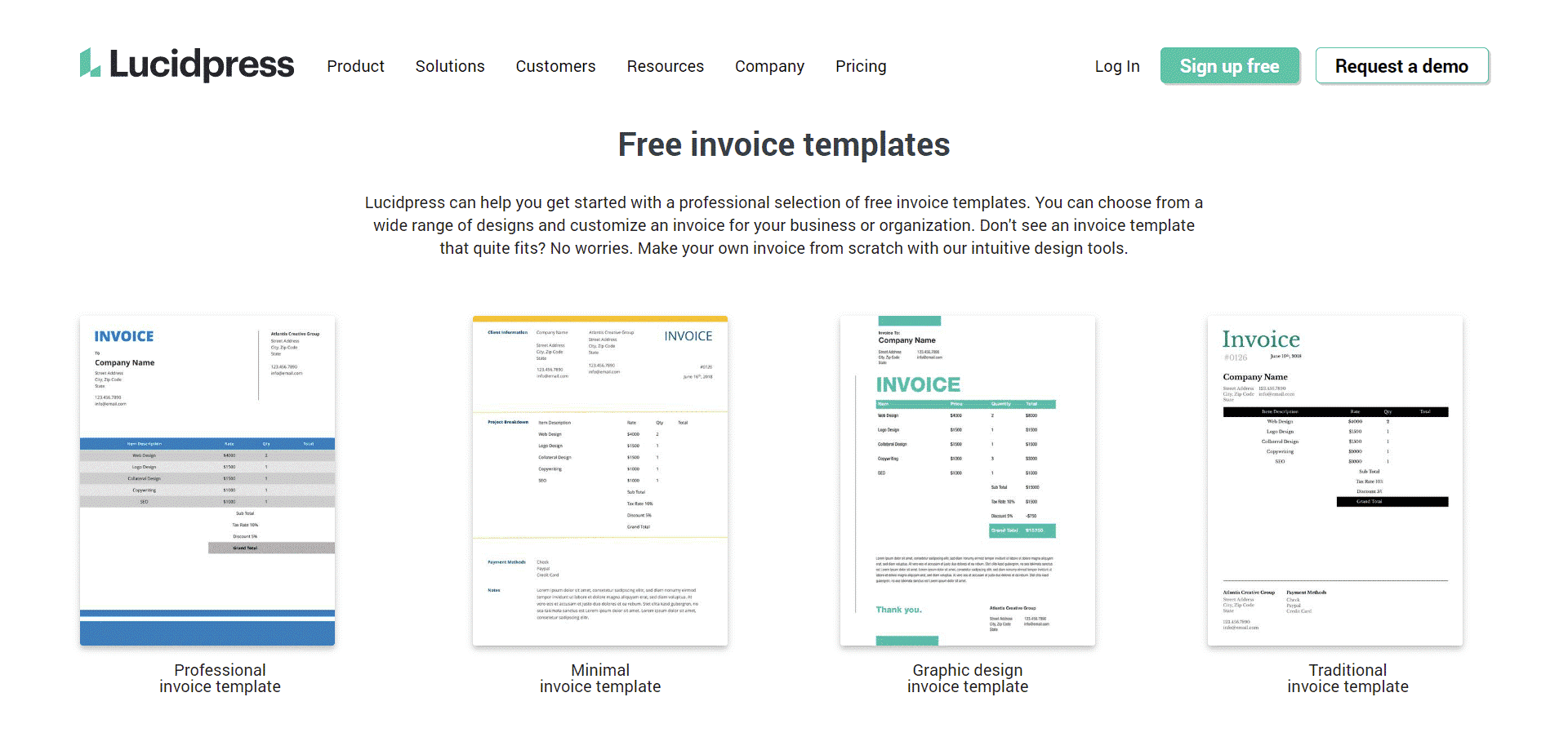 Lucidpress makes our list of the top free invoice generators this year, but it's much more than that. It's a brand templating tool that caters to the needs of non-designers. The site is straightforward to use and makes creating invoices a breeze.
Moreover, Lucidpress uses a drag-and-drop interface with a large number of built-in customizable templates to enable users to create invoices in a matter of seconds. The platform has a wide range of typefaces and visuals to help you make the perfect invoice for your company.
The invoice editor is easy and intuitive, with a wide range of options to make your work easier and more pleasurable. Furthermore, Lucidpress is used by around 8 million people worldwide to edit, publish, and design professional papers. It's more than just an invoice creator.
Users may also make business cards, wedding invitations, brochures, flyers, posters, periodicals, newsletters, and presentation slides with Lucidpress. To get started, go to their website and register.
8. Indy Invoice Generator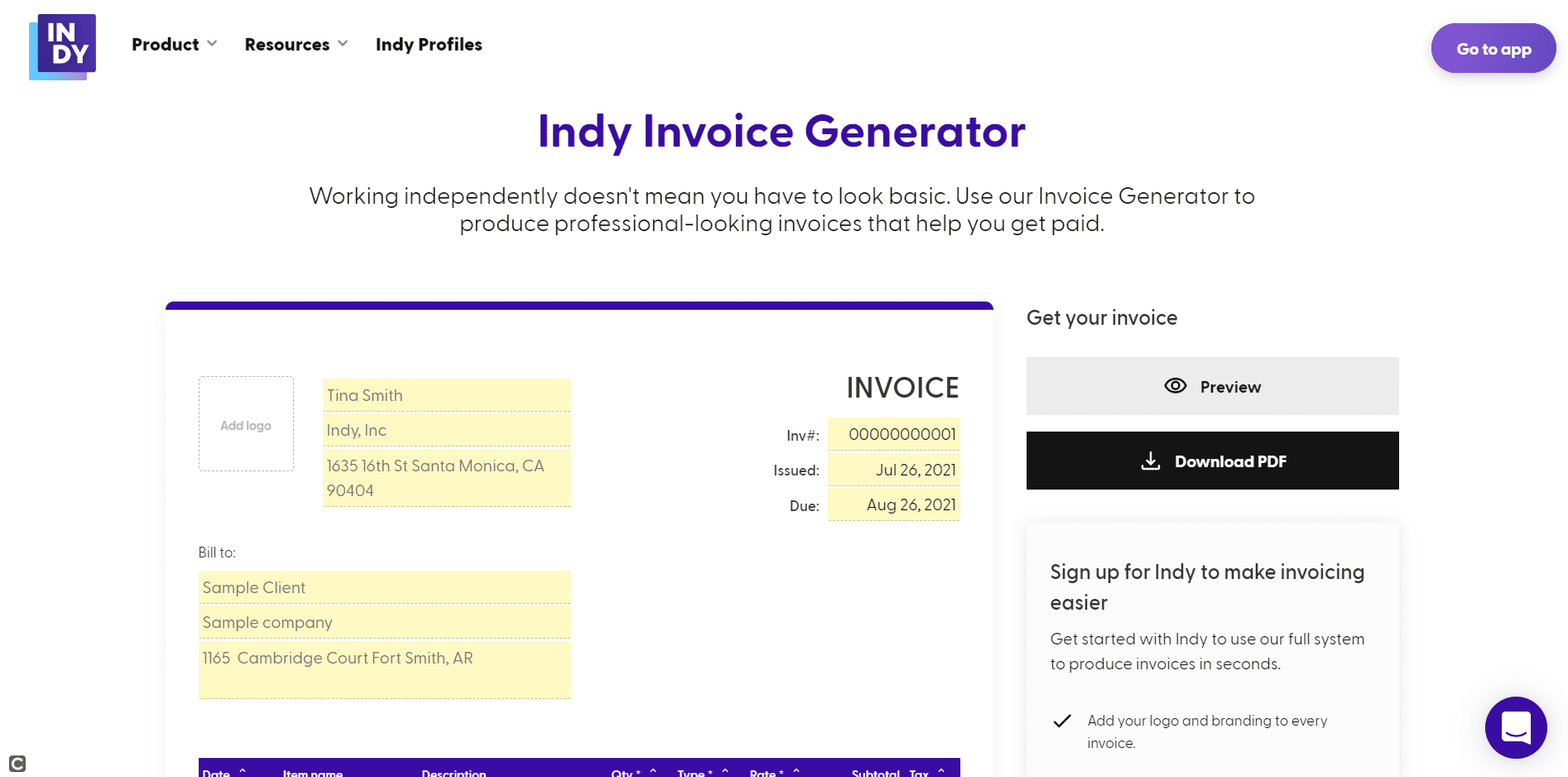 The Indy Invoice Generator uses the industry's most trusted online payment solutions, and clients are one click away from paying using the method of their choice. Indy is an all-in-one management software that helps self-employed people and small businesses easily manage their invoices.
Invoice templates include all the info your clients need and give you the ability to add your personal branding. You can link working hours directly to an invoice using the Time Tracker tool and save yourself time.
9. Momenteo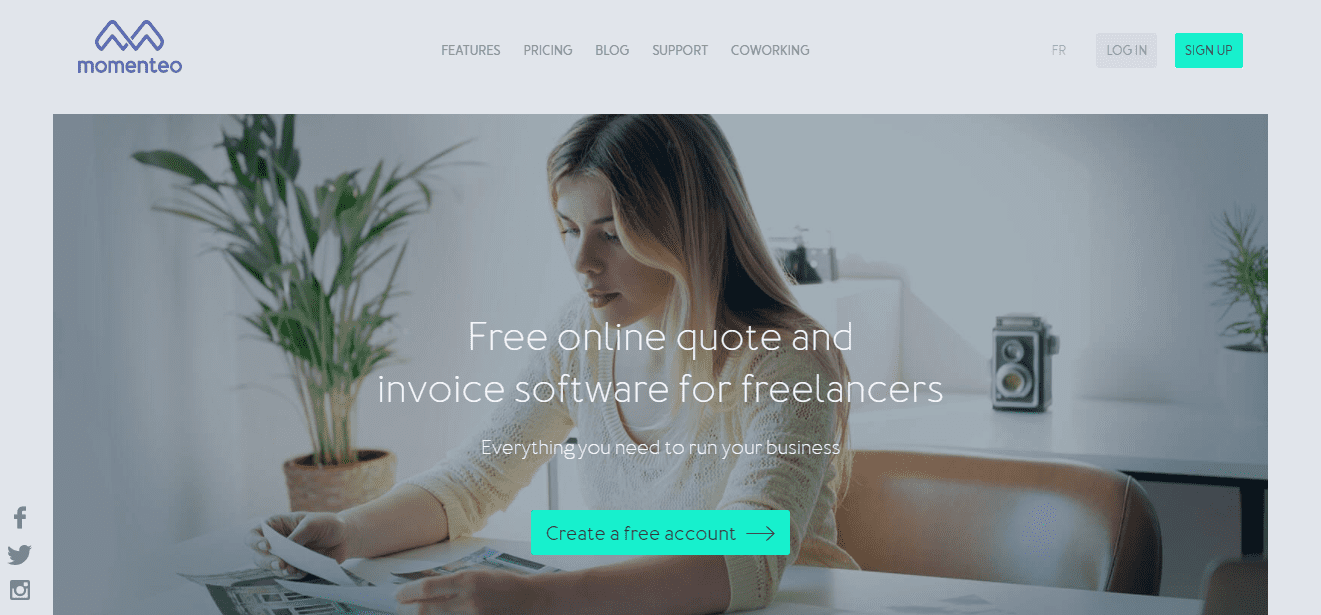 Momenteo is a user-friendly invoice software made especially for freelancers and self-employed workers. Indeed, it only has the features you need to manage your business. Start by creating an estimate, then transform it into an invoice easily. You can customize your invoices as well.
Momenteo managed to break down the complexity of accounting to a single question: what have you done today? Our calendar makes it easy to track your work done.
You can try Momenteo for free without any time limits. Indeed, you can send invoices to two clients without having to pay anything. Our prices are also based on the number of clients you have; we wanted to fit your business evolution. Give it a try!
Latest posts by Sara Peksin
(see all)
Where Should We Send

Your WordPress Deals & Discounts?
Subscribe to Our Newsletter and Get Your First Deal Delivered Instant to Your Email Inbox.
Thank you for subscribing.
Something went wrong.