Every time you turn on your PC or peek at your phone, there are thousands of new websites coming out and making it to the top. The sites that were recently launched have a precedence over the websites launched some time or even a long time ago. They have more attractive designs and shorter response times; they incorporate the elements that became technically available only in recent days: extended Parallax effects, vivid animations, video backgrounds and much more. There is no surprise that people intuitively opt for what is offered on up-to-date websites, as they promise high-quality service from companies that move with the times.
Nowadays, it appears that having a modern website is essential then presenting the product offline. Your website is a point of reference that is out there 24/7 and says its word for how invested you are in what you do. That is why having a first-class website becomes the priority of the wisest. And for those who are interested in having a website of supreme quality, the team of TemplateMonster offers an exclusive collection of Premium templates.
You may wonder why you may ever need a template. For two reasons: saving your money and time. If you need a website, you can order it from a professional web-designer and they will create a custom product for you. Sounds great until you get to know the price you need to pay for this. On the other hand, if you consider creating a website yourself out of what is available free on the Internet, be prepared to spend a decent amount of time for learning. Moreover, do not expect that you will end up with a great website. You'll either end up with something very basic or with something very old-fashioned. Believe me, it really makes a huge difference, whether people see an outdated page with a crummy layout and lame typography, or land on a top-notch website that amazes with every click.
The golden middle between these two extremes lies in purchasing a template and adapting it to your personal needs. If you purchase a template, you get a sound bug-free and optimized base for your website, what is left to do is to style it your way and to fill it with the contents you need. This is not a big deal in comparison to creating a website from scratch, and the template can cost 10 and sometimes 100 times less than a custom design. Moreover, to brush up the template you purchased, you do not need to have skills in webdesign or coding. All the changes are applied through the user-friendly admin panel that even has hints to help you get things done. In addition to this, modern templates are well-documented, so you'll have access to step-by-step tutorials that will guide you through the process of customizing your website.
In this post, we want to share with you 10 templates. Five of them are the Premium templates that incorporate all the advances of modern technologies; the other five are free and let you taste the process of working on the template. So let's figure out what the Premium and the Free templates are.
Premium templates are for those who want to launch a website that impresses its guests. Premium templates come with advanced options and additional plugins that help you build the website of your dream. Each template is handcrafted by a team of 5 – 6 code experts, 3D artists, illustrators, and designers. Creation of one such template takes not less than a week. Moreover, each of the elements of such templates (e.g. icons, 3D models, images, etc.) is produced exclusively for the template, and you'll never see it in other products. Buying such a template is a huge step toward a successful website that will pay back hundredfold. You can check the full collection of TemplateMonster free templates using this link.
Free templates are distributed only for educational purposes and personal use. They were created to allow you see the product inside out and get a hands-on experience of working with a template. They will be a helping hand for all the newbies, who may doubt whether they'll be able to handle it all themselves. With a free template, you can try your working skills before making a purchase and evaluate the quality of the product.
It's worth mentioning that free templates cannot be used for creating your personal websites or projects. They are designed as samples to let you see what's inside the template. This is also the reason for which these templates do not come with additional customization and design tools.
So, now you know what Premium and Free templates are. It's time to experience the new great templates that are out there in 2017 (for a full-blown experience do not forget to check out the Live Demos). Launch a new website with a top-notch template or revamp your old site, and your customers are bound to be impressed by what you offer there!
The Last Word in Webdesign: Monstroid 2 Lite WordPress Theme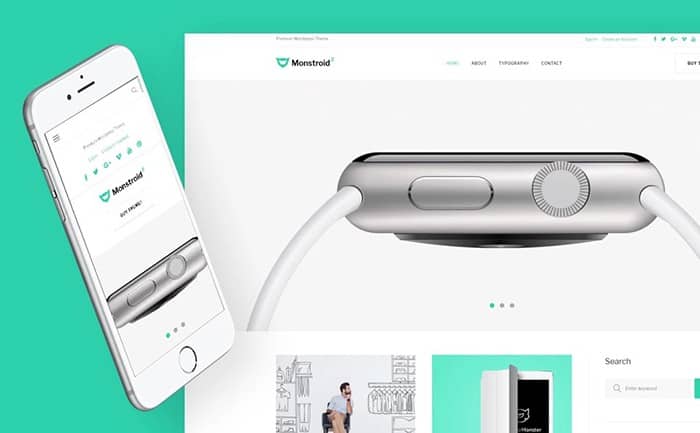 Monstroid 2 Lite theme lets you try out the most advanced product that is out there for a website. And this is absolutely of free!
Let's see what it's got. Monstroid 2 comes with a rich set of options that give you full control over your website. It's got a Live Customizer that allows you see the changes that you make to the website life, without reloading the site. It boasts of a clean and valid code, supplied with the commentaries that will satisfy the needs of the professionals, who like to go into detail. And what sure the most exciting thing about this all, now you can try out Monstriod 2 and experience this great advance of webdesign absolutely free.
If you want to learn more about Monstroid 2, I suggest you watch this short but informative video presentation of it:
Perfection of Material Design: Multipurpose Monstroid WordPress Template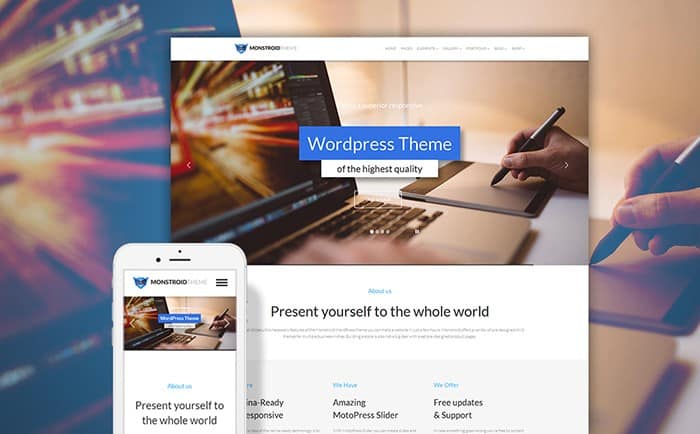 This is a perfect multipurpose Monstroid template. It utilizes the principles of Material Design in creation of its clear and spacious layout. Bright and snow-white sections of the website alternate to allow clear presentation of both text and media content. With multiple layout options, you can go beyond the standard website structure and build something unique by just using drag-and-drop. One more great advantage of this template is that it can be easily turned into an e-store with the help of the integrated powerful Woocommerce plugin.
Experience Fashion: Kustrix Lite Free WordPress Theme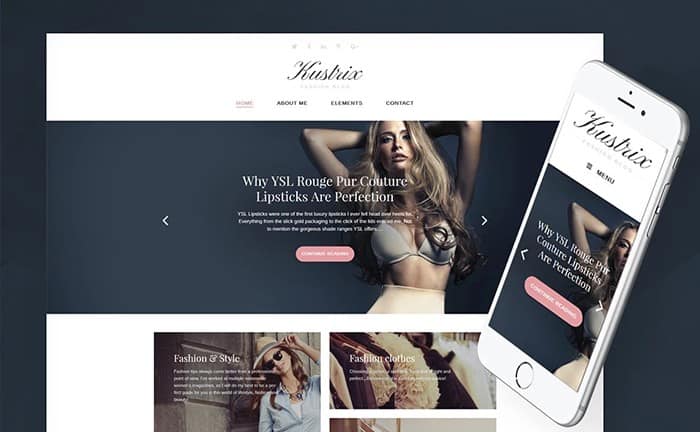 If you plan to create a website dedicated to style and fashion, this theme a great chance for you to gain experience of working with such a website. The theme runs on WordPress, the most popular CMS worldwide. So gaining experience of working with WordPress will be a long-term investment. You'll have a chance to see how simple it is to work with a WordPress site as its intuitive and simple dashboard has all the elements where you expect them to be.
Experience Fashion: Style Blog WordPress Website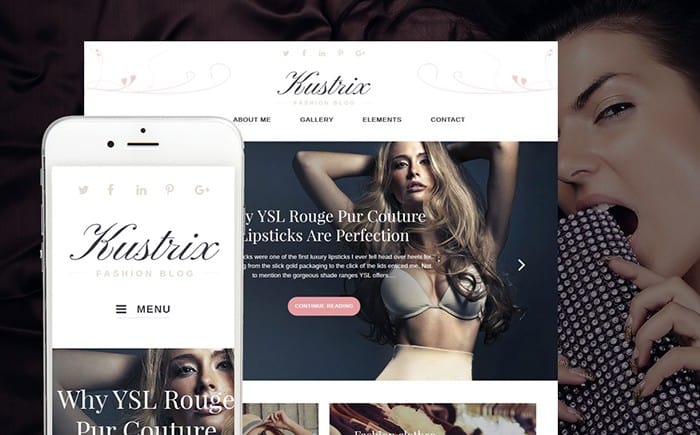 This is a great solution for the ones, who want to run a visually rich fashion website. Be it a blog or an online magazine, you can winningly place all your contents there and enrich the impression with large and detailed images that reflect upon your vision of modern fashion. The template comes with a set of social widgets, such as Instagram Board, Pinterest Board, Twitter Feed, that will allow you gain a cult following on social networks and spread your ideas.
Online Car Center Free WordPress Responsive Site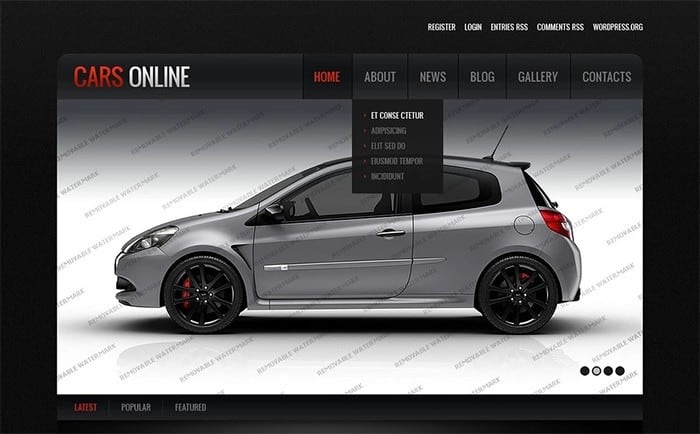 With this free theme, you can try your hand at creating and running an Online car blog. This template, built in back, uses red and white as highlight colors (of course, you can change this in your admin panel if you wish). Its Homepage has all you need: it features your latest and most popular posts, tells information about your company and even showcases your posts in social networks. The template is a great starting point for those learning to run a website because it is as clear and fell-structured, as a theme can be.
Exclusive Auto Repair Center WordPress Template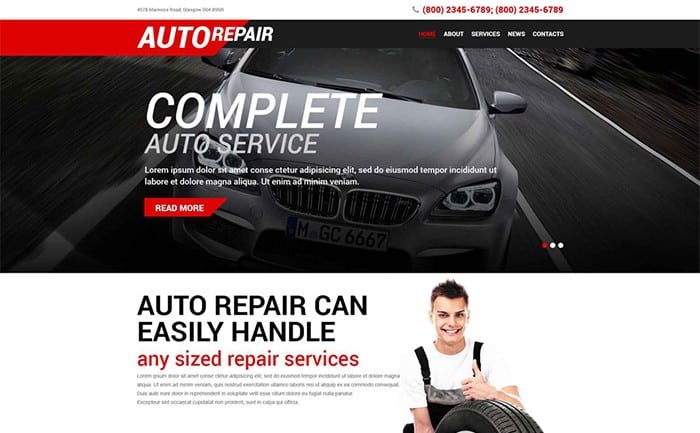 This template's got all you need for an auto repair center. It's well-structured layout and 'steel' colors breathe with cars and every their part. An informative homepage is a roadmap to the whole site, informing the visitors where they can get more information. Moreover, with this theme, your website will be the best way to contact you, either coming to your place or asking a question online.
The features inbuilt in this template are: Advanced Theme Options, Back To Top Button, Calendar, Commenting System, Google map, Google Web Fonts, Social Options, Sortable Gallery, Tabs and much more. The template is designed to demonstrate your reliability and well-established approach to work, as well as professionalism and passion for cars and all that comes together with them.
Fashion Harbor: WordPress Site for All That's Stylish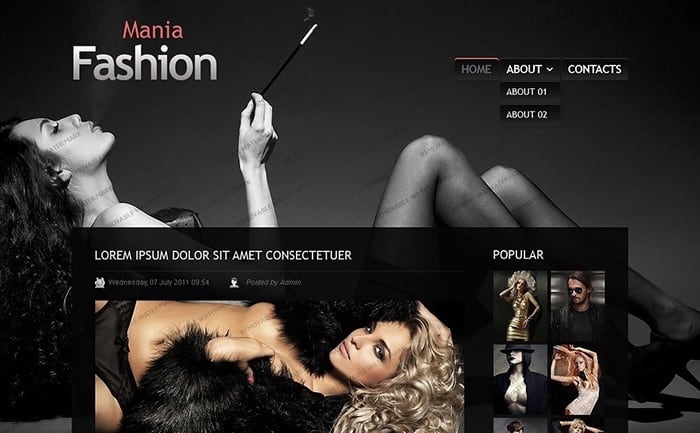 This free theme is the ticket to the Online world of fashion for those, who are the newbies in website design. If you master customizing it, you won't have any problem with the advanced Premium templates later on, and you'll be able to create a fashion harbor of your dream. The template is well-documented, so you won't have any troubles with installing and customizing the template, even if this is your first template ever.
Sleek and Glamorous: Model Agency WordPress Design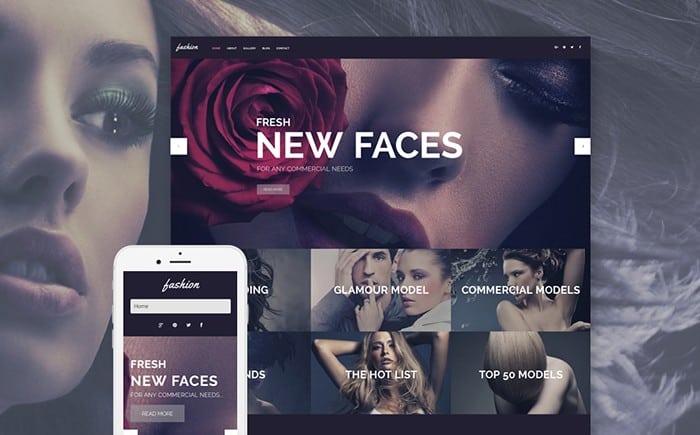 Keeping in step with changes and modern trends is extremely important for every website in the world of fashion. Classy fashion website should enchant people, amaze them with its unprecedented elegance and good taste. This gorgeous template is full of enchanting images of the fine color palette. It allows you create a great sortable gallery to showcase the beauty of your models. Moreover, background images of the theme come with Parallax effect which adds enchanting beauty to the website.
Your Ideal Home: Interior & Furniture Free WordPress Theme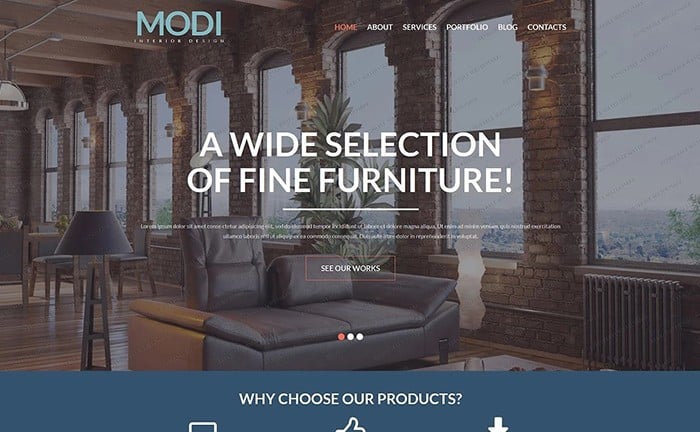 This free template will let you try out the quality of our Interior & Furniture templates for free. Its great design comes with a solid bug-free base, built using clear and valid code. The template comes with great visual effects, such as Parallax and video backgrounds, ghost buttons, animated graphs, and diagrams, etc. They feature clear-cut grid structure, balanced amount of text and pictures, eye-friendly typography and peaceful color palette. This template is the best way to explore the potential of TemplateMonster templates before making a purchase and starting your project.
Spacious and Convenient Interior Premium WordPress Template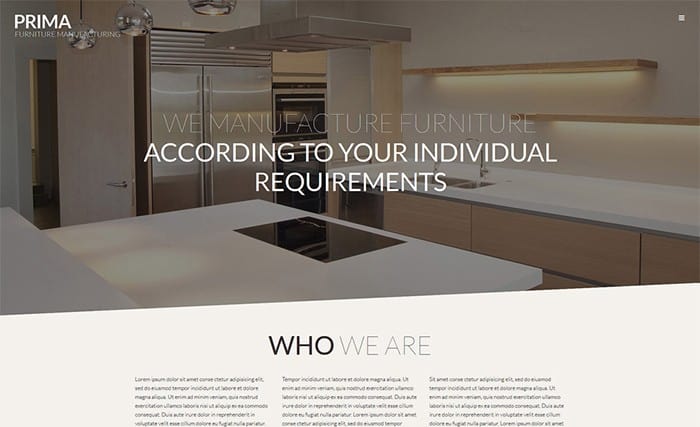 This Premium template comes with an extensive array of features. It has a built-in drag-and-drop Page Builder, multiple layout options, content modules that let you add the media of different types directly to your pages. It is also equipped with additional custom widgets that offer you additional ways of displaying your website contents and help you build a stronger online presence.
One of the draws of this theme is that it is extremely easy to customize with user-friendly WordPress dashboard. You can adjust many options and get it as unique and outstanding as a custom design. You are welcome to create custom post types and menus to better present the range of what you offer and ultimately impress your clients with a visually-rich, perfectly-styled and harmonious website.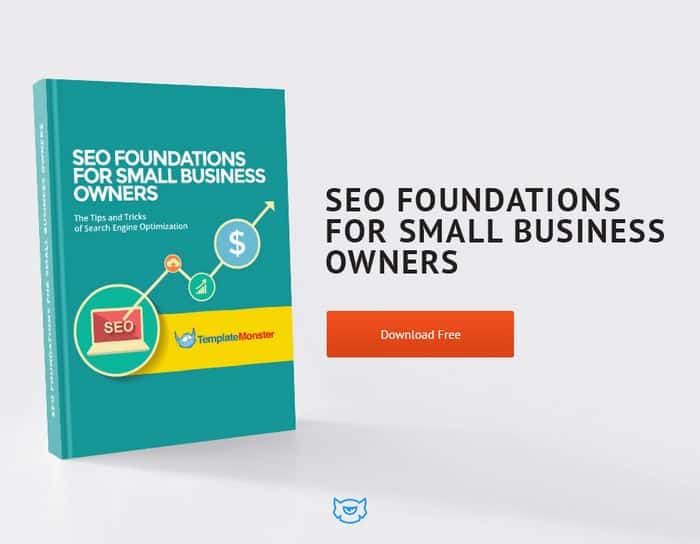 Get 10% OFF Any Theme from

TemplateMonster

 with Our Promo Code: wq2aw5sr5s030x7pcxpifmm4o
Where Should We Send

Your WordPress Deals & Discounts?
Subscribe to Our Newsletter and Get Your First Deal Delivered Instant to Your Email Inbox.
Thank you for subscribing.
Something went wrong.