Do you struggle to find a WordPress theme to your website? Well, I know the feeling. I've been working with WordPress for over eight years, and it's always a similar problem with every site I shall launch.
I guess many people who used WordPress sometimes nods knowingly. It really can be a big issue to find a great, attractive and functional theme for your website.
The first step is to find and choose a WordPress theme. The next step is to test the theme to check out that everything works and looks ok, which can be time-consuming because there are often many things that may feel not satisfactory. Entirely dependent of course on what you like and don't like.
In today's article, I want to highlight a WordPress theme from AccessPress Themes that I believe can solve this dilemma for many avid WordPress users out there.
Let me introduce AccessPress Themes latest free WordPress theme: Revolve – A Free Vertically Scrolling WordPress Theme.
Revolve WordPress Theme
This theme is truly an amazing free WordPress theme with cool, unique features which make your website stand out from the crowd. Revolve is an excellent alternative if you want to use a free theme. But I must say this is not just an ordinary "free theme."
Revolve contains lots of cool features which make it both fun and easy to set up a website. The result will additionally be great. Trust me.
Revolve is an elegant and creative WordPress theme, suitable for both beginners and more advanced WordPress users. The theme comes with a unique vertically scrolling full-screen slider and side menu representing the slide banners. Check out the demo, so you understand what I'm talking about. Looks cool, right?
Let's take a closer look at some of the features are included in Revolve.
Revolve's Main Features
Given that this is a free theme (there is also a premium version of Revolve Vertically Scrolling WordPress Theme if you need even more features) it includes some cool features that we will take a closer look at below.
Customizer Based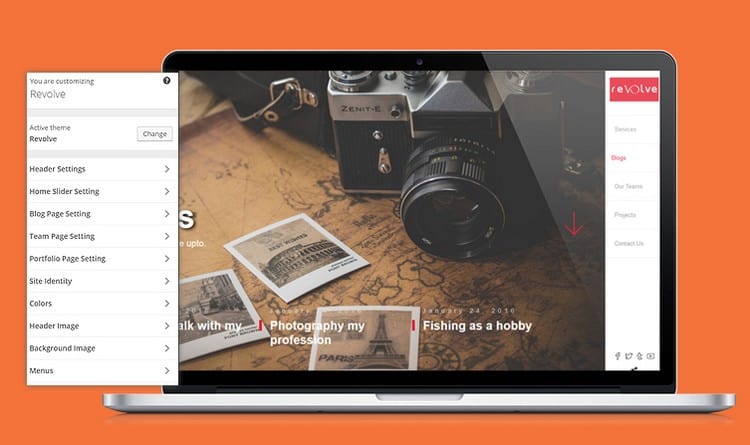 The live customizer allows you to customize the theme entirely from settings to colors. With the live preview customizer, you can live preview and build an excellent website quickly.
Most modern themes today include a live preview customizer (Revolve is no exception) to simplify the process to precisely customize a theme in the easiest possible way.
Fullscreen Vertical Slider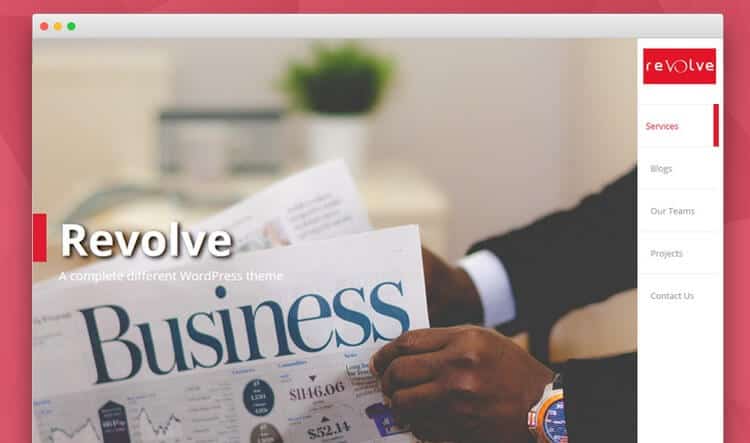 Fullscreen vertical slider. Each page´s featured image and title work as a vertical slider easily accessible when scrolling on the homepage. Users can click if they would like to see more details about each page/section.
Unique Scroll Page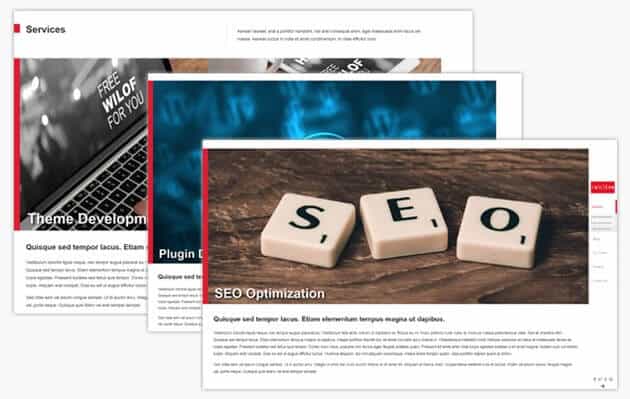 Another great feature is a unique scroll page. You can display your multiple pages contents under a single page with a scrolling feature under a nested menu! The page scrolls to the specific section on clicking the nested menu. This is a cool feature, and it looks great.
Featured Team Page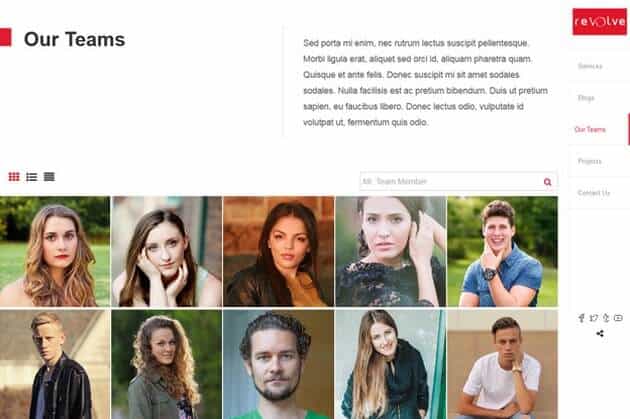 Why not publicize your team members using a unique and beautiful team page layout? With Revolve you can introduce your team in an elegant and beautiful team page. Set up the team page and choose from multiple designs and team member search features.
More features in Revolve
Responsive design.
Various sections at home page.
Beautiful blog page.
Page templates.
Post format support.
Portfolio layout.
Custom page header.
Home slides.
Header social icons.
Inbuilt custom widgets.
Woocommerce compatible.
Fully SEO optimized.
Translation ready.
Dedicated forum and

chat support

.
Final Thoughts
In the end, I must say, Revolve is an elegant multipurpose and feature-rich WordPress theme from AccessPress Themes, perfect for niches such as portfolio, personal blog, business, photography and more. It is a very flexible and easy-to-use theme.
So you should have no problems installing or manage the settings to build an attractive and elegant website. Revolve does a fantastic job of offering a wide range of cool features and beautiful layouts. You can download Revolve right here, and I would recommend checking out Revolve's live demo and seeing if it has what you are looking for.
As I mentioned earlier, there is a premium version of Revolve. If you're not satisfied with the available features in the free version. No problem. Just upgrade to the premium version to get more features. But I am convinced you will go a long way with the free version of Revolve to build an impressive online presence.
Have you tried Revolve Vertically Scrolling WordPress Theme yet? I would love to hear your opinion and all about your experience of Revolve in a comment below!
Where Should We Send

Your WordPress Deals & Discounts?
Subscribe to Our Newsletter and Get Your First Deal Delivered Instant to Your Email Inbox.
Thank you for subscribing.
Something went wrong.